There are people who still believe thatBride at her wedding to be exclusively white dress. But time dictates its own rules, further diverting wedding fashion from the traditional canons. Now the brave girl often for wedding wear red, green and sometimes black dress without fear of public condemnation. We will not be so categorical and offer to pay attention to wedding dresses in pastel colors.
Variants of wedding dresses in pastel colors
The definition of "pastel shade" means the following colors:
pearl;
coral;
tea rose;
Creme brulee;
light yellow;
peach;
ivory (ivory);
champagne;
spring violets;
mint and many others.
All these colors look incredibly gentle, carryingenergy lightness, joy, serenity and high style. Choosing the right pastel range is capable of beneficial shade appearance of the bride, her hair color, eyes and skin. Models in pastel colors - a harmonious balance between the avant-garde wedding fashion and classic style. To outfit decoration to remind graduates, and adhered to the bride wedding style designers avoid an abundance of decorative elements - frills, lace, ruff or too lush skirts.
Vanilla
Vanilla-colored outfit for the wedding will be a greatsolution for blondes. Snow-white dress turns white-skinned blonde girl in a marble statue, and a gentle vanilla color makes the image warmer, nobler. Full brides also avoid white models: vanilla dress will look softer and will not be superfluous to emphasize the sentiment at the waist or hips and corresponding accessories will add style to the bride.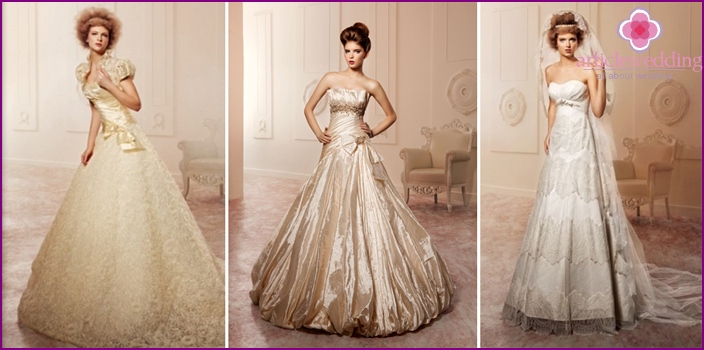 Light shades of pink
Light pink color - it's a win-winfor any wedding. Only models in pink ruffles, bows and wide skirts will express the personal style of the girl. Even a large number of decorations would be appropriate to pink, in what his great indisputable advantage. Pink dress is often combined with white elements, which makes the original model. Shades of colors are always beautiful and impressive: the tenderness of dawn, the color of cherry or cotton candy. This is a real bride color, regardless of age.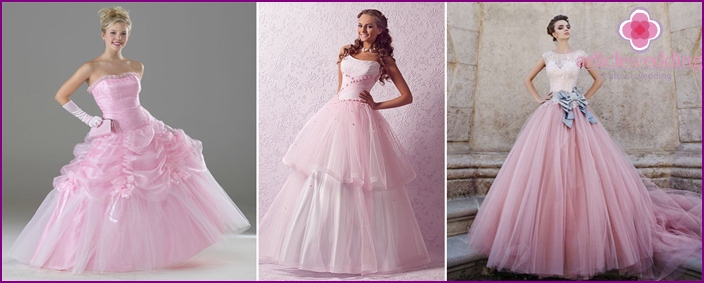 Soft mint
Mint colors associated with youth,romance, freshness, high style, so the mint wedding fashions often choose young girls, regardless of the season. Winter brides menthol pastel colors add elegance, spring - air ease summer - fresh, fun, and in the fall - the puzzle intrigue. Soft mint color relaxes, calms, giving a feeling of comfort.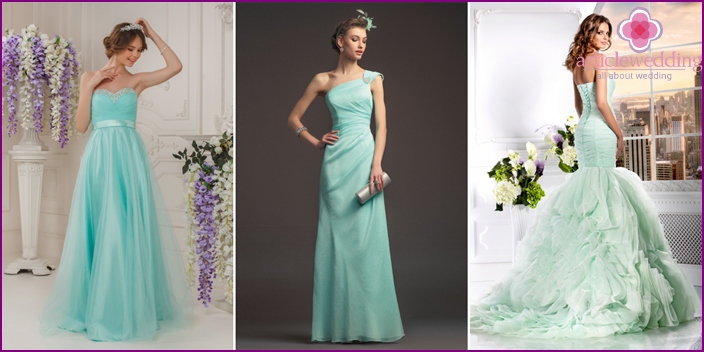 Celestial blue
Dressed in a blue dress, the bride is required tofeel of a fairy tale. Pastel sky blue color on a subconscious level is associated with innocence, purity, so the bride of all times tried to pick up the white along any accessory blue or in the bride's bouquet to insert at least one blue flower. In some Western countries adhere to this style until now.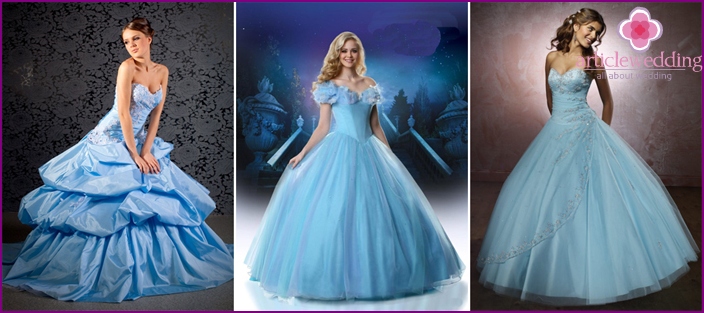 How to choose the right dress pastel colors?
To abandon the traditional white dresson your wedding, making the challenge conventions, the bride should have a certain share of determination. But you need to know: to look at the wedding of style and impeccable, is to try to correctly choose a pastel shade. He picks up a bride's skin tone and hair. Make it simple:
Undress, hair up in a bundle, coveringtheir white tissue paper, so as not to set off the color of the face, and attach to the body tissue of different colors. You'll quickly see which shade suits you best.
Attach the selected tissue to licentious hair. If you like the combination, the selected pastel shade - your.
There are a number of tips:
owners of light skin with blonde, light brown or red hair is perfect caramel, apricot, peach, and skin tones,
girls with dark hair, light eyes but perfect mint, blue, beige, lilac or pale blue pastel colors,
burning brunettes will look stylish in a palette of shades from pale pink to lilac.
Interesting make-up will not prevent any bride,regardless of the color of eyes or her hair. The ability to emphasize features valued around the world, and discreet make-up - top skill. See video how to make your own make-up in pastel tones:
Shoes & Accessories pastel dress
To pastel dress to look stylish,you need to think through every detail image. Pay special attention to the selection of shoes and accessories, which should not be in the same tone to the color of the dress, and more saturated color. Groom, bridesmaids and guests, in this case, too, should abandon classic wedding colors: white and black, and choose outfits for the holiday, according to the style of the bride.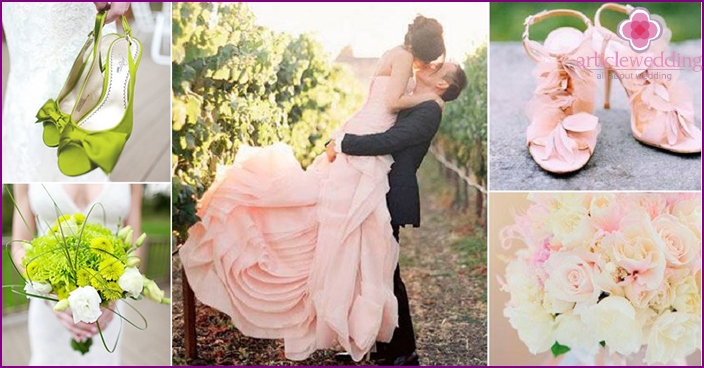 Photo of fashionable wedding dresses in pastel shades
Whatever style of wedding is chosen, pleasanteye pastel colors harmoniously fit into any holiday. Choose any style of dress popular pastel colors and will not lose! No matter what style and color you will shine on her wedding, as long as the selected dress you feel like a queen, and then the admiration of the bride and the guests you provided.