Many couples want to make their wedding special,unusual and extraordinary, so they arrange a holiday theme. Selection of Japanese-style celebrations guarantees that it will take place in an original and bright. But for this bride and groom need to carefully consider in advance all prepare many accessories to choose the bride's attire on holiday. What are the Japanese wedding dress? What to look for when choosing a dress for the bride in the style of the rising sun?
The traditional Japanese dress for brides
For a wedding in the Japanese style as the dressBride perfect kimono - it is made from a solid piece of fabric. In the traditional wedding bride in Japan for a holiday a few times should change outfits:
in the official part of the wedding she wears a white kimono;
the banquet the bride dresses in color, and black Japanese clothing is also appropriate for the bride;
in the final part of the holiday girl dresses in European dress with a veil.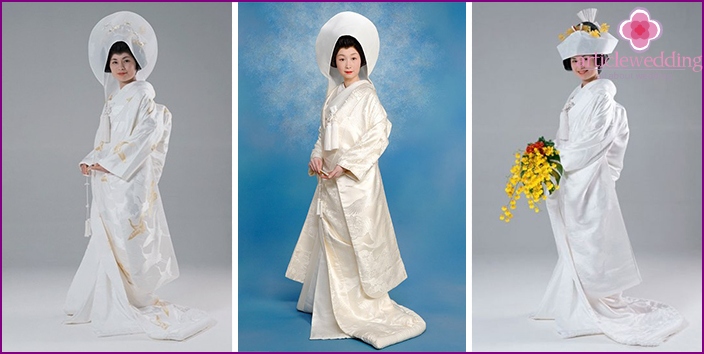 White kimono decorated with pearls and flowers
Beautiful and spectacular wedding at the Japanese willlook like a bride in a white kimono with embroidered buds and pearls. It is called Shiro-Maku (perfect white). Each figure on the fabric of the eastern attire has a specific meaning:
image-ume plum blossoms and bamboo leaves denotes vitality and stamina
Cranes figures - loyalty, happiness,
turtles, pine - longevity.
Women's kimono worn, wrapping his right and belting costly special belt "obi".
Red and white dress, embroidered with silver and gold
Colored wedding kimono called uchikake. He put on after the official part of the wedding. To sew a kimono can use fabrics of different colors, but a popular shade for the wedding dress is red. Attire scarlet symbolizes life, youth. Silver, gold embroidery make festive kimono and give it a luxurious look, emphasizing the beauty of the bride's skin.
Styles of modern wedding dresses in the Japanese style
European dresses, stylized Japanvery different from the traditional kimono. They play on one or more parts of eastern dress. For example, the Japanese theme can be seen in dresses with wide sleeves, straight collar-shaped and small stands. In eastern outfit easily turn the wedding dress with an open top and with folds on the skirt, "Mermaid" silhouette with a high waist. To do this, add an accessory to dress in Japanese style, or opt for its sewing cloth with a traditional pattern for a kimono.
bride dress material should be easy,so the silk will help you to create a wedding dress east. For her sewing can use fabrics of different colors, but the red, pink, blue material is often used for this purpose. Small flowers in the wedding dress, combined with monotonous belt, create a mysterious image of a Japanese bride. Make a hint of oriental celebration theme can be garnished dress national embroidery of the rising sun. And here is a lush or too short (above the knee) style the outfit by Japan will not work.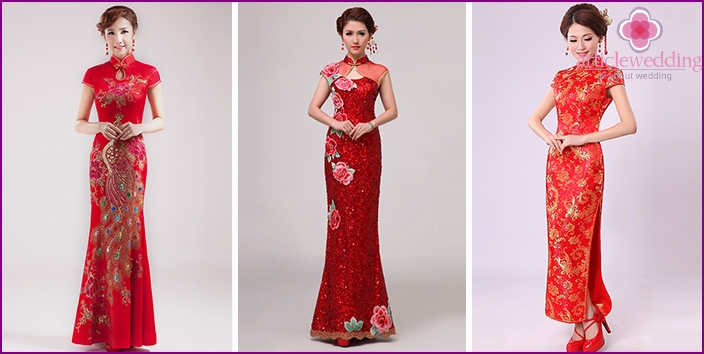 Straight dress with collar-small stands
The girls look impressive straight weddingclothes in the Japanese style with a collar-small stands. These dresses can be different shades, but festive clothes of red cloth decorated with embroidery in the shape of flowers, cranes, peacocks is a popular choice among brides. Collar small stands well with straight silhouette and gives alongside bright oriental style. To create a Japanese dresses widely used silk or lace fabric, and decorated them with colored stones, gold embroidery.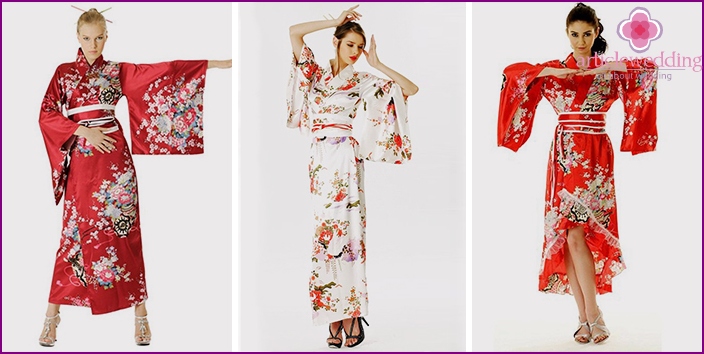 A silhouette with wide sleeves
Give a wedding dress with a-lineOriental notes easily. To do this, it must be supplemented with details that resemble a kimono elements. White A-line dress is perfectly combined with the color bolero with wide sleeves and a corset-belt, reminiscent of Japanese "obi". Ethno Design wedding decoration looks original and make the bride of exotic beauty.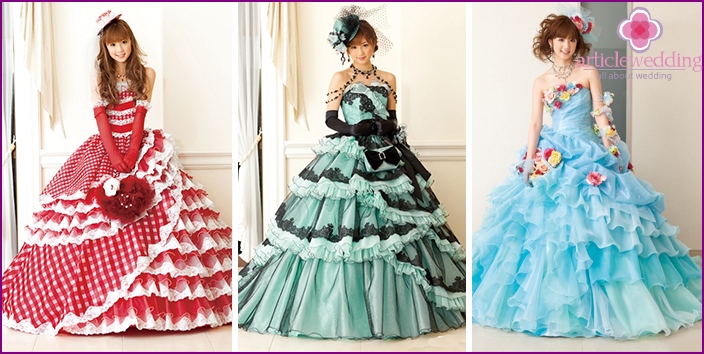 Dress in the style of "Princess" of bright colors
An excellent collection of lush Japanese weddingoutfits created Yoko Ogura designer. A variety of colors, finishes and textures of his models is striking. Lightweight and multi-layer yellow, blue skirt with ruffles will help create a refined image of the bride and the air. A trim dress with artificial flowers, which are arranged as if they were scattered over the fabric, looks unusual and romantic.
Effectively combined with the lush dresstransformed belt "obi", which surround the kimono. In some models, the designer Yoko Ogura it is located in a huge bow at the hip, and the other - a narrow strip wraps around her narrow waist. Feel free to look and extravagant wedding dresses, in which the upper part of the skirt is made of a material into a cell or peas. This style will suit the bride with doll figure and looks.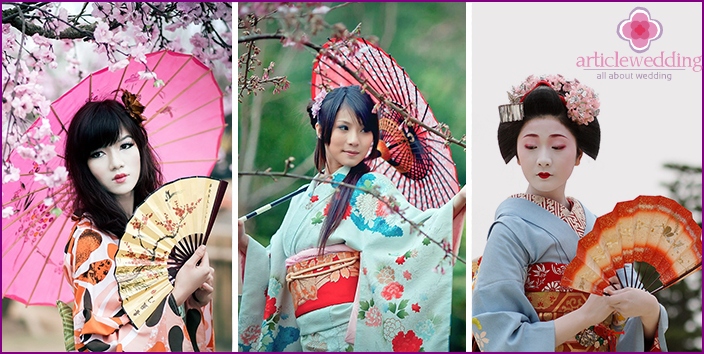 Accessories to dress the bride in the Japanese style
To create an oriental style bride be sure to use the traditional Japanese Accessories: fan, umbrella, flower at the neck with a ribbon. These parts of the bride image effectively emphasize the theme of the celebration.
Veer - a mandatory attribute of a Japanese bride. It is made and painted by hand in the same way as 5 centuries ago. Fan used to create the 3-, 5-, 7-ply paper washi, and products made from bamboo frame. Expensive items are decorated with precious stones, ivory.
Bright umbrella - an important accessory for the bride on a Japanese wedding. It will help create a unique oriental flavor in the form of a girl.
Bride Hairstyle must also be specific. Japanese bride and groom traditionally made difficult stacking "Shimada". This hairstyle is a difficult and unusual: it looks like an exotic flower. To create a packing tape is used, combs, bows, long studs. Previously, on Japanese wedding ceremony using hair accessories made of tortoise shell. They were decorated with beautiful national ornament.
In our time, used for hair in the eaststyle of metal, wood, bone hairpins and long ridges. Japanese belt "obi" is able to give the European dress oriental flavor. This is an important detail kimono has a length of 4 m and a width of 30 cm, and weighs approximately 1 kg. Belt on a traditional wedding dress is fastened a huge decorative bow on the back. It is made of silk and decorated with gold embroidery or painting. In a modern attire for the bride using a belt with a hint of "obi", but still it gives the dress a bright oriental flavor.
Photo Japanese wedding dresses
If you decide to stick to his weddingJapanese style, the first thing you have to pick up a special decoration for the bride. Make it easy, because there are many options for matching dresses. You can choose a wedding kimono or a festive decoration with the elements in the Japanese style. Fascinating oriental motifs of the rising sun in the bride will look attractive and unique. They emphasize the elegance, originality will bewitch the bride and all the others at the ceremony.