Choosing a wedding dress - it is not only difficultprocess, but also painstaking. The bride must take into account the smallest details of her dress style, including pick up stuff for him. Guipure wedding dresses are increasingly attracting the attention of the newlyweds. The name comes from the French «guiper», which means "be wrapped in silk." Dresses made from this material are ideal for brides with a sophisticated sense of style, who want to add a touch of elegance to its image.
Features choice of a wedding dress of guipure
Demand for lace garments models for bridesthere for many years. Openwork wedding dress white color was a kind of classic that embodies luxury and wealth. By selecting it, pay attention to the quality of the material used, the accuracy of tailoring. Sticking thread, fabric with embossed uneven to date - it is unacceptable in the attire of the bride. The bride should look perfect in this important day. Give preference to proven brands that put above all the quality of the dress.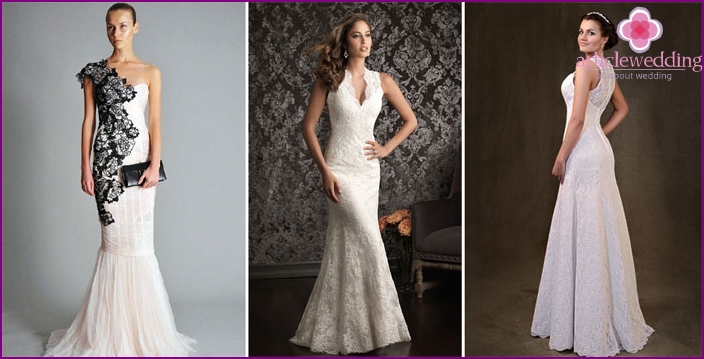 Decor - the most important point in choosing the dress model. Availability guipure means that the dress does not require special finishing, as this luxurious fabric itself. Tampering combining with other textures, decorative elements makes the model too "overloaded". The basic requirement when using guipure in a wedding dress is a restraint. Attire simple cut can be crosslinked completely or partially out of it is decorated with openwork elements, which are sometimes embroidered with rhinestones.
How to choose a wedding dress guipure
Choose your own unique outfit - the dream of everybride, as it will play a major role in the creation of the entire image. If she decided to buy guipure wedding dress, it remains to determine the style. To pertain model is capable of maximum to emphasize strengths and hide flaws, it is necessary to focus on the type of the bride figure:
Hourglass - the same hips and chest, coupled with a narrow waist
Pear - the size of the lower part of the body over the top.
Apple - approximately the same volume of the waist, chest, thighs, with a smooth transition line.
Inverted Triangle - wide upper torso in combination with a narrow bottom.
Rectangle - same as "apple", just go straight line.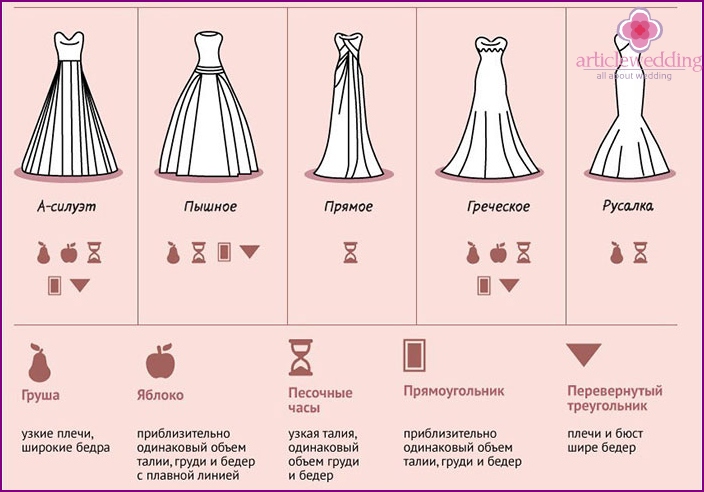 The lucky owners of "hourglass"you can use any style guipure dresses: from lush to narrow, with any length and finish. Here, the bride right choice rests solely on her taste preferences. A win-win option for any body is A-shaped silhouette guipure dress, the essence of which is to enhance the dress from top to bottom. This version looks good on the bride in the state.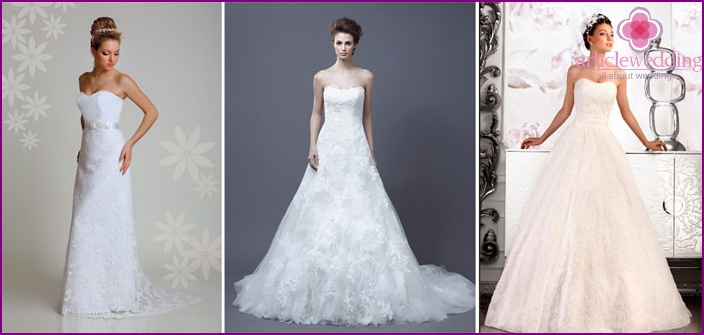 Concise and elegant looks guipurewedding dress in the Empire style. Restrained image that creates such a model, eliminates the use of a large number of decorations, so using openwork decorate only the upper part, highlighting the bride elegance. Guipure dresses in Greek style are universal models that do not emphasize a clear focus on any part of the figure, but only slightly emphasize the breasts. This outfit can afford a girl of any build.
top with guipure dress Cuddly
This outfit reminds princess attire andis the limit of dreams of many girls. Elaborately embroidered guipure elements corset perfectly with the decor devoid of tulle or satin full skirt. Top dress designers often complement lace sleeves, bark pattern elements with rhinestones. This model will have a wedding dress fit to owners of the figures "inverted triangle", "pear" and "rectangle", effectively emphasizing the waist and hiding the hips.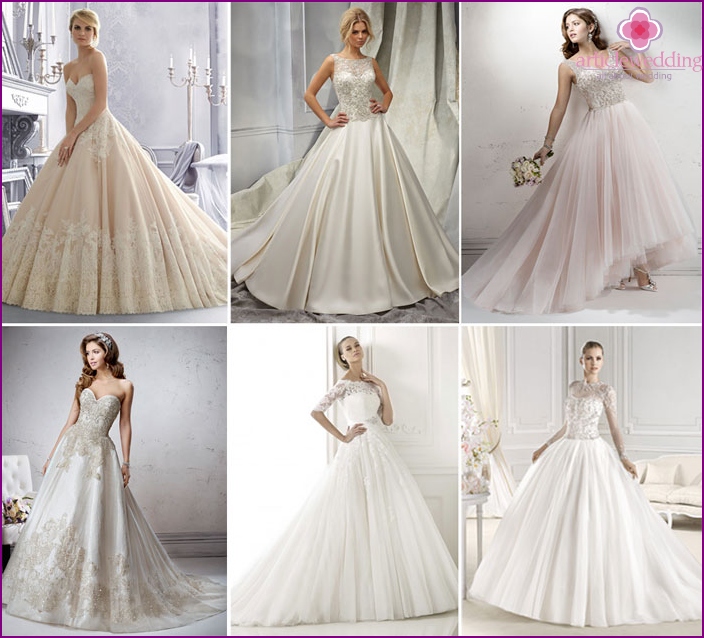 Model with an open back and sleeves
This outfit draws its elegance andsexuality. Openwork sleeves accentuate graceful hands, adding the image of the bride aristocracy. Cut back Bare back, decorated with transparent lace inserts, which blends in well with guipure trim elements. This garment can be performed in any shaped: the lush, narrow A-shaped. Guipure dress with long sleeves and open back straight cut, or the type of "mermaid" slim fit girls with a figure of "hourglass" or "pear".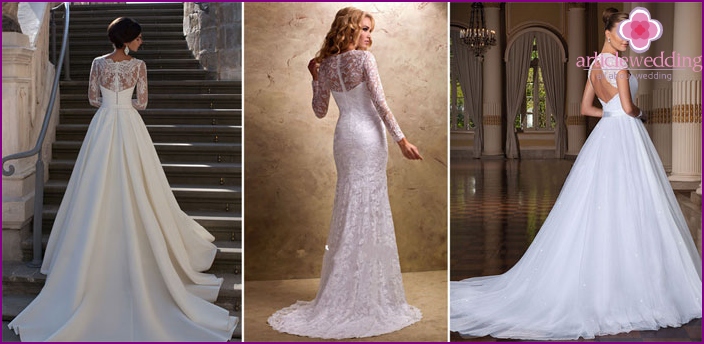 Short with a long train
This option will look favorably onslim girl with a thin waist and shapely legs holders will be able to emphasize them with this garment. Guipure corset dress bride dress will add a touch of chic, and silhouettes - harmony and femininity. Flex may be either sewn or removable. The second option is convenient because the style of dress, if necessary, easily changed. Short wedding dress with a long train attracts brave girls who want to stand out as much as possible on your wedding day.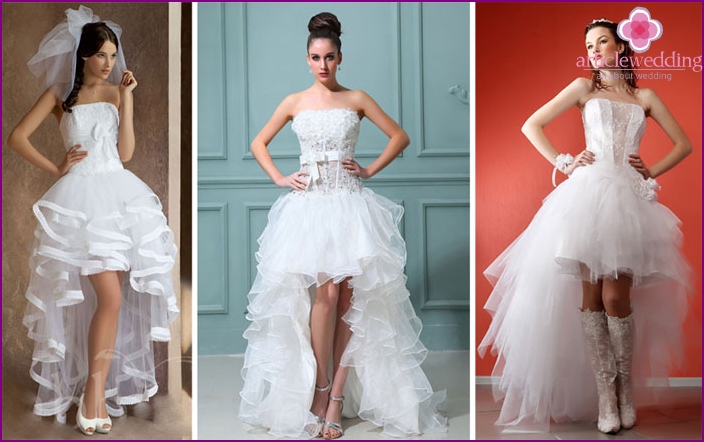 Photo of a beautiful wedding dress of guipure 2016
The great demand for lace dresses for bridesbased on their attractiveness. Absent from the catwalks of the world for over ten years, they returned in triumph in 2016. Vera Wang, Pamela Roland, Carolina Herrera and ingenious designer Oscar de la Renta presented to the world a model with lace, guipure, and mouth-watering "Chantilly". The works of these and other artists see in the photo below.