A wedding is an exceptional event andsolemnity and significance for each person. And the more the bride wants to be the most stylish, luxurious, beautiful. It will help fulfill the dream of a wedding dress in a retro style, which ushered in the fashion Christian Dior back in the mid 50's of the last century. With this vintage style, as they are now called, has yet to break up the newlyweds all over the world. The image of the bride's retro in great demand.
What is characteristic of the bride dresses in retro style?
Under the wedding dress in retro fashionimply styling of contemporary fashion styles for 20-30-ies of the last century. Such outrageous outfits combine modesty, mystery and sexuality, why they are so popular around the world. If a girl wants her wedding to be the trendy vintage image, you need to dress it has the following characteristics:
Arms, shoulders, back is open.
Waist underlined by lush multi-layered skirt and a wide belt.
The bodice has neckline, tight obtyagivaya figure.
Knees are closed.
To look perfect, you do not need to bethe owner of a perfect figure "hourglass". Multilayer bottom and narrow top visually make lush hips, waist thinner, and if waistline understand a little bit higher, plump belly girl is hidden. In the time of Christian Dior curvy models are in demand, so all of the dresses were sewn on full girls whose figures were fashionable at the time.
To realize the ideal image of a retro bridestyle come from tissues such as satin or silk pastel shades of blue, peach, pale pink, yellow, ivory. For the bridesmaids, too, selected vintage dress in light colors, only less expensive materials: cotton or linen. Watch a video compilation of interesting models of wedding dresses in retro style.
The models of wedding dresses in retro style
Models retro style wedding dresses all the timeimproved. Modified sewing techniques, styles are complemented by new, unusual items. Modern vintage dresses - it is elegance, splendor and abundance of lace, satin ribbons, loops, silk bows, cut-outs, artificial flowers. choose the model of a wedding dress in the style of a vintage bride is very difficult because of the abundance of materials, styles and colors.
Dresses 20s differed in length and shortdaring cut, because they were sewed under the influence of women's emancipation. At that time, the legendary Coco Chanel offered the world a little tight-fitting black dress, opening women's knees, which is a modern version of the wedding dress looks like a pearly pink or white model of the same short dress.
S0's witnessed the skinny,sexy slinky hips. Their length was lower, reaching mid-calf. Bride of the time wore a wedding shawls or mantles. Fashion postwar period introduced the world to dress with a deep neckline, beautifully underlining breasts, with narrower waist and full skirt below the knee length.
Short sleeveless dress with bare back
Short dress retro style with a bare backSleeveless makes shocking image of the bride and defiant. Some of the girls to create the illusion of nudity and innuendo, close a deep cut on the back of a thin transparent lace. For the first time opened a little further back on the dress Josephine Bonaparte. Already in the 20s of the last century, women began to wear shorter dresses sleeveless with very low-cut back.
But bare back is not all looks that looksequally. Modern designers have found many ways to diversify the outfit, making each model a touch of individuality. Depending on the style, there are several kinds of short dresses with open back:
deep cut, reaching down to the waist;
semi-closed spin in which the cutout decorated pattern or weave;
lace back, popular among modest brides who love the retro style.
When choosing a wedding dress with a stronglylow-cut back, be aware that this is a complex model, in which the need to maintain a balance: to give up a transparent bottom, use a minimum of decoration and wear this outfit with high heels only. Stylists are advised to wear a bra without straps silicone, so they are not reminded about themselves gloss. If possible, it is advisable not to wear underwear.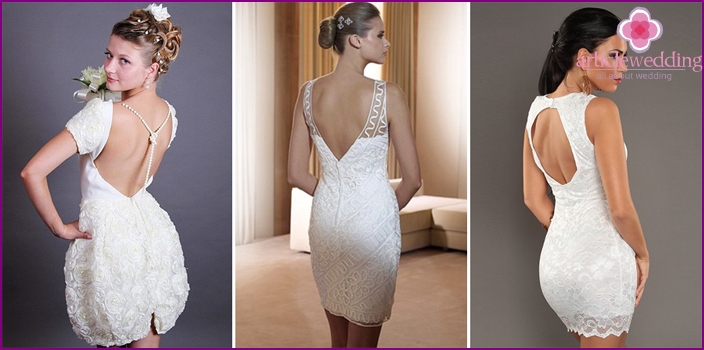 On the long train and a deep cut on the back
The word "plume" translated from German as"Long hem of her dress." Its history goes back centuries, after a long train on women's clothing at all times looked exquisite. Now this piece dress is short, elongated, falling, lush, sometimes reaching 20 meters. Often retro model with a deep cut on the back and long train bride opt for a church wedding, covering the neckline at the back of the dress shawl or bolero.
Flex - it's incredibly beautiful part of the weddingdress, but not so easy when the bride to dance, walk, or take part in competitions. Therefore, designers are increasingly offering a model with detachable train, which can be easily removed after the official ceremony. For lush weddings created a model with a small skirt of organza, satin or silk. Practical and convenient, when a long train is provided with an elegant fixture on the hand.
Bridal wear in retro style is loyal to allcolor solutions long dress with a train and a deep cut on the back. For the wedding day are preferred shades of vanilla, honey, and all the pastel colors, silver or gold. But some brides choose bright saturated colors, the most fashionable of which are pale purple and blue colors.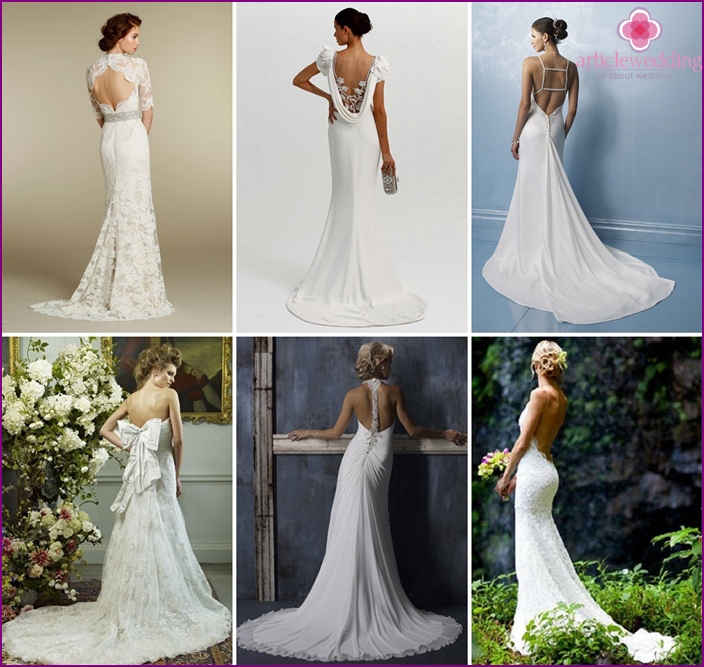 Dress with a fluffy skirt and a narrow top
Lush dresses in vintage style is incredibly fashionableseveral wedding seasons. Clearly marked waist, fitted bodice and much fluffy skirt with petticoats came into fashion in the mid 50s. For such models were used wedding luxury fabrics: velvet, satin, silk, light shades. Today, little has changed. Designers except pet brides original sleeves or clear sleeves, adding even more the image of femininity.
The main role in these wedding looks that givendecor: lace, embroidery, beads, beads, pearls, bow. Create a laidback way of princess bride for all age groups - not a problem if properly arrange finishing of lace and openwork fabrics. Magnificent dress with a narrow top is suitable for all types of pieces: skirt hides full hips, tight-fitting top will focus on the beautiful breasts, and dress length can be adjusted.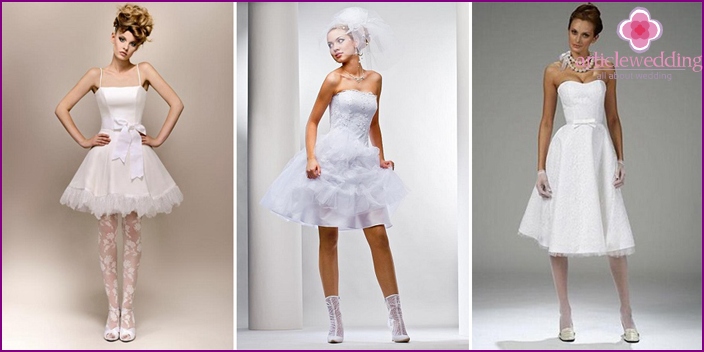 With a deep neckline and corset lacing
Wedding dress with corset and deep neckline -every girl's dream. Even if the waist is not observed at all, with the help of a corset lace-up will create the ideal figure of "hourglass", which has always been the standard of beauty. Variety of corsets allows pertain desired shape for all body types, making a woman attractive.
The first corset with lacing appeared inancient Greece, so this part of the female wardrobe is considered to be the main element of a retro style. However, Greek and later Roman women used the corset exclusively to maintain the bust. As a supporting member for wedding dresses, the device began to use only in the tenth century, when the vogue fitting model. Corsets began in this period like today, because they have started to be made of flexible whalebone and cloth.
Modern bride and groom choose a corset tocreate a touching and delicate retro image. And if you want to add sexuality, the girls choose a model with a deep neckline, highlighting the beautiful chest. Advantages style with a deep neckline and corset - the creation of feminine and luxurious way, when an ordinary girl transformed into a queen. With silicone spokes that make up the corset, the bride holding a royal posture throughout the day.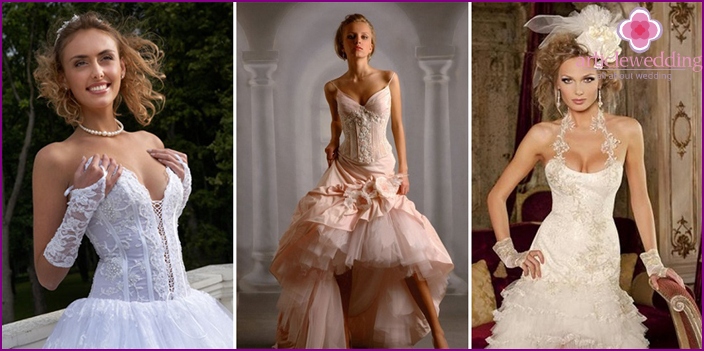 Short wedding dresses in retro style
Short vintage wedding dresses lovefashionista, because they easily stand out from the crowd of brides. The main trend of recent years - short model suite in the style of rock 'n' roll: luxuriant rather short skirt, wide belt, emphasizing the waist, a corset. For these orders using chiffon, silk, satin and lace fabric with floral patterns. Often deep neckline dresses in the style of rock 'n' roll is decorated with Swarovski crystals on the edge, and it looks amazing.
If the bride chooses a short-fittingretro outfit for the wedding, she needs to prepare for increased attention not only to the male half of the population, but also female. This scandalous model will fight all the classical magnificent wedding dress, and the battle is won with the first seconds of the appearance of the bride on the street. But before the break stereotypes and traditions, you should make sure that this model sits perfectly in the figure.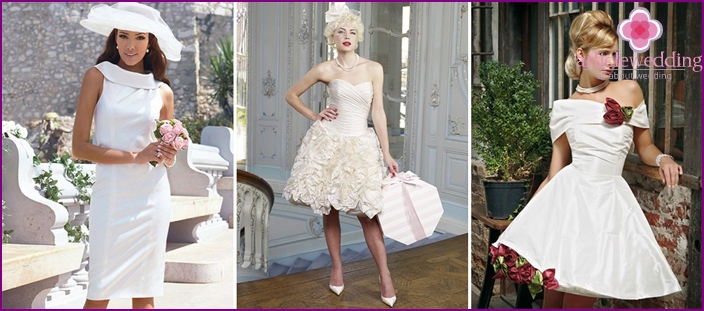 What retro details to complement the image of the bride?
To touch one of the oldest traditionsages, dressed in retro wedding dress is not enough. Move away from the classic wedding image and look unusually help appropriate vintage accessories. The first thing that draws attention to the form of retro - a headdress. As a rule, it is a hat or veil. Stylists attach these accessories asymmetrically slightly to one side, not to cover the girl's face.
Important details vintage wedding image -This gloves, umbrella, bridal bouquet, feathers, silk flowers or a brooch on her dress. To fully comply with the retro style, you need to select the correct shoes bride. To do this, buy old-fashioned shoes with a rounded nose, a thick low heel. If these shoes are not there, fit the classic model.

Photo of wedding dresses in retro style
a modern - Wedding vintage stylecharm, inspired by the erstwhile times. Creative retro image of the bride has become a very popular trend of recent seasons, because the old nostalgic wedding was allowed to visit the era of unsurpassed women like Marlene Dietrich, Marilyn Monroe, Coco Chanel, Lyubov Orlova. To go back to the distant 20's or 30's, look at a selection of photos below, and feel like a bohemian glamorous lady in a silk wedding dress retro style.