For women looking for original solutionswedding, wedding dress designers have created a brown color, which are sure to attract the attention of others for its originality. Plus, such a model is that it is after the wedding will be necessary in the locker room, allowing the girl to experiment with his image. Brown outfit for the wedding - an excellent choice, because this color is perfect for blonde, brown-haired women, brunettes and even redheads, and it perfectly fits into all styles, without exception.
Possible wedding dresses brown shades
If you think that old-fashioned brown, you are mistaken. He is now in the trend, and it is justified, because he has a lot of color nuances:
Coffee.
Chocolate.
Caramel.
Coffee with milk.
Terracotta.
Chestnut.
Any bride can choose a shadebrown, which is ideal to color her hair or face. This color is democratic, so it is suitable for absolutely any age and goes well with almost all colors. As for the wedding make-up in brown tones, the bride is easy to do it yourself, watching our video instructions:
Chocolate
Attire bride's chocolate brown perfectlycombined with white, beige, pale pink. You can not go wrong if you combine chocolate dress with golden caramel, or accessories. The groom will look harmonious beige shirt, tie and trousers the color of chocolate. The bridesmaids should wear dresses exactly the opposite scale, it is desirable to light but not white, and, moreover, do not pitch black.
For the chocolate is better to choose the girl weddingyellow and brown flowers, for example, rudbeckia. If you want roses, the great brown dress will look bouquet of pale pink or yellow roses. If you want to issue an unusual floral compositions for the wedding, then add the cream roses or chocolates Callam and satin ribbons of the same color.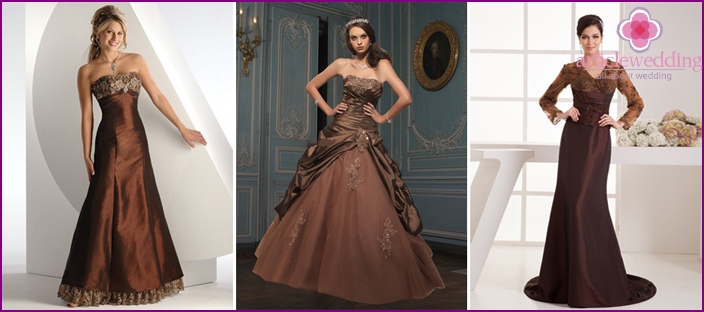 Coffee
Wedding Dress in all shades of coffee - itthe most fashionable colors of brides from Europe. also gradually enters this trend in Russia, but it has more to do with the celebration theme, for example, with the wedding in the style of coffee. The main difference of this theme is the traditional celebration of the bride dress in any shade coffee:
latte;
cappuccino;
coffee with milk;
coffee with cream, etc.
Marriage in the coffee style meansrelevant topics groom outfit, witnesses and even guests. At the bridegroom shall be dark suit to match the bride's dress and the guests are allowed to come in the clothes of any color, which is combined with coffee: red, gray, blue, turquoise. It is a distinct addition to any coffee-tone bright orange hue, so the bride can easily choose the accessories of warm orange color.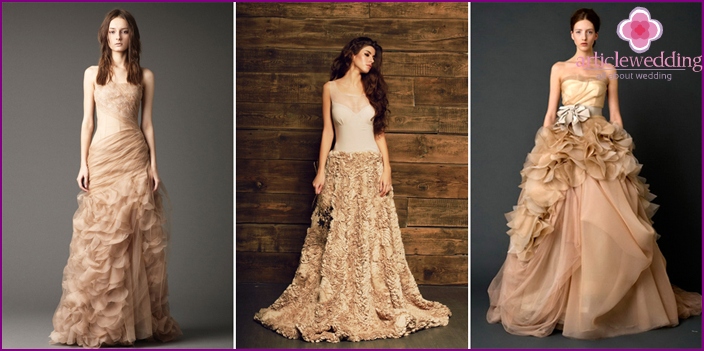 Chestnut
Auburn - a mixture of brown and red. Attire bride chestnut color is not easy to meet, but the most extravagant fashionista, self-confident and in their perfect taste, sew the wedding itself such unusual outfits. Maroon outfit will be ideally combined with a wedding bouquet of red, red shoes, and the other red accessories. This is a daring combination of causes to their increased interest. Calm Red harmonious tone dilutes red riot of fire as a result of out the right shades of balance.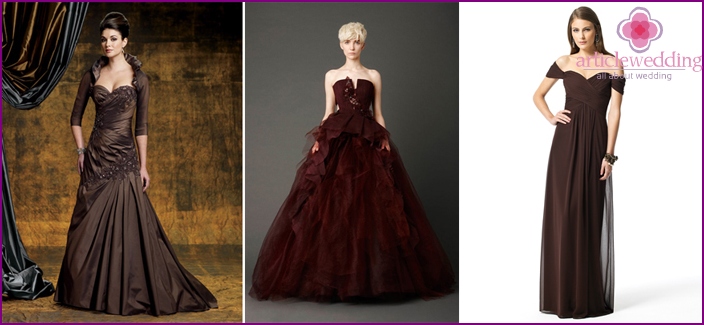 Terracotta
Terracotta - a shade of unbaked clay. Terracotta palette consists of brown and red tones, which create a perfect combination with all shades of white. Fully terracotta wedding clothes of the bride, as a rule, do not use. Terracotta color is very often combined with the traditional white, sand, beige, vanilla, pale yellow or ivory.
Combined with a white or terracotta dressbeige shade chosen vivid and extraordinary personalities that do not limit themselves to the scope or conventions. This combination is particularly suitable emotional energetic swarthy brunettes. For blondes "cardinal" version of the wedding dress, too bad if it has a characteristic appearance and temperament relevant.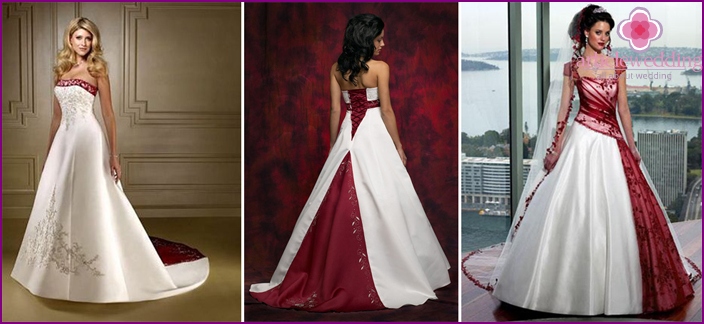 What shoes and accessories to suit a brown dress?
For brown dress suit bride decorationsmade of natural materials (wood) or precious metals (silver, gold). For shoes, the bride's bouquet, handbags and other accessories there is a wide palette of different shades, which perfectly brown. For example, it is well in wedding clothes combined with the green or olive color. They nobly complement each other, creating the aristocratic image of the bride.
Brown clothing with yellow shoes and a bouquetBride - another life-affirming combination, giving positive sea. This is a classic color combination that is always current. But if you do not like the contrasts, the shoes you can pick up a lighter caramel, beige or cream color. Just do not pick chocolate or coffee accessories to match the brown dress, so as not to lose their individuality.
Photos brown wedding dresses
The tradition of getting married in a white dress graduallything of the past. High-handed fashion dictates new rules that run counter to the old concepts. Modern Bride tend to look unusual, differing from each other. Brown dress for a wedding every year is more common at the ceremony. Shaped shade that very much, but the girls give preference elegant silhouette "Mermaid", Universal A silhouette of a romantic or a style "Princess". See our photo collection of the most successful wedding dresses in all shades of brown.