bride's outfit, made in black - thisa matter of taste. Someone perceives dark tones to the bride, as the eccentricity of expression, courage and creativity. Others believe that it is the color of mourning and grief. Black wedding dress is no longer considered to be a new way. But it still continues to surprise and provoke a storm of conflicting emotions.
Styles of black wedding dresses
The main thing when choosing a wedding dress - itstyle. Do not give preference too strict or closed dress, kind of tragic in this case not be able to avoid. On the other hand, it should not be too frivolous - you're not going to the carnival, but for his own wedding. Modern designers offer a very interesting and beautiful models black dresses for the wedding: the original, elegant, able to turn any Cinderella into a real princess.
Model A silhouette with lace
Traditional style A-line dress isrelevant in the coming year. This outfit is able to hide flaws and highlight the advantages of your figure, with an emphasis on the wasp waist. The bride looks in it gently and elegantly. Another important fashion trend of 2016 - a combination of white and black colors. This option will appeal to bright personalities who are not afraid of experiments.
For those who do not plan to move away from tootraditions and is going to wear a white wedding dress, fit stylish dress with black accents. Pay attention to details that will make the top of the dark apparel, such as lace bolero or cape. These accessories fit almost any model, making it an unusual, interesting and memorable.
Short dress with a train
Black Tone has a special magnetism, he is able todistract from all the other colors of the rainbow, taking all the attention currently. Perhaps that is why black and white wedding dresses are so popular. After dramatic contrast of colors perfectly emphasizes the figure of a girl, especially when white and black colors are used not only in dress but also in accessories.
A big plus short style lies in itspracticality. You can wear a dress on any auspicious occasion, and can not make it gather dust in the wardrobe. Black wedding dress with a short skirt has another advantage. Staple or purchasing it on the order, you will spend less money than purchasing long model ceremonial attire for the wedding.
One of the most romantic, elegant and relevantaccessories, introducing variety and freshness in every image of the bride, is recognized as a train. Ideally, he looks at the bride in a short black dress, as is able to visually lengthen the skirt, cover their back legs and using contrast to emphasize the openness created by the front dress.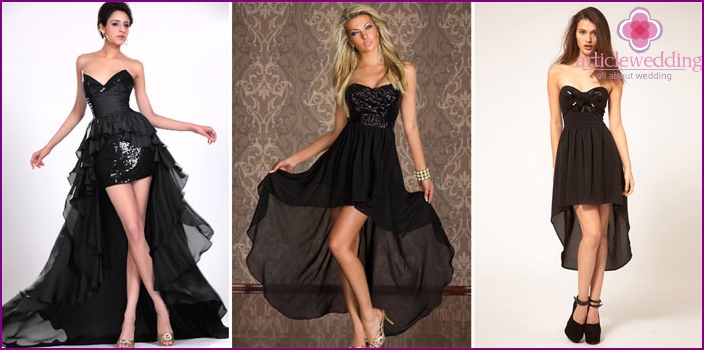 style Luxuriant Princess
Fashion black wedding dresses began withfinery Sarah Jessica Parker, who the actress wore the day of his marriage to Matthew Broderick in 1997. Until now, the air black skirts go out of fashion. Add luxuriant black dress should be decorations made of natural light diamonds or crystals. Luxurious looks dark outfit with embroidered pearl white veil and shiny tiara.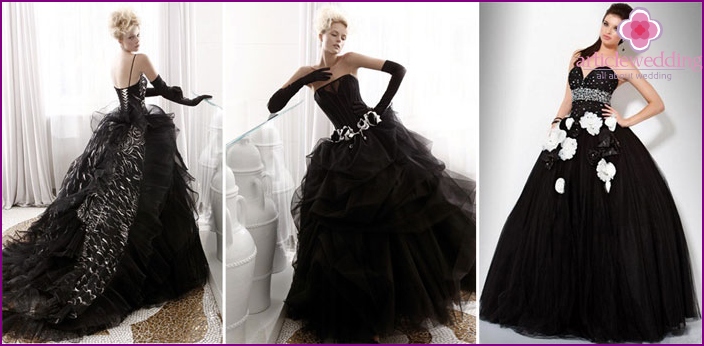 Black and white wedding dress
Your choice fell on the black and white wedding dress? This option provides the ability to make the figure of the bride near to the ideal. However, you should know a few nuances that help to make the right purchase:
If a girl has a pear shape (heavyhip towards the narrow upper part of the body), it is worth paying attention to the model with a black skirt and a light corset. So you'll get the attention moving from bottom to top. Another good option is a style with black ornamental trim along the hips.
Bride with a figure similar to the upsidetriangle, choose black and white dress where the bodice will be dark, and the skirt - light. So, hips visually become wider, and vice versa shoulders narrowed.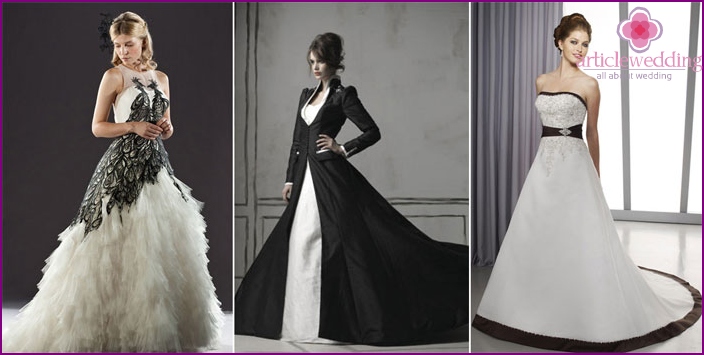 Models white wedding dress with black elements
The bride, who decided to wear a black weddingdress, but too afraid to deviate from accepted norms, it is recommended to stop on a white dress decorated with black decorations. It can be sewn onto the skirt flowers, lace, ribbons. Another option - dress can be white and black accessories. Then the bride should take care to purchase a black veil, or bow gloves. Bouquet, in this case, the suit of red flowers decorated with beads or stones dark tone.
White dress with black belt
White Wedding Dress is always important, and it is unlikelyWhether it will ever change. However, in order to bring the standard attire of the bride something original, is to dilute it with dark features. Especially look beautiful and beneficial to emphasize the waist white dress with a black belt. If you choose this option, be sure to match the groom suit the style of your dress. The only way you can get the wholeness and expressive image of the bride.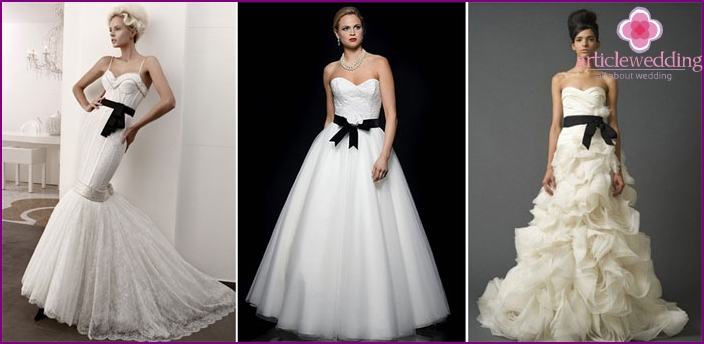 Finished or inserts on the neck line
Transparent neckline - it is peak wedding fashioncurrent year. Gently having covered shoulders lace, you will get a romantic image of the bride. Even with open corset, lace fabric will cover all the sensitive areas and allow no embarrassment to wear this outfit. Style does not imply a need for ornaments on the neck. It should complement the image of a silver bracelet or earrings, then your look will be complete.
If the bride wants to focus onbreast line, it is ideal for style dresses for sale or decorative inserts in the upper chest. Girls with a pear-shaped figure should choose a dress with a horizontal trim in the bodice. The material for such ornaments can serve as: lace, ruffles, satin ribbon, embroidery, beads, etc.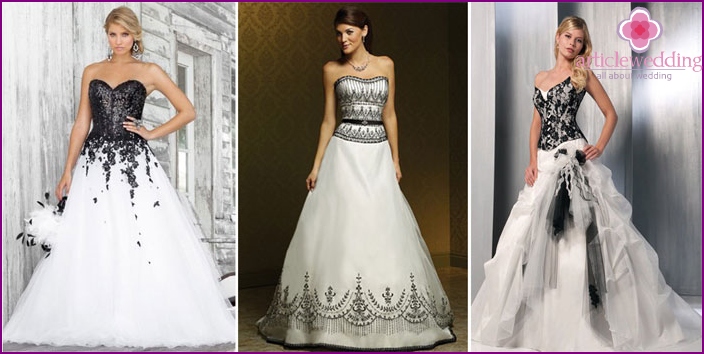 With embroidery and flower applique
Originally looked at the white wedding dressblack embroidery. These bridal apparel romantic, gentle and fully meet the marriage traditions. With decor may focus on a specific part of the dress or decorate the entire suit. Complete the image of matching accessories that will overlap with embroidery. It may be dark gloves, jewelry or shoes. Designers recommend to brides to experiment with the creation of an image.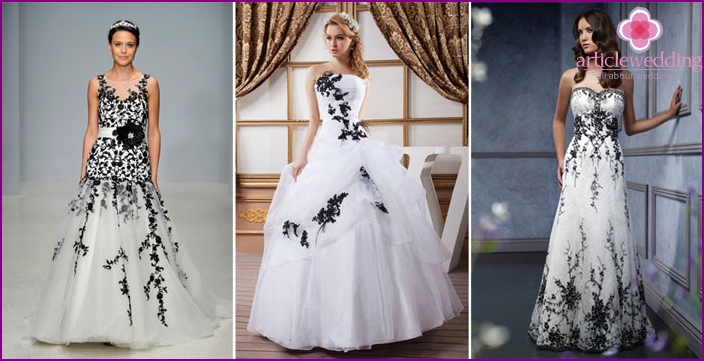 White dress decorated with black beads
Wedding dress, made in black and white,unique and competent choice underlines the attractiveness of the bride. It is important to consider the features of shape, skin and hair color girl. For example, swarthy dark-haired bride and groom will look great in a white dress with dark décor. Beads will be the ideal option decorations dress. It is used by many world-famous fashion designers to create collections of wedding.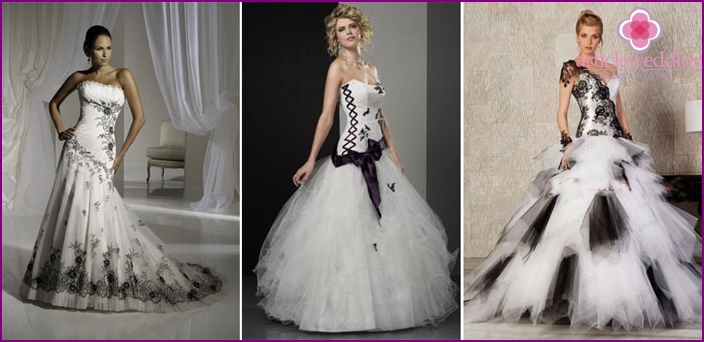 With black lace on a white background
Perfect combination of two opposites -black and white colors - provides the ability to create stunning bridal costumes. Black and white dress captivate unusual visual effects. So, decorated with lace garments bride intriguing extraordinary hue. Dark Lace fabric, bed on the white material corset or skirt, creates unusual colors and patterns. A bride dressed in this way becomes a sensual and tender.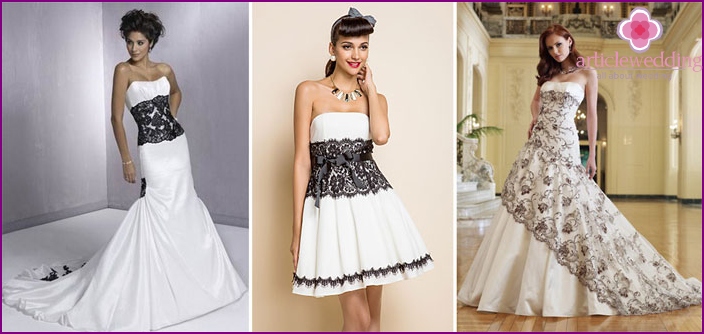 Photo of fashionable wedding dresses black 2016
Black wedding dress represented in the collectionsmany of today's fashion designers. A black and white of the bride outfit have each designer, with darker elements sometimes even invisible at first glance. For example, unobtrusive narrow frill at the hem skirt or belt in a corset can be detected only with a detailed study of the model. Wedding dresses in black and white look is original and very impressive. See for yourself.