has its own attributes for each holiday andtradition, without which the celebration will not be complete. It is hard to imagine a birthday without a birthday cake with candles, March 8 - without a bouquet of the first spring flowers, and the New Year without a Christmas tree. And for the wedding - an important, grand celebration in the life of every human being there are certain wedding attributes, without which it is almost impossible to imagine the event. By the same attributes include: rings, loaf, invitations, bridal bouquet.
The attributes for the wedding photo shoot
What kind of a wedding without a photo shoot anda professional photographer who will make great pictures as the memory for years to come? And that this process was brighter, more interesting, funny, fun, fun and colorful, unusual items should be prepared. They can make their own or rented. By attributes for weddings, which are used during the shooting include:
Lacy cloth umbrella;
A variety of interesting signs with slogans (eg, «I Love You», «Just Married» and others);
Soft toys in the clothes of bride and groom;
The bride's bouquet;
Openwork beautiful fan (to create a romantic image);
Rose petals, and a variety of beautiful fresh flowers;
Glasses, mustache on a stick and other original, interesting accessories.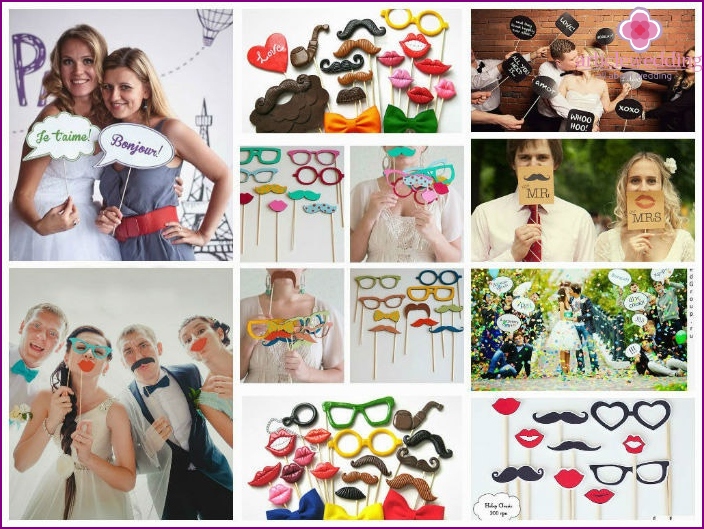 The most popular and necessary attributes wedding
An exhaustive list of attributes to voicepossible, for each pair they will be different, depending on what the couple believe they wish to mark the event. Some newlyweds, in this regard, pay tribute to modern fashion. Wedding attributes that are popular and common in the modern world:
Wedding invitations;
Wedding rings;
Loaf;
Towels (several of them: the one that the couple are kicking in the registry office, which they tied his hands; a loaf);
Wedding glasses;
Rice, wheat, candy, money (fines) - they sprinkle the newlyweds that their life was rich, happy, full of abundance;
Clasp, which newlyweds hang on the bridge, or the tree of love.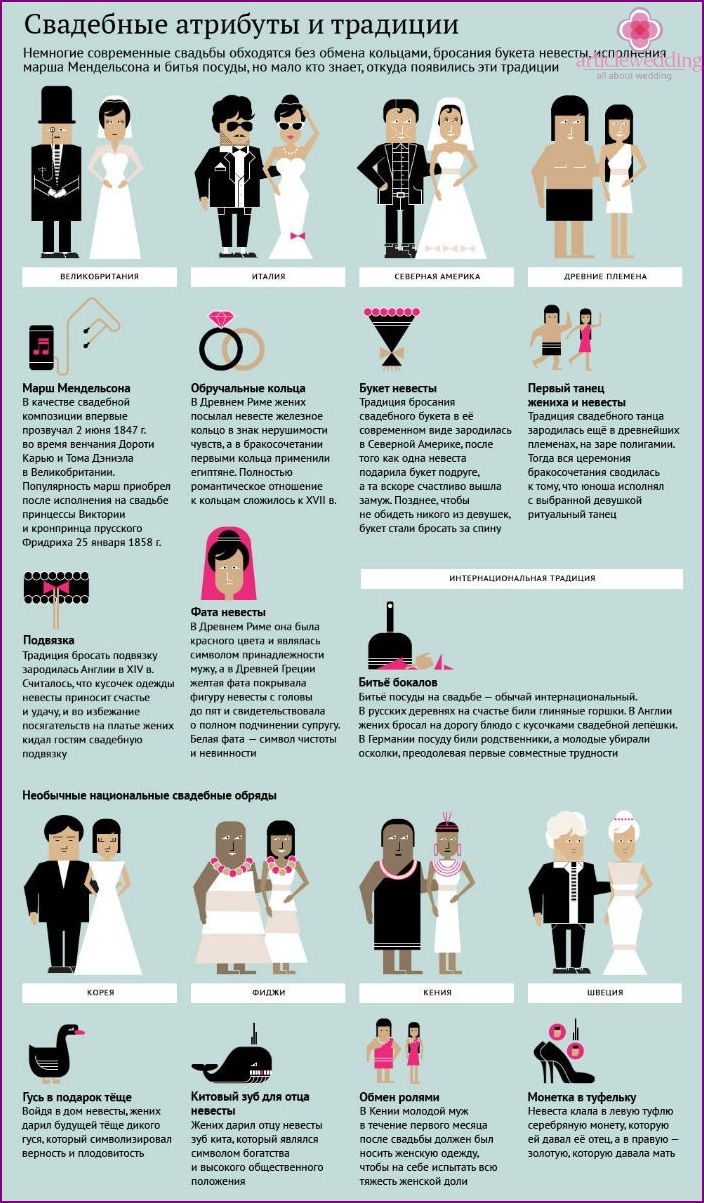 Wedding invitations
Unchanged attribute for the wedding, consideredinvitations. This beautiful small cards with which you invite guests to your celebration and notify them of the specific location, date and time of the event. Invitations come in the form of cards (standard invitation), and these cards will not be difficult to do yourself; an invitation to a video clip; invitation with a photo of young and others. They may be completely different, it all depends on the celebration theme, newlyweds desires and tastes.

Rings
Wedding rings - a mandatory attribute of eachwedding. Even in ancient Rome, the groom gave the bride's parents ring as a sign that he is serious, he can provide his wife and family. Much later, the couple exchanged rings began on the day of the wedding celebration. They symbolize endless love, loyalty and devotion to each other. Dressing rings, the couple give a silent vow to live in love, loyalty and understanding.
Wedding rings are buying preciousmetal - silver or gold. And the design of the ring is absolutely does not matter, the main thing that it was pleasant to spouses and are ideal size. And for those who keep the tradition, choose a conventional absolutely smooth rings of gold, to the energy of your spouse / spouse freely circulate around the circle ring, making family life carefree.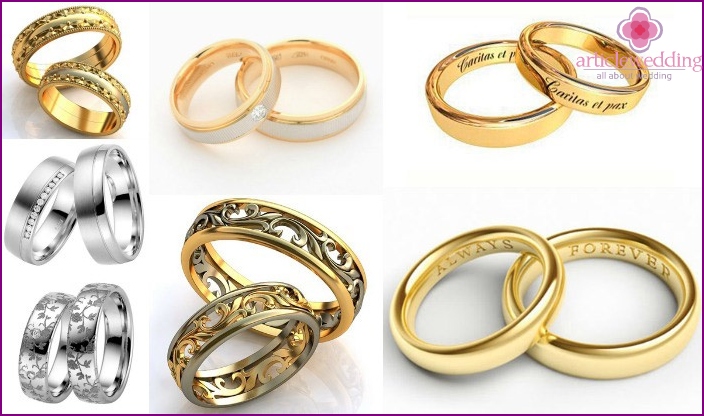 Wedding loaf
The customs associated with the wedding loaf:
Ancient tradition in Russia is considered to prepare and serve a loaf with salt for the wedding. They meet the young, thus making bread and salt in their family life;
According to custom, the oven loaf should a married woman who is happily married. Bake it, she shares her family happiness to the young couple.
Decorations for a loaf of: braids, cones, figurines swans or doves - symbols of love, wealth and well-being;
According to the beliefs it is believed that one of the spouses who will bite off a piece of loaf more - will be head of the family.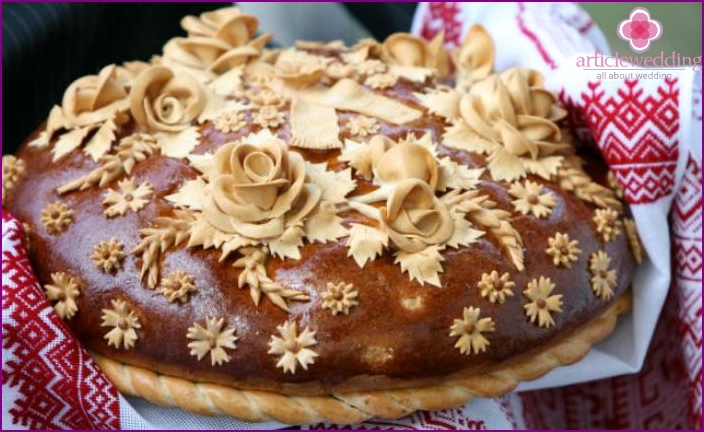 The bride's bouquet
An essential attribute of the bride is consideredbridal bouquet, which gives her groom after the ceremony of redemption. With him she spends all day, it will come in handy during a photo shoot. By the end of the evening, the bride throws her bouquet of charming his unmarried girlfriend. According to legends, the girl who catches the bouquet will soon marry. Recently, a bride trying to preserve your wedding bouquet for yourself, because quite often used for throwing the bouquet girlfriends understudy. It is necessary to think and take care in advance.

Wedding glasses
Glasses at the wedding, the couple picked up the style(Theme) celebrations. It can be elegant tableware on a thin stalk for glamorous celebrations or wooden cups in a Ukrainian-style wedding. Often the couple bought two pairs of glasses, one of which is divided into happiness. From the second the couple drinking champagne all night, and then stored for many years.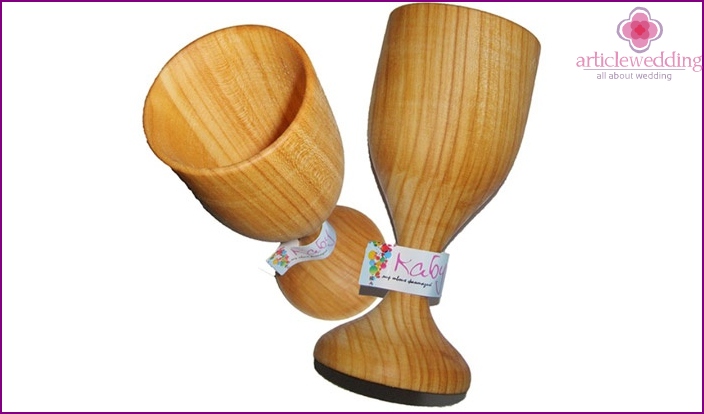 Glasses are not difficult to do on your own, adorningtheir lace, ribbons, or "dressed up" in the clothes of bride and groom. They will look beautiful with painted doves, hearts or simply tied with pretty ribbons. If the glasses do with their hands is not possible, then buy them in a wedding salon or store is not a problem. Their selection is huge glasses - to suit different tastes, preferences, costs.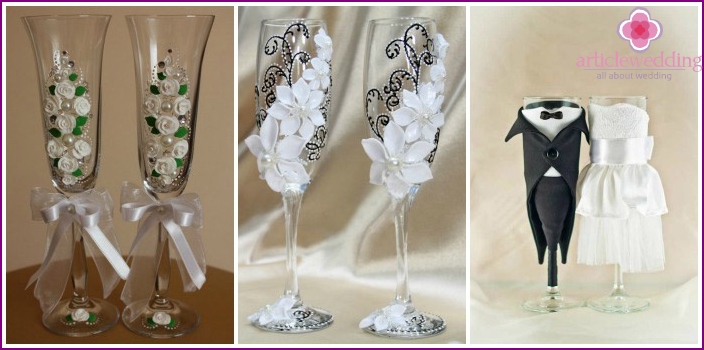 Wedding paraphernalia with their hands
Most newlyweds wedding accessoriescan make your own hands, putting every thing in a piece of his soul and by doing everything the way they want. The main thing - a little bit of free time, desires and fantasies. A co-creation process even more brought together spouses, give them a lot of positive emotions and pleasure. A few ideas - that the future spouses will be able to do it yourself: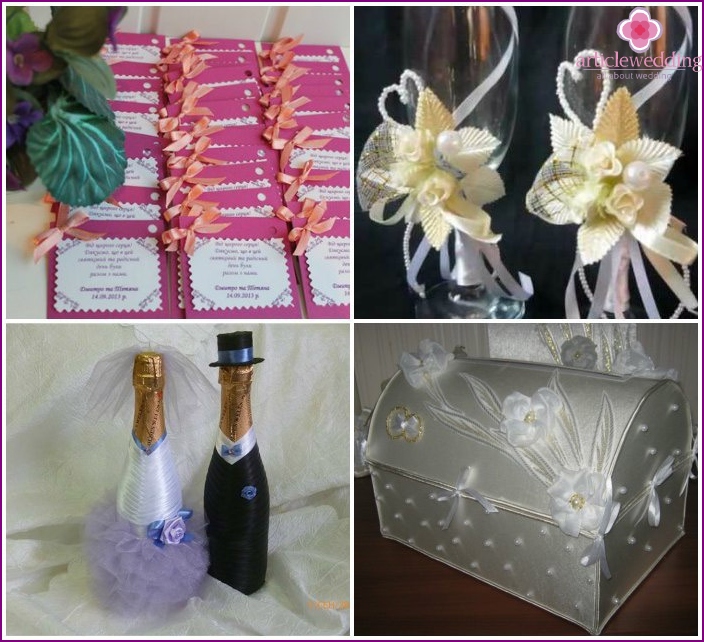 Wedding invitation in a beautiful vibrant or soft cards, made in the style of quilling, scrapbooking;
Original video invitation: removing a video or making it from photos;
An unusual and memorable is a sweet invitation in the form of chocolate or a box of chocolates. Make artwork from your photos, add the date and venue of the celebration;
Wedding glasses, decorating them with ribbons, pictures or polubusinami, rhinestones;
Accessories for a photo shoot: make tablets with inscriptions, sew soft toys, dress them in clothes of the bride and groom or wedding tie umbrella;
Elegant Wedding champagne bottles, which must be taped, pasted photos of couples in love, or to simulate the clothes of the young.
Wedding photo attributes