Of course, gypsy wedding - it's a lot of fun and noisy. Wedding portal www.articlewedding.com tell you more about this style.
Color gamma wedding
Red color must be present on thewedding in the style. Red will look good in the groom's shirt, red dress and groom can wear. In the colors of the wedding are also possible variations of white and gold, as well as combinations of red, which is very harmoniously fit into the style of the wedding. After all, gold and white symbolizes the gypsies wealth and love. In addition, these colors are sure to cheer up the guests, creating a festive atmosphere.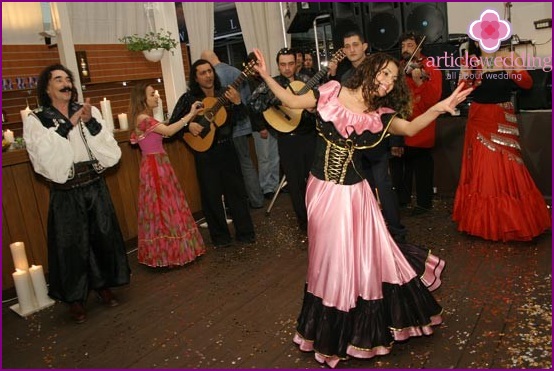 invitations
The invitation can be issued in the form of a scroll, tied with a red ribbon. Such unusual invitation will surprise and delight of guests.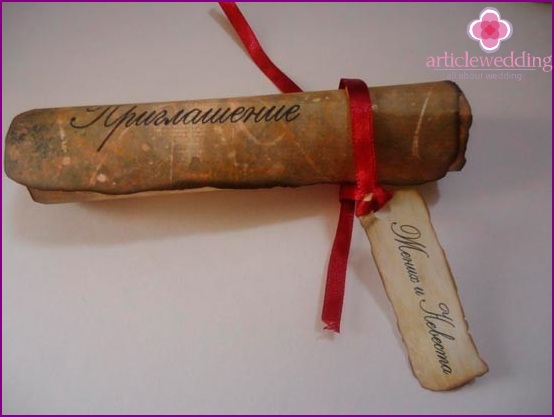 Bride's dress
happy bride wedding dress is usually selected for such weddings are very catchy and bright. This may be a white wedding dress with red elements or entirely bright red dress.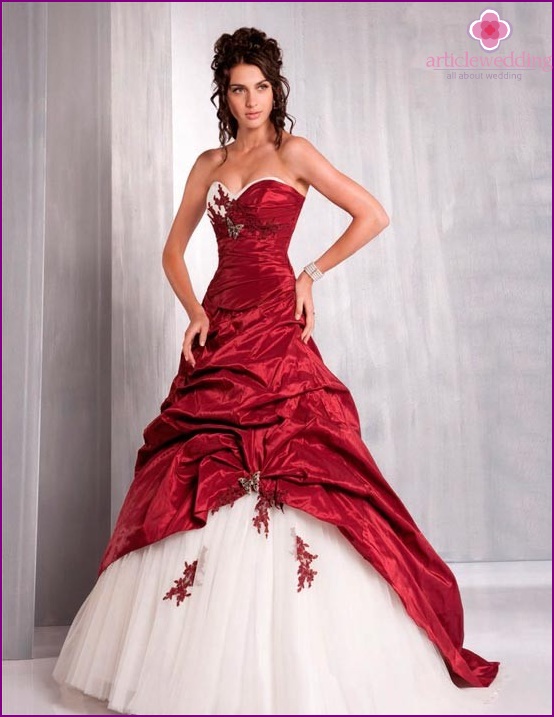 Do not forget about the bride's dressing gown with rhinestones, sequins, etc. You can use the corset to create the image of the Roma. In this dress you will feel like a gypsy!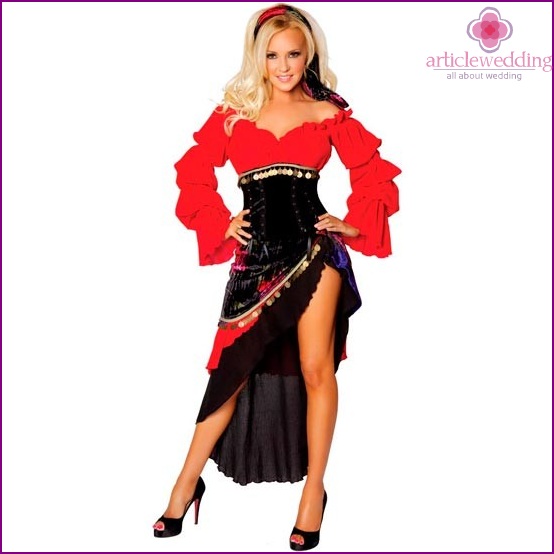 Another option may be a multilayerred skirt and a white dress shirt with ruffles. Very good it looks beautiful scarf covering loose, curly hair in curlers. As long earrings are ideal rings. In this dress you will feel like a real queen of gypsy camp!
groom Attire
For the groom should choose a red silk shirt, black patent leather shoes and leggings. It can be used as an accessory earring or bowler hat, and a thick gold chain around his neck.
The bride's bouquet
Red has always symbolized love andpassion, especially the Roma. It is this color should be present in a wedding bouquet passionate and loving bride in a gypsy style. For such a bright bouquet is best suited red roses or tulips.
Music at a wedding
If you want to arrange a gypsy wedding, then withoutmusic you can not do. Musicians that you choose must be a very talented and skilled artists. After all musicians should not only play gypsy music, but also to become a true celebration of Roma at the time to be in harmony with the chosen theme. You can put on a wedding disc with songs of gypsies, but live performance will give your romantic holiday, color touches the soul and remain in your memory for a long time.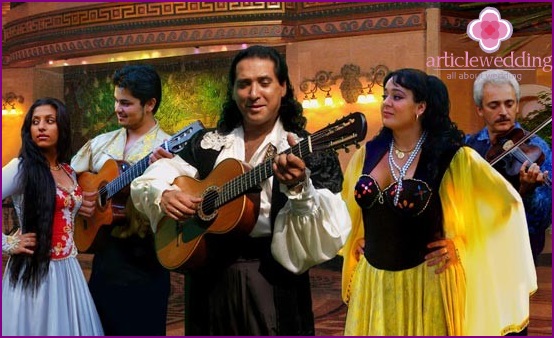 The main instruments of Roma have always been a guitar and a violin. Only with a live performance can have a good experience the originality and uniqueness of the music of mysterious gypsy.
Hot dances at a wedding party
This is a special show at the wedding. Rostov main polka dance at the ceremony, in which all guests can join.
The Wedding banquet
The banquet is best to arrange in a good restaurant. For meals, you can use chicken, lamb, which usually eat Gypsies. To the table at the ceremony are also encouraged to submit gefilte fish and game, quickly cooked skewers, tortillas with minced meat. As alcohol is well suited wine. Where gypsy meal without wine? Wine should be a lot, and it must be of good quality.
Wedding portal www.articlewedding.com confident that by choosing among the many wedding stylistics Gypsy style for your wedding, you are organizing a unique holiday filled with fun and joy of communication.