The couple who decides to organize a wedding in the style ofmasquerade, different creative approach to life does not tolerate routine and tends to be mild extravagance. Subject masquerade involves theatrical, play, courage, passion and drama. Carefully thought-out and thematically related celebration in style masquerade promises an unforgettable and impressive.
Masquerade: it is important to take into account?
The tradition of masquerade balls originated in the 15th centuryin Italy (and later became popular in France). Masquerade understood as a fancy dress party, during which people plunged into the atmosphere of mysticism, mystery, intrigue and some permissiveness. Extravagant costume and mask helped to conceal the identity of the visitor, and thus allowed him to behave in any manner without causing harm to reputation.
Later masquerades became an occasion to try the unusualcostume and mask chic, elegant look, flirt with other guests and discover their hidden potential. Your choice of wedding portal www.articlewedding.com offers two wedding style masquerade: a large-scale costume party and private party elite.
Dresses the bride and groom
For the groom a good option - to pick an interesting dress coat or a coat decorated with original antique and supplement it with accessories or themed design.
For the bride can pick up white Wedding Dress with lush multi-layered skirt (eg, waves or Alfred Angelo style). The idea for the brave girls - individual tailoring carnival costumes in holiday style.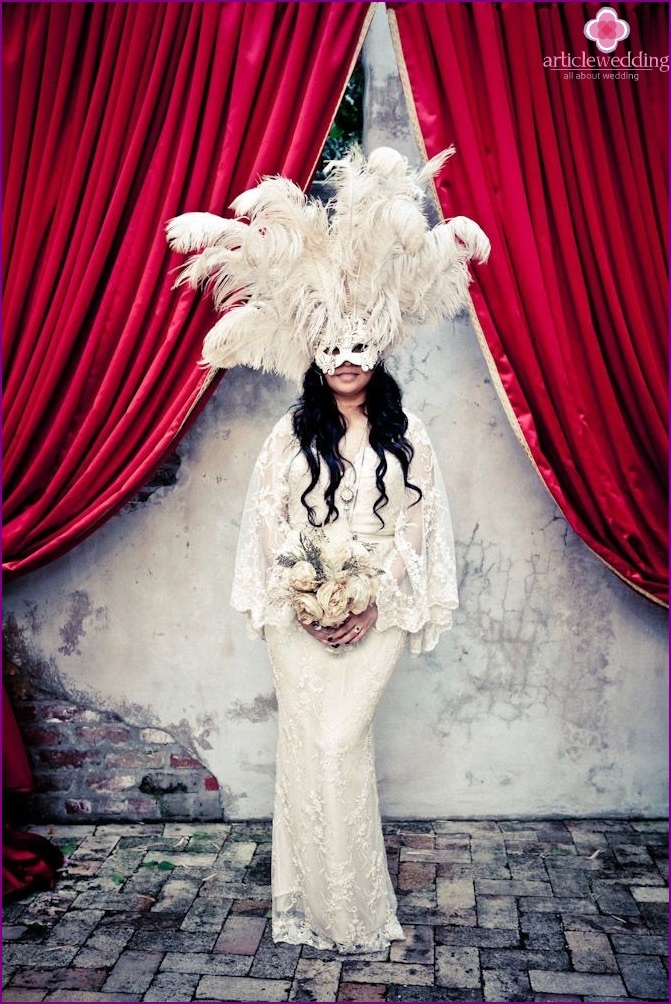 Flowers for wedding
Bridal bouquet should be a realproduct floristry. Add the artificial flowers accessories sequined leaves some cover. Perhaps drawing bouquet of fabric flowers. Be sure zadekoriruyte stem bouquet.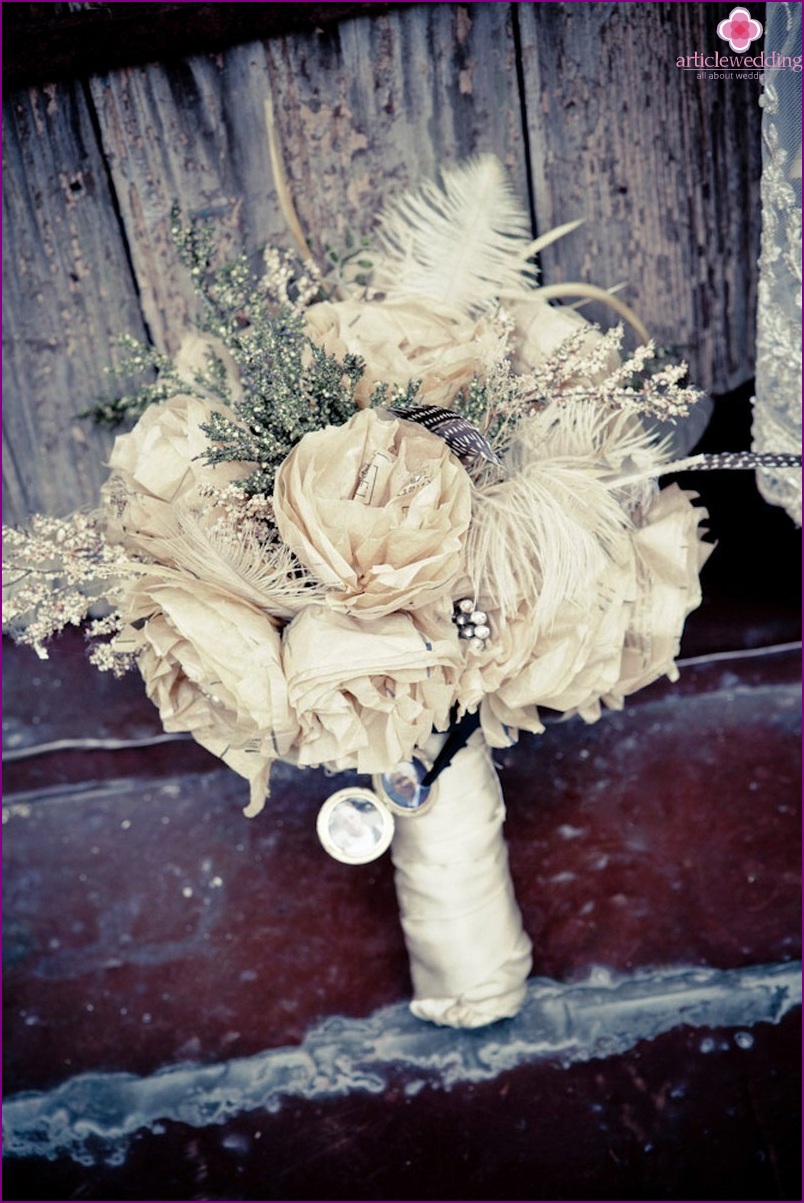 Masks - a special accessory
Mask - is a constant attribute of the masquerade. Book or make their own (for the bride and groom, witnesses, guests, etc.). Warn your guests that they have taken care of their own masks. However, keep in readiness a few extra in case someone else could not buy a mask. Besides, Wedding workshop for the production of this accessory can be fun and creative theme bachelorette party.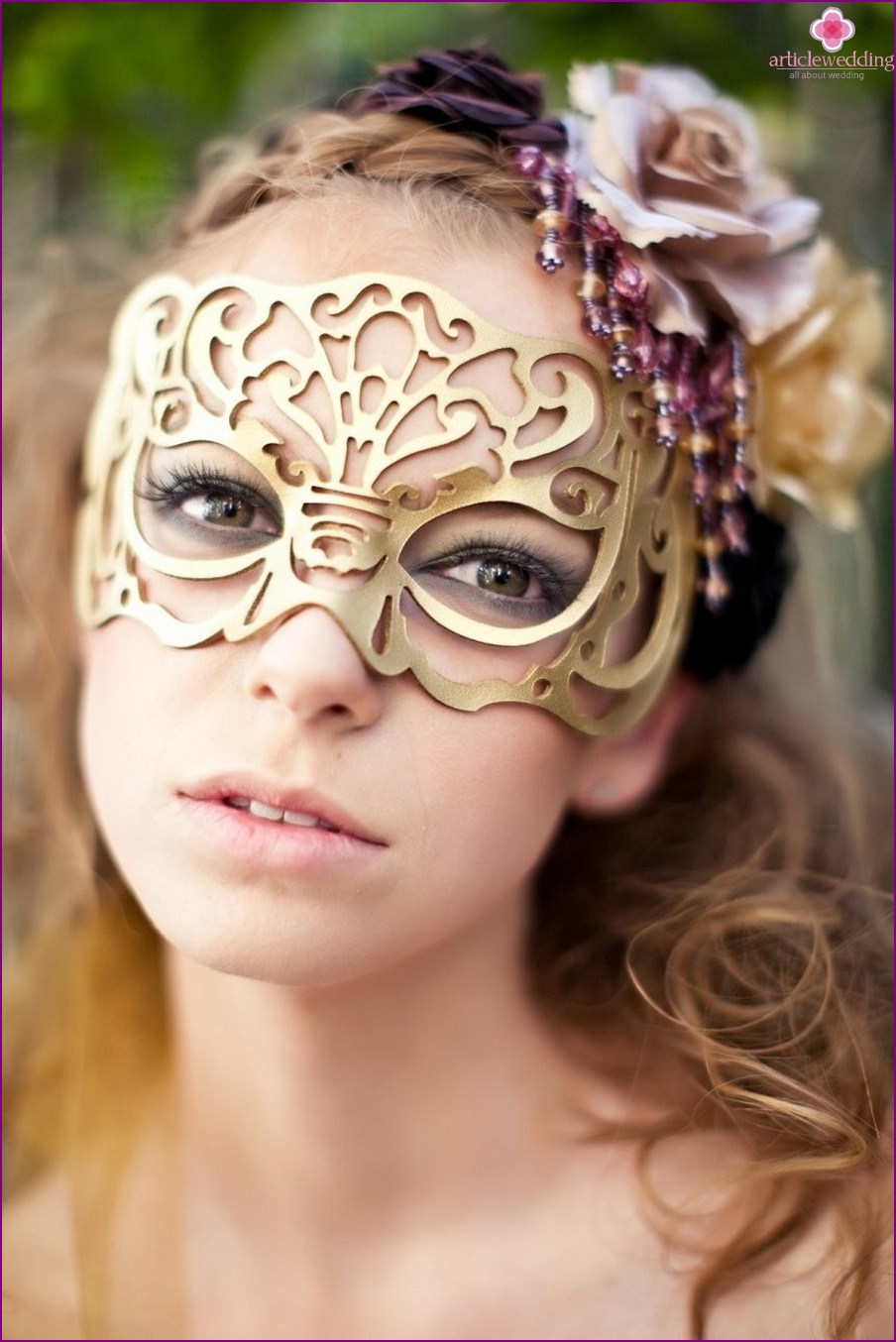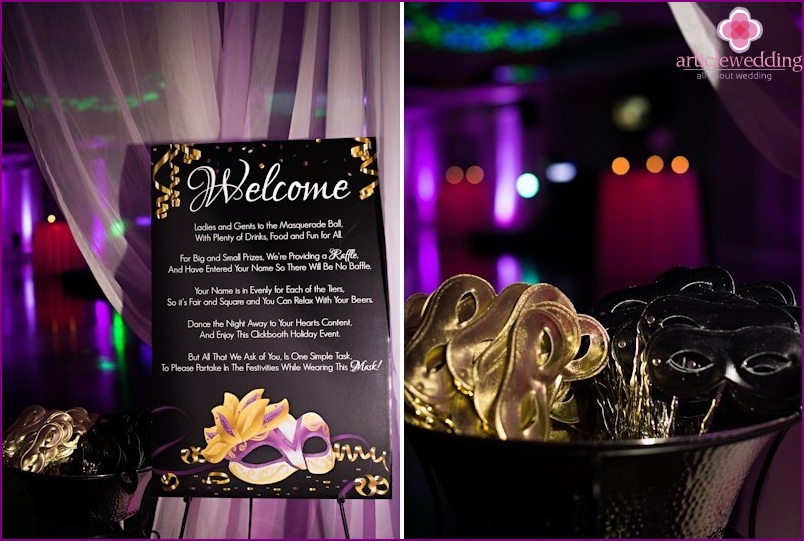 Accessories for suits
Wedding in style masquerade - a holiday for those whodelighted with all sorts of jewelry and accessories. Even the most ordinary dress sparkle in a new way, if we add to it the unusual accessories (different colors, materials, shapes, styles, etc.).
Remember brooches, beads, chains, necklaces,bracelets, earrings, head ornaments, hats, canes, watches on chains, boutonnieres, gloves, fans, and many other exciting accessories that look great on a masquerade.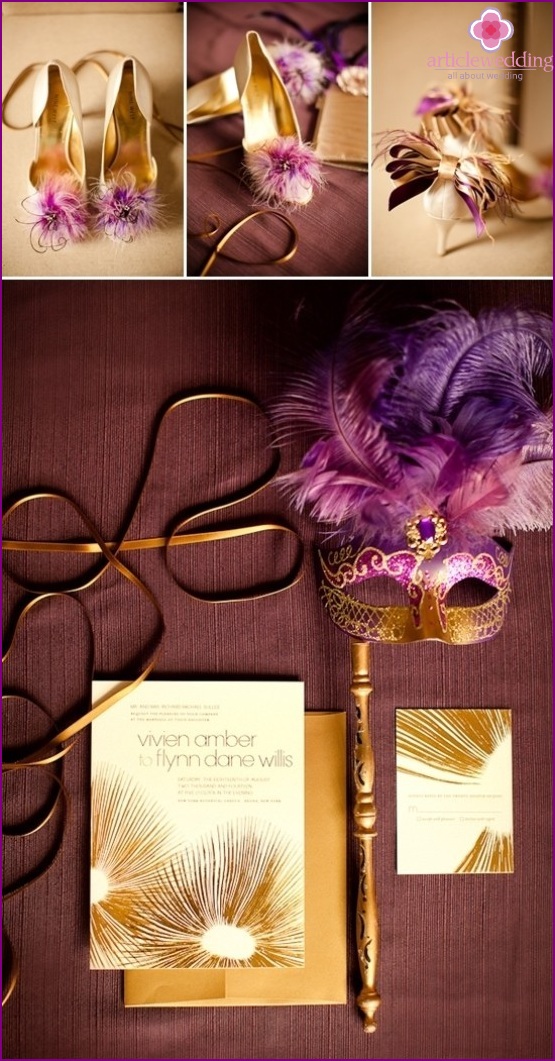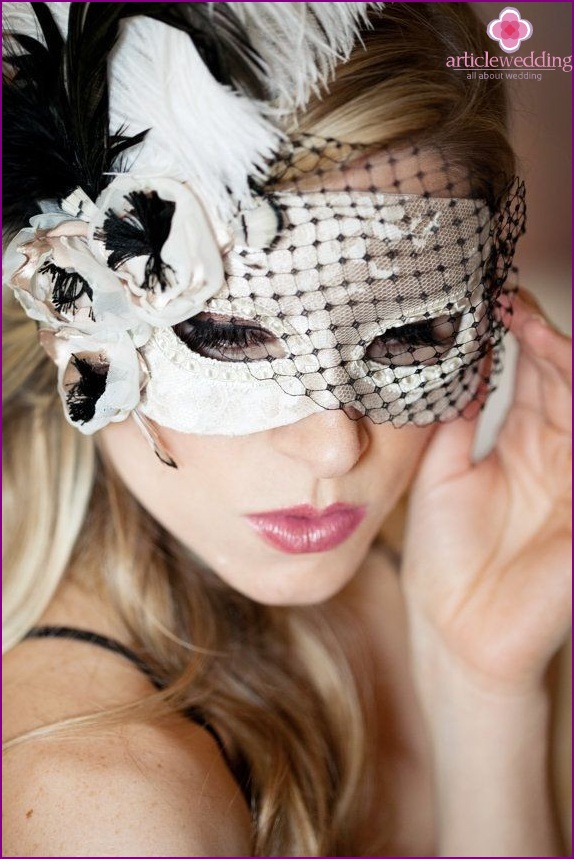 Dress code
Of course, it is necessary to warn visitors aboutmandatory presence of fancy dress. Full option - an evening dress in combination with a mask. Take care of the room, where guests can change who found special costumes.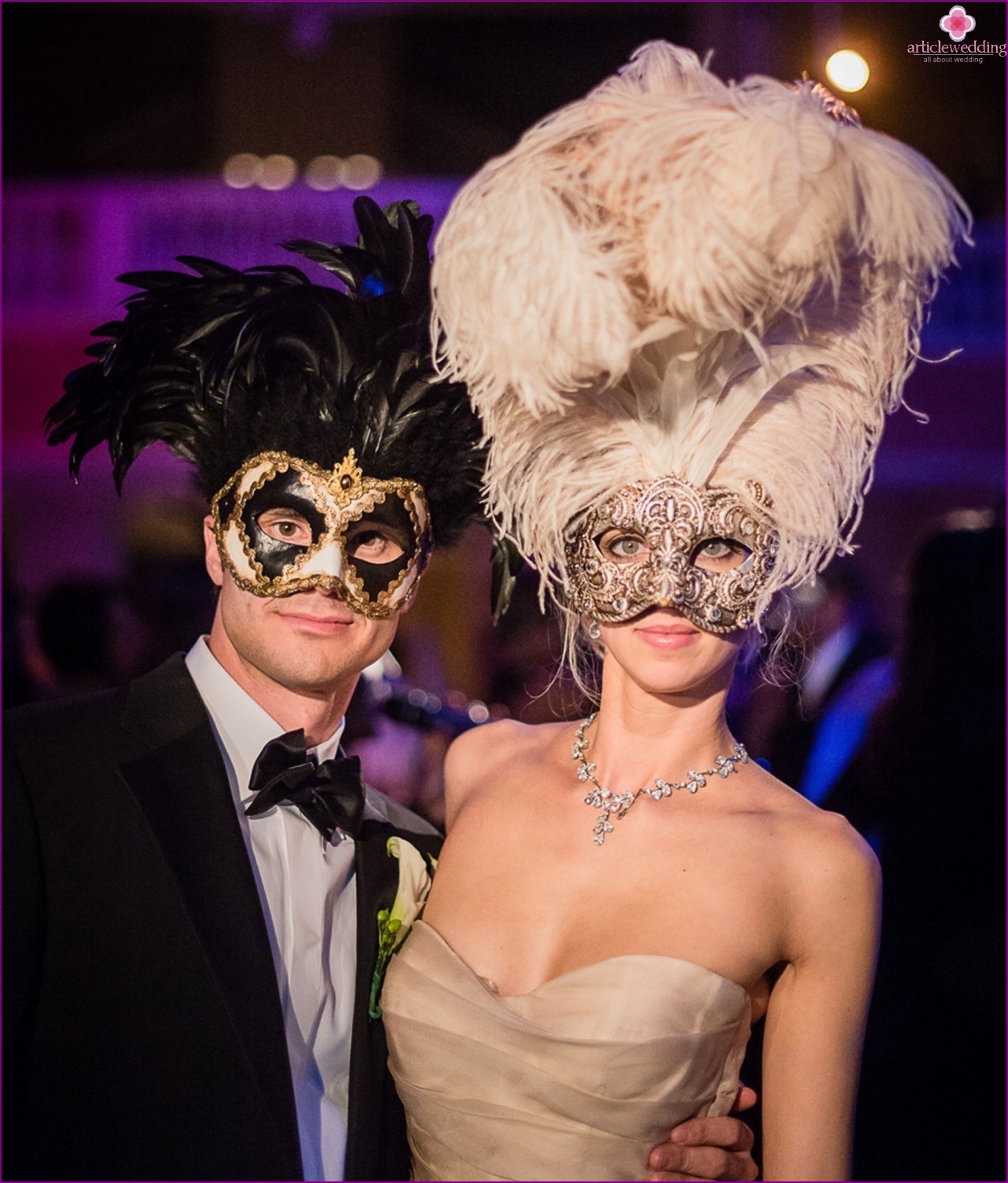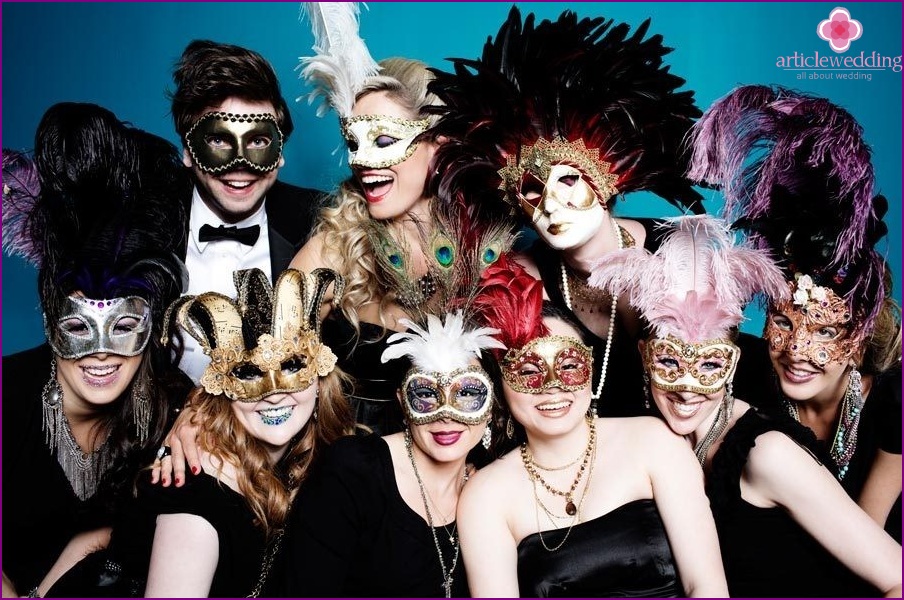 style wedding decoration masquerade
An ideal place for wedding Party - A palace or a private mansion. The spacious rooms, columns, stairs, statues, furniture and paintings create the atmosphere of the old ball, I am sure the site www.articlewedding.com.
From decorative elements notebouquets of flowers, flower arrangements, garlands of crystals strands of beads, unique multi-layer design accessories, props, feathers, candelabra, candlesticks and other colorful items.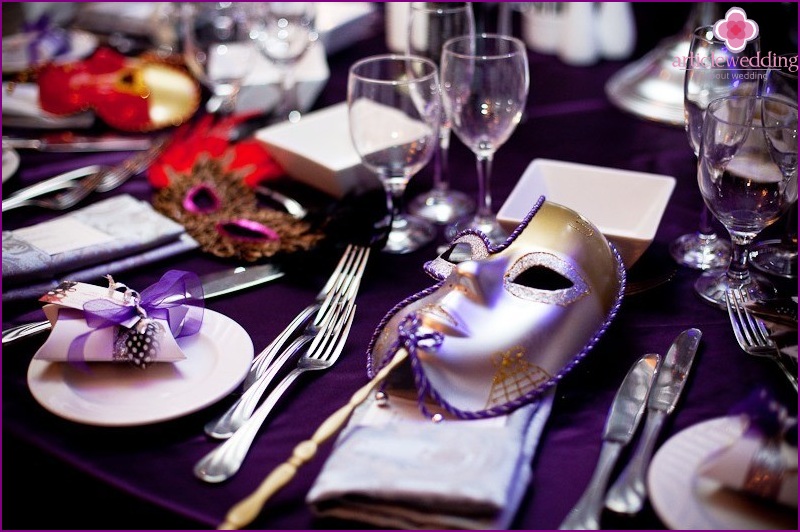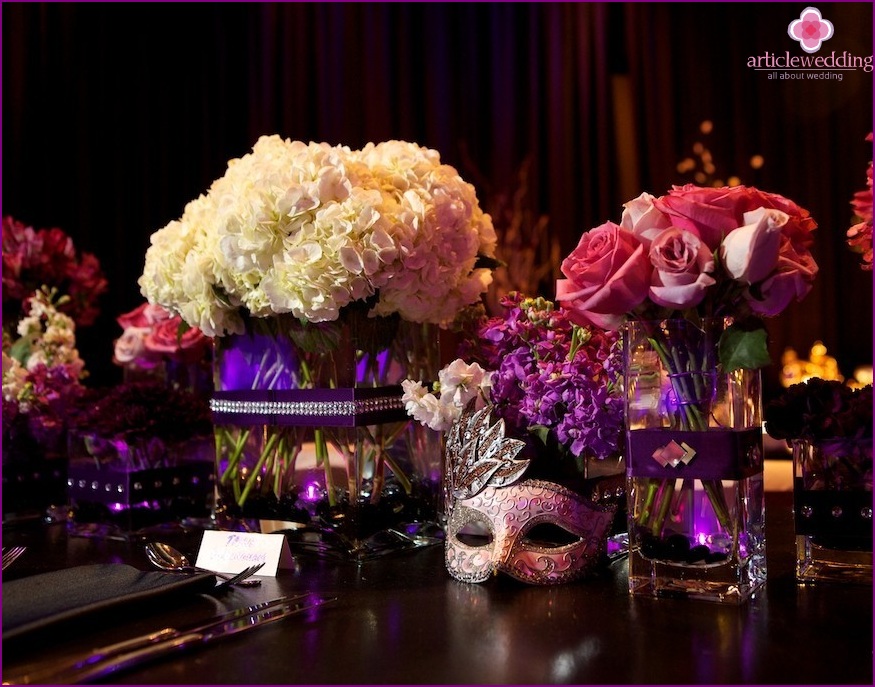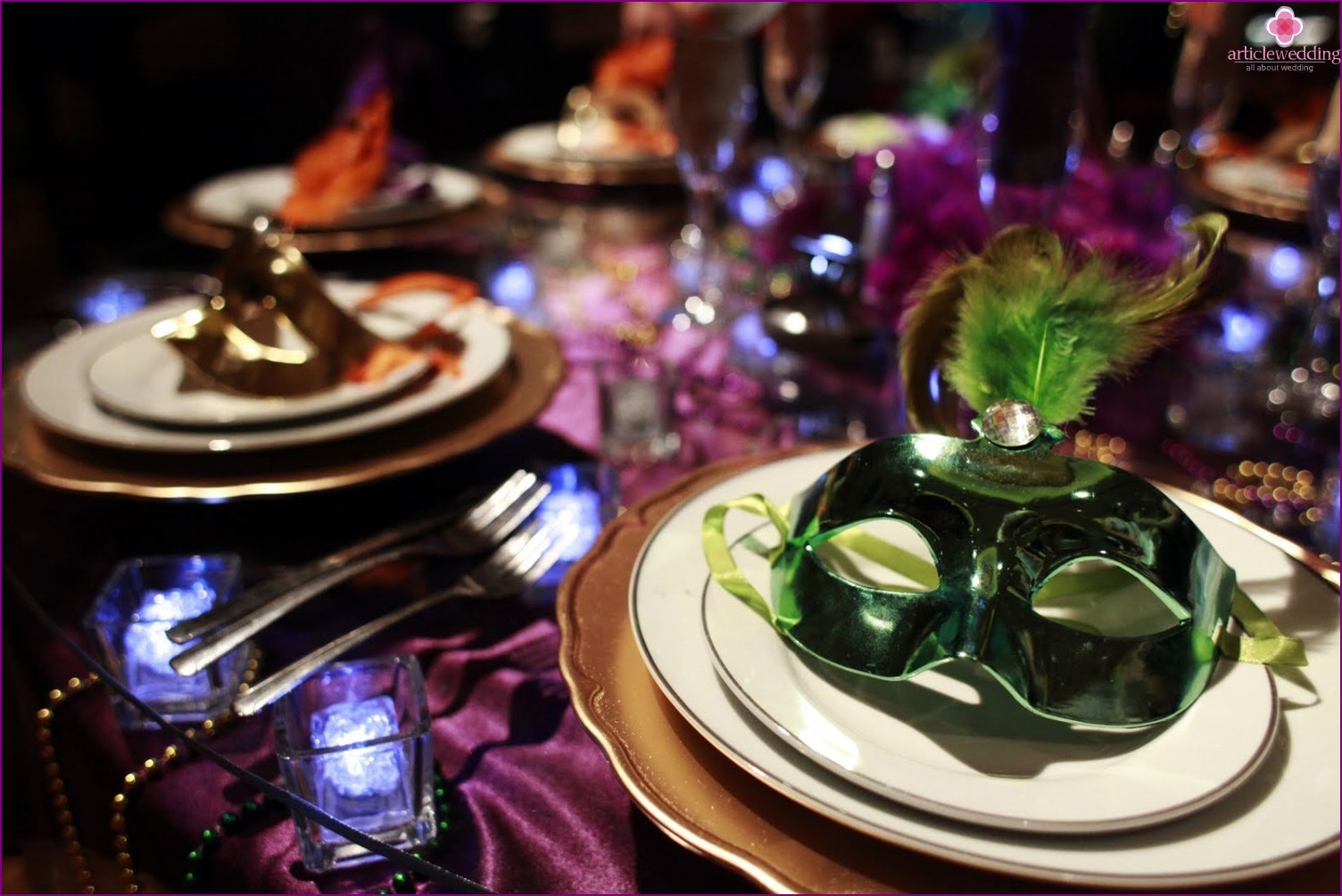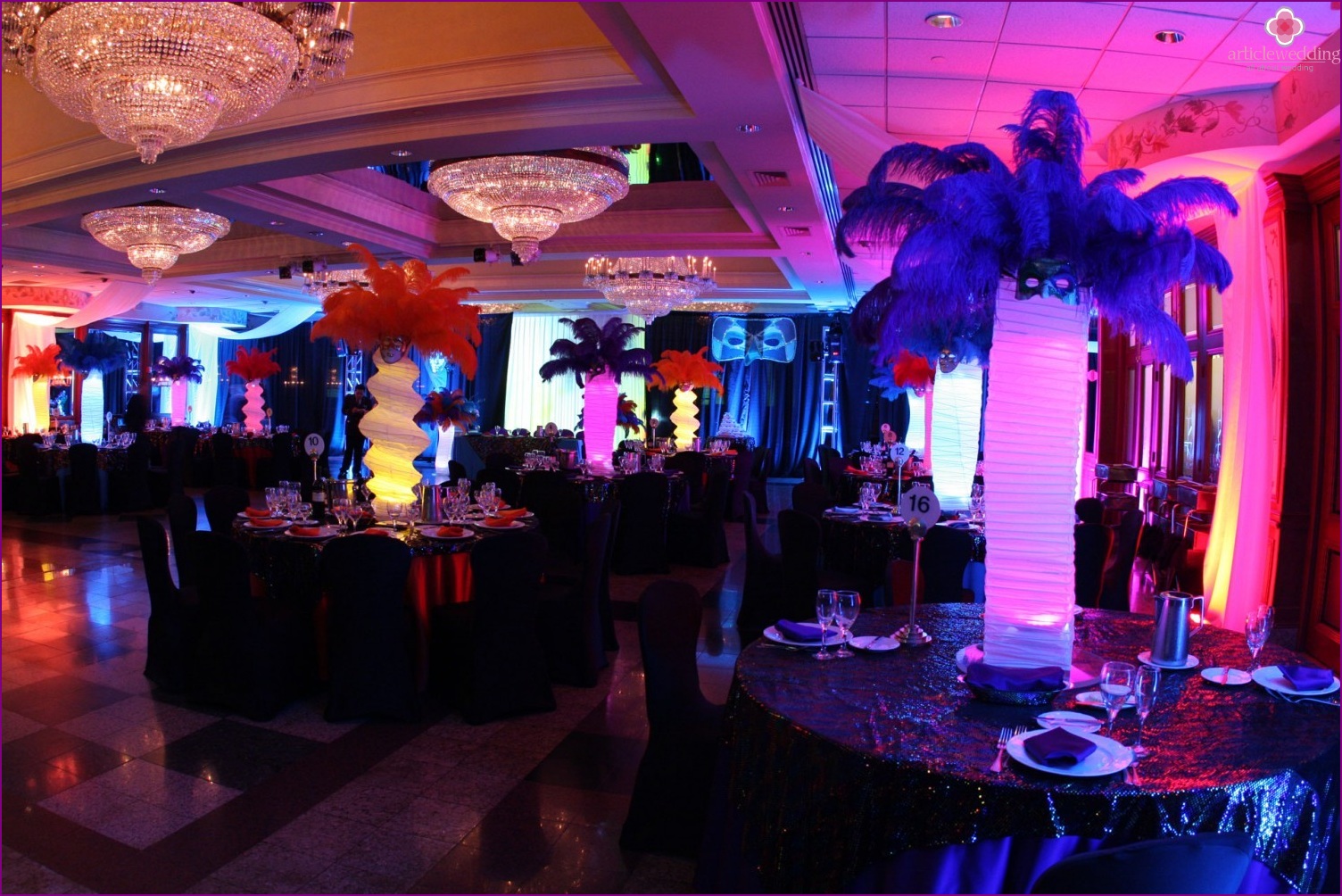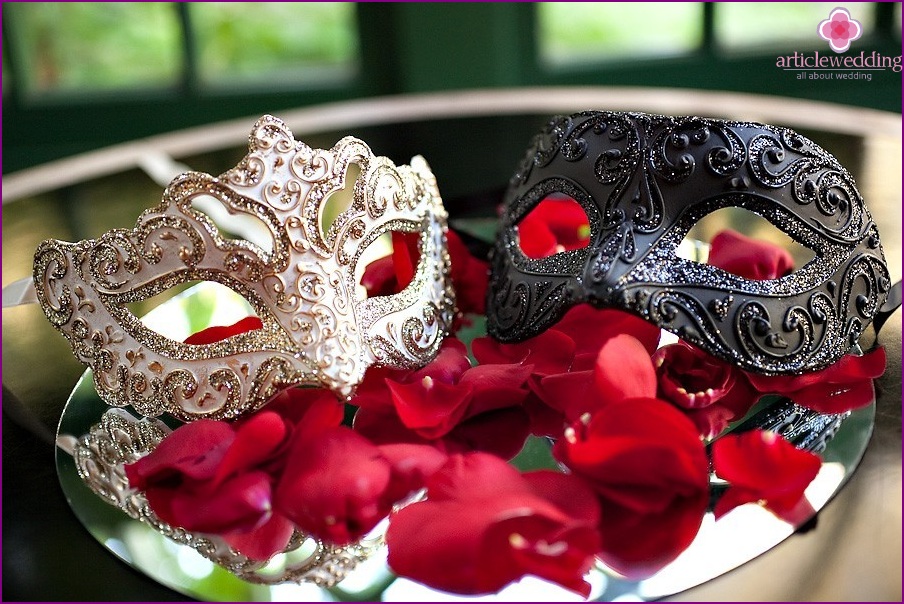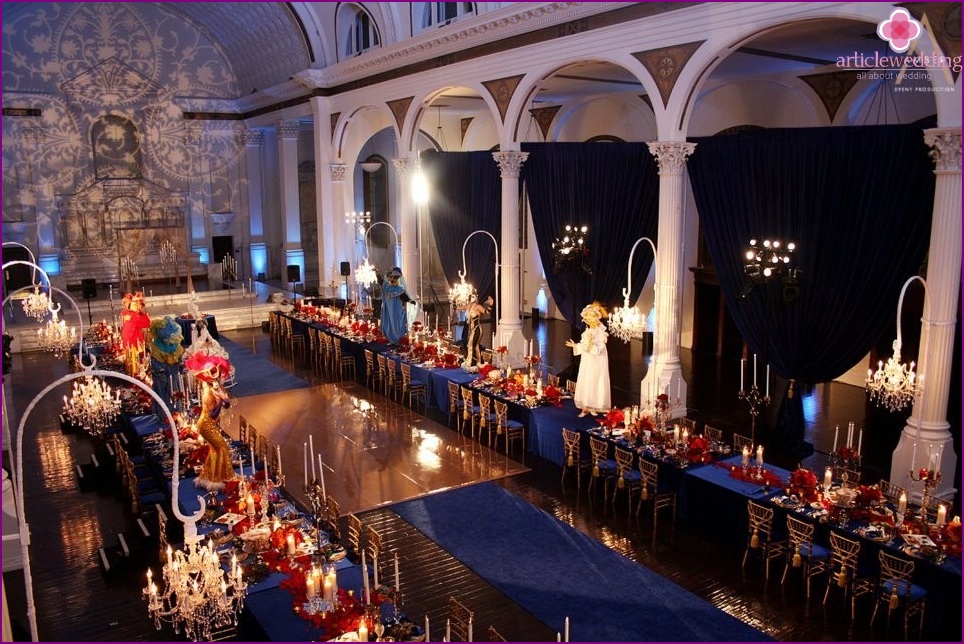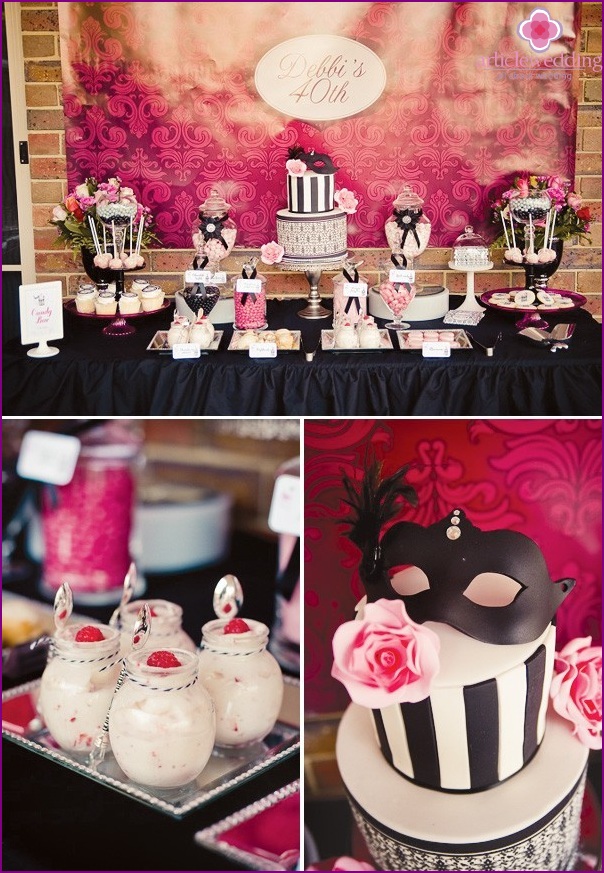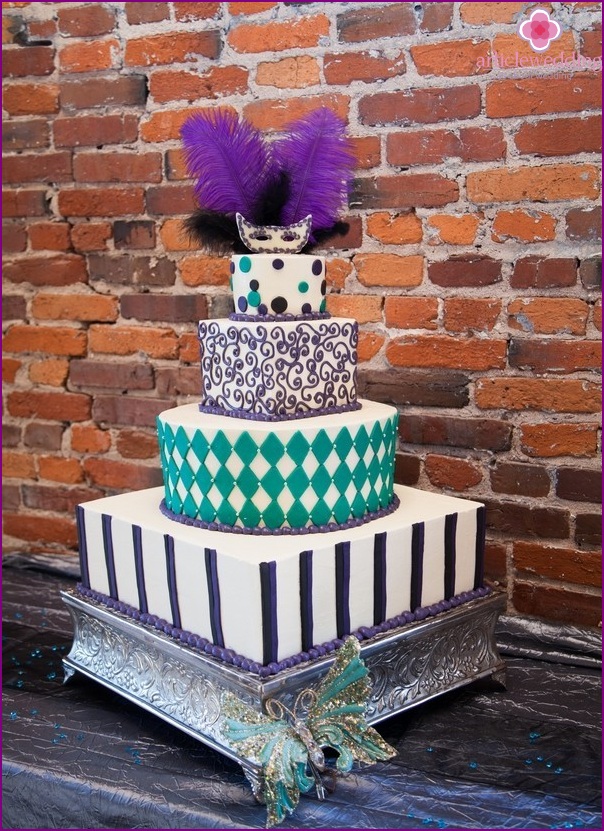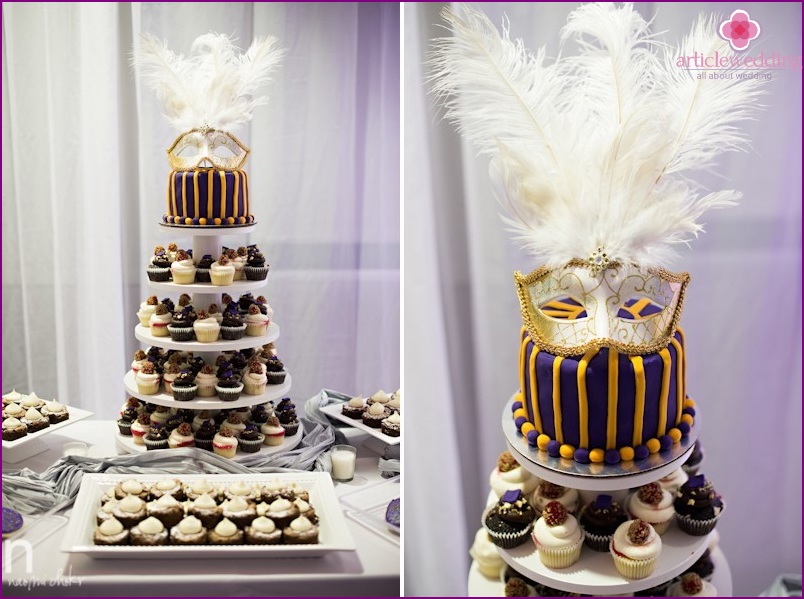 Entertainment at a wedding in the style of masquerade
The special atmosphere will also help to create a specific entertainment:
Master classes on medieval dances with live music.
Games: guess the man in a suit and mask to fill in an anonymous card sympathy, to portray the behavior of the character of his costume.
Competition for best costume, etc.
This will allow visitors to become better acquainted with each other. Invite jugglers, mimes, acrobats, arrange the fire show - and enchanting holiday is provided to you.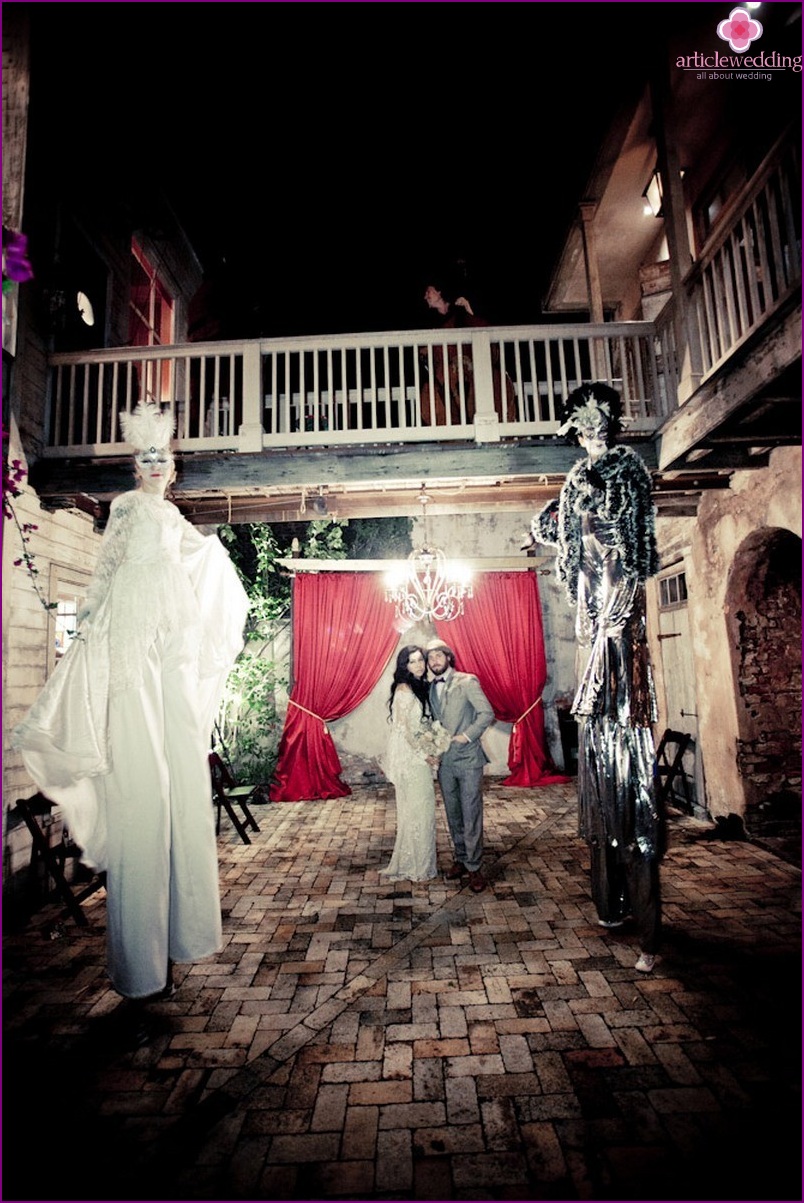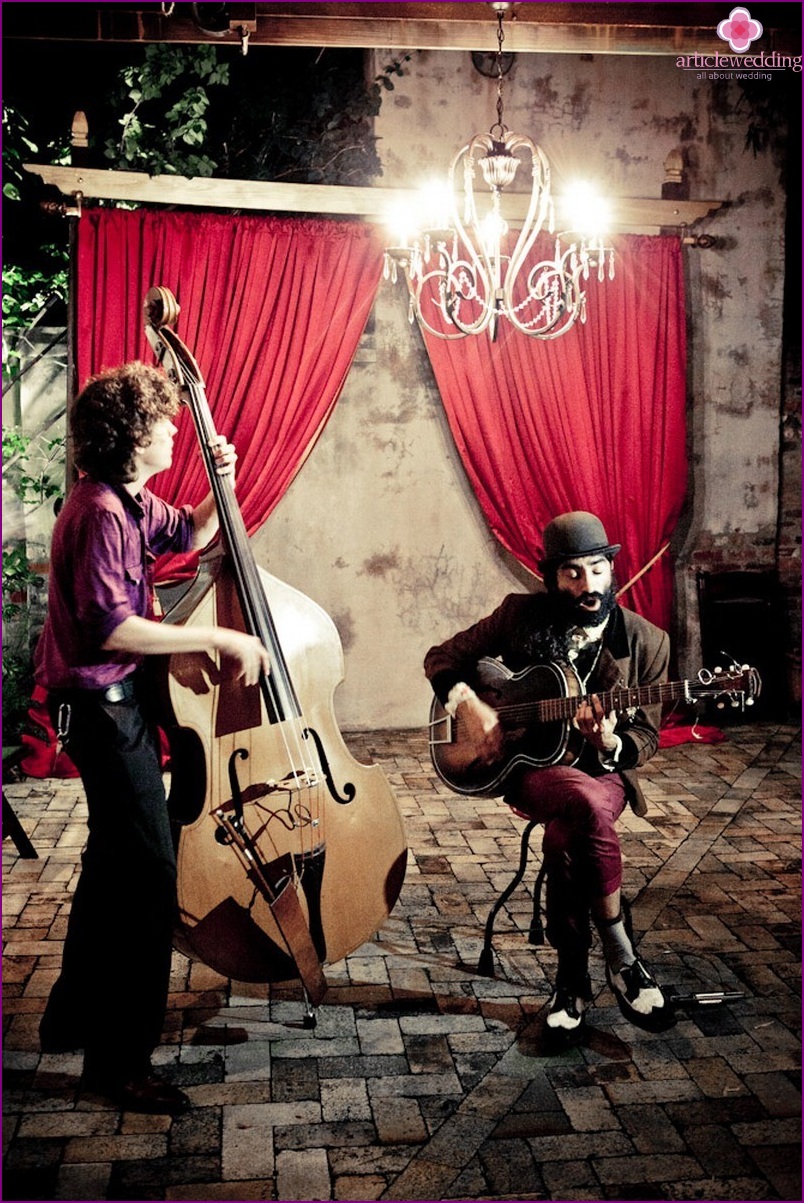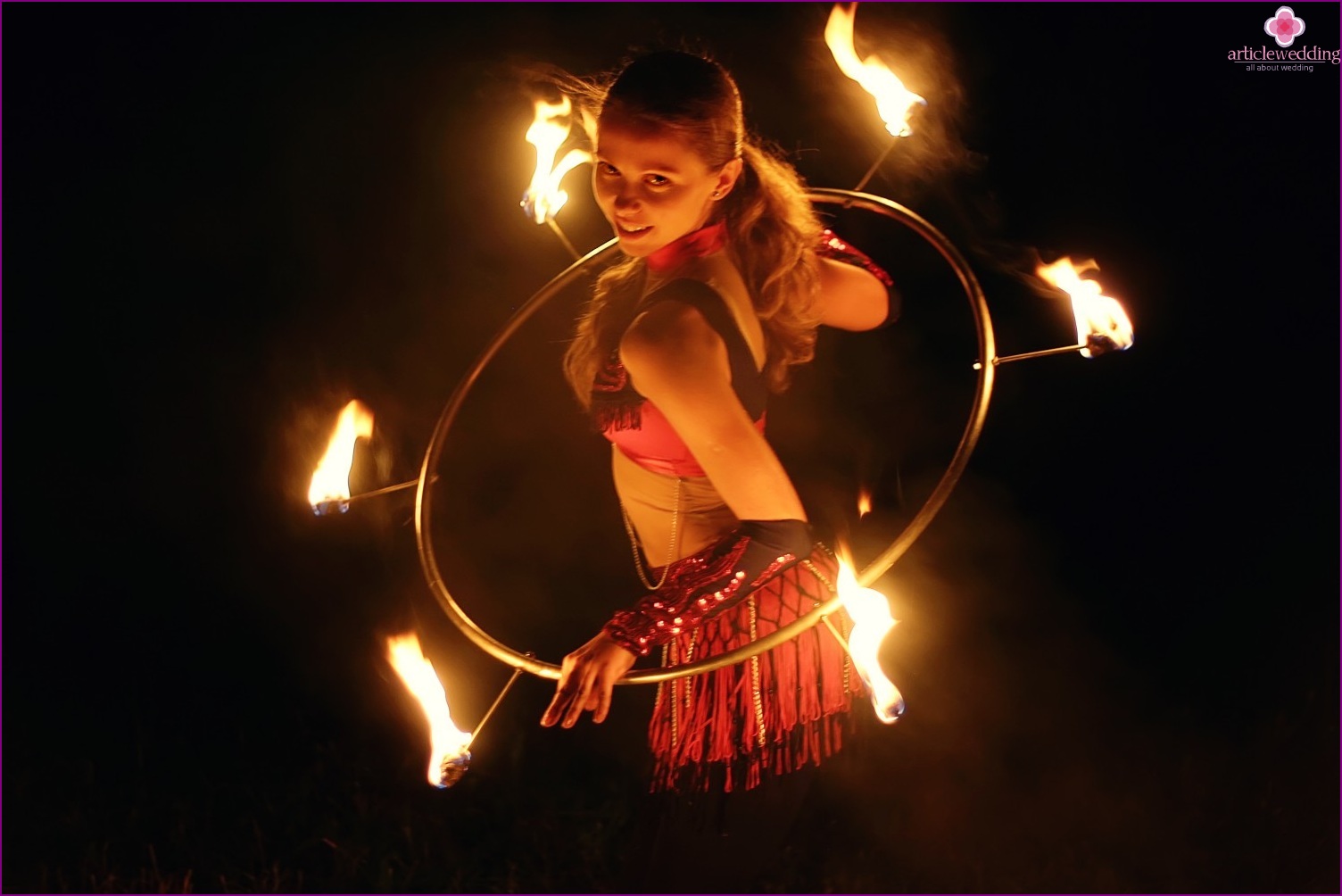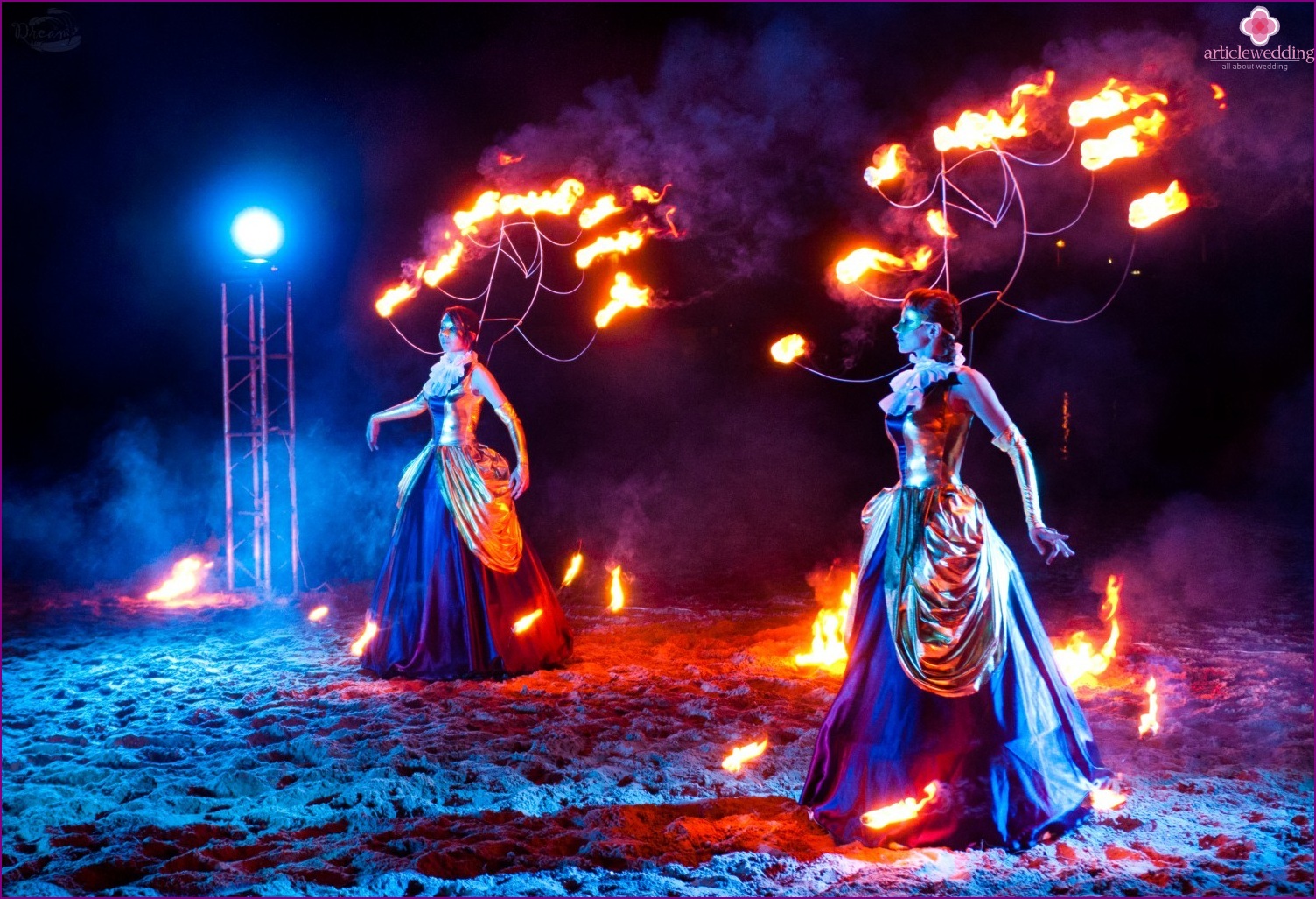 Wedding in style masquerade - a bright and exciting event that will organize interesting, fun and nice to remember.