From that, what style will fail yourwedding depends largely on the extent to which a vivid and memorable event, it will be for you and your guests. If you want to make it really memorable to everyone, why not use strawberries for your wedding decor?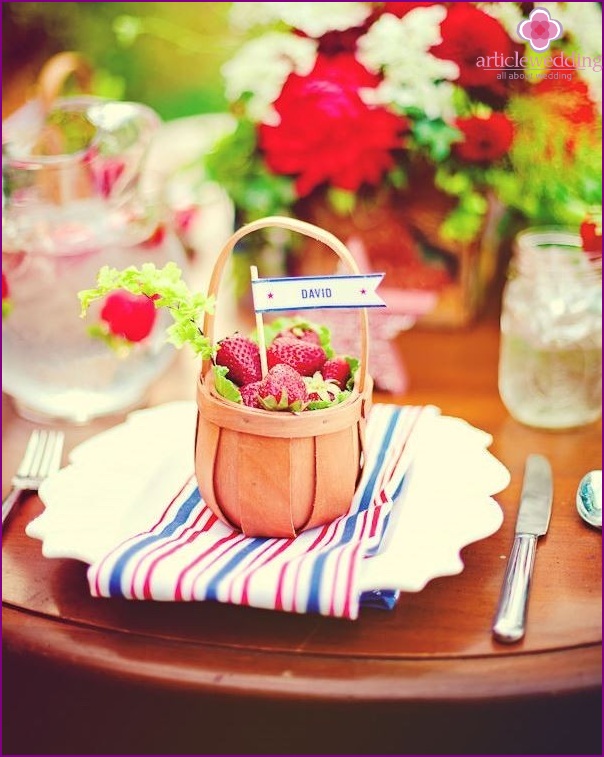 Wedding decor and accessories in strawberry style
Strawberry itself is very brightaccessory. Sweet, juicy, summer - it gives any celebration sea positive mood. Strawberries can be used as decorative ornaments. First of all, you should decide on the wedding color palette. It is best to combine colors such as red andwhite. These colors should be used in the decoration of the banquet table. Combine the red and white in the design tablecloths and chair covers, as well as decor elements.
To decorate the table, useTransparent glass containers to be filled with water. Inside place the strawberries, it is possible in the context, add the mint leaves and ice container - and your decoration is ready!
It is also possible to place on the table with bright bouquets of flowers, in which as an accessory, you can add the strawberries. Or you can simply sprinkle berries on the festive table.
Berries and strawberries image sure to use in the manufacture of accessories: invitations, banquet cards, etc.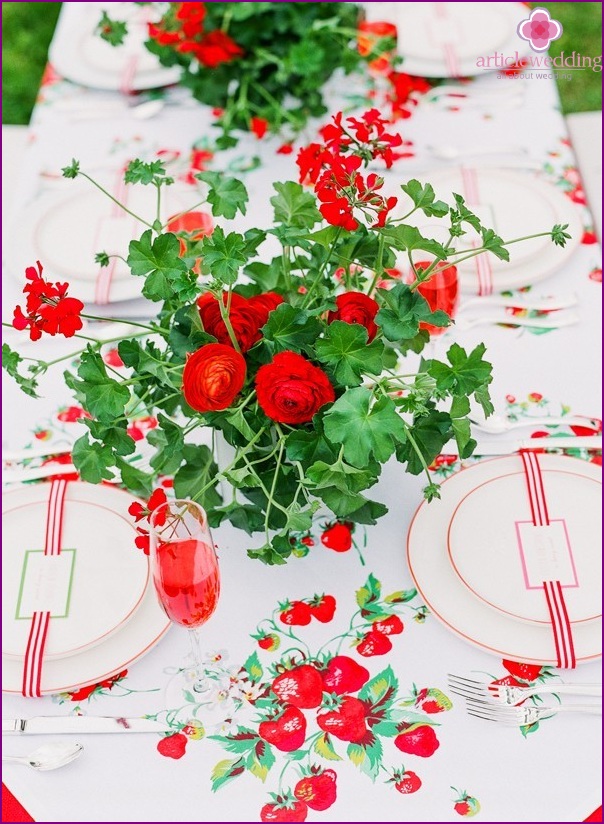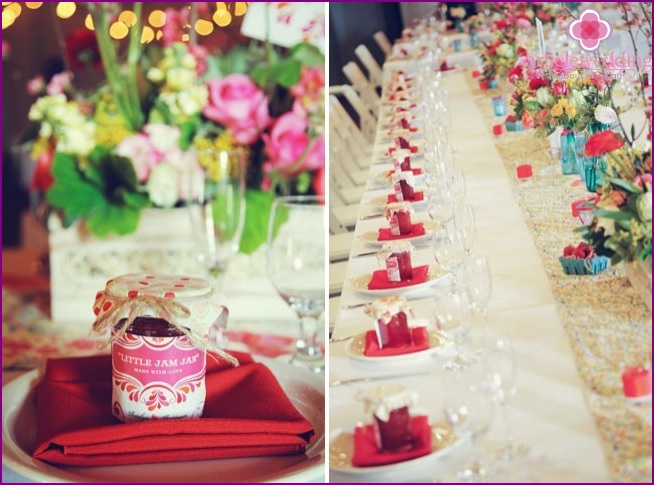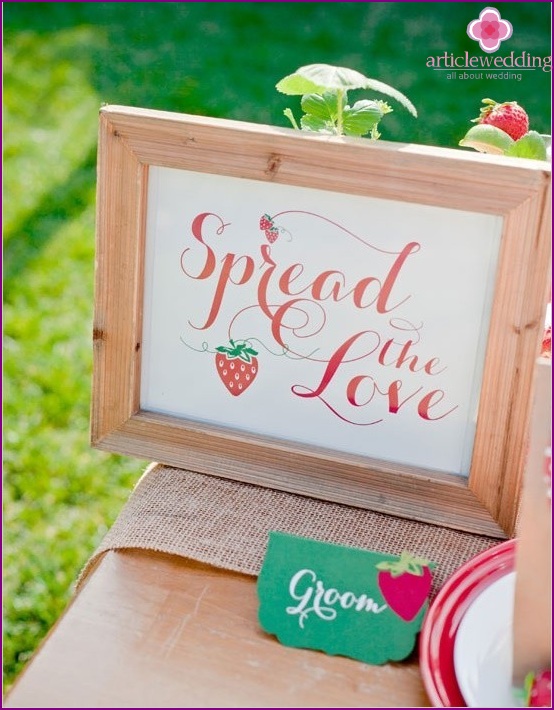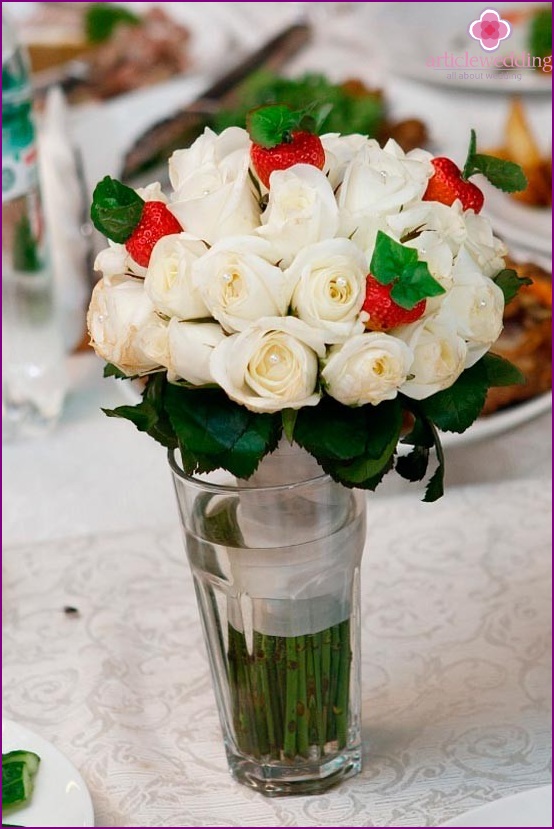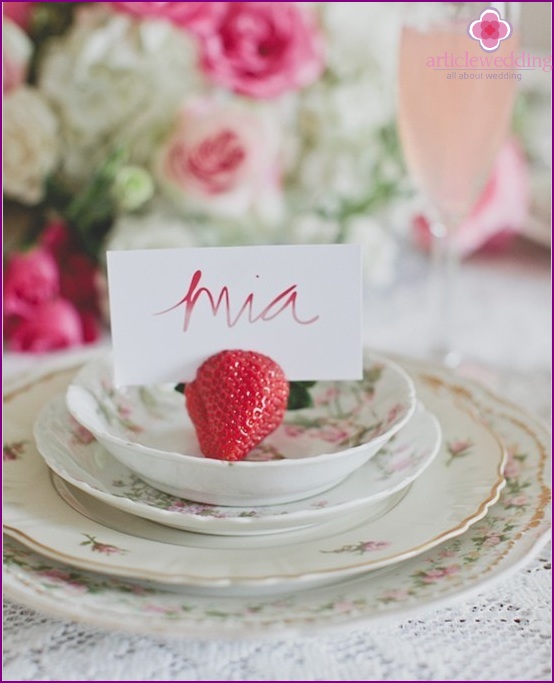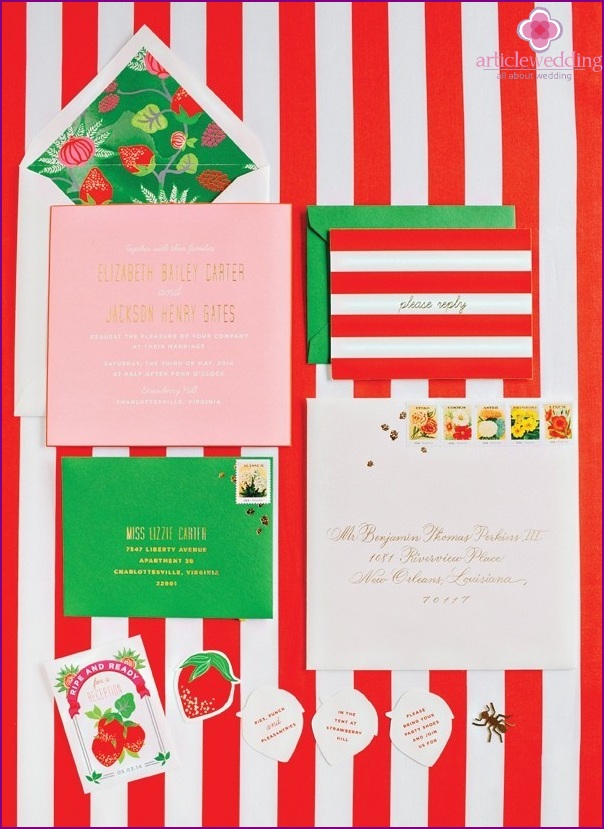 Many ideas for wedding table decoration can be found on our website www.articlewedding.com.
Wedding photo session in strawberry style
If you want to make a thematic photo shoot,enough to hang on the tree cute strawberries, which will create a juicy summer mood and positive charge. Strawberry - a passionate berry, so it gives the image notes of spice and seductiveness.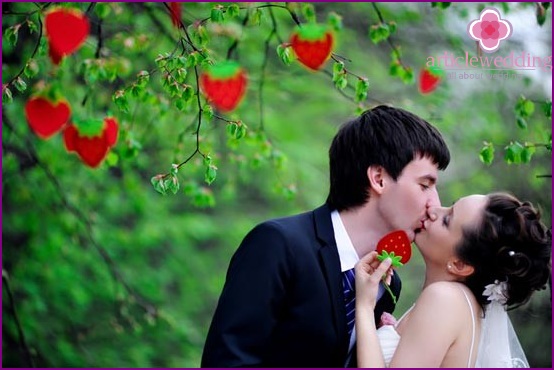 Bride and groom in strawberry image
Strawberry image does not require special cardinalchanges classic wedding image. Just add the image of bright colors, namely red juicy mood. The bride can pick up a red wedding shoes, the groom - a butterfly, or a tie.
Look beautiful ornaments in her hair. It can be fascinating clip in the form of strawberries. You can also use earrings or bracelet with the image of a strawberry.
The image of the groom can use the pink shirt that will fit your style strawberry. Otherwise, the image of the groom, you can stick to the classics wedding.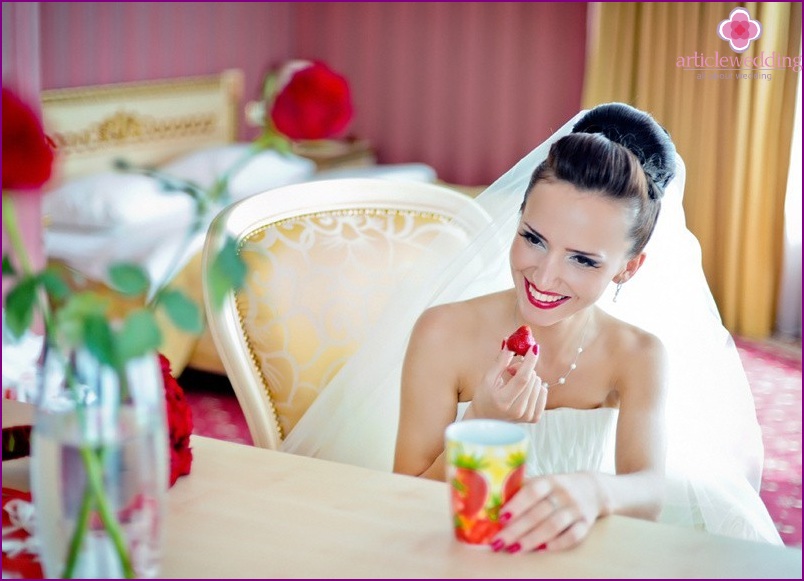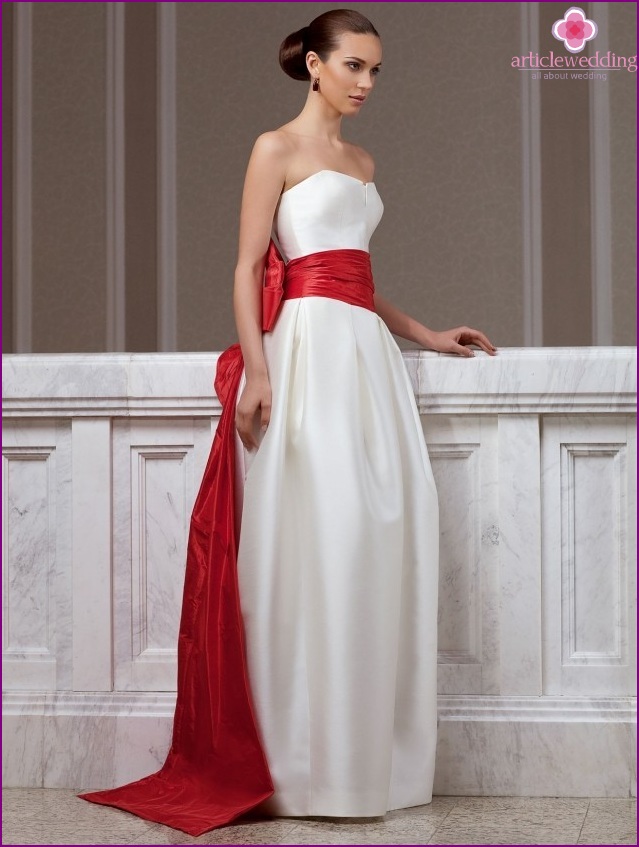 Strawberry Wedding cakes and treats
The best use of strawberries can be found inpreparation of a wedding cake. This cake will look fantastic. In the first place, strawberry looks very aesthetic, and secondly, it gives the cake a wonderful flavor and aroma.
Cake will be the focal element of your weddingtable and, of course, will delight guests. You can also cook a variety of strawberry cupcakes and cakes. Strawberry is well combined to taste with whipped cream, which make it very gentle and sweet dessert. What else wedding cakes You can cook for a wedding celebration, you will learn to www.articlewedding.com site.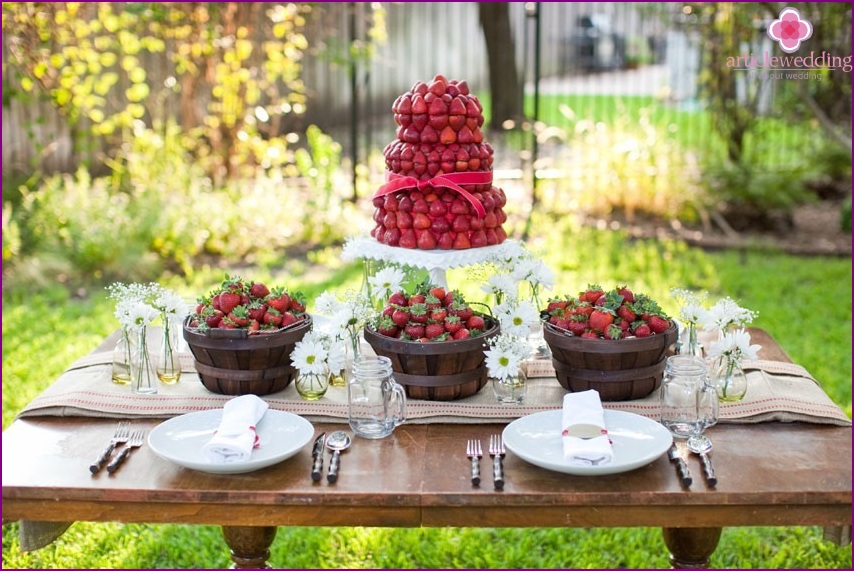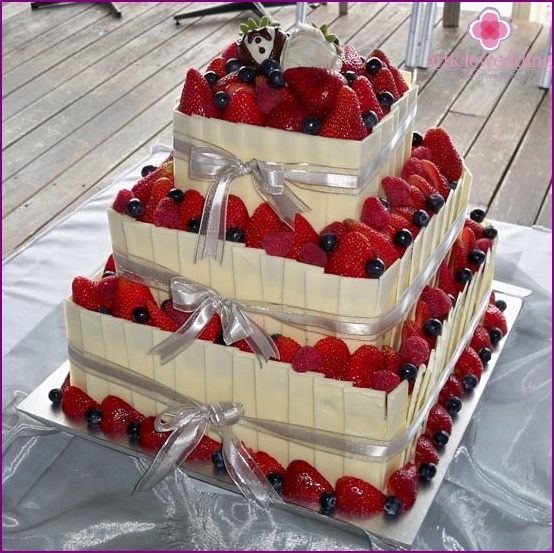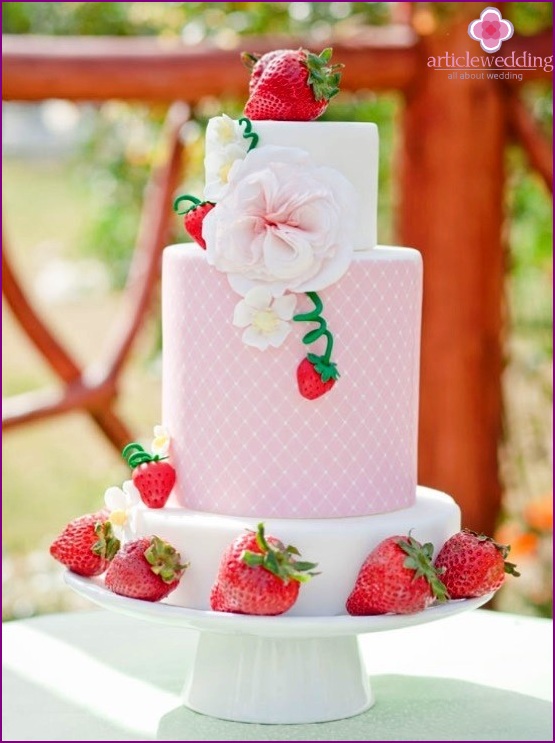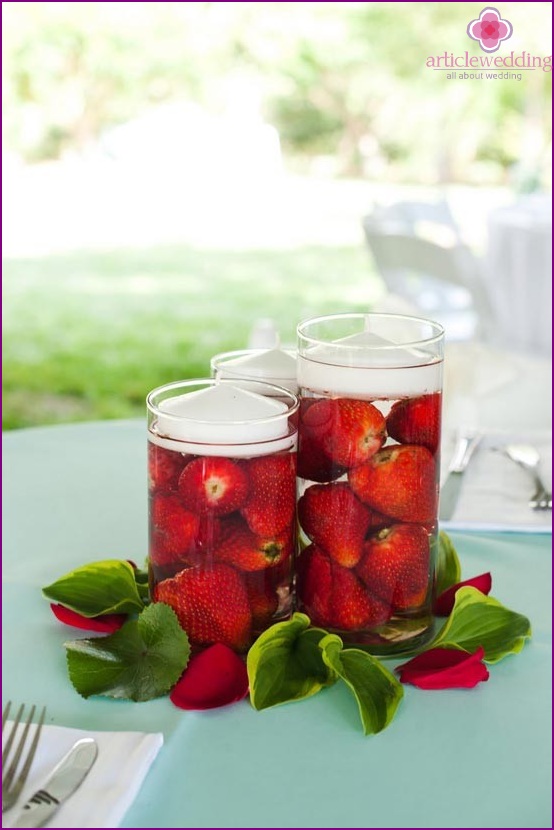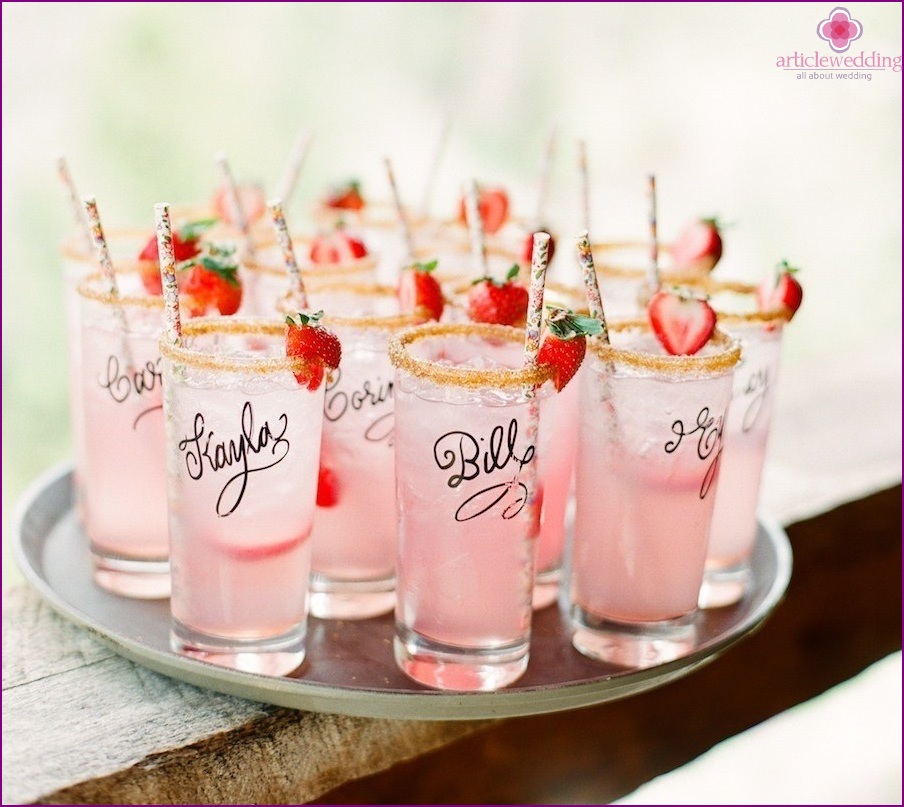 Tips groom
Wedding - this is the day that decided to surprise your soul mate. If you are a creative person, you should want to please his beloved. Presented her with a gift of a box of strawberries.
Such a gift, it will be remembered as a romantic andfunny. The best way to give a gift in strawberry time of year, when about strawberries and speech can not be. Strawberry obtained in winter, will warm the heart and ignite it even more love.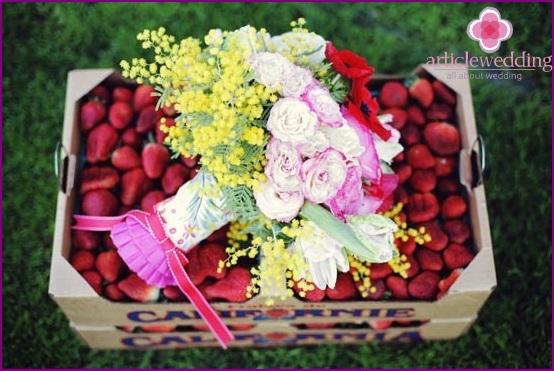 Weddings in strawberry style - is not only brightcolorful mood, but also a bunch of juicy berries, full of sweetness and flavor. Create a wedding in the style to indulge in a summer mood and create for themselves and guests a true celebration of taste and love!