Seeds motives turn the wedding into a creative, fresh and stylish celebration, giving pleasure and good mood. Those or other berries provide an opportunity to experiment with the decor and wedding color palette, The images of the young, their guests, etc.It is making the wedding a truly unique and unforgettable. Www.articlewedding.com portal offers blueberry arrange wedding - a unique celebration of rich color and wonderful taste!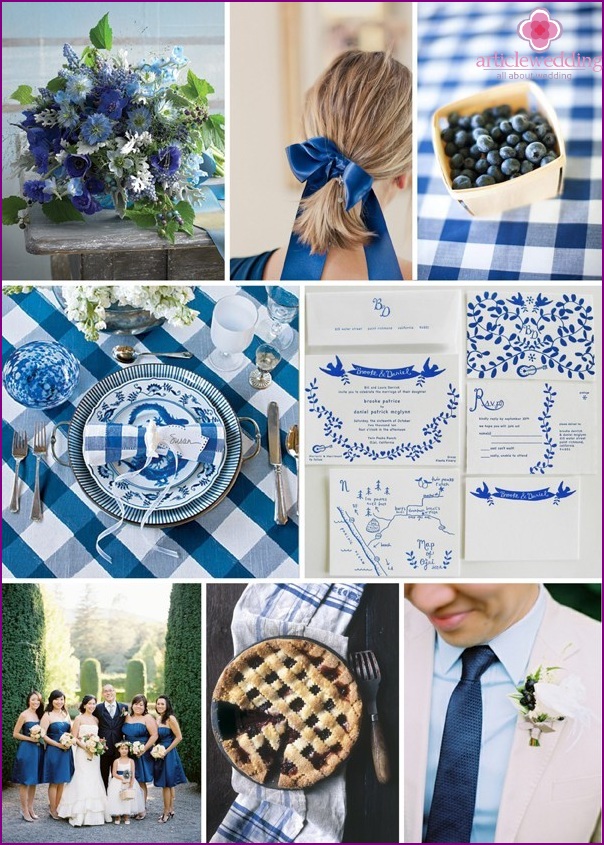 Palette blueberry wedding
As the scale of the wedding should be blueberryuse two colors - classic white and rich blueberry. They can be diluted and re-energize other shades: chocolate, gold, green, turquoise, pink.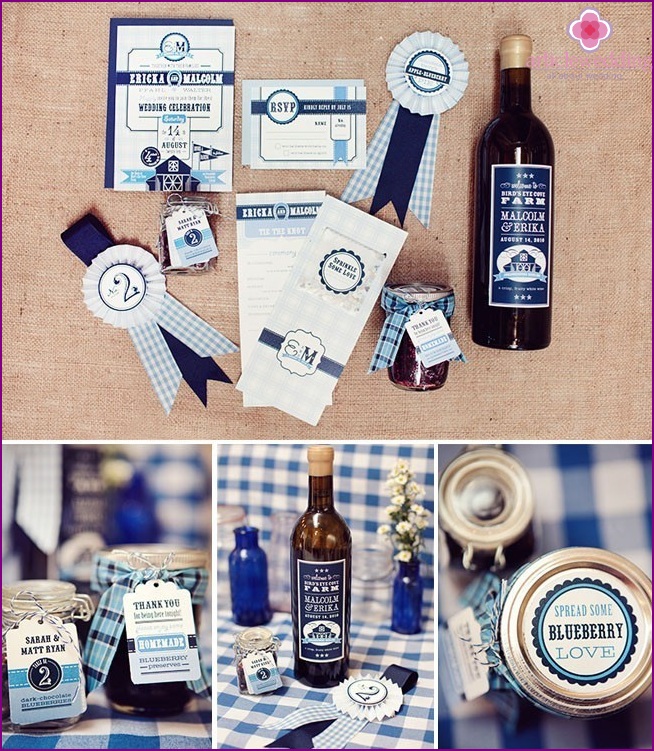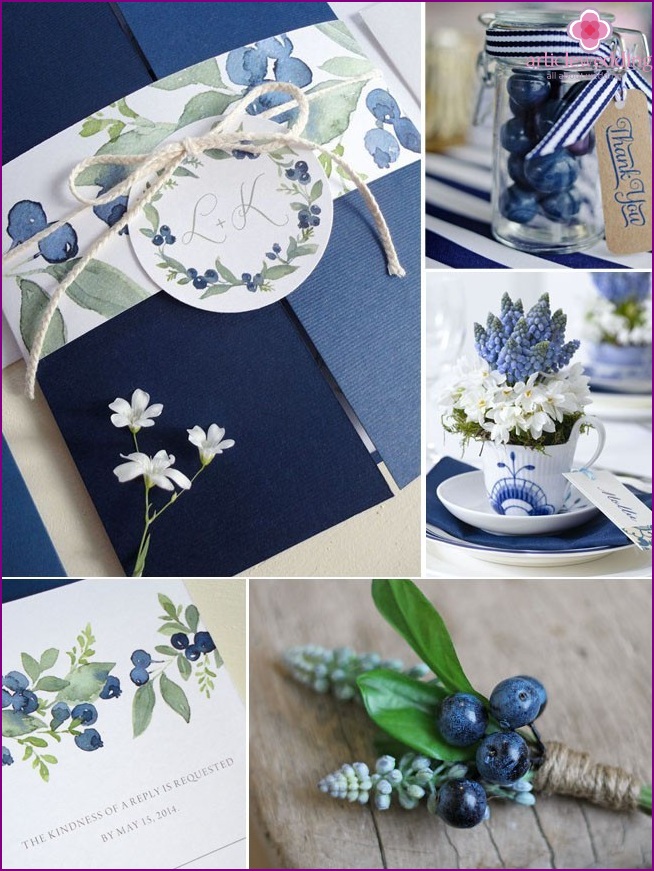 The image of the bride
Not every bride dare to wear to a weddingDress blueberry color. Beat Blueberry subject in the image of the bride help the individual elements. For example, the bride's dress can be white, but with delicate embroidery or printed pattern blueberry color. Also, the white dress can be decorated with a belt of rich blue or purple. The perfect pair to such addition will blueberry suede shade on the heel or platform.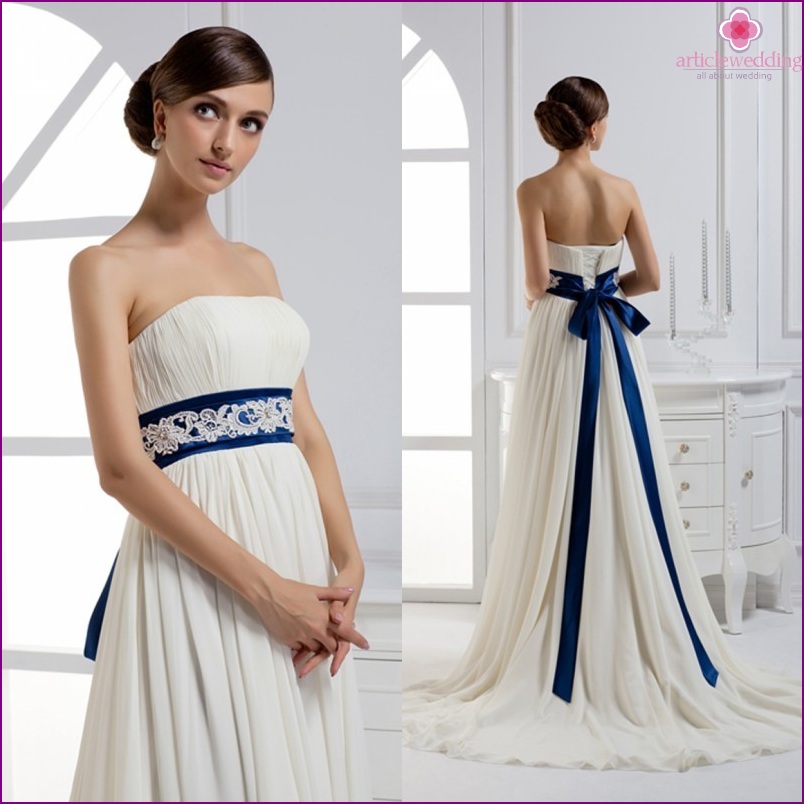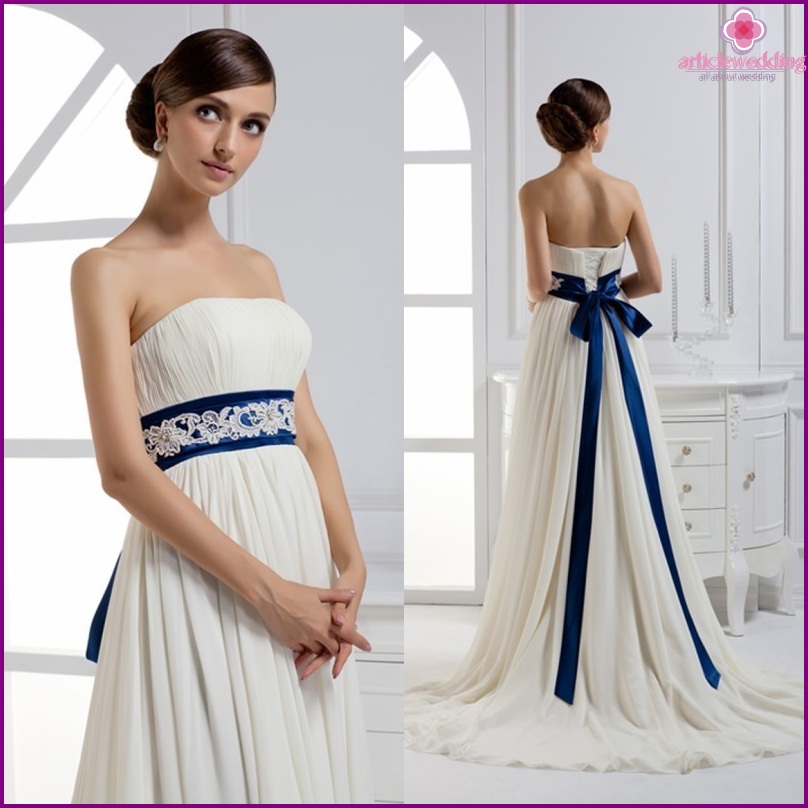 The bride's bouquet
Bridal bouquet Suite can be composed of violet,pink and white flowers, berries and blueberries. Of course, choose blueberries better than artificial, otherwise you run the risk to stain luxurious wedding dress.
Do not forget about the design of the bouquet legs, which should be associated with the blueberry theme. Contents leg can be ribbons of white and purple, attaching at the center of the brooch with berries.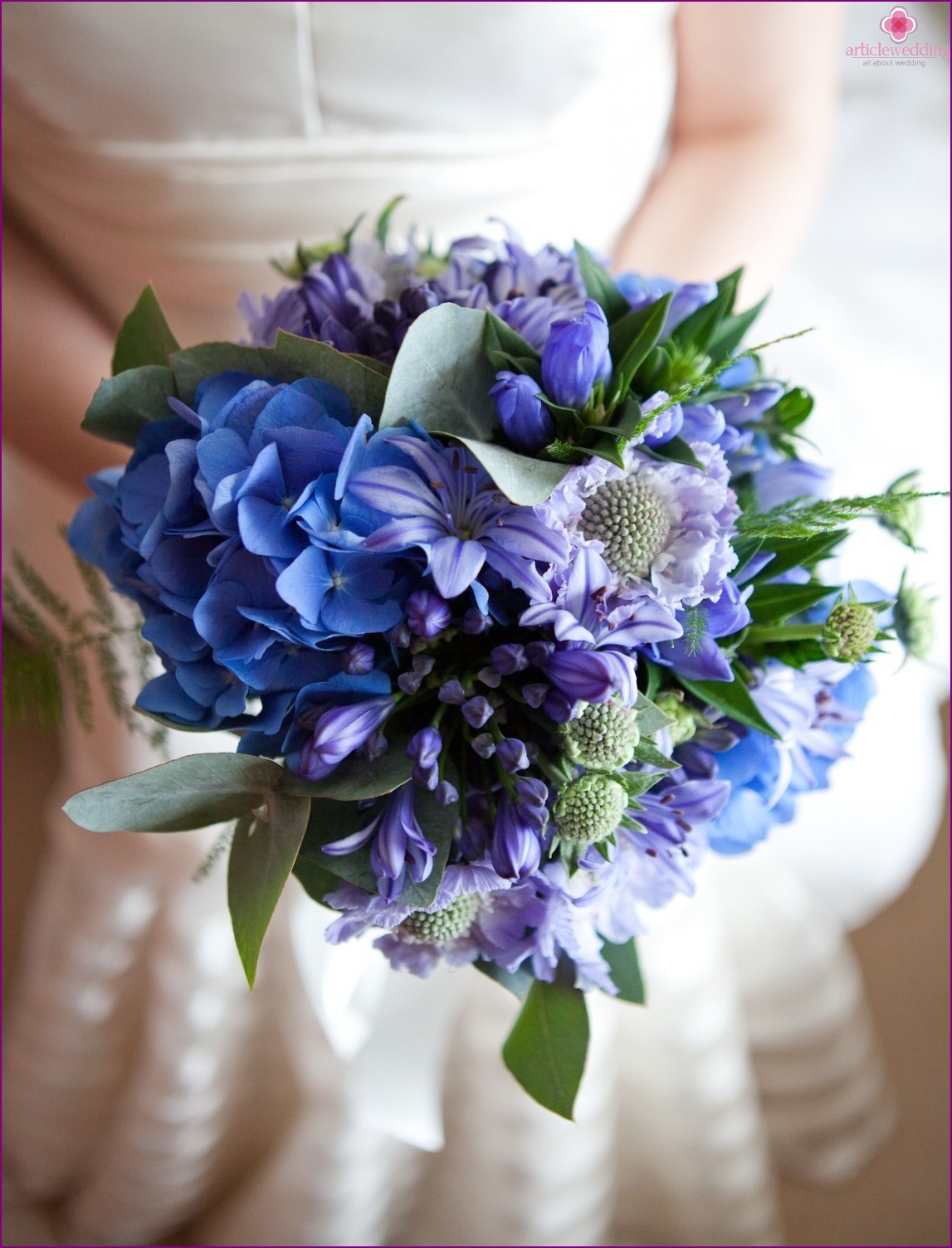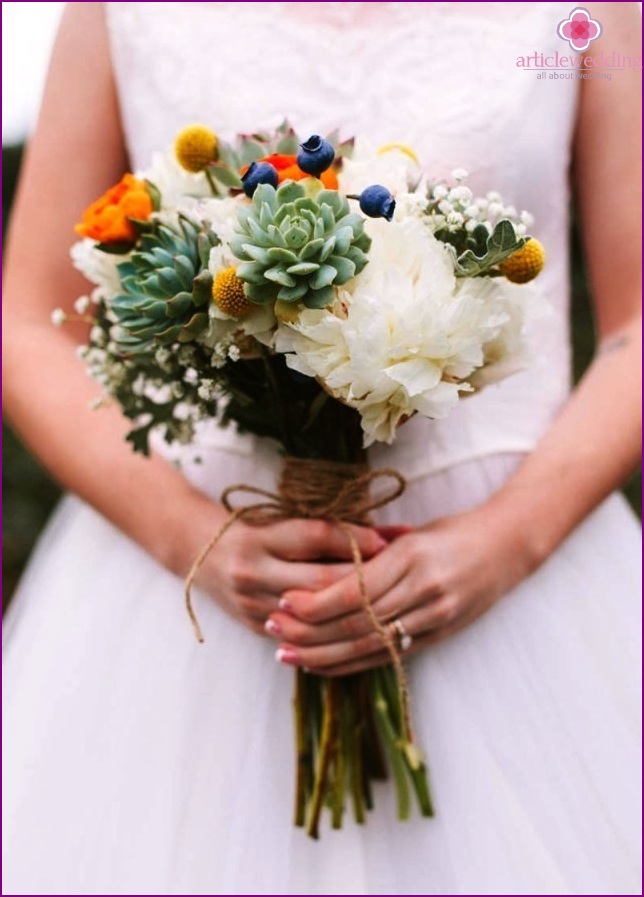 Bride Style: makeup, hair, manicure
To add the image bright accessories to help the bride:. Delicate bracelet with blueberries, blueberry-shaped earrings, jewelery, etc. hairstyle can decorate unusual hairpin or rim with blueberry motifs.
As for the makeup, the emphasis here is betterto do in front with the help of purple-pink shades of varying intensity. If you only want to highlight lips, then you need to cool lipstick pink-purple or deep violet-purple color. In the same range selected and nail polish.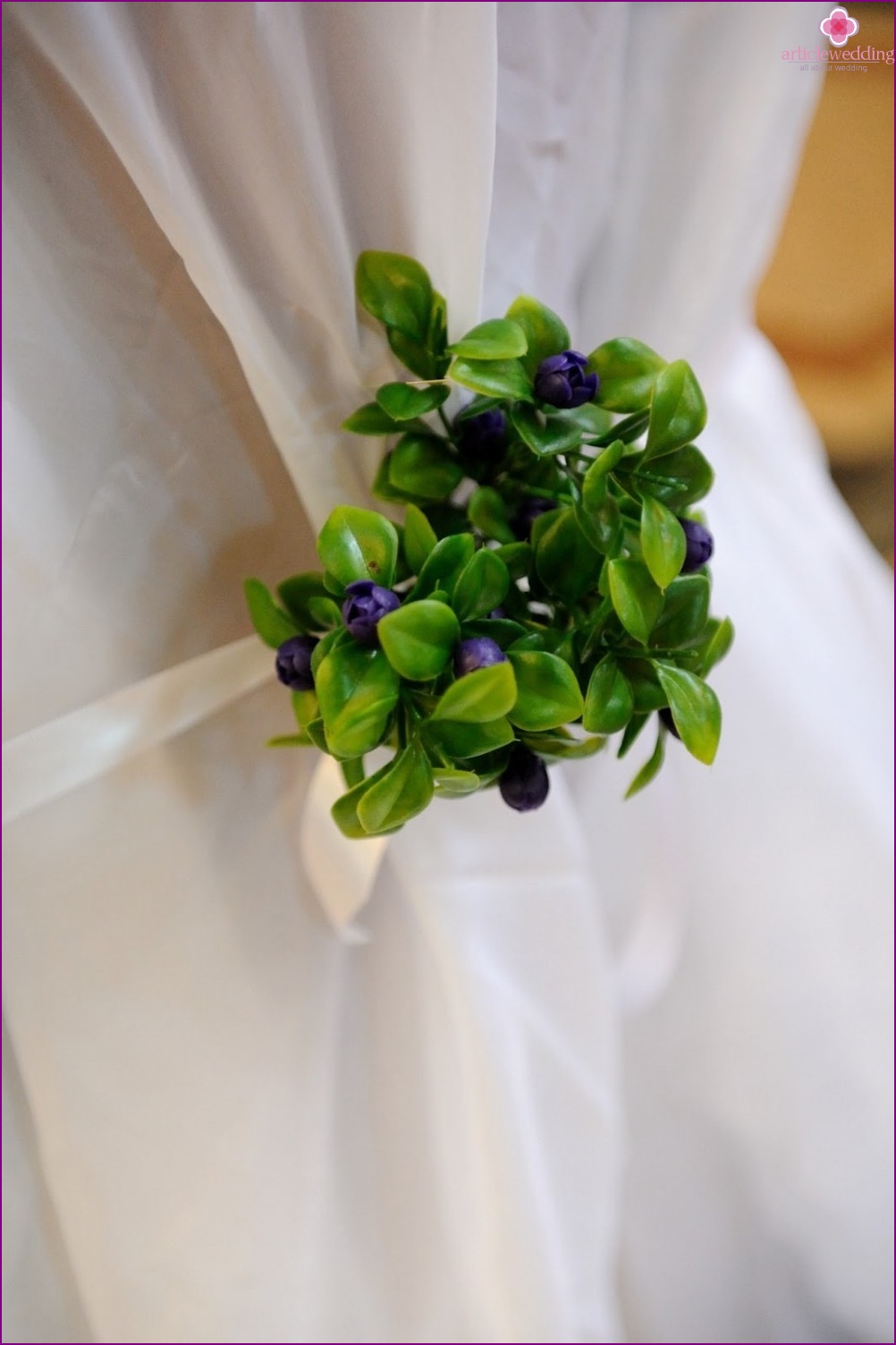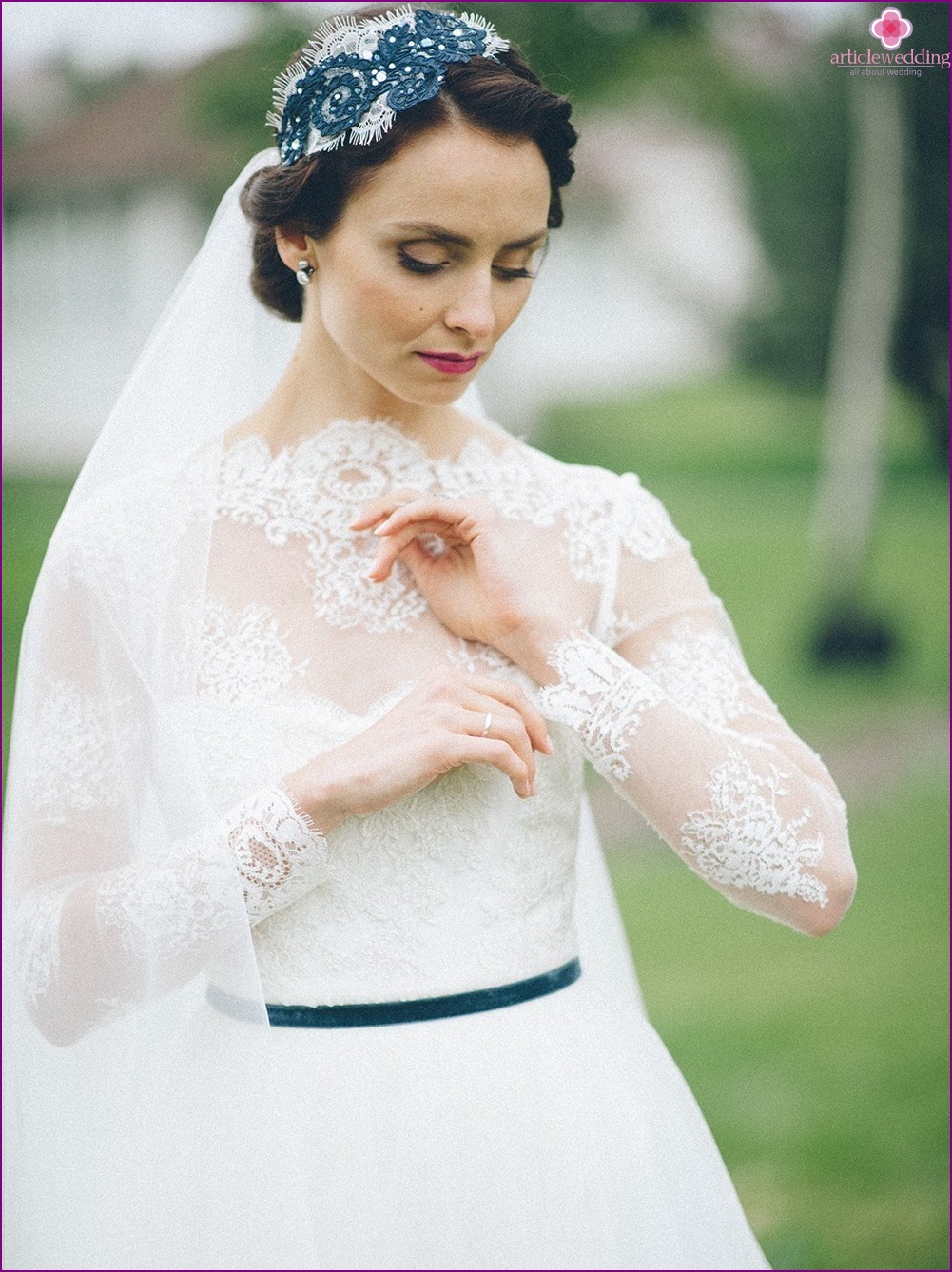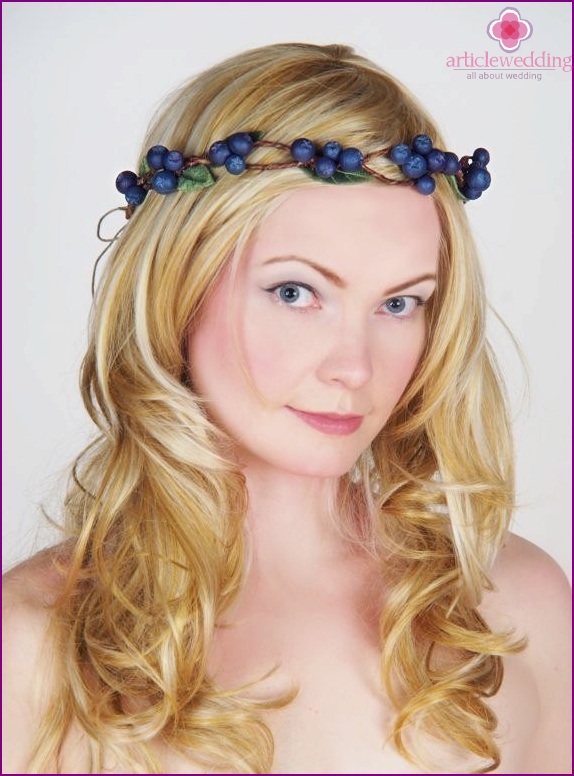 The image of the groom
Create a stylish way to help groom fashionable suit in blue-black or purple tones also fit gray suit with bright accessories blueberry color.
In the role of accessories for the bride perform stylish tie or butterfly, cufflinks and boutonniere with blueberries. A striking accent may become blue or purple socks.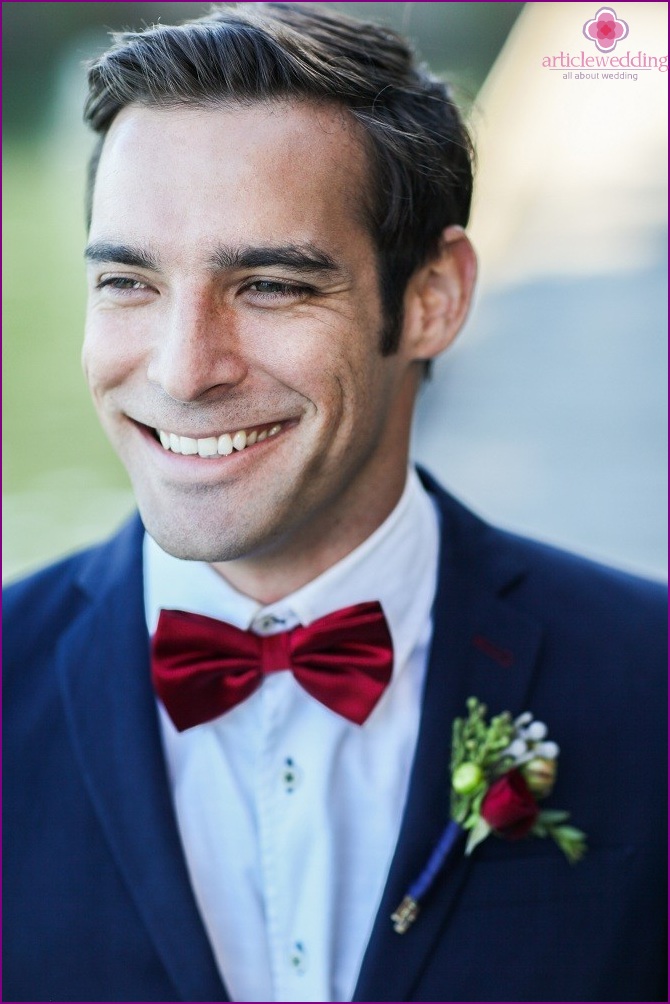 The image of the bridesmaids
Dresses for bridesmaids must be selected in such aa way to emphasize the beauty of the bride. If the bride chose white for her dress, then her friend should buy clothes dark blue or purple hues. Complement the elegant style of bridesmaids bouquets and accessories blueberry color.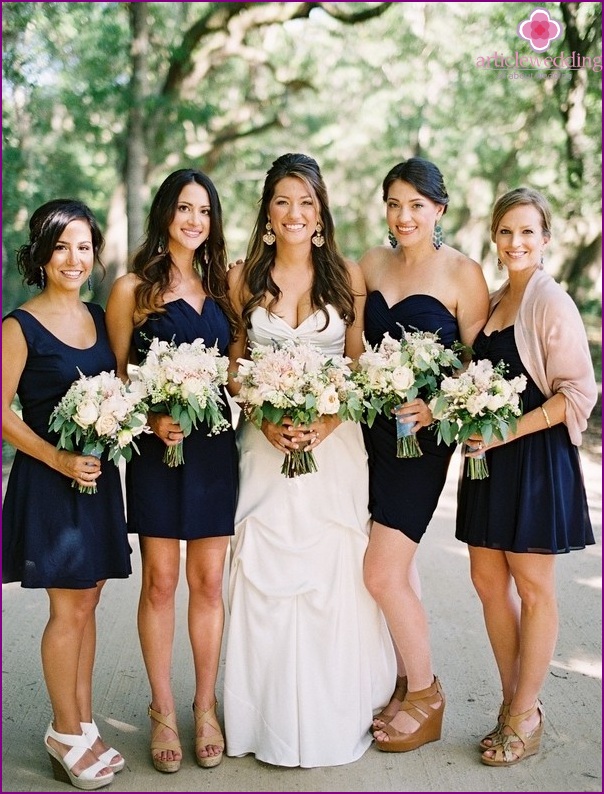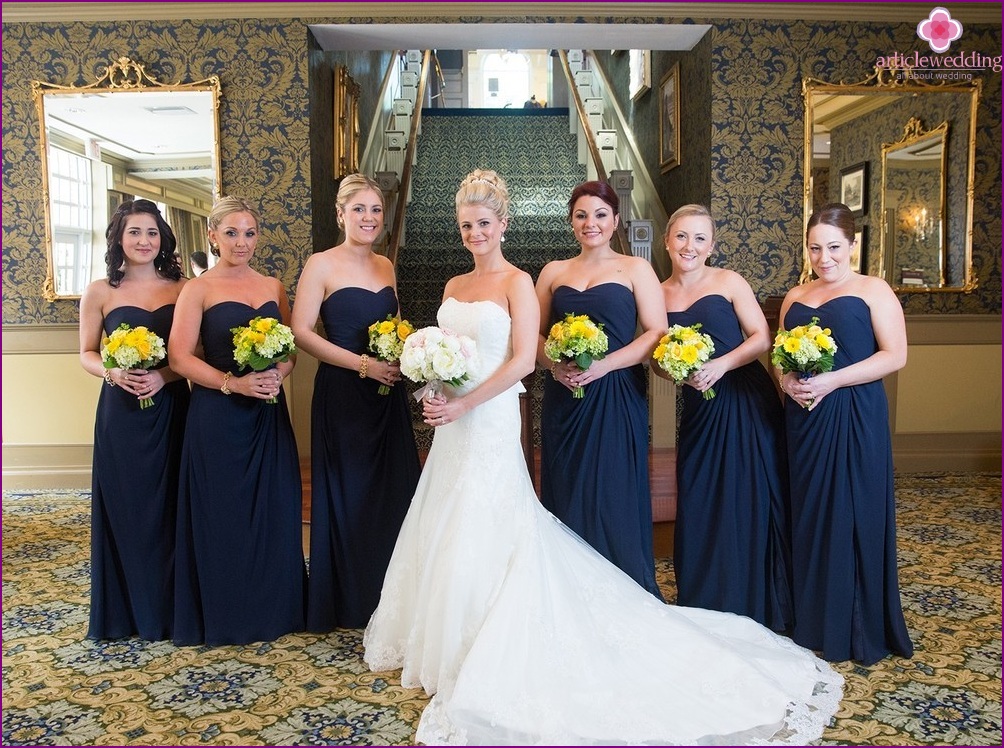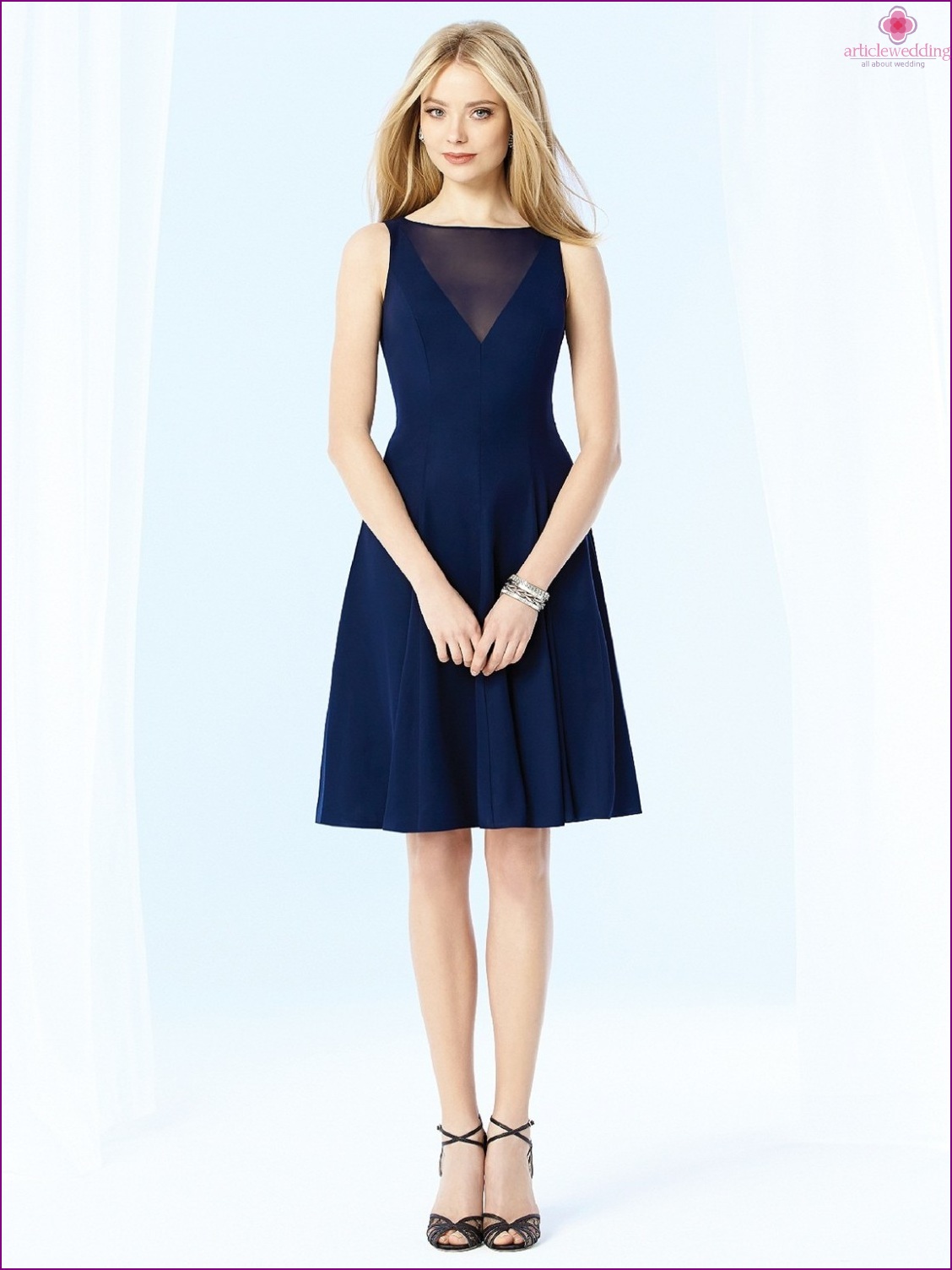 Wedding invitations
In order to interest visitors and inspire them torich in all senses of the celebration, a wedding website advises www.articlewedding.com make invitations in the form of bags of tea with tag. This tag should be large to small, it looked like a postcard. Printed on it the necessary information and be sure to decorate it in a bright print of delicious blueberries. Wedding invitations Send out bright lilac, purple or blue envelopes.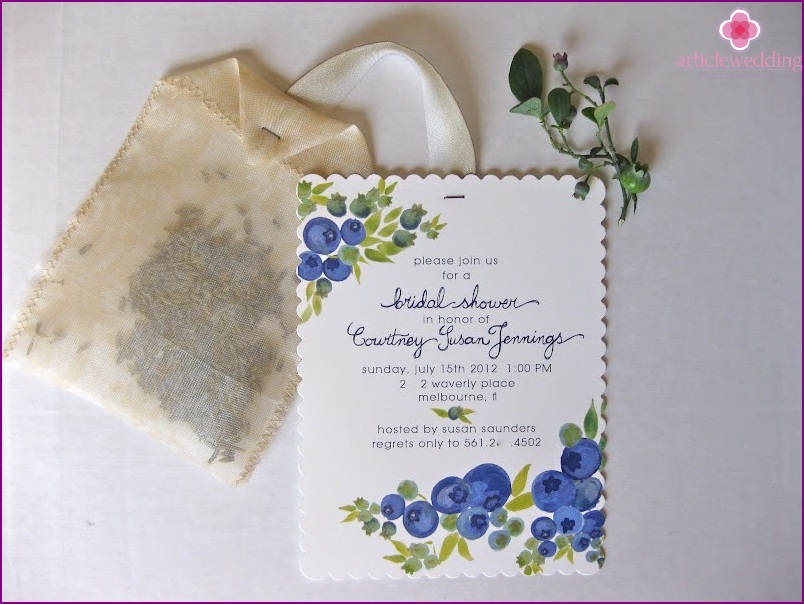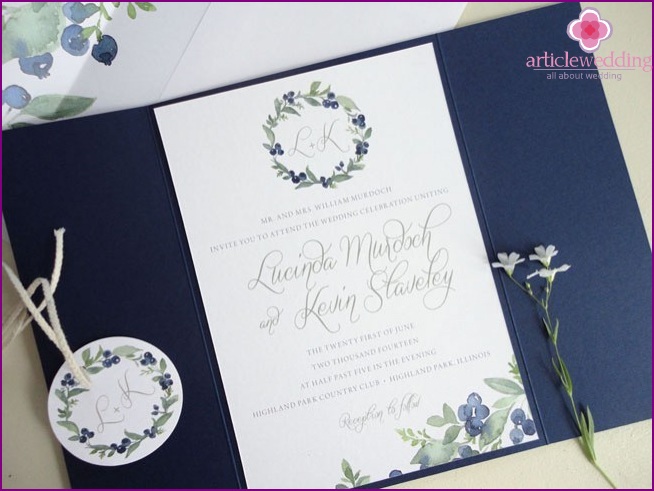 Bonbonniere with blueberries
As the candy boxes for guests can beprepare the jars of jam, candy in the form of blueberries, homemade soap with the aroma of blueberries, blueberry decorative candles, as well as small blueberry candy bags.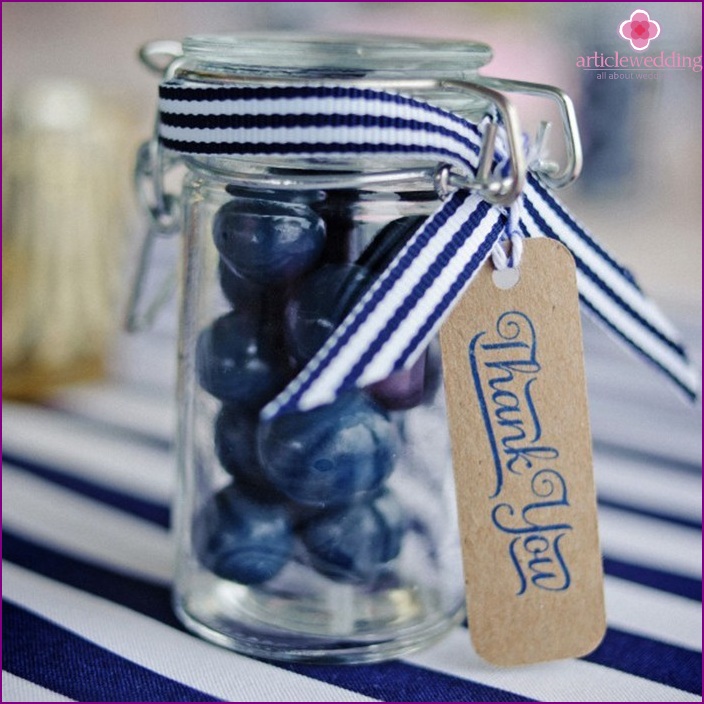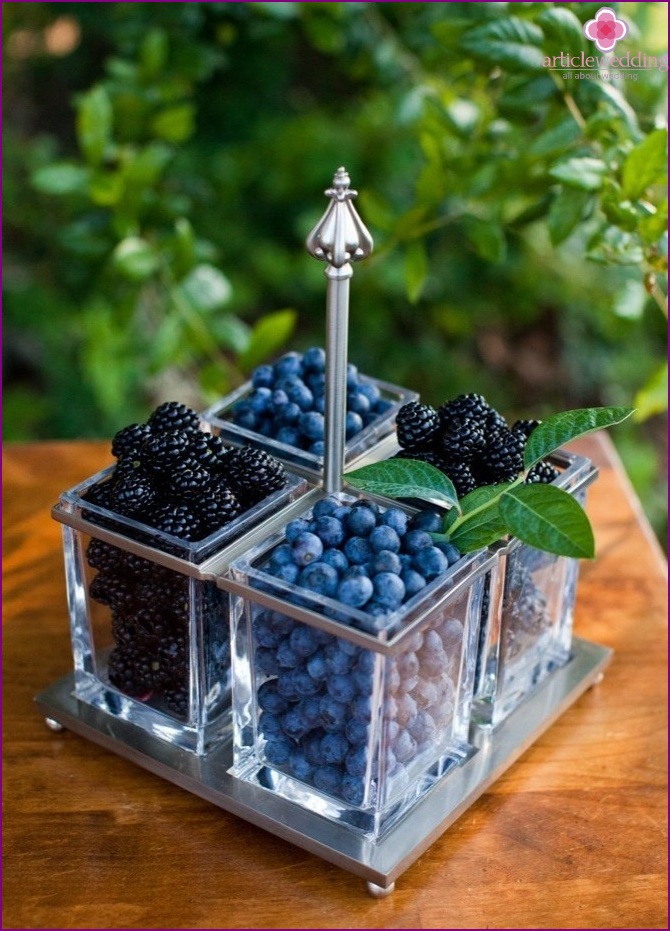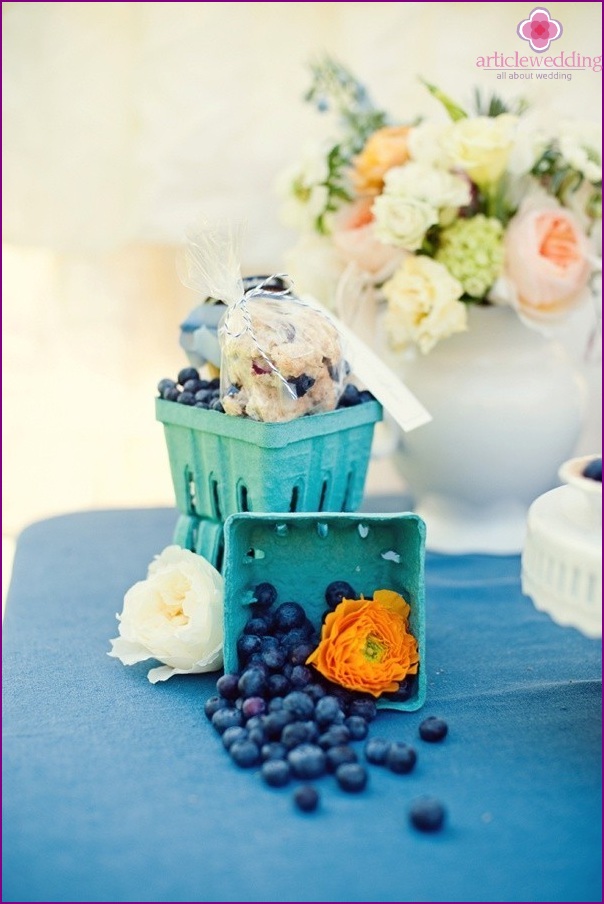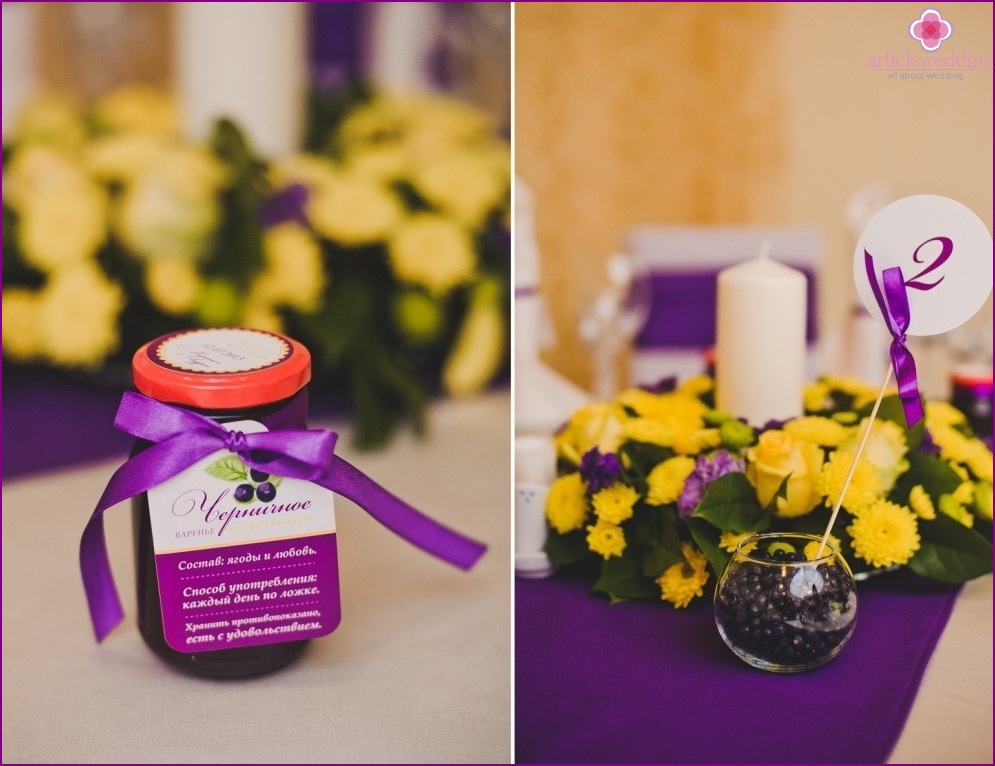 blueberry treats
Undoubtedly, the most accurately convey Blueberrytheme help of drinks and refreshments. The dessert area can be arranged trays of blueberry cookies, cupcakes, blueberry air macaroon, meringue with fresh blueberries. Delicate and light pudding with blueberries and whipped cream are the perfect treat for the female half.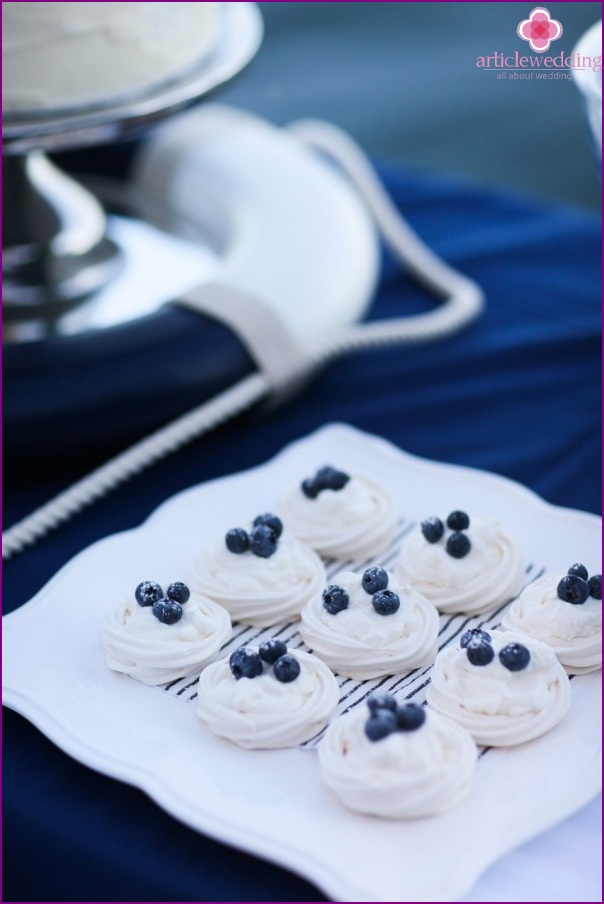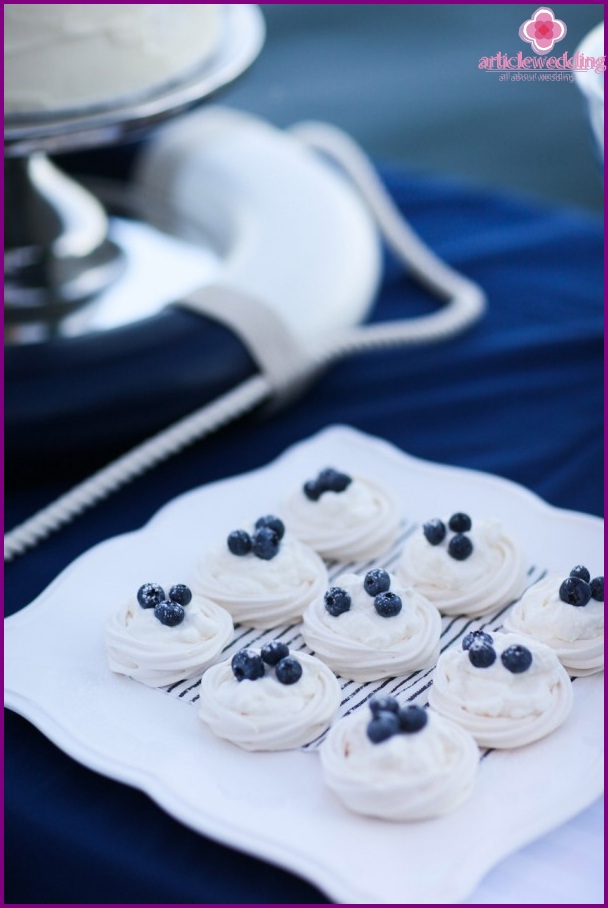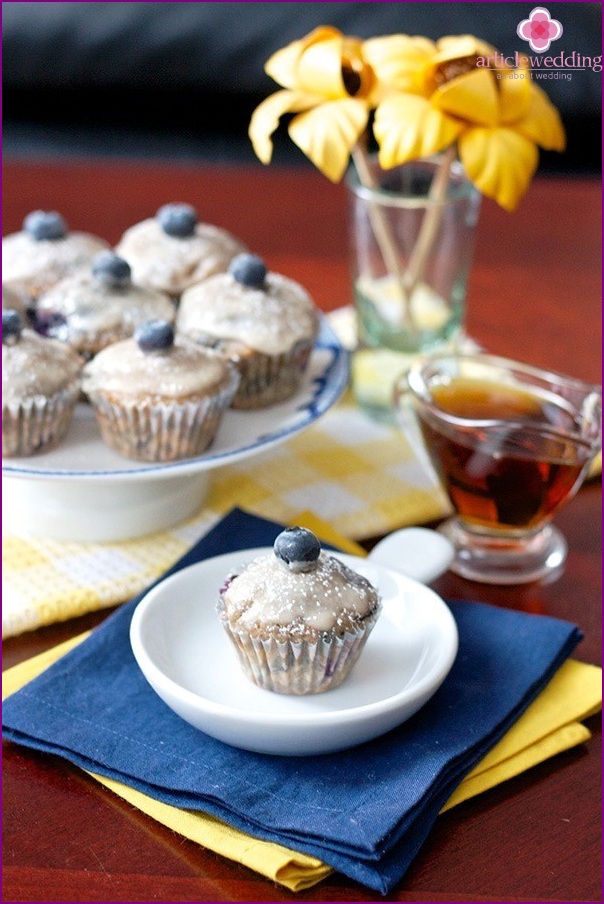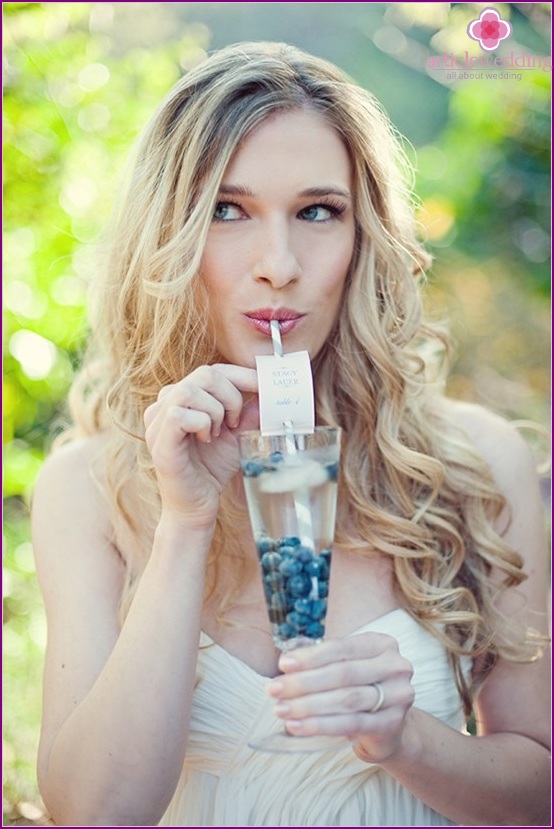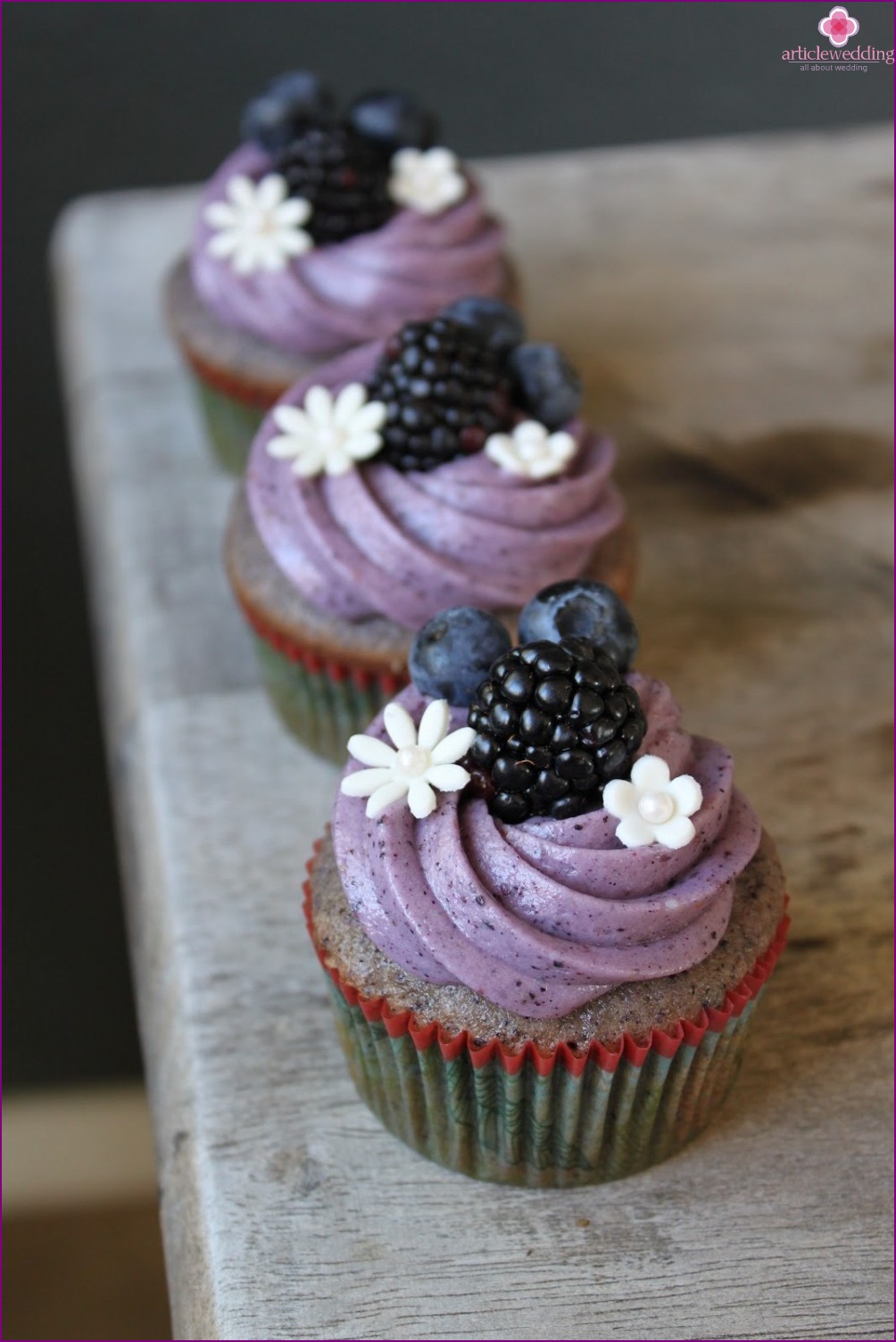 To quench your thirst on a hot day can help refreshing drinks and cocktails with blueberries, lime and mint.
Of course, the main decoration of the wedding cake will be blueberry. Elegant, beautiful and appetizing a wedding cake or it can be tiered like a rustic pie.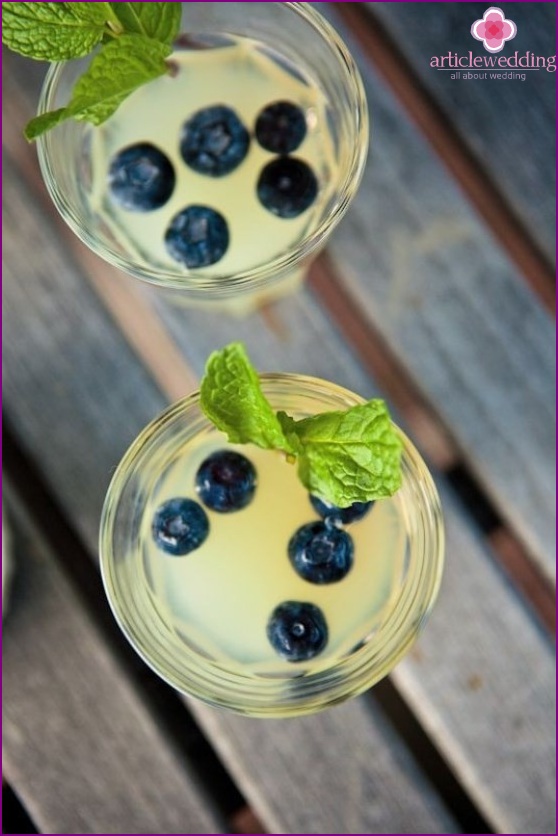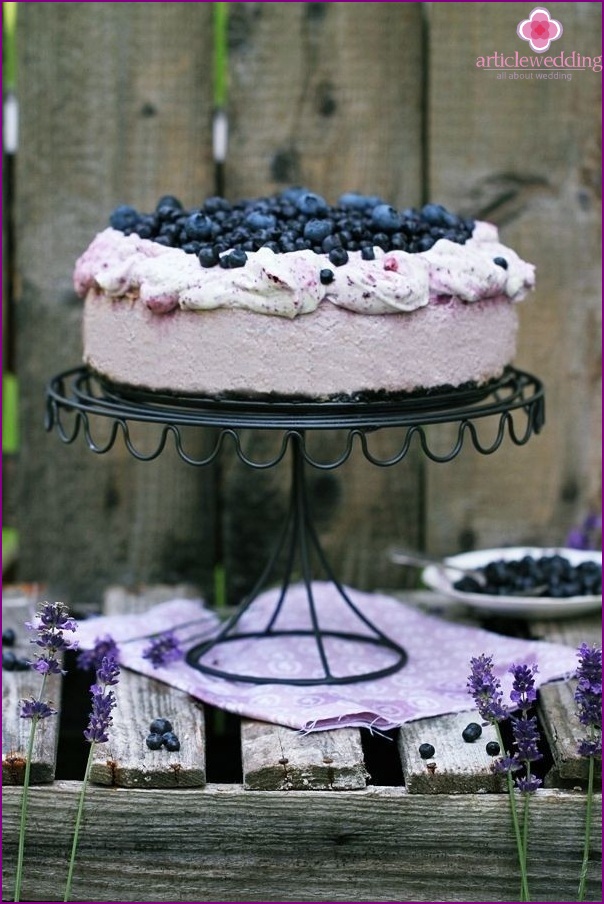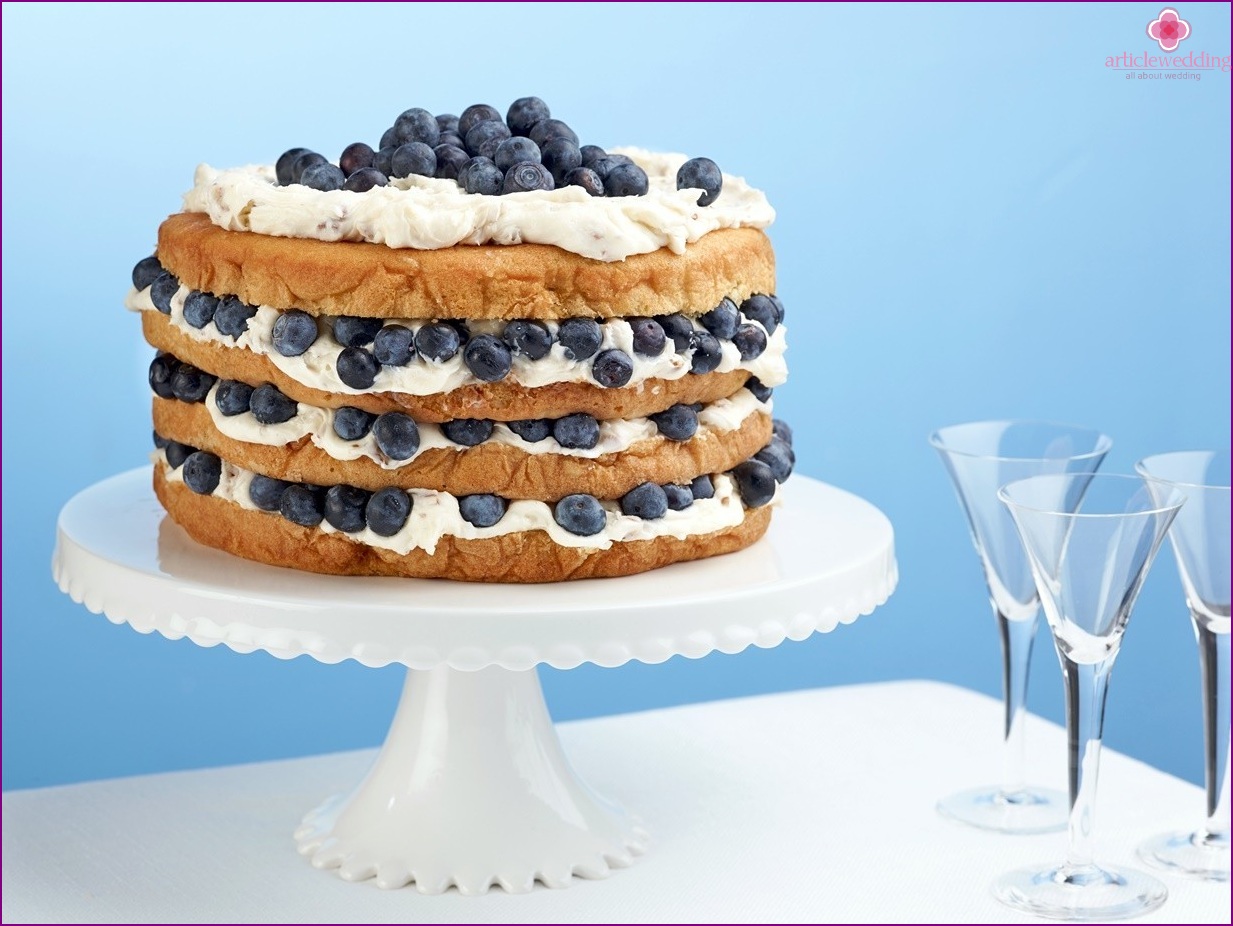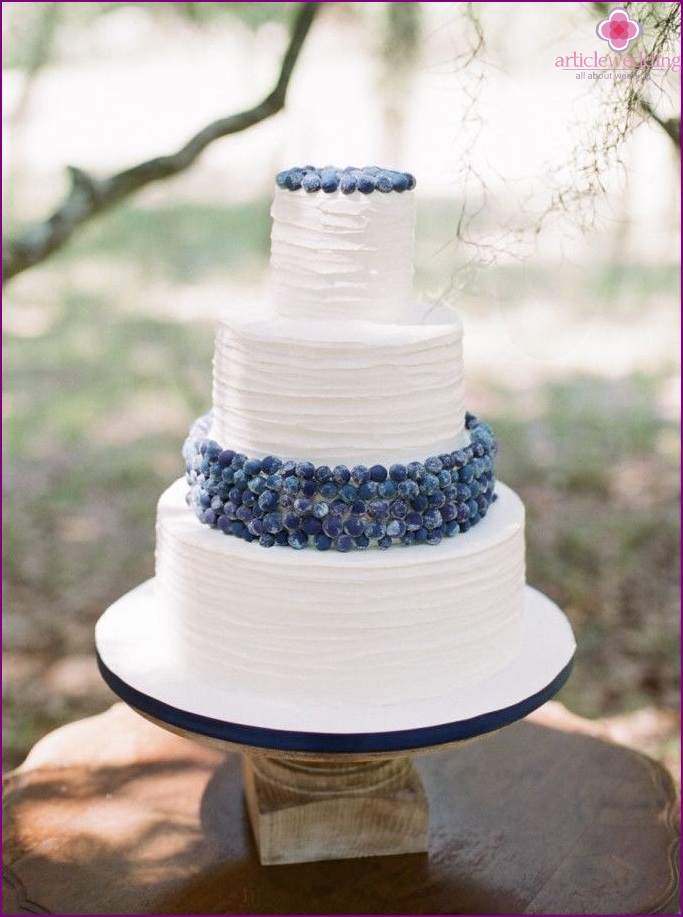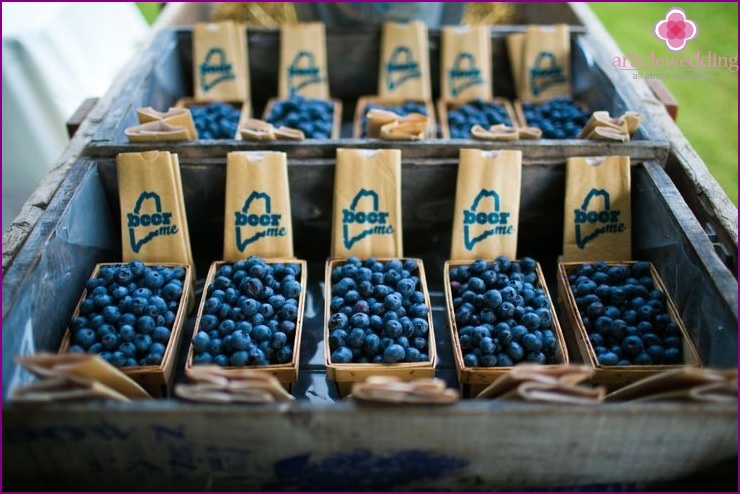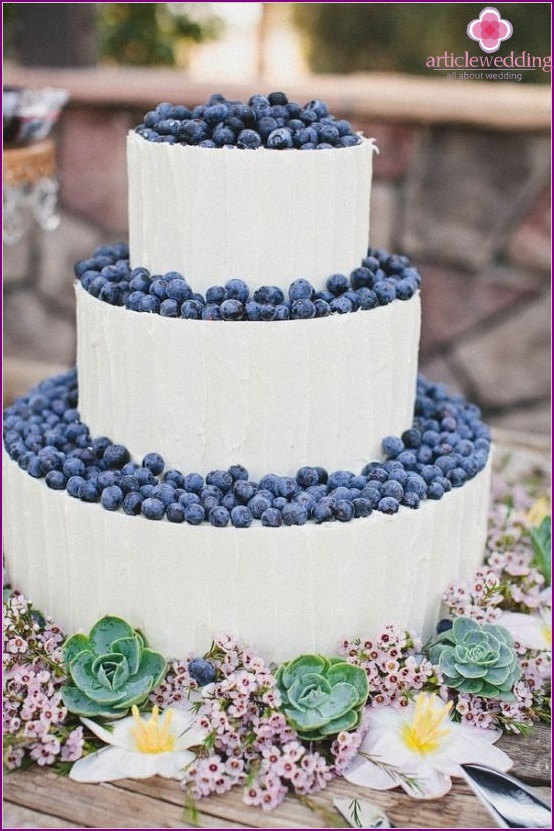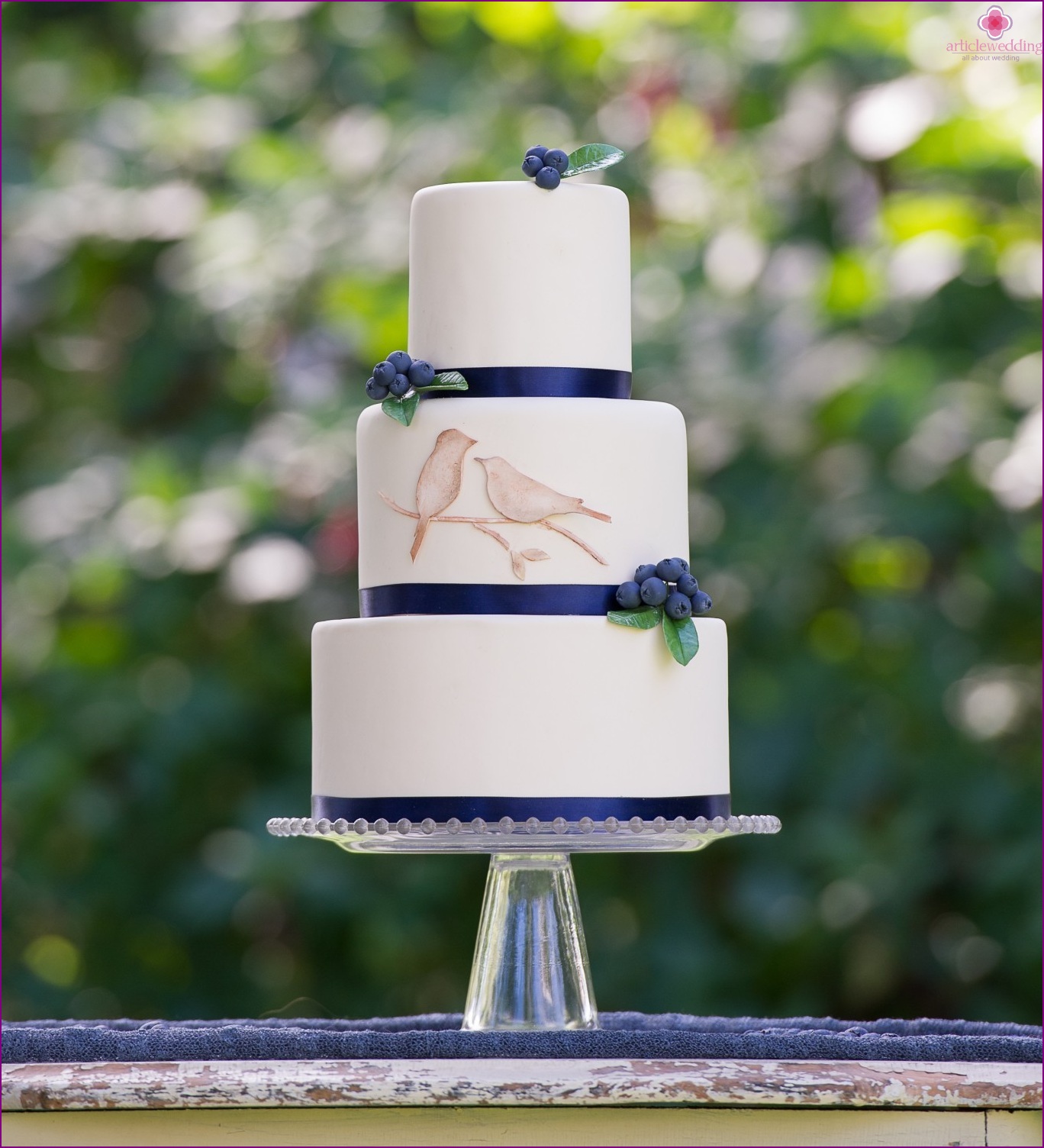 Decorative items
Ideas for wedding party decor sodiverse and attractive, it's hard to choose something specific. On blueberry wedding will look stylish rich blue and purple tablecloths, napkins charming in a cage or with a floral pattern, draping fabric of the air, fresh flower arrangements with sprigs of blueberries.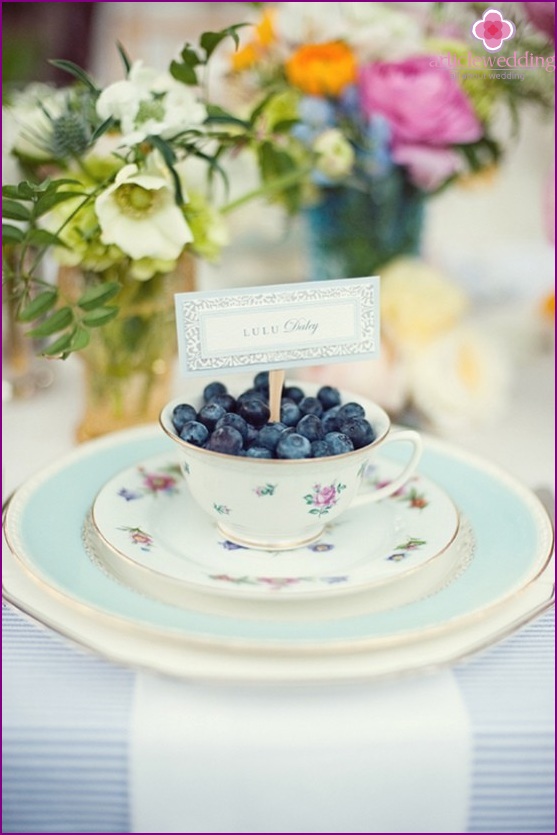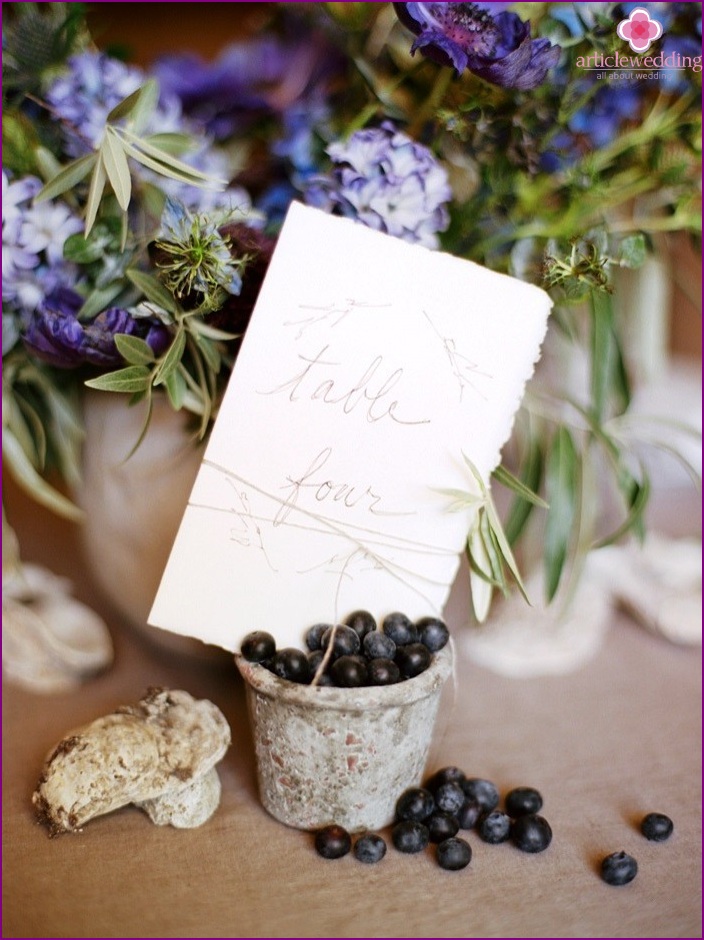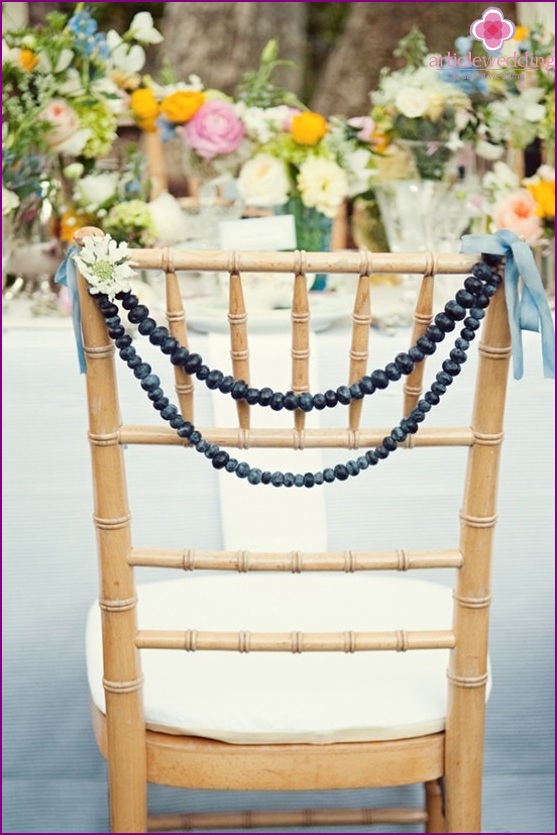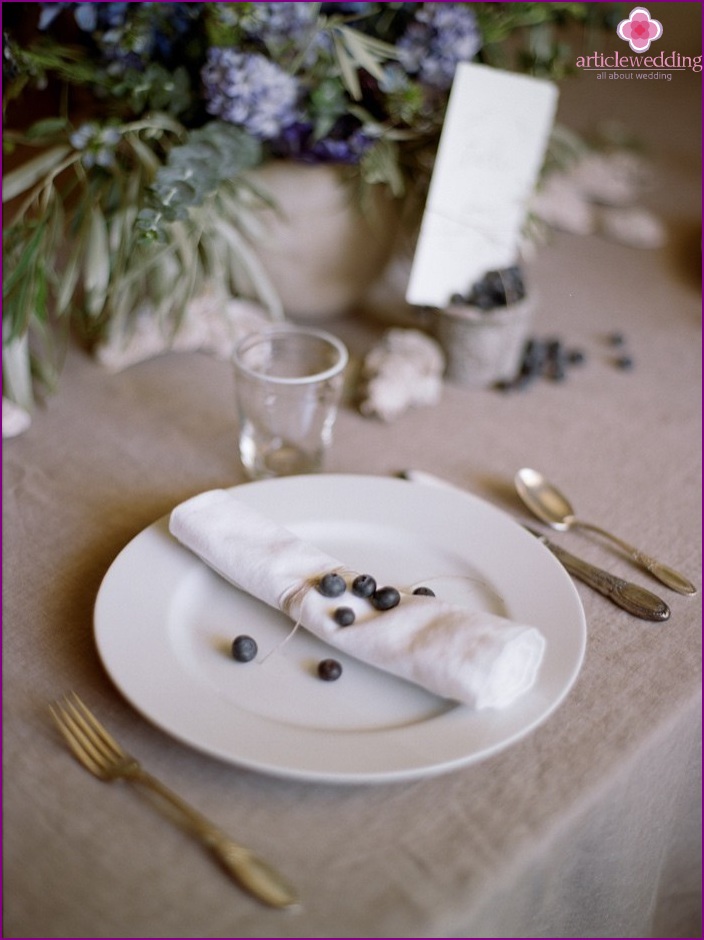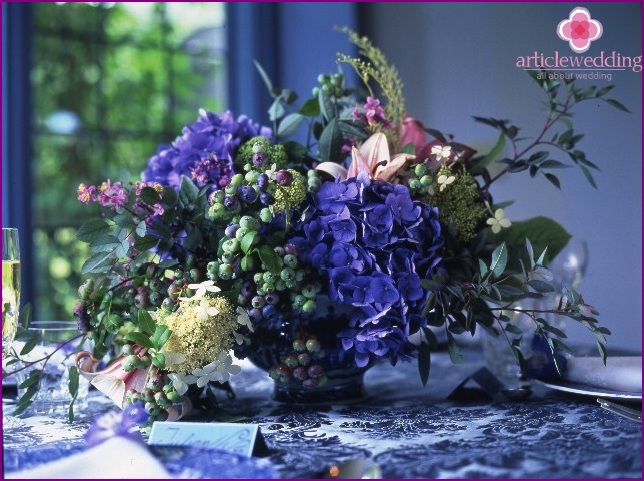 We wish to ensure that your wedding was rich and delicious, like a forest blueberries!