The times of knights are long gone, but howsometimes you want to plunge into the wonderful atmosphere of courage and nobility. You have a chance to do it! Take advantage of our scenario chivalrous weddings - and organize an amazing celebration with a unique style! Www.articlewedding.com portal presents to your attention a short wedding scenario in knightly style.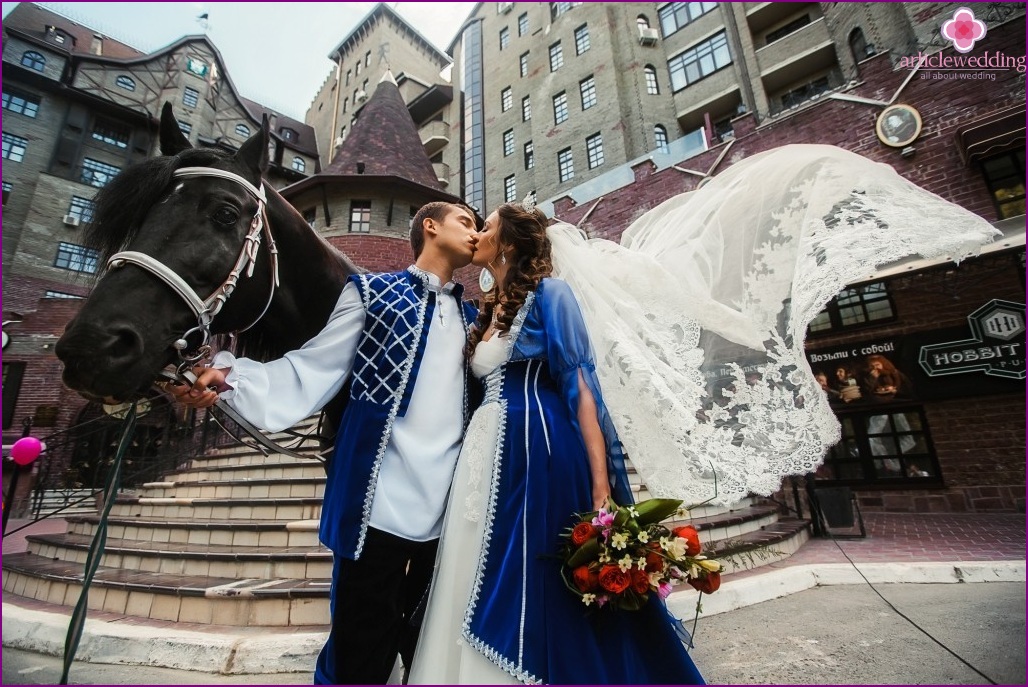 Newlyweds and guests come to the hall. Moderator says:
"Dear newlyweds and guests, after a few minutes we will make you travel back in time and get into the Middle Ages, where he will hold our unforgettable wedding celebration.
I invite all those present to try on the role of medieval characters. All men will become knights of the Order of Valour, and women and girls - the noble ladies. "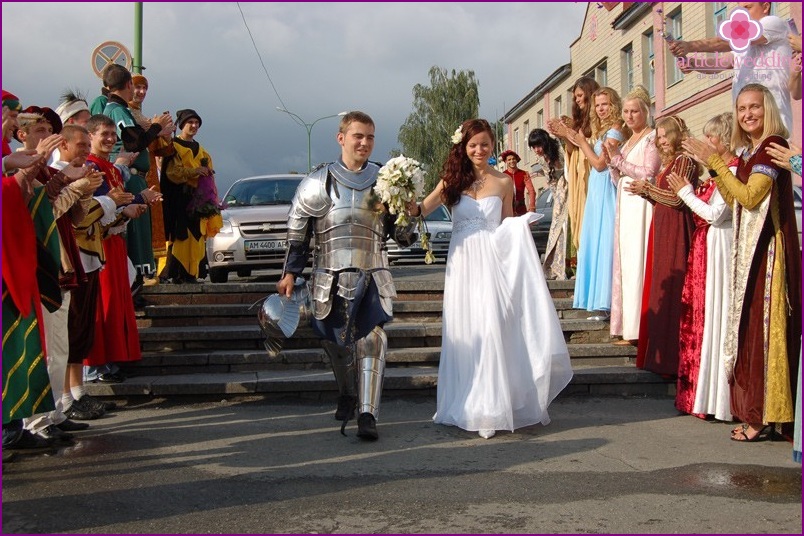 Then begins the donation and getting to know the guests. Guests cause alternately by the bride and groom, and are all present. For all guests must pick up various titles. So the couple - a prince and princess, the parents of the bride and groom - the kings and queens, the guests - princes and princesses, Baron and Baroness, Count and Countess, and others.
When gift giving young bride handseach visitor identification badge and some medieval accessory (hat, fan, sword, etc.). Guests were able to fully dive into the amazing atmosphere of the time.
Moderator says opening speech. It allows parents and relatives to make a toast.
Then comes the time of competitions and games. Moderator says:
"Once in the Middle Ages, knights lived everywhere,
And life was not easy in their heavy ammunition,
A proud knights, swords and armor,
Played knights fate and went to the tournaments. "
Lead offers men show all his courage and valor in knight trials. Conducted following competitions:
"Popularity Tournament"
Participants: men.
Props: none.
Facilitator asks the ladies to fix make-up (tintlips). Select from among the three knights who wish to be on time to collect as many kisses from noble ladies. Who will be on the face of the most lip prints, and he will receive the title of the most popular among the ladies knight.
"Sonnet lovely lady"
Participants: men.
Props: paper with the words.
To participate are invited to 5-6 knights whoissued paper with the words. For example, the bride, beauty, braid, horse. Participants must create words from a poem he had proposed in order to win the heart of a noble lady.
It held a dance break. Lead offers a toast to congratulate the young. Then the leader says:
"To the ladies while also have strictrequirements: they had to be romantic, educated and thrifty. Let us carry out tests for our ladies that show what a good hostess are our women. "
Conducted following competitions:
"Moms and Kids"
Participants: women and men.
Props: clothes (caps, bib, socks, pacifiers, etc..).
Participants are divided into pairs, "M + F" in each of thewhich is the "baby" and "mother." Moms to be as quickly as possible to put the kids to do this, they are given a variety of things: shirt, bib, cap (hat), socks and nipple. That "mother", which will fully equip the rest of his "baby" will be the winner.
"I was blinded him from what was"
Participants: women.
Props: paper details.
For the competition should be cut in advanceimages from magazines or posters women in full growth. Then you need to cut a silhouette on a few medium-sized pieces and mix them. Every girl needs to gather in parts of their ideal man. That will do it faster than the other wins.
It held a dance break. Guests sit at the table. At the table, we can draw a game.
"Great love"
Participants: guests.
Props: none.
Lead offers to name the most famous couples of the past: Romeo and Juliet, Tristan and Isolde, etc. Who will call the last couple, and he wins.
Between the contests be sure to spenddance breaks. And you can arrange a master class on medieval dances, advises www.articlewedding.com portal. If the master class will want to participate a lot of visitors, you get a kind of flash mob, which will present the newlyweds and guests of positive sea.
This is such an interesting and fun can be your wedding, if you spend it on the script celebrations in chivalric style!