Wedding celebration - a wonderful holiday,which is accompanied by a lot of positive emotions, touching speeches and, of course, the giving of gifts. How to make a ceremony of presenting gifts bright and original? Www.articlewedding.com portal offers three variants of this beautiful wedding ceremony. Choose the one that is ideal for the style of your celebration.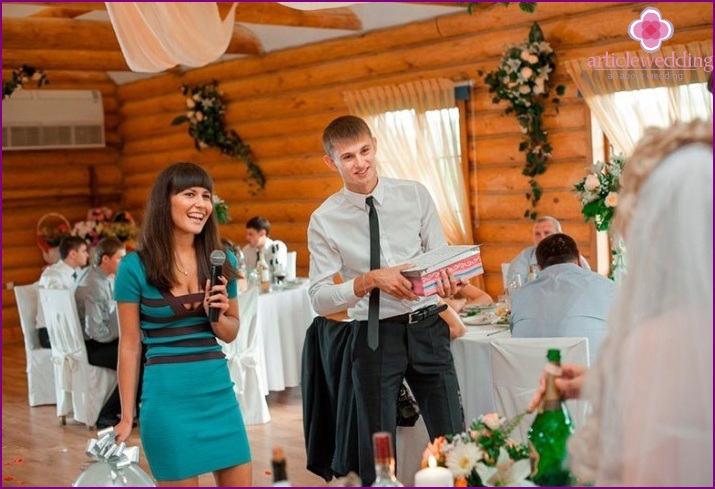 Option №1
Newlyweds enter the hall and go up to the table in the center of the room. A master says:
Now, dear guests, you introducea unique opportunity to kiss and hug another man another man's wife in front of the couple, and you for that nothing will happen, but only if at the time you give to our newlyweds gifts and flowers.
Further, the process of congratulations to the young. It is generally accepted the following sequence of congratulations Suite: the first is traditionally appeal to young, with instructions to the bride's parents. Then - the groom's parents. The next stage congratulate grandparents. Next in line for congratulation young - godparents of the bride and groom. And then to other relatives, friends and colleagues.
After each congratulations bride gives each guest bonbonniere as a thank you.
Variant №2
If you plan a wedding on a large number of visitors, the ritual of gift giving can be divided into two parts:
Congratulations from the groom's family.
Feast 1-2 toast view Love story.
Congratulations from the relatives of the bride.
Feast on toast 1-2, 1-2 conducting competitions.
Congratulations from all your friends.
Option №3
Giving gifts can be made without lifting the guests from the table. Let the witness take on a large, beautifully decorated jar. A master says:
The Swiss bank has opened a branch office.
It is in my hands - a reliable and beautiful.
us safe Swiss bank sent this,
To young to live happily.
Take the stones and furs,
Bills of any color.
Open a bank together with you,
And drink a glass of vodka at the same time.
We are all guests at the wedding are happy
Newlyweds open account.
Most make their money -
Philanthropist - honor!
Witnesses bypass guests folded cards and envelopes in a glass "bank".