Wedding, tasteful, always leavesfond memories, because looks very rich and luxurious. Sometimes even the classic tones can add zest to the wedding. Why do not you arrange a wedding in black and white style, to bear in its traditional form, add a touch of sophistication?
The value of black and white
The white color gives a sense of purity and tenderness,It is associated with innocence and serenity. Black, on the contrary, suggests hints of gloom and mystery. However, the combination of these colors - it is harmony, balance and peace. They complement each other well. The combination of black and white is suitable for people who are confident in themselves, for people who are not afraid of obstacles in its path. This combination adds to the image of rigor and formality, but, at the same time, it looks very elegant.
wedding decoration in black and white
If you decide to choose such colors for the weddingboth black and white, then you do not have to exert a lot of effort to create a harmonious way, because these colors complement themselves. White tablecloth decorated with black embroidery, looks very elegant. Strictly and looks stylish combination of black and white in decor and table ware. It can be white candlesticks with black candles or white napkins in black supports. You can also use a combination of these classic colors in the decoration of the hall. Hang around the black and white balls or delicate vases decorate the table with flowers in tone.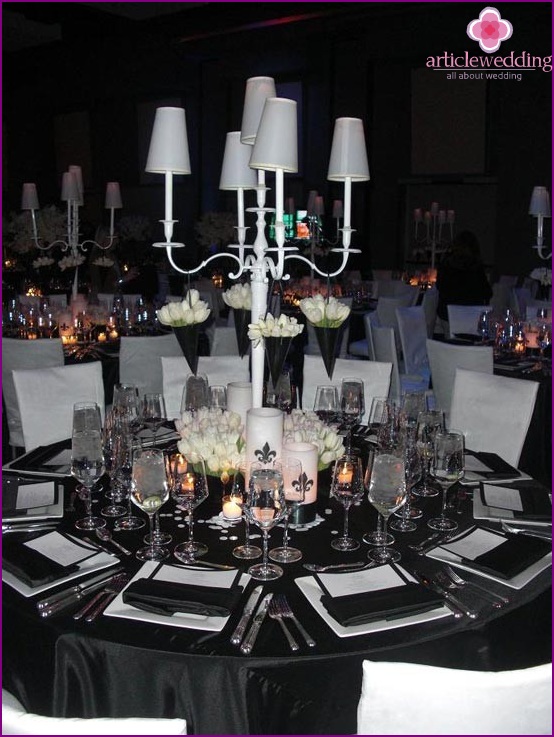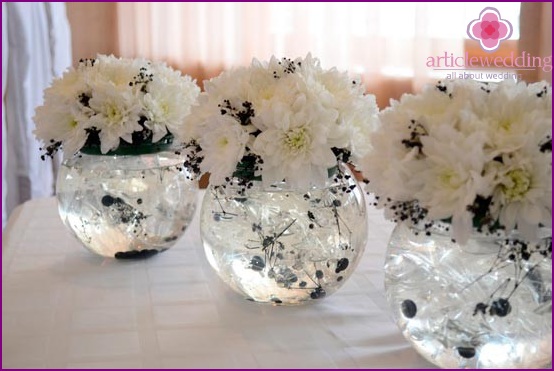 Wedding dress for a wedding in black and white
Since the white color is traditionally used as wedding colors and wedding dresses, is more attention paid to elements in black. Black can be used for additional wedding AccessoriesThis could be a satin belt, a flower or embroidery on the dress.
Also add to the dress additional details,such as gloves or veil. Black accessories to complement your image, add a bit of charm to it. In order to complete the image looks, you must choose the right shoes. It is best to choose lighter shoes, you can also pick up something in black and white. The main thing that the shoes were comfortable and do not rub, because you have to move a lot. If you picked up a short summer wedding dress, as shoes can pick up creative sandals with high heels in black and white. Thus, you can enhance the beauty of your feet. Even more tips to help you in choosing the wedding dress you can find on our website www.articlewedding.com.
By way of the groom should also be approached from the point ofof refined style, because your future husband should look spick and span. Pick a nice black suit, to which you can add a classic white shirt. In this case, it is necessary to pay attention not to the color and quality of materials and cover. Since black and white by themselves are not eye-catching colors, it will help you stand out parts of the image.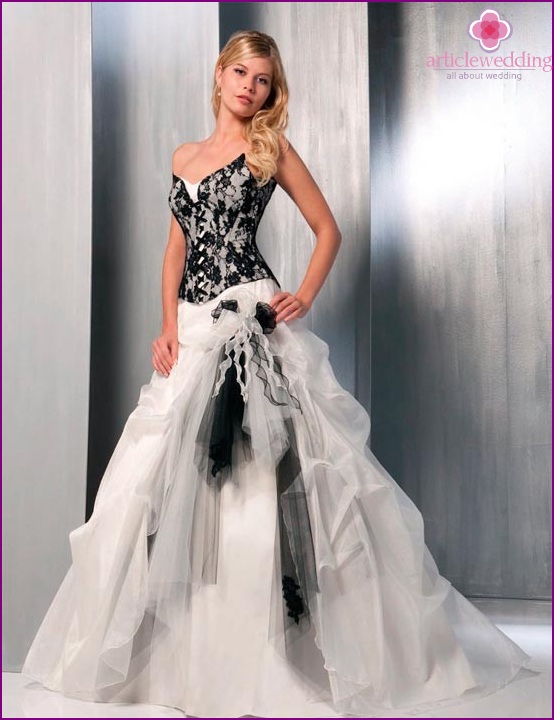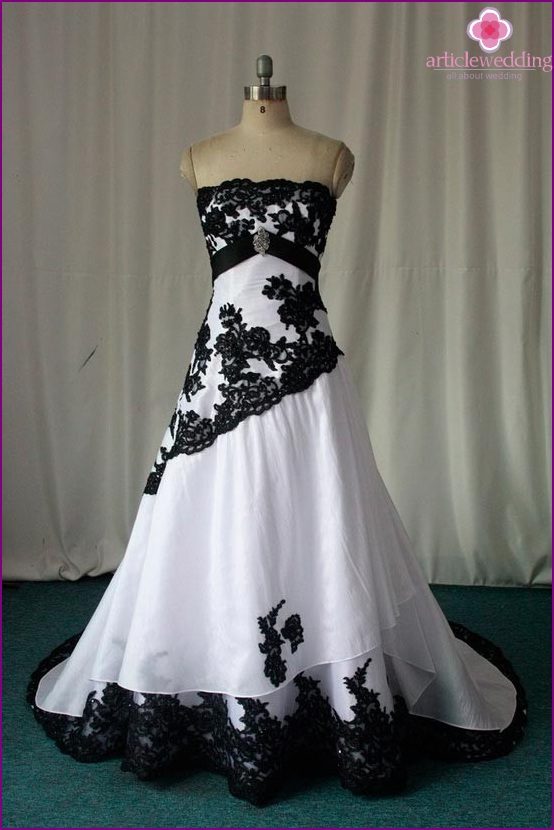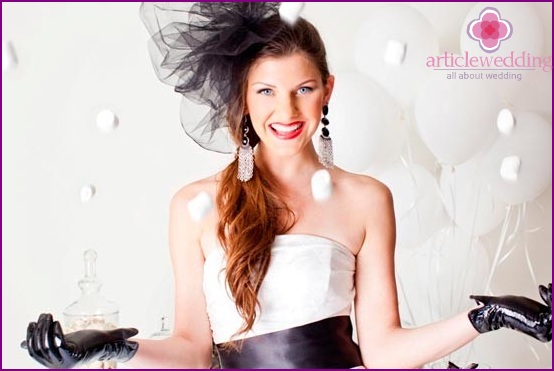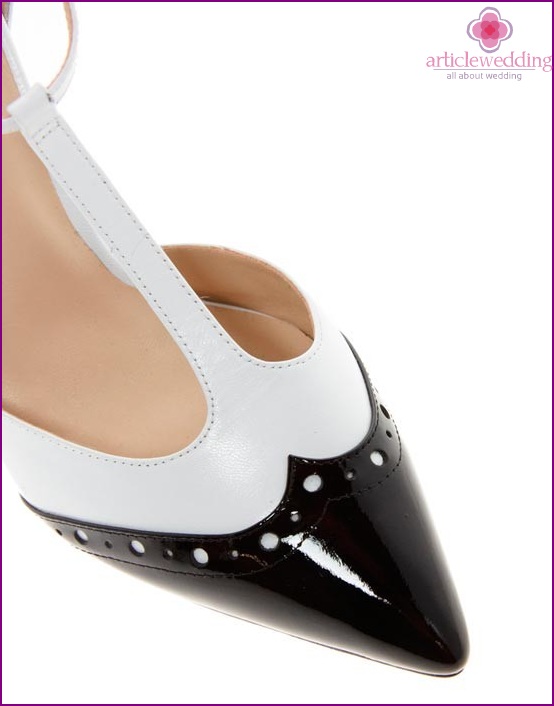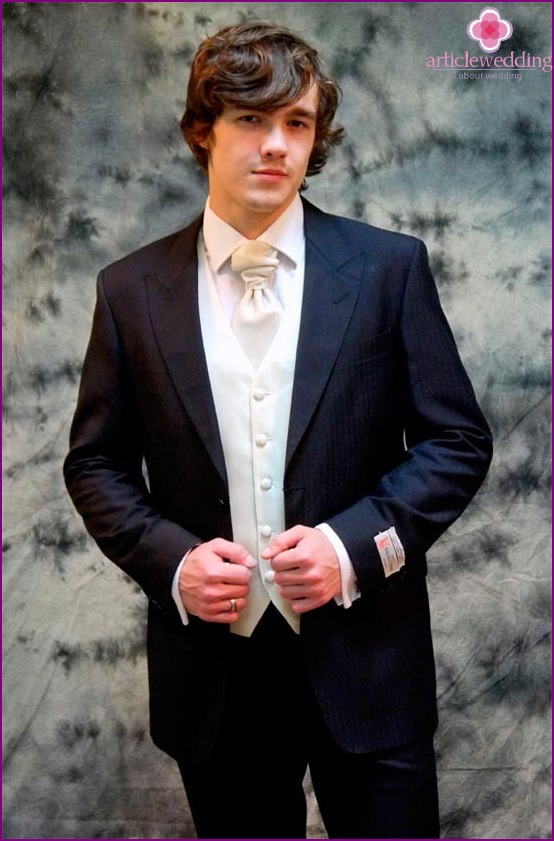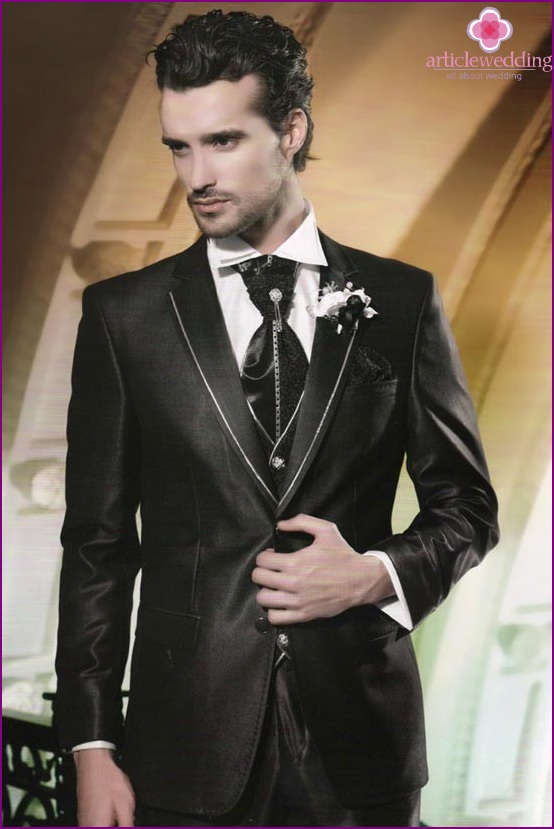 The style of the bride and groom
In order to look stylish, not enoughpick up beautiful dresses for the wedding. The bride must also think about hair, makeup and manicure. Makeup Pick up a classic: it can be black arrows and black mascara. Particular emphasis may be placed directly in front to accentuate their brightness. Wedding manicure It is best done in delicate shades of white. As for the hair, it is worth mentioning the hair accessories. Pick bright hair clips or headbands in black and white.
Groom Style is defined by its well-groomed, so take care of clean hair and nails. Many original advice on the creation of makeup and hairstyles you get to www.articlewedding.com portal.
Flowers for a wedding in black and white
Flowers add tenderness to any image. It is best not to use the black color, which in principle are difficult to find in the store. Usually, bouquets bride in black and white style, created using artificial flowers. If you are strongly opposed to artificial flowers, pick a bouquet of white flowers such as roses or chrysanthemums. The site recommends www.articlewedding.com pick fresh flowers for your wedding bouquet!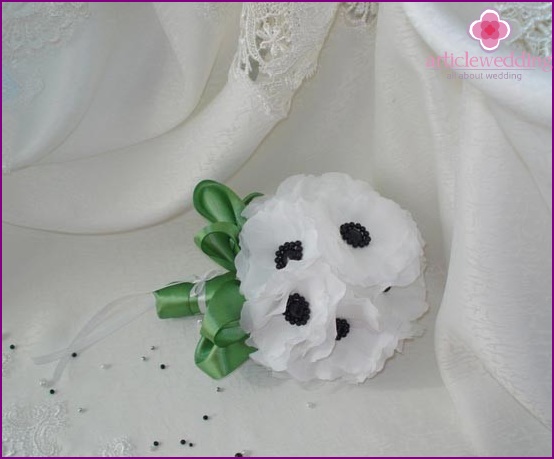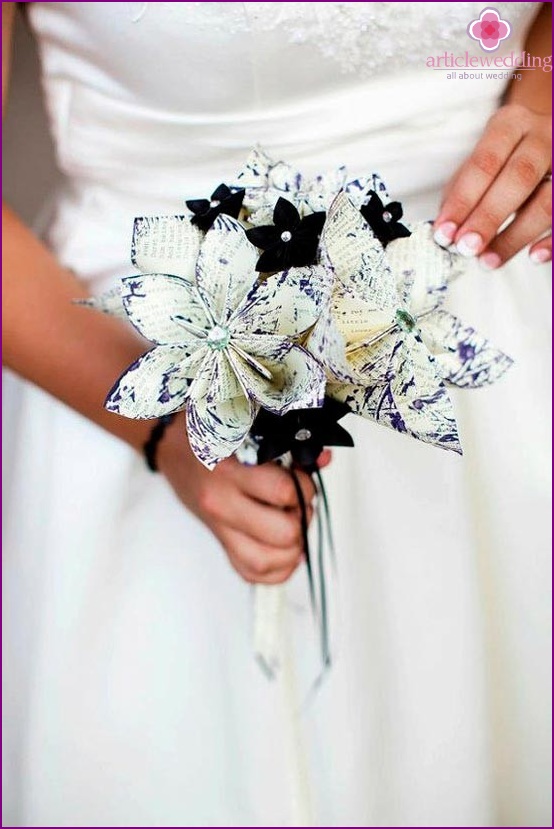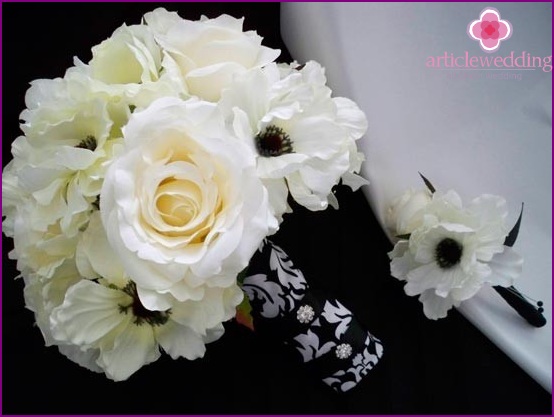 Wedding Accessories for the wedding in black and white
In order for your black-and-white style clearlyis drawn, it is necessary to pay special attention to detail. Decorate wedding glasses bride and groom with beautiful satin ribbons. White can symbolize the bride in black - the groom. Guests can also arrange wine glasses. This can also be done with strips which are attached by adhesive to the glass. Also, in black and white can be performed currents invitations, Cards for seating guests, book requests and other accessories. Do not forget the cake. Cooks will help you create a real sweet masterpiece in black and white!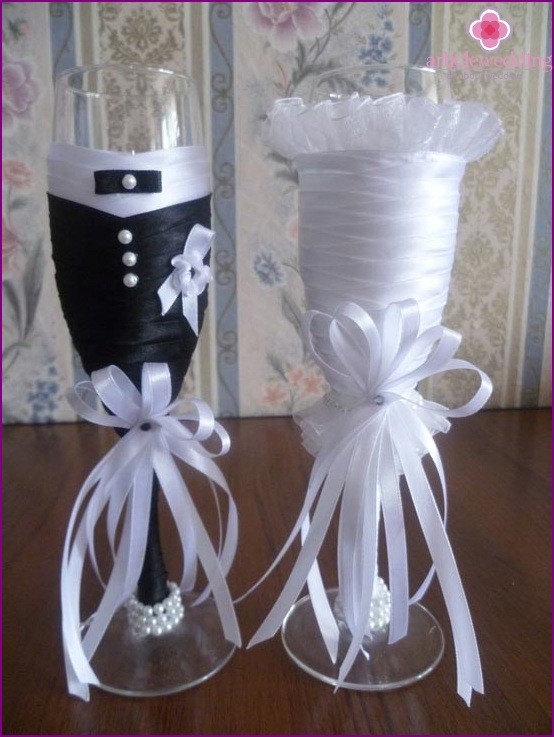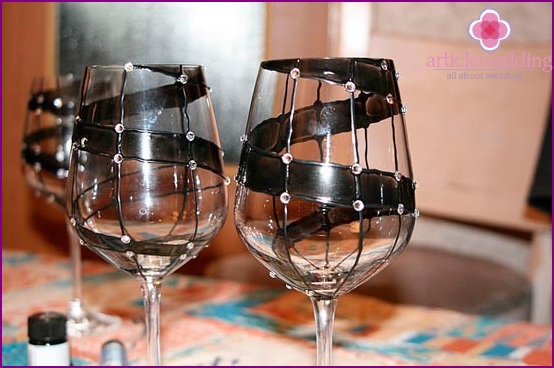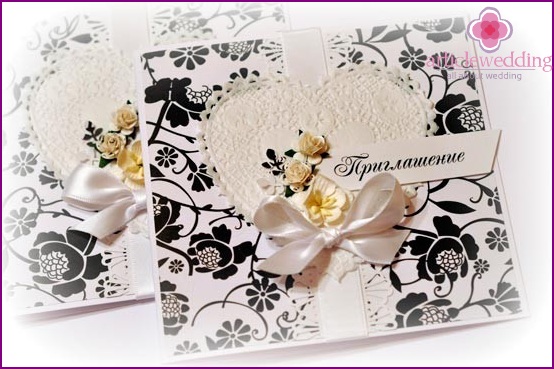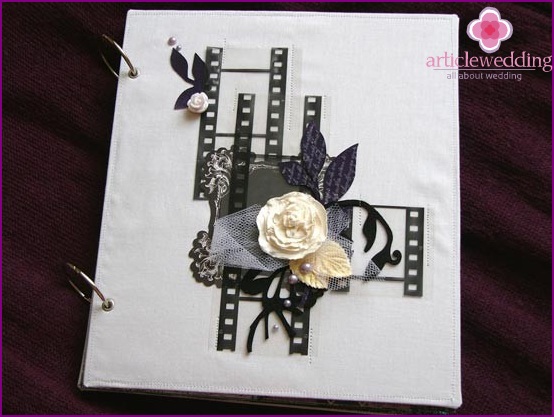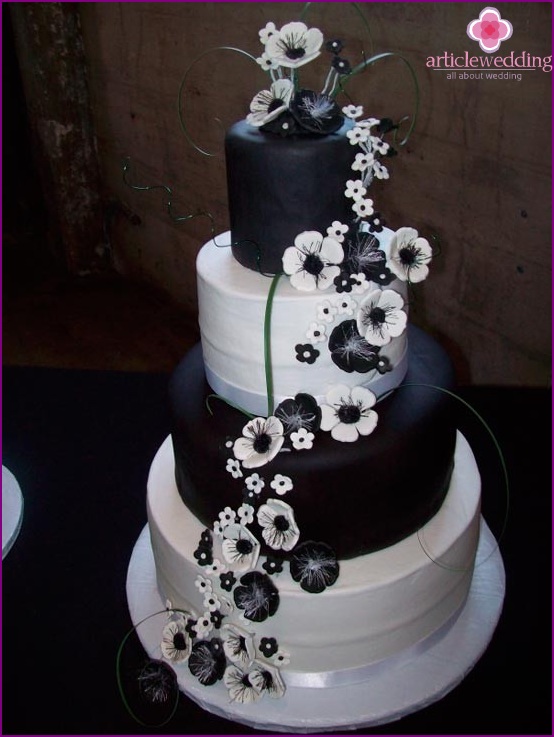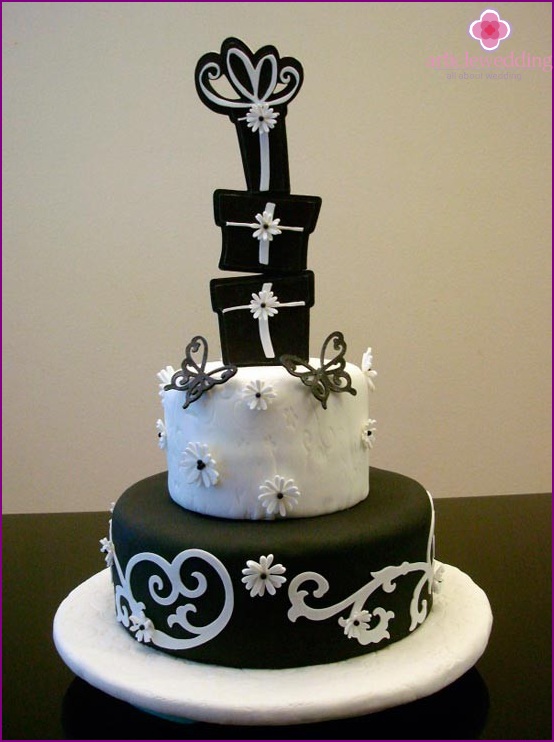 Ideas for a wedding in black and white
Since your wedding is taking place in black and whitestyle, you can remember about the old black and white films and arrange a wedding in the style of black and white film. Your old accessories will videotape, television and vintage accessories in vintage style.
The combination of black and white with other colors
Besides the fact that black goes well with white, it also looks good with red. Red, black and white are the top three classic colors, so decorate any wedding!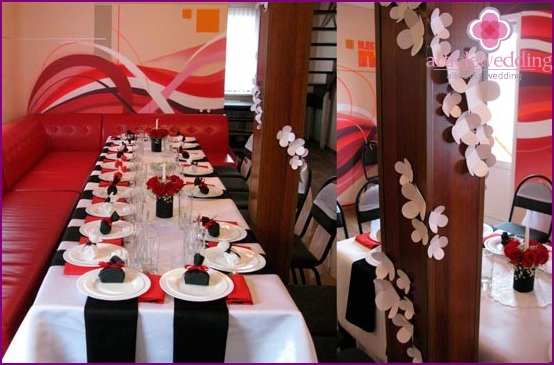 Wedding in black and white will look very stylish and elegant. The rigor and sophistication will make your wedding a real benchmark of style!