In the creation of wedding image, even the little things are important,as they sometimes are crucial in addition wedding dress. Of course, first of all every bride chooses a wedding dress, shoes and veil. Then you need to choose the makeup and manicure. It is worth remembering that the hand - is a reflection of our inner world. Just how beautiful and manicured it looks, he speaks of how responsibly you come to care and care of the hands. The wedding is no exception, as the bride's hands are at all times in full view of guests and photographers. Close-up shoot the moment when the bride and groom to each other wearing wedding rings. This means that your nail polish should be perfect! If you have beautiful long nails, you can just make a beautiful pattern on nails. Often the bride choose a French manicure or supplement it with bright accents in the form of a paste or labels. And what do the girls who have short nails on the nature and weaknesses? After all, every girl dreams of, to the wedding, she looked absolutely perfect in every way. Wedding portal www.articlewedding.com recommends that you make a nail, which will become a lifeline in this situation. The main advantage of extension of nails, of course, is their strength and length, you can choose according to your taste. Also large selection of drawings and all kinds of jewelry, which can not be used in a traditional manicure. The only problem that may face the bride, is the selection of an optimal manicure from such a wide variety. Together, let us try to determine what shape and color best suited for you.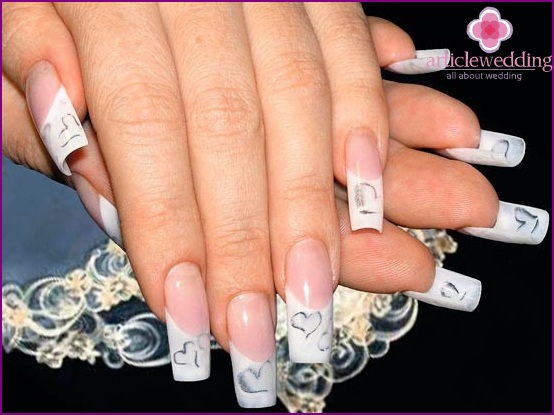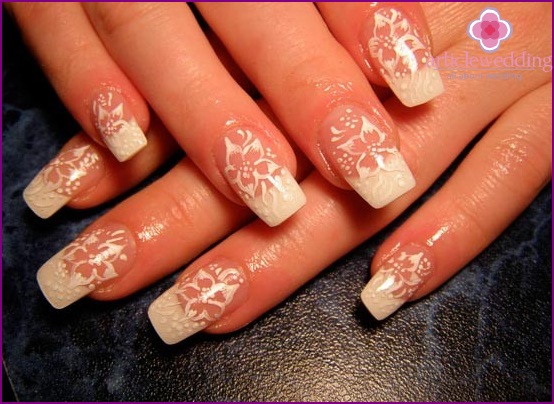 We select the shape of the nails
A few years ago, when the nailhas been a real trend, the girls chose their most unusual form of nails. From short to very long, square and pointy - all this can be seen from fashionistas. But now the long, sharp nails soon frighten than to attract your fiancé. Wedding manicure should look restrained and gentle. Very fashionable shape is slightly rounded or square shape. It is also fashionable to build a small nail length, bringing them closer to the natural sight. Try to keep your nails look like your own, only a few millimeters long. This form and the length will be a very convenient option, since you would not be hooked on during a wedding celebration. In the end, with the nails, you can easily cut the cake and just have fun.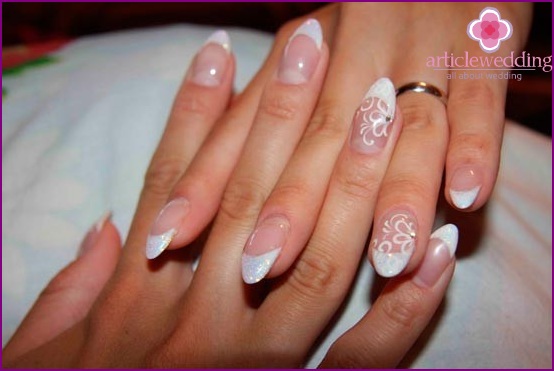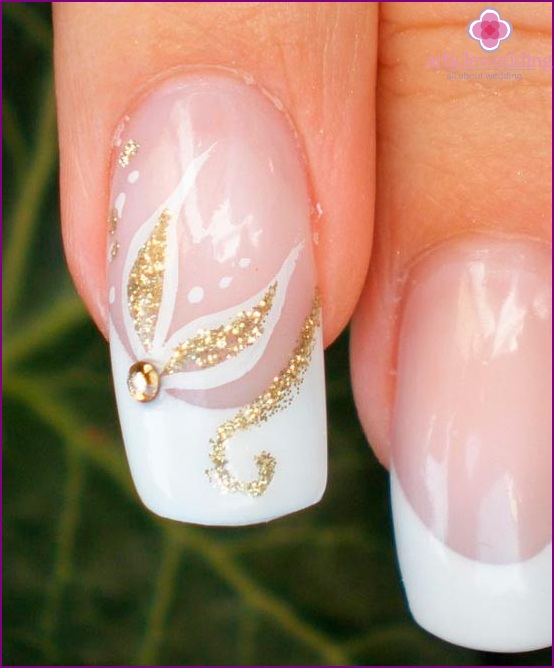 We select the color and pattern
You've probably already guessed that the most popularNail color is white for the wedding. However, you can choose a completely different color. It is strongly recommended to give up the acid shades that just beat out from the general style. It is best to choose shades of soft pink, blue, purple, and peach. Do not abuse the black or dark shades of gray, brown and green. As for the drawing, you can select the original flower decoration or decoration flourishes. Add your nails shine with the help of silver and gold coatings. Graft nails with bulky drawings also look very modern, but with a manicure should be very careful. However, the wizard will try to maximize firmly secure any volume labels or pictures on your nails. Also, try to stick to one color solution to your nails did not look like a rainbow.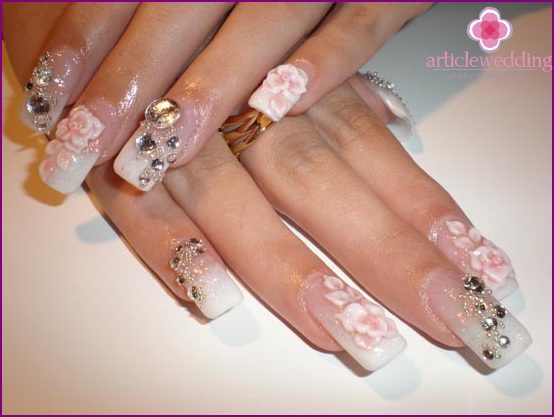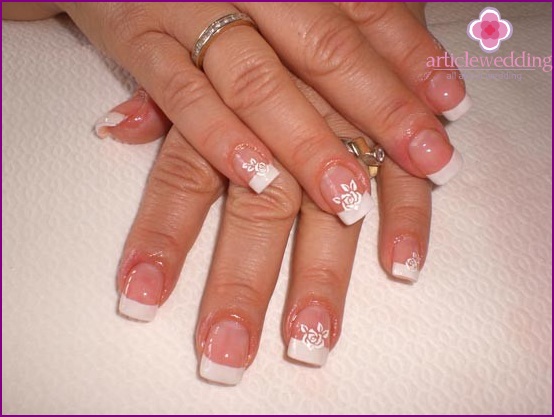 The main advantage of extension nails - it is theirdurability! Some time before and after the wedding, you can enjoy an unusual pattern and beautiful color combinations. With such a manicure, you can feel confident, because the paint does not oblezet, and manicures are not spoiled. Wedding portal www.articlewedding.com wishes you a wonderful wedding with a charming and easy manicure!