10 years of marriage - a tin orPink Wedding. Given the name of anniversary gift should be selected and heroes of the occasion. The symbol of the wedding are tin (stands for compliance and softness in the relationship between husband and wife) and rose (the flower is an unceasing passion and love). There is an interesting tradition - on the 10th anniversary of marriage decided to invite the guests who were at the wedding.
What is presented on a wedding anniversary - 10 years?
On the 10th anniversary of married life is not necessarilygive tin soldiers or utensils. If you want to choose a symbolic gift, then pay attention to the candlesticks or cutlery, which was used for the manufacture of such a strong, but at the same time a soft metal such as tin. This family event is also called pink, so guests are given the presents that have a red color.
You can easily give gifts to spouses, notassociated with the anniversary of the name, but to complement them luxury bouquet of red roses, more importantly, to pick up a gift, which will be in demand. For example, pack a souvenir in the gift paper pink color, add a bow. Use another neizbity ideas - presented a picture of a festive tablecloth with napkins, bed linen, or a set of towels with images of roses. Such a gift will symbolize the 10 th wedding anniversary and talk about your attention.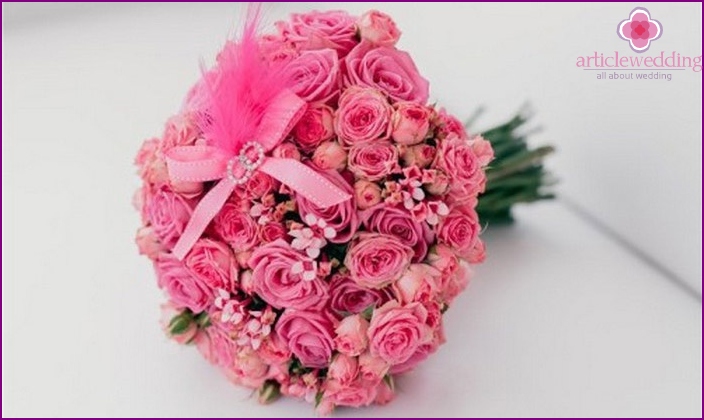 Possible gifts for husband
Making gifts to loved ones on the anniversary - a nice tradition. If you want to surprise your spouse, then consider the following options of gifts:
for pedantic, business men will be a wonderful gift tin cufflinks;
good Prezent become tin soldiers;
if the husband likes to read, then buy a good e-book for him;
certificate of happiness. For example, a spouse wants to jump with a parachute, ride the surf, swim with sharks, then feel free to purchase a gift certificate;
pewter chess set, a beautiful keychain for a mug of beer;
Engraving - this is the best memorable gift to his wife on the tin wedding. Apply a wedding ring a phrase that will be important for both of you;
if the spouse is experiencing weakness for knives, buy a gift for his sword, but it must be of high quality. If you wish it, you can apply the engraving;
make a joint portrait or purchasebed linen, and then embroider your initials on the pillow cases (a gift not only to perfectly fit into the interior, but also will continue to be used);
romantic gift. Surely you have a cafe or restaurant, where fate brought you and presented to the first meeting. Book a table in it and spend dinner in a romantic atmosphere full of pleasant memories;
take your picture together, and thenput it on a mug, bag, t-shirt. Very interesting gift will be a puzzle, which will be shown your photo. Make a souvenir not be difficult, because there are many different companies that specialize in these presents.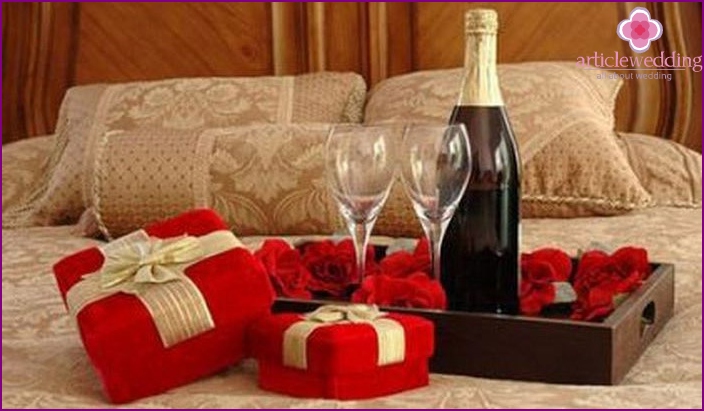 For the wife
Joint life leaves its mark on the relationship, but on the 10th wedding anniversary is to prepare not only pleasant, but also a symbolic gift:
wife will be delighted, having received as a giftjewelery, which she had long dreamed of. We'll have to spend a little bit, because such a present to be not only a precious metal, but also with natural stones of pink, red (quartz, jade, topaz, tourmaline, coral). The graceful and pleasant gift will coral beads, which will emphasize the sophistication and beauty of the beloved;
symbol tin wedding is considered a rose,so there is a nice tradition - the husband gives his wife a bouquet in which exactly 11 roses. 10 colors should be red (symbol of a long and strong love), and 1 necessarily white. This bouquet is a symbol of family unity;
Give a nice lingerie set, which can be red, scarlet, pink and delicate negligee;
a perfect gift would be an elegant dress. If you decide to make such a gift, advance walk with his wife shopping, and remember the model that she liked;
handbag, purse, red;
if you are not married with your beloved, then buypewter wedding rings, and then make an offer of the second half. In advance, prepare a romantic dinner, not forgetting the good wine and make an offer the woman he loves.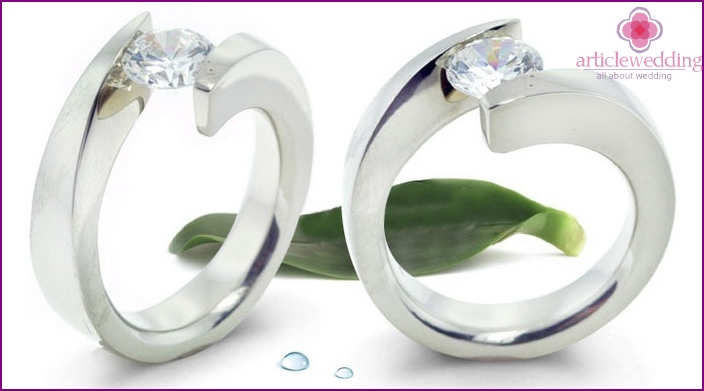 What can be presented to relatives or friends?
If you invite friends on their anniversary, and you do not know what to give to pink wedding, then consider the following options of gifts:
holders, candle holders, bottle holders, figurines, sets of glasses. To create all these tin of gifts should be used;
a set of dining tin equipment;
Antique mirror having a frame made of a soft and at the same time that hard metal;
exquisite pewter vase, because most of the guests at the 10th anniversary of the wedding will bring bouquets of flowers, so this gift would be necessary;
glasses, coffee pot or tray, made of tin, it is not only very beautiful, but also practical metal;
pewter spoons will be one of the best gifts on this day. Do not be lazy and get them to make a symbolic inscriptions engraved;
friends like bed linen - it is both necessary and symbolic gift;
buy large towels, blanket, bathrobe, blanket on the bed, as long as they have been decorated with patterns in the form of roses;
gorgeous picture, which depicts a rose;
tin tea set, decorated with roses;
on the 10th anniversary pewter wedding, you can choose absolutely any gift, the main thing that it was pink.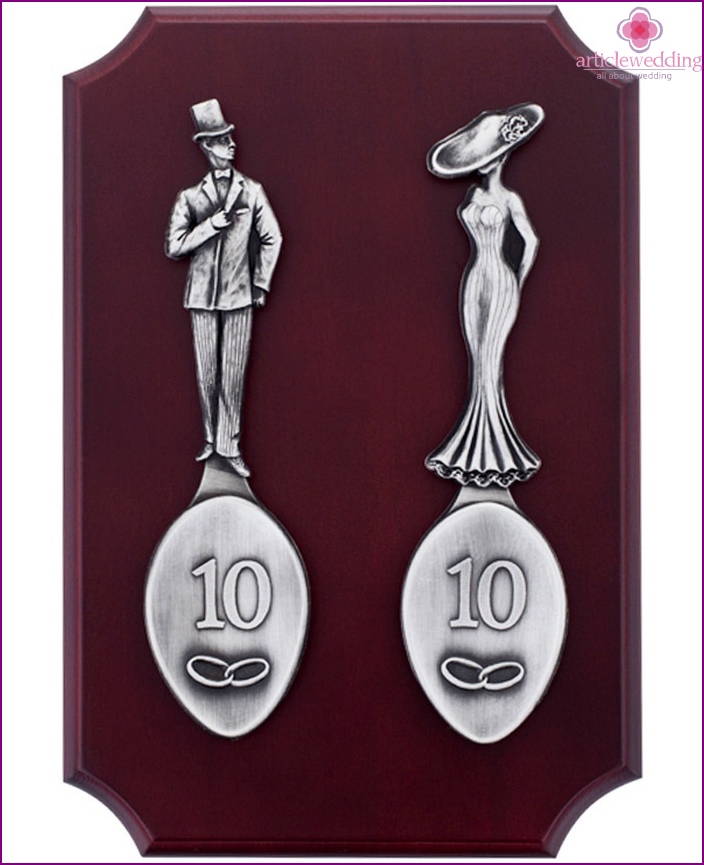 Gift ideas for parents on a pink wedding
Of particular note is the choice of gifts for parents on the tin wedding. Below there are a few different options of gifts:
tea set, made of tin;
sculptures, souvenirs, which was used to create the pink mineral (eg, agate, carnelian);
pewter figurines;
Tin bell, which is also the talisman, so will protect the family from the gossip, unhappiness, evil spirits;
towels or bedding pink;
pillow, bedspread, blanket, blanket;
certificate for the purchase of any product brand (best to stop the choice on household appliances or dishes that are sure to come in handy in everyday life and will always be used);
If finances allow, you can buy a trip to the journey to the sea, a tour of Europe. This gift will be remembered for a long time and leave only pleasant memories.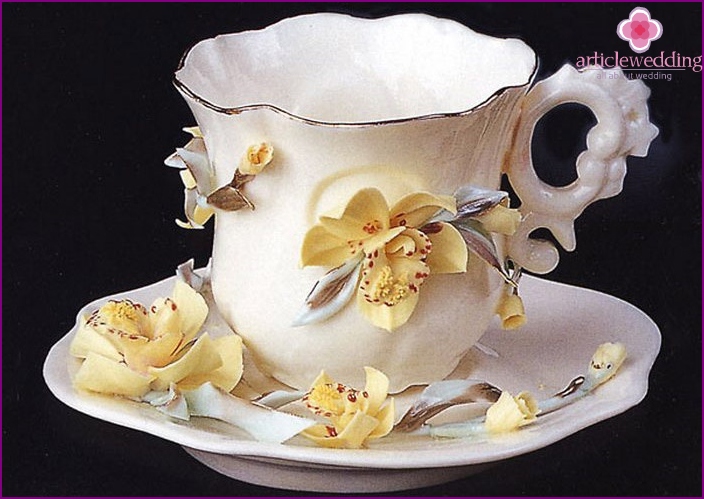 How to make an interesting Present your own hands?
The most valuable gift one that is made with their own hands. Below there are a few options for interesting souvenirs:
embroidery. Purchase a set of bed linen, towels or napkins and independently issue them with embroidery. You can put the initials of the couple or pattern in the form of two doves, wedding rings, hearts, make a sign-spouses wish a happy life;
beads. If you have the patience and perseverance, then make an icon or picture of beads. However, making such a gift can take several weeks or months, depending on its size, complexity of design;
beautiful tableware. Buy acrylic paint and monotonous dishes, and then enjoy a painting of the future gift. Not only can you apply drawing, but also write a small wishes a happy life;
scrapbooking. Using this technique, you can make a photo album in which to place a photo of the couple for all 10 years of their life together.