Amethyst - a stone that symbolizes strengthmatrimony, love, devotion and loyalty that kept the couple to each other at all times. 48 Therefore, the anniversary of living together - a significant date in the life of the couple, which was called "amethyst wedding." Having lived so many years together, passing various tests, sharing the sadness and joy for two - husband and wife become true halves of a whole. Noting that the wedding date, there is a great opportunity to remember the happy moments of life together events.
Traditions and customs in the 48 years of marriage
All traditions amethyst anniversary anywayassociated with the gem itself. Amethyst - a semiprecious stone that is durable, the beauty, mystery and unique properties. He is able to give peace of mind, good luck, prosperity, harmony, so amethyst anniversary is accepted to give jewelry, this beautiful stone accessories. It is worth noting, the more carat gem, the more beautiful it looks decoration.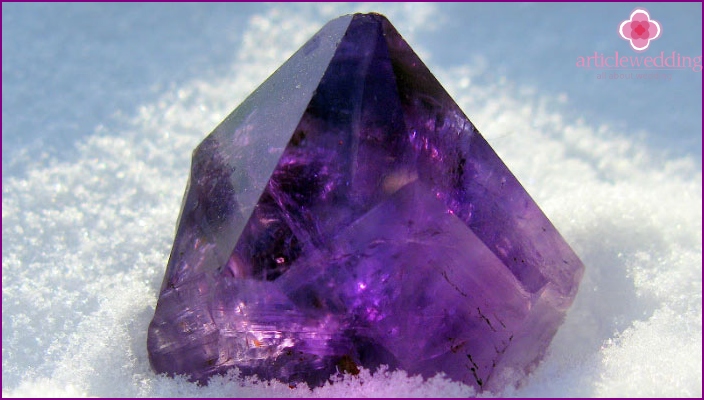 Husband presents on amethyst anniversaryfaithful companion piece of jewelry with amethyst. This may be a ring, a set of earrings and pendants, pendant, necklace or the accessories separately. Such a gift - it is a symbol of love, devotion to man. Woman taking jewelry, should sincerely thank spouse for the trust, happily lived years after the wedding, for given her love, loyalty and happy moments of life.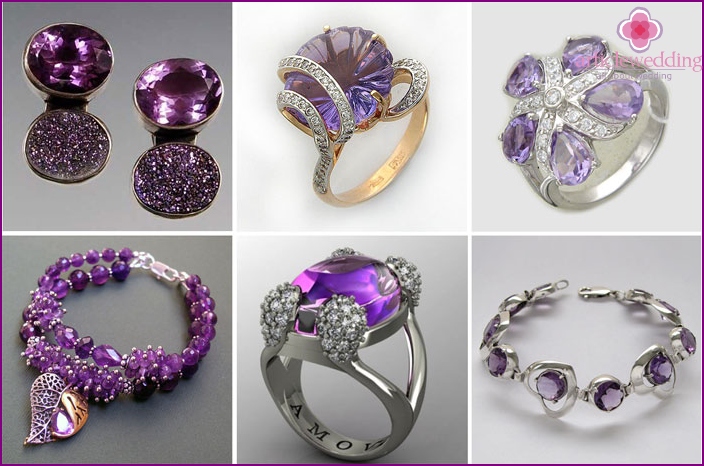 Traditionally, amethyst 48 wedding anniversaryspouses should be held in a quiet, tranquil setting. In the morning, at the request should go to the church to thank God for being able to live a happy love life, keeping the love and ask for blessings to survive at least until golden wedding. It is not necessary to arrange a noisy celebration, this day is better to spend with your family.
Violet wedding: how to mark the anniversary?
Having lived in marriage of 48 years, having lived to a ripe oldage of heroes of the occasion, in rare cases, wish to organize a large-scale celebration with a luxurious feast, songs and dances. In most cases, the Violet preparation for the holiday, and his organization engaged in children, therefore it is necessary to listen to the wishes of the couple, the holiday turned out such as they had represented.
In order to please their parents, to give themlovely holiday, no need to order expensive banquet, leading to search or call the tune. This amethyst anniversary ideally will be noted in the close family circle, where the heroes of the occasion will feel comfortable, happily. Create a romantic wedding anniversary celebration may own, by choosing to close the hearts of the spouses detail, including the player to record your favorite tunes and make delicious treats.

Selecting the celebration venue
Violet wedding anniversary - it isNo doubt holiday. But 48 years - not a round number, so be sure to arrange a feast for the whole world, ordering the most expensive restaurant, arranging a large-scale action. The ideal situation would be the triumph of amethyst comfortable home environment where everything is native, familiar, tomuzhe, guests and spouses will feel comfortable and free.
In order for a cozy family nestheroes of the occasion turned into a romantic place, ideal for the celebration of amethyst (48th) wedding anniversary, you must decorate a room (house) with beautiful curtains, flowers, balloons optional. On the walls is to hang pictures of the couple, as an option, making the "mall life" - placing the photos in chronological order, from the day of the wedding to the present day. Choose necessary photographs, which show the couple together in happy moments of their married life.
If you arrange a wedding anniversary in a quiet homesetting is not possible, for example, too little space and is difficult to accommodate all the guests, it is worth to book room in the restaurant, choosing to this quiet, cozy place where there are no noisy young and overly loud music. It is not necessary to order the master, because he is important not to spouses amethyst festival and its organization, but the fact that this is another opportunity to gather near her entire family and closest friends.
What to wear to a wedding?
For amethyst wedding anniversary, thatIt comes 48 years after the day of the wedding, there is no strict dress code. Spouses are free to choose any outfit, in which they feel comfortable and attractive. For amethyst anniversary there and certain accessories or clothing items that must be present in the decoration. If desired, a husband and wife can select the item along with the gentle shade of pink or purple - the main color of amethyst:
For spouses perfect party dress.
Men do not necessarily wear a formal suit with a tie and a jacket, maybe do a beautiful shirt, trousers.
Whom to invite?
48th wedding anniversary - it is the next dayfamily birthday, and to celebrate it is the most close and native people. On this feast invited relatives - children with their families and grandchildren. At the request of the spouses can invite friends who have helped throughout life, they were next in grief and joy. It is not necessary to convene all the friends and relatives in the tenth generation, because this wedding anniversary heroes of the occasion should be surrounded by the most desirable, loved ones, then the celebration will take place in a comfortable, relaxed environment.

What should be on the table?
On the festive table amethyst wedding is notnecessarily have to be an abundance of dishes, fruits and overseas elite alcohol. It does not have to break from a huge number of dishes with food. It is necessary to prepare only a few of your favorite treats, traditional dishes that have become family meals, because the holiday - is primarily an opportunity to meet, talk, and not a chance to indulge in gluttony.
The obligatory dish, which shouldbe present at the table during the celebration of 48 anniversary of the wedding, a cake that can be baked at home or order in a restaurant. The first taste is a must treat spouses - heroes of the occasion. It is unlikely that the event can be called a real treat, if not on the table a magnificent cake. Taking care of the availability of this delicious dessert spouses have children, having presented it to them as a gift.

celebration Scenario
If the holiday does without leading ororganizer, it does not mean that there should be some kind of plan, the script of the celebration. Even if there is no dancing, revelry and celebration, it is necessary to consider a course of action, as the event will take place. Alternatively, the celebration of 48 anniversary of the wedding scenario might be:
Welcome guests and seating them at the table.
A small feast with tasting of delicious treats.
Congratulations to the couple, toast and wishes.
Presentation of gifts.

View old photos, slideshow.
Younger guests (grandchildren) may amuse the guests, telling poems or playing performances.
Perpetrators of celebration can tell us about how the wedding was held, as well as share the secrets of a happy family life.
As a present amethyst spouses may be:
jewelry with amethyst;
souvenir wood or casket, decorated with semi-precious stones;
a ticket to the cinema or theater;
items needed in the home - bedding, appliances, utensils, dishes, accessories for control over health.
Congratulations on your wedding anniversary
Beautiful, though not round date - 48 years from the datewedding - provides an opportunity to once again congratulate the couple, who were able to save his love, carrying it through all these years. Perpetrators celebrations deserve beautiful congratulations, wishes to live together in joy and harmony to the next anniversary be supporting each other in the future. Congratulations on your wedding anniversary may be in verse or just a beautiful words spoken from the heart.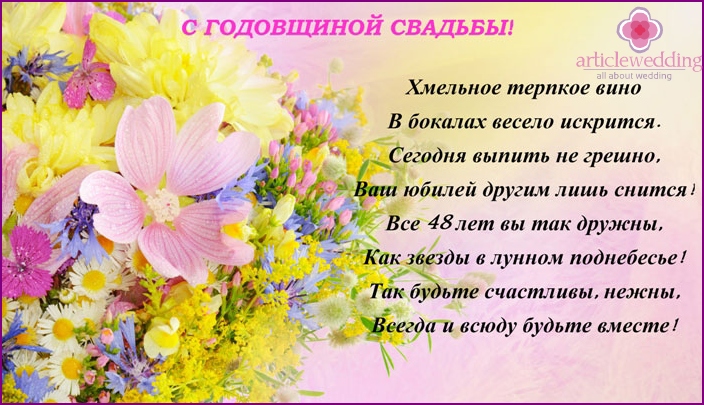 It is not difficult to make a beautiful video greetings toamethyst wedding with the help of standard programs, such as, Picasa, Photo Story. Creating a video is to choose a romantic melody, close to the heart heroes of the occasion, select the beautiful pictures, pictures with congratulations. Spouses, marking the anniversary of the amethyst, this gift is sure to enjoy it, because it will cause a storm of emotions, pleasant memories. Watch a video with examples of such greetings:
The celebration of 48 anniversary of wedding - it's a greatopportunity to bring together the whole family, giving each other a few hours of precious time, which is often sorely lacking. For a married couple, lived in almost half a century of love, do not need banquets, expensive gifts, the main thing that this festival they will be able to share with the loved ones, loved ones.