40 years of living together to get the beautifulname ruby ​​wedding. This name is due to the fact that the transformation of corundum into a sparkling faceted ruby ​​takes a lot of effort, time. So to create a strong, close-knit family need to make every effort to for 40 years to preserve the love, respect and cordial relations between the spouses. In addition, Ruby is a variety of shades, from pink to crimson that symbolizes love passionate, gentle, sincere.
Ancient traditions and customs of a 40-year marriage
Ruby anniversary wedding anniversary, whichcertainly worth noting. It must be done the way you want it, but forget about the old traditions of this feast should not be. What have the tradition, which is to follow the wedding anniversary of 40 years?
According to ancient tradition, on the day of the fortiethanniversary of the joint family life, the couple changed their wedding rings on the other, with inlaid ruby. The old ring as they put in a box to give them grandchildren, and with rings and accumulated over many years of love, experience, understanding.

There is an old custom in which the spouses tear offtree ruby ​​color with cherry bonded tails and eat berries, without breaking the tails and bones buried. According to legend, if the spouses have lived in the family life of love, peace and harmony, then after a while grow two cherry wood with woven roots. This beautiful ritual is not necessarily carried out on the day of the anniversary itself, you can do so during the year following the date of the celebration.
Another good tradition came to us from the Caucasus: wife should eat for two one grenade. Half goes to her husband eating one ruby ​​seed, he shall pay compliments, praising his wife. The wife should also list the virtues of his beloved with each grain of pomegranate. If the couple were able to eat a pomegranate, praising each other and repeating, so the life they have lived happily in love.

Ruby wedding: how to mark the anniversary?
As a general rule, spouses, celebrating 40 years of marriagelife, about 60-70 years. For them it is a great opportunity to collect at all the relatives, close friends and good companions. How to celebrate 40 years of marriage, it is better to cook and how to decorate the room, observing the ruby ​​theme questions that reflects the couple before the wedding anniversary.
To properly mark the anniversary, it is necessary to know the history of its origin and why this date is called ruby ​​wedding.
Ruby gem on the value of the secondafter diamond. As a result, the long effort of nature stone gets its shape, and after cutting becomes a real jewel. As a rule, there is a dark ruby ​​red color, rare shades of light pink, scarlet. This natural beauty conceals many years. spent to create it, and that's what happens in the family life. Beautiful relationships in humans hide behind the screen of family life troubles, disputes and disagreements that are sure to meet in the way of the spouses.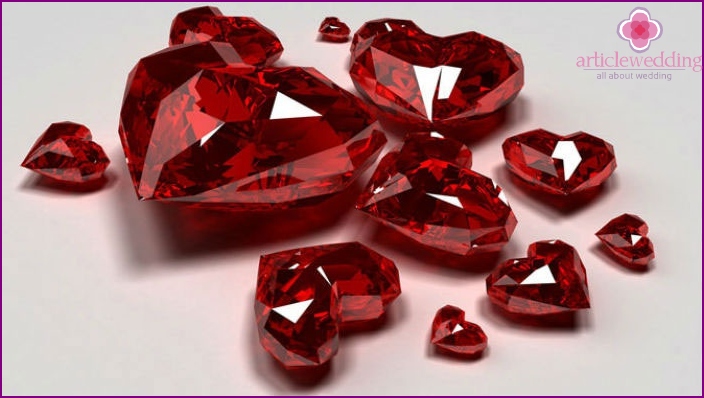 Selecting the celebration venue
Wedding anniversary of a great family holiday. Celebrate it better in a cafe or restaurant, to the couple could relax, have fun with the family. To celebrate the best to choose a small, cozy room, where all the company led by perpetrators of the celebration will feel comfortable. It is important that there was a place for those who want to dance, as well as for those who prefer a soul to talk to friends.
To make out the best room in shades of ruby, becauseThis color is a symbol of 40 wedding anniversary. For decoration, you can choose a red flowers, such as roses and other unseasonably tulips, peonies, carnations. A great option balloons red shades. The tablecloth and napkins should also be in the tone of triumph.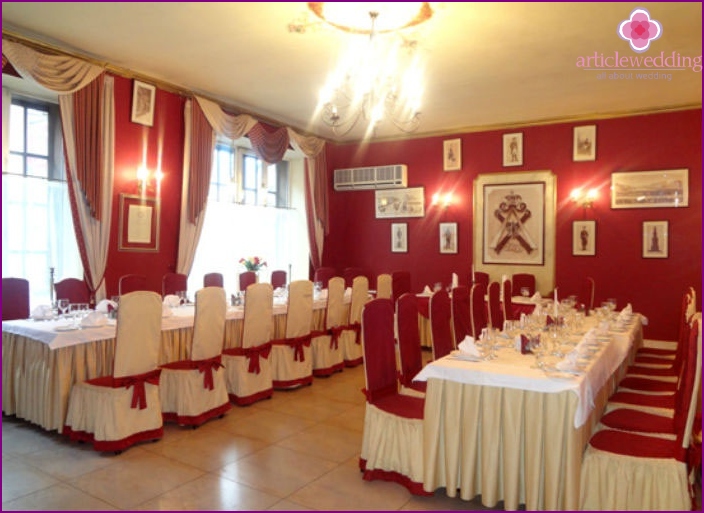 If possible go to a restaurant there, andcelebration planned at home, rooms, kitchen, hallway and need to decorate. Here it is good to use the same flowers, colorful balloons, garlands of red crepe paper, symbolic carved hearts. Remarkably, if a design apartment or house will make their best efforts the children, spouses and grandchildren.
What to wear to spouses
40 years of marriage, anniversary, for wifeIt should look great. What to wear heroes of the occasion to solve only to them, because hardly anyone will follow the latest fashion trends 60 years. Clothing should be festive, elegant, but also comfortable. The dress must be elements of ruby ​​red or other shades. As these elements are suitable for women decoration red beads, earrings, bracelet, and for a spouse or a red shirt with a pink tie or red hue.

Whom to invite
Question 40 invited to the wedding anniversaryIt resolved itself-a. First of all, welcome to the children, grandchildren and close friends, relatives. If the holiday the couple decided to celebrate in a big way, then invited the neighbors, good friends. Invite better than those people who helped and supported you on the path of life, helping to realize the value of your family. With such people, you will have something to remember, something to talk about, and you can spend a great time.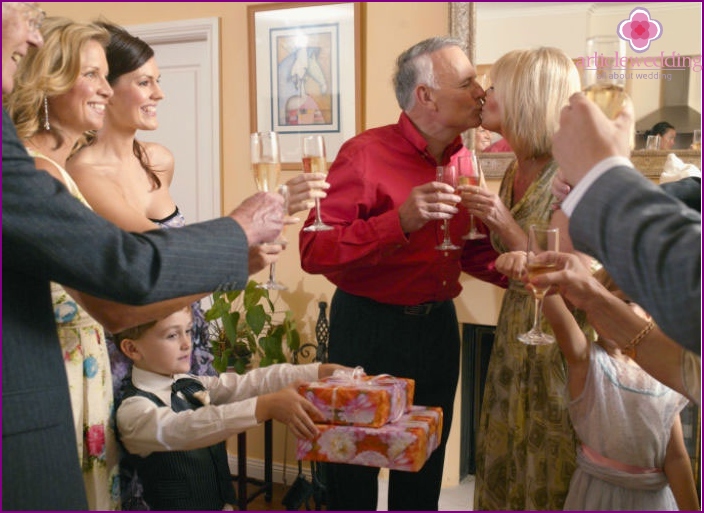 Often, children are on their own initiativeorganize a holiday for their parents, making a surprise for them. Such a triumph like their parents, they will be happy not only to meet with loved ones, but also caring, attention.
What should be on the table
Ruby wedding celebration, a symbolic colorwhich is considered to be red, and therefore the table should be served in the same tone. Well, when the table decorated with red tablecloth, napkins matching color. If possible, better to pick up the dishes with red flowers or abstraction.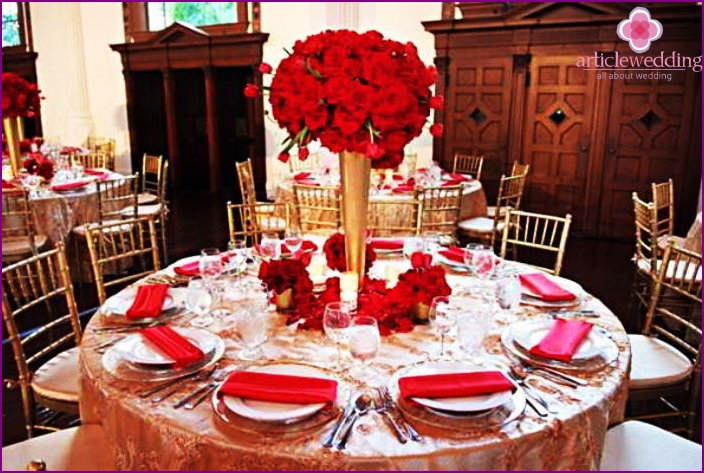 On the table must exista bottle of good red wine, which will cheer the guests. The wine is to choose a natural, not binding, but tasty. Do not forget about red and pink varieties of champagne, sparkling wines, liqueurs of red berries. By the way, a remarkable gesture will treat all guests personally made hero of the day ruby-colored brandy, which is made according to original family recipe.
For dessert, indulge their guests with fresh berriesred strawberries, strawberries, raspberries, or you can order a delicious and original cake, if the anniversary is celebrated in winter. Examples of these cakes look at the photos.

celebration Scenario
For the celebration, you can inviteprofessional toastmaster or entrust the organization of the entertainment part of someone from relatives and friends. In order to wedding anniversary did not have to get bored, you can arrange fun contests, a quiz with the standard questions: for example, ruby ​​wedding how many years? They met heroes of the occasion? 40 years of marriage which is the wedding? When the first child was born? Dancing.
Ruby wedding, which prepared the scriptin advance, to be held is remarkable. When planning a celebration, be sure to agree on all points with the perpetrators of the holiday, not to put them or the invited guests in an awkward position.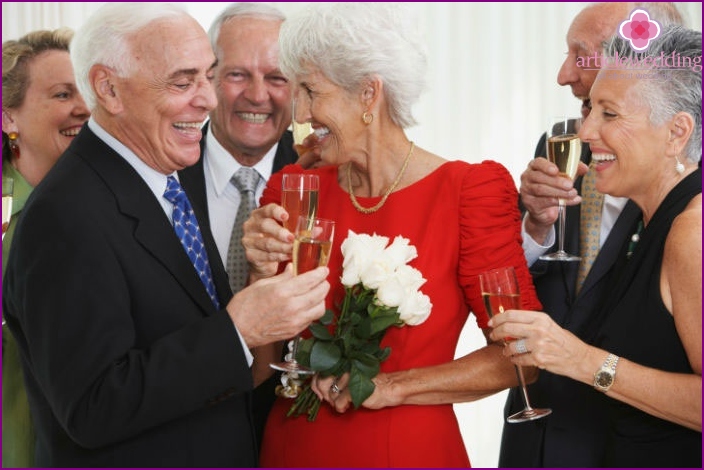 What to give for ruby ​​wedding
festive date 40th wedding anniversary foranniversaries, while on holiday to make presents. What to choose as a gift for the 40th anniversary of the wedding of a spouse? What to give to parents ruby ​​wedding? The best option considered Gift decoration, interesting statues, crafts with a ruby. It is important to remember that the ruby ​​is not only precious, but also an amulet, able to protect the love anniversaries.
From a good idea to purchase jewelry earrings, pendantheart-shaped necklace, brooch, necklace, key chain, watch inlaid with ruby. Also you can choose a beautiful vase of red box with a ruby ​​or give any gift wrapped in red wrapping paper. You do not have the gift should cost a fabulous sum of money, because the focus on this issue.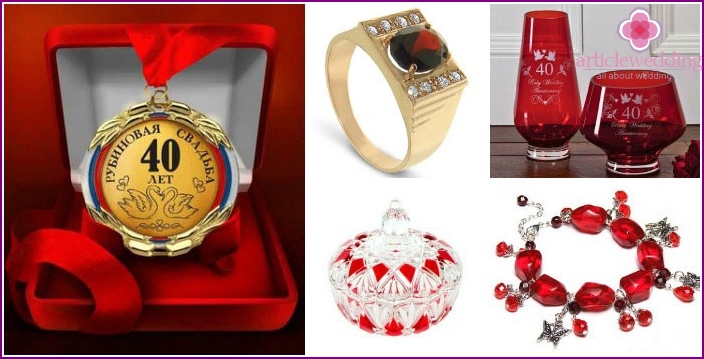 Congratulations on the ruby ​​wedding
Beautiful greeting an integral part of the anniversary,because it is to prepare in advance, or toast with whom you stand in front of hero of the day. As congratulations, you can select the original poem, beautiful emotional words in prose.
If you have the opportunity to visit the anniversary there,You can send a text message or pleykast Internet card with a beautiful song, picture, congratulations. Especially popular are the original ideas congratulations ruby ​​wedding.
You can also make a beautiful video greeting. See an example of such a gift in the video:
Wedding Anniversary big celebration for the heroes of the day,in which they celebrate the day of their birth family. Before they reach a ruby ​​wedding anniversary, the couple can be proud of warm relations, strong marriage, sincere mutual love, they lined up and stored for forty years. Passing this date, jubilee should strive to live in peace and harmony until golden wedding.