Every bride is nervous and worried about howwill host the celebration. Of course, it would be desirable to have a wedding was played at the height, and the guests were a lot of fun. In order for everything to go perfectly, you should take care of a lot. However, these concerns can be quite pleasant. Make a few bridal accessories with your hands, to immerse themselves in the creative atmosphere and to get rid of disturbing thoughts.
First of all, you should make sure thatto the guests received invitations for your celebration and do not forget the date of your wedding. To learn how to make beautiful invitations for a wedding, you can read on www.articlewedding.com portal.
Wonderful wedding invitation with the decor,made watercolors, lift the mood of the guests. To make such cards is easy at home. Not only can you enjoy the cards of the manufacturing process, but also save a lot of money, because the purchase of wedding accessories - is extremely expensive.
The design of each invitation to get in their own wayunique. Your guests sure will not forget what day will take your celebration. You can also use these cards as input of tickets to your wedding.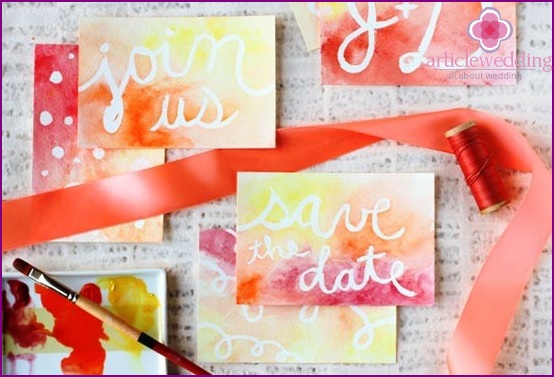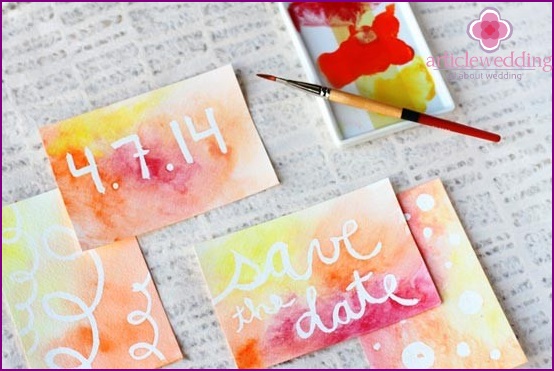 Materials and tools:
thick watercolor paper;
watercolor paints;
thin and thick brush;
viscous liquid.
Time
: 45 minutes.
Detailed instructions:
For the manufacture of wedding invitations youIt needs a special liquid, which is used to keep a surface on a white paper. She seemed to be protected from staining the paper. Once you paint the watercolor cardboard, sticky mass can be easily removed from the paper. This clever technique will allow you to make inscriptions on paper, as well as highlight the wedding date.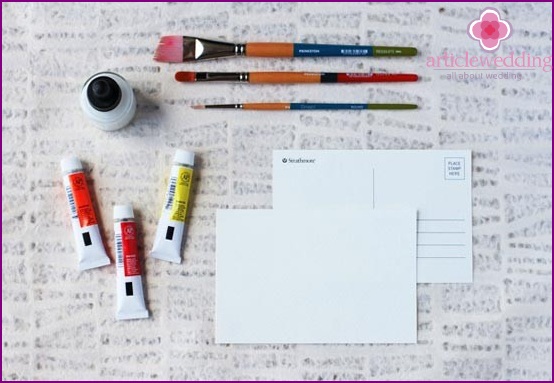 In the first stage, prepare the cardboard, youYou will be painted. It is best to choose a thick paper in white or ivory. Now you need to apply with a brush on the paper label or date using liquid adhesive. Carefully write your initials or the date of your wedding, let the fluid dry.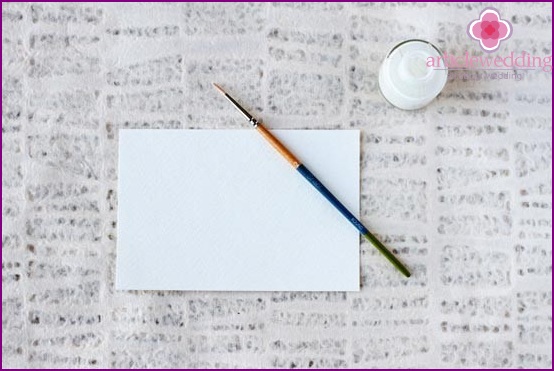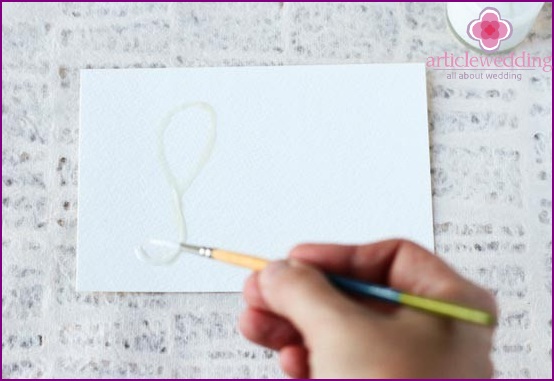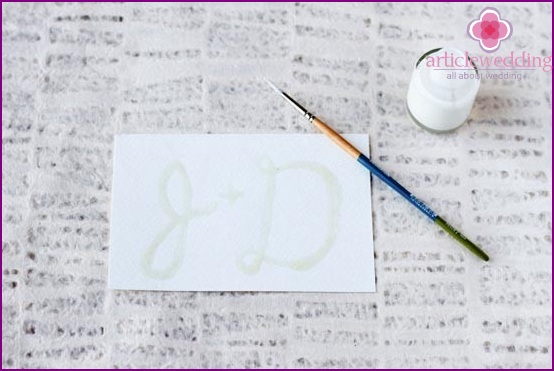 Dampen the brush with water and slide over the paper. Use your favorite color watercolors to create a unique pattern. Adhere to the overall color scheme of wedding! Do not worry for your title or date - they are not colors. Dokraste your cards and give them a little dry.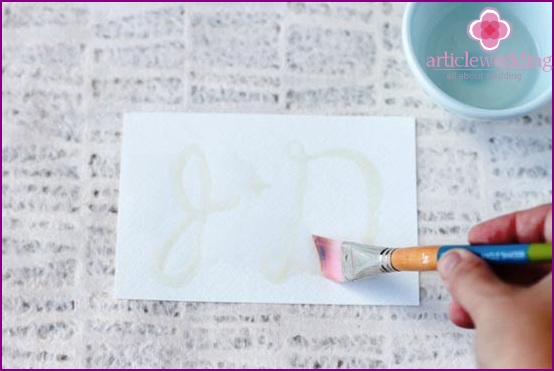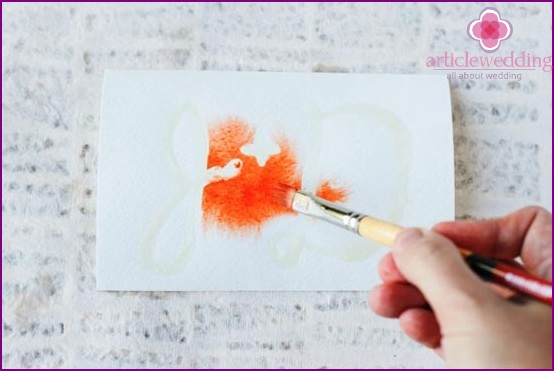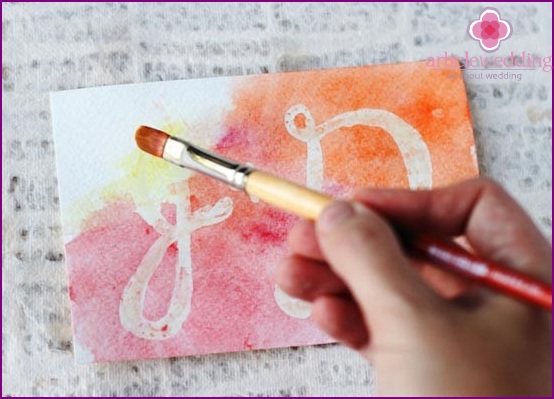 Now we need to remove from our cartonssticky mass. Simply podkovyrnite her finger with one hand. Gently pull. The weight will slowly come off the paper, leaving under a pure white surface. You will turn a very original card for guests who will remind you of the upcoming landmark day. Sign the card on the reverse side and send them by mail to your guests. Cute and colorful invitations are ready!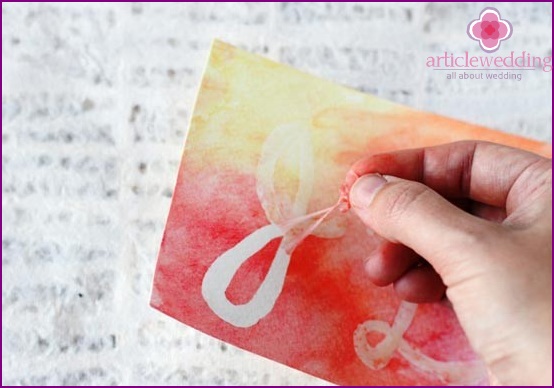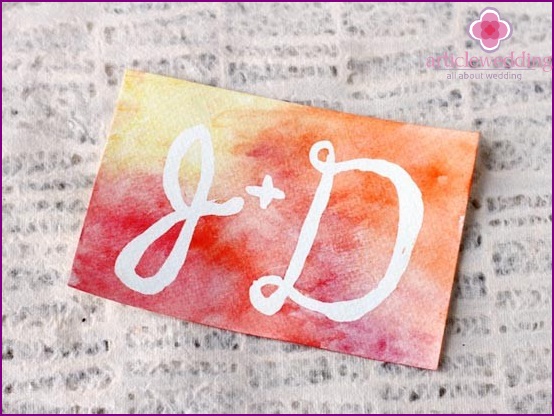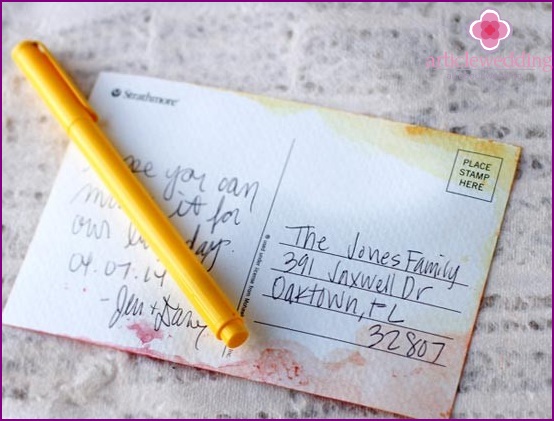 applications
You were very original invitation that guests will love. With watercolor it is very easy to operate. If you turned the wrong pattern, it can be washed off easily.
If you own technique of drawing on aa high level, can picture paints beautiful pictures, which are suitable to the style of the wedding. Also, try to use a similar color scheme that you will use in the decoration of the wedding hall.
On the cards, you can also write a fewwarm words to the guests. If you have the time and inclination, you can draw a map of your present celebration, which will be given the most important events that take place in your momentous day.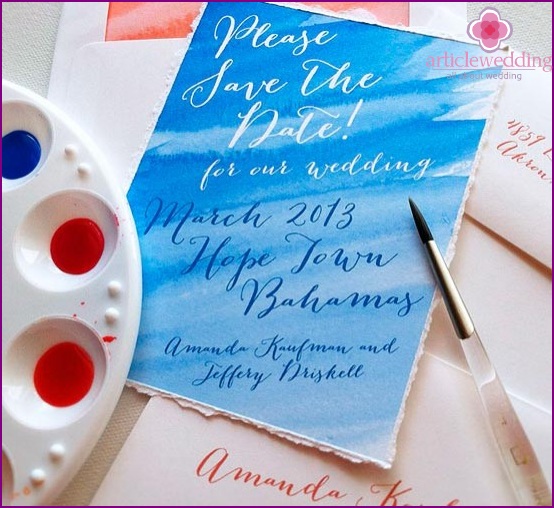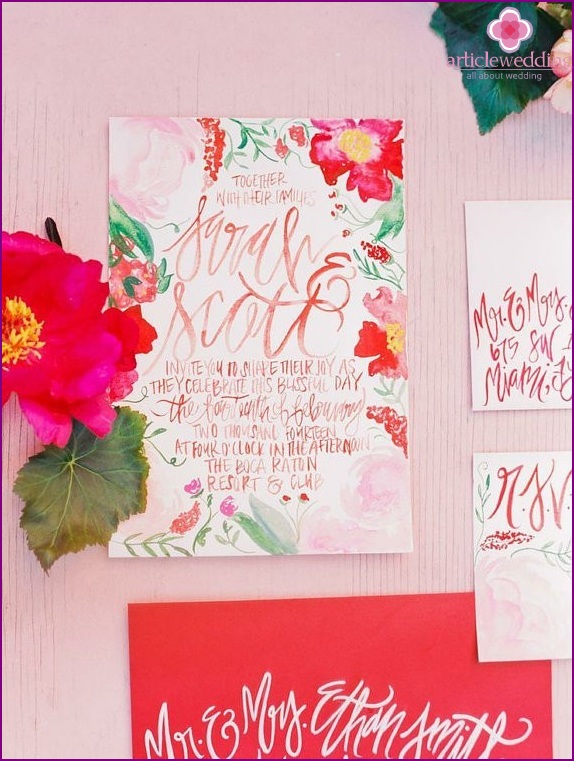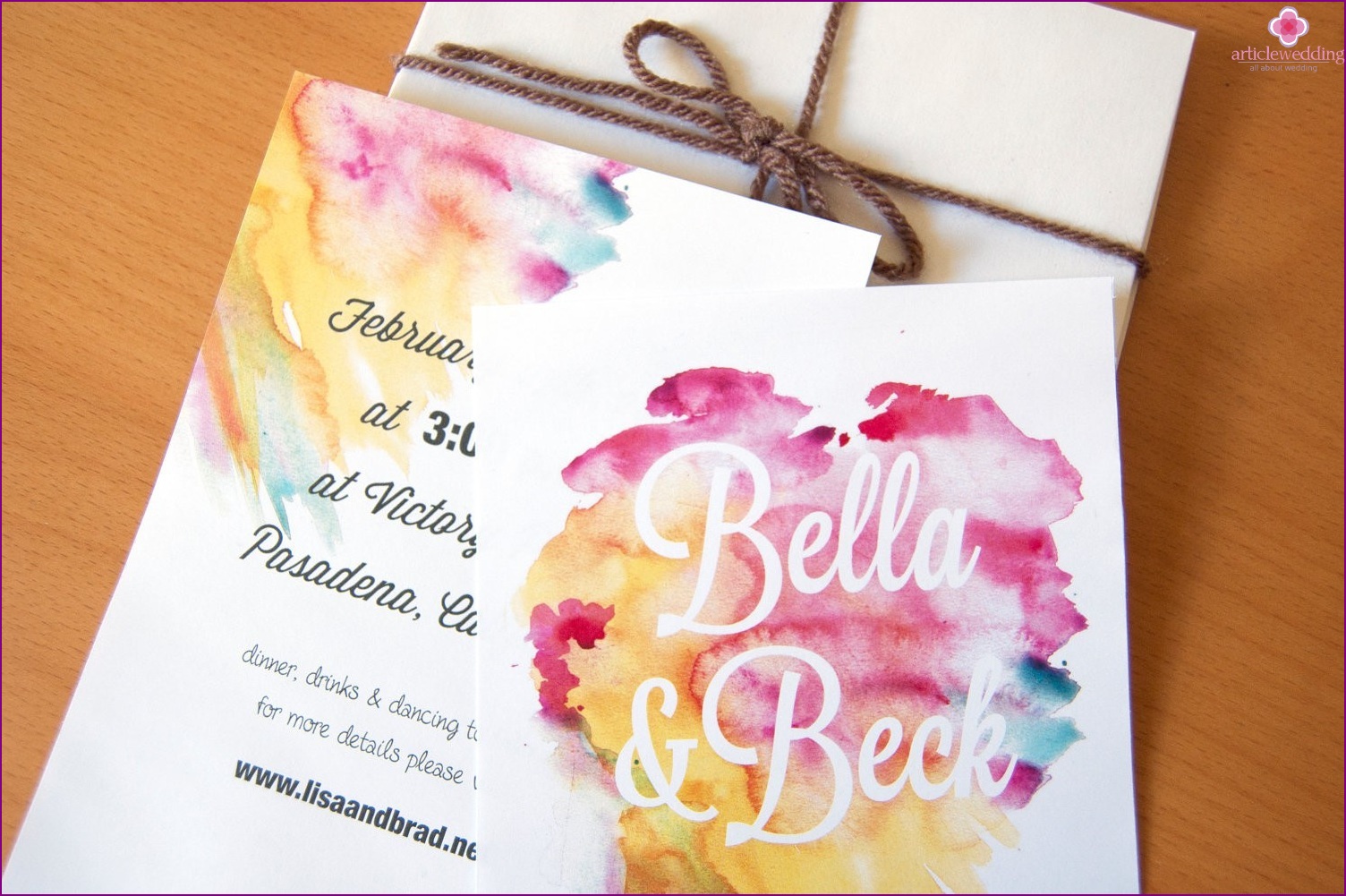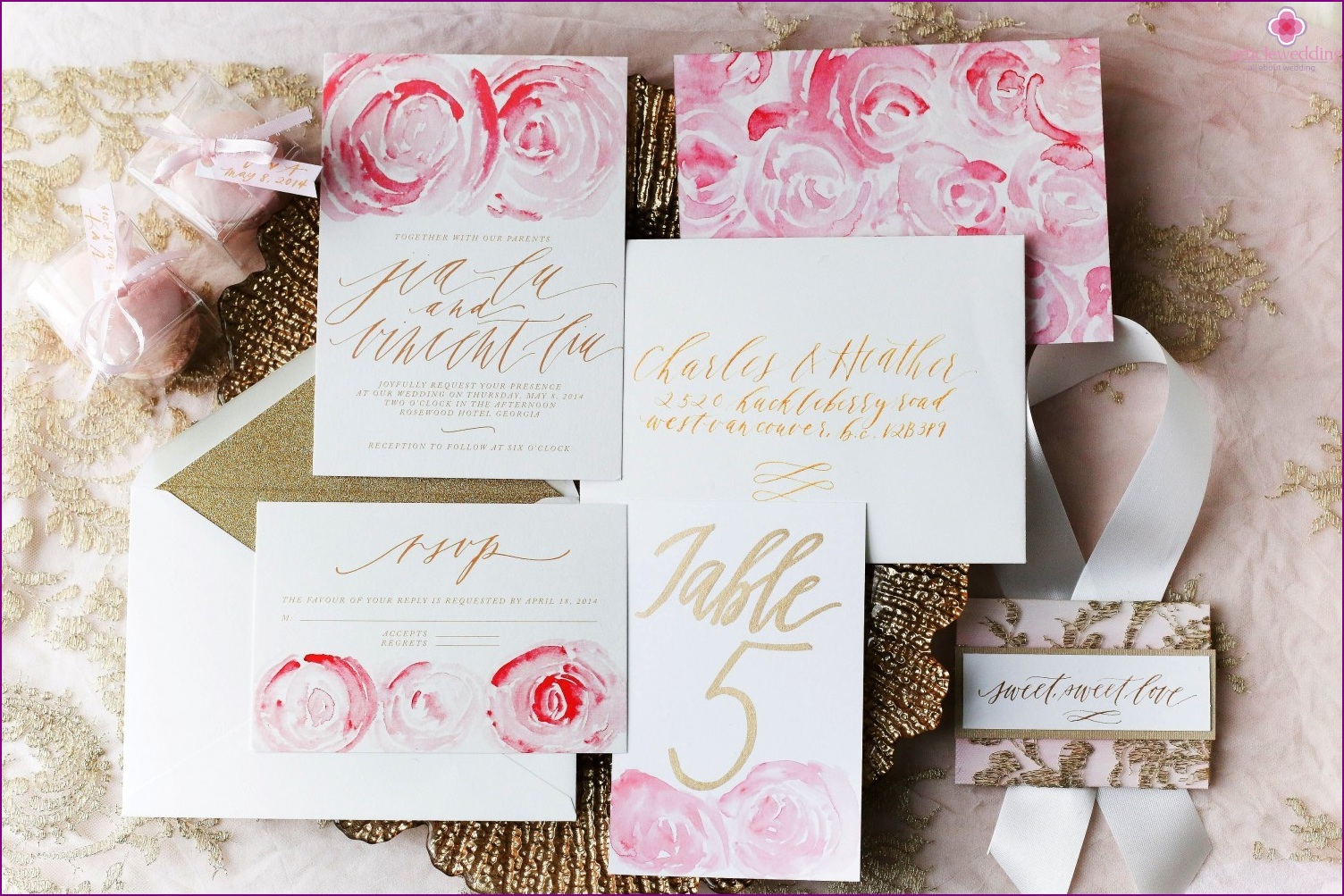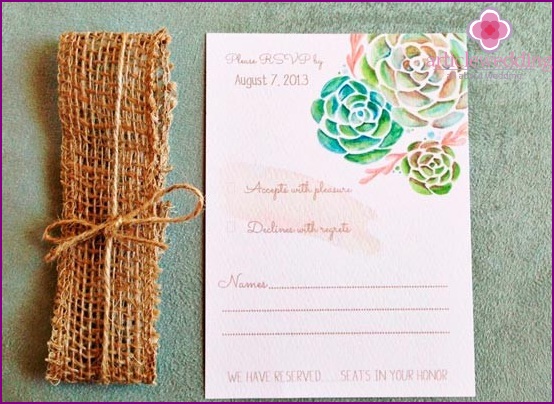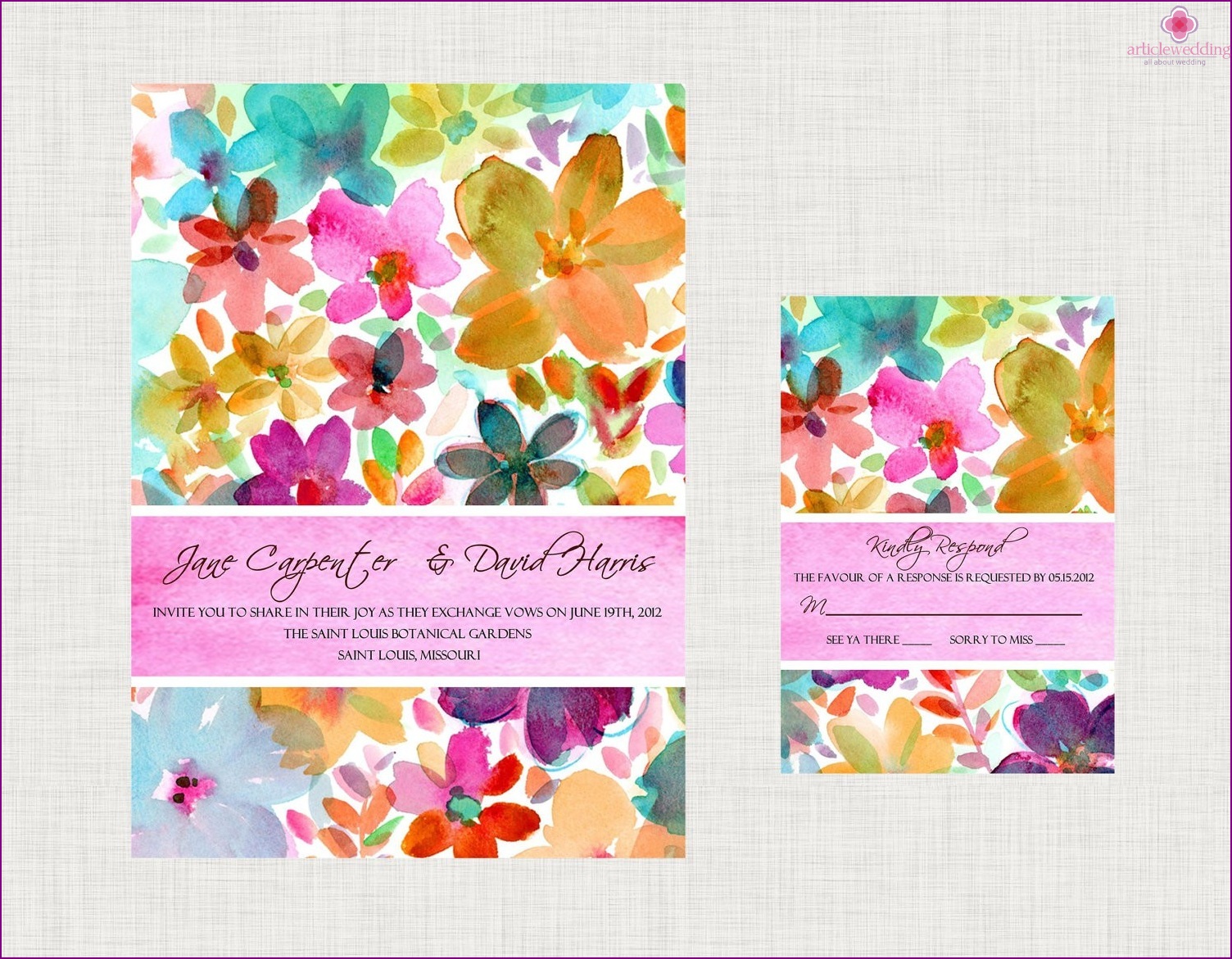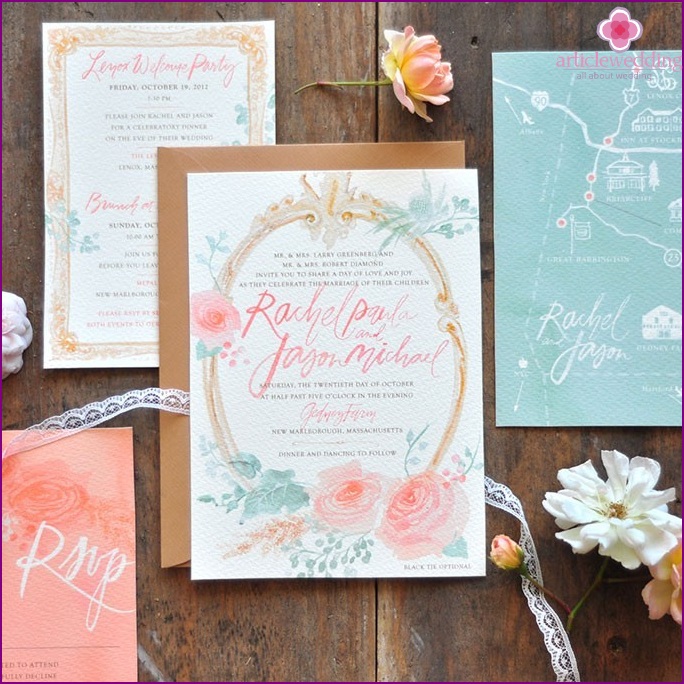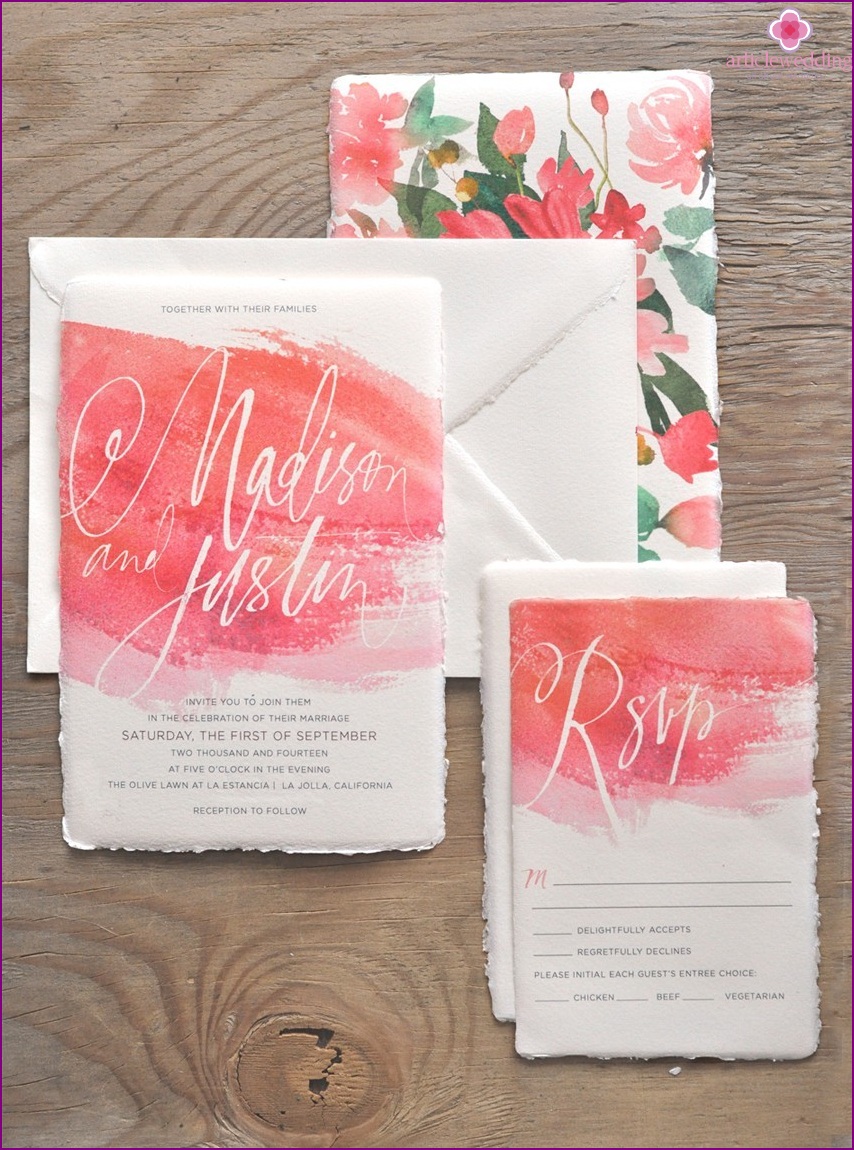 On www.articlewedding.com site assembled a collection of wedding workshops for all tastes, which can be repeated absolutely everyone!