Ahead of the wedding, but you are still so many questions: how beautifully decorate the hall, someone call the master of ceremonies at a wedding and what a show-program to choose. And maybe it is not necessary to think about such global issues and assign responsibilities to the future husband? Themselves you will be able to relax a bit and devote himself to creative work.
Website www.articlewedding.com will help you create original wedding invitations for guests who will certainly become for them a big surprise. We are used to the usual paper invitation, but because there are still many ways to invite guests to your celebration! No one would guess that the invitation to the tape hidden in a drawer for a film! Amazing invitation suitable for conventional weddings, and for stylized. It is appropriate to establish a similar accessories for weddings on the movie. Make these accessories is not difficult, and it comes to money, the cost will be no more than the production of paper invitations. However, you will agree, this idea seems to be much brighter and more interesting! Let's start?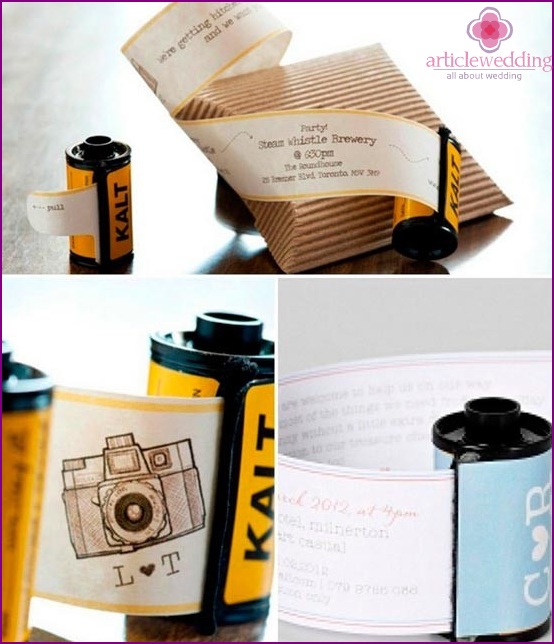 Materials and tools:
cassette for the film;
Opener;
any coloring paper;
Scotch;
scissors;
marker (preferably black).
Time
: 40 minutes.
Detailed instructions:
Everyone probably lying around a few oldPhoto report cassettes. Just ask around with friends, they are happy to share with you, as with modern digital cameras, we no longer need any film or cassettes. So, prepare all the necessary materials and proceed to creative work.
To start, you need to open the drawer withfilm. To do this, use the opener. Just be careful, because you can not in any case damage the tape. Later, you will need to reconnect with the cassette lid.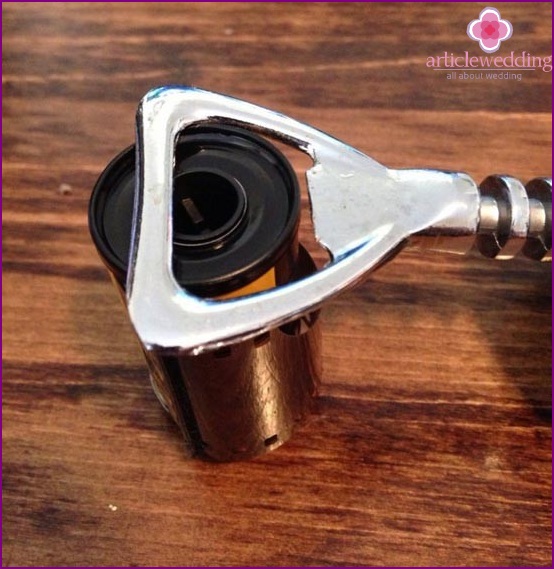 Now you need to remove the film. Simply unscrew the film with the movie or photo, and disconnect it from the roller.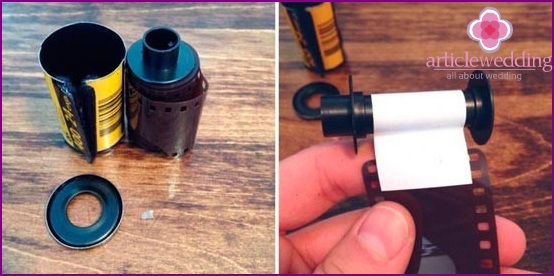 You will need to measure out a piece of paper, equal tothe film pieces. To do this, drag the film as much as possible and attach to the paper. Note the size of a piece of paper and cut out of the film, on which are written the basic words of invitation. On one edge of the paper strips cut edges to form a triangle. At the tip of the paper, write with a marker word "pull", in fact this piece will stick out of the film cartridge.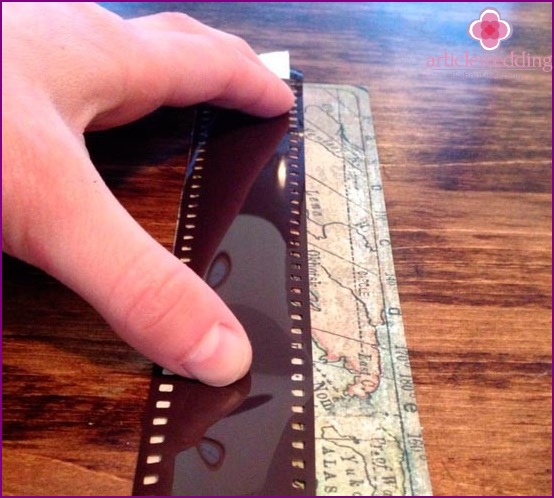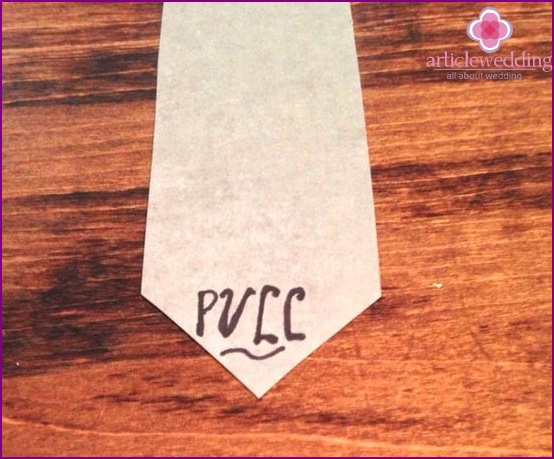 Now it's time to start writing. It is best to write the words from right to left, as guests will read your message so. Be careful not to make a mistake.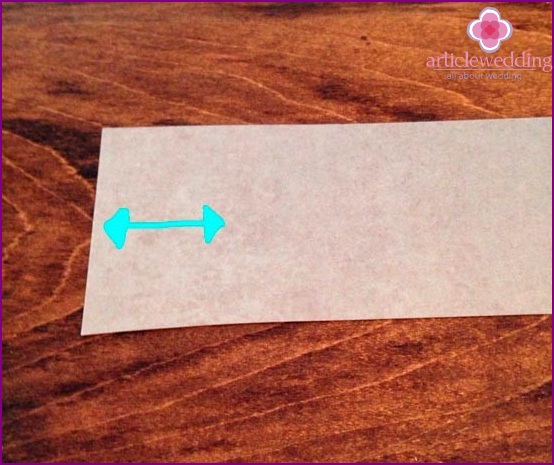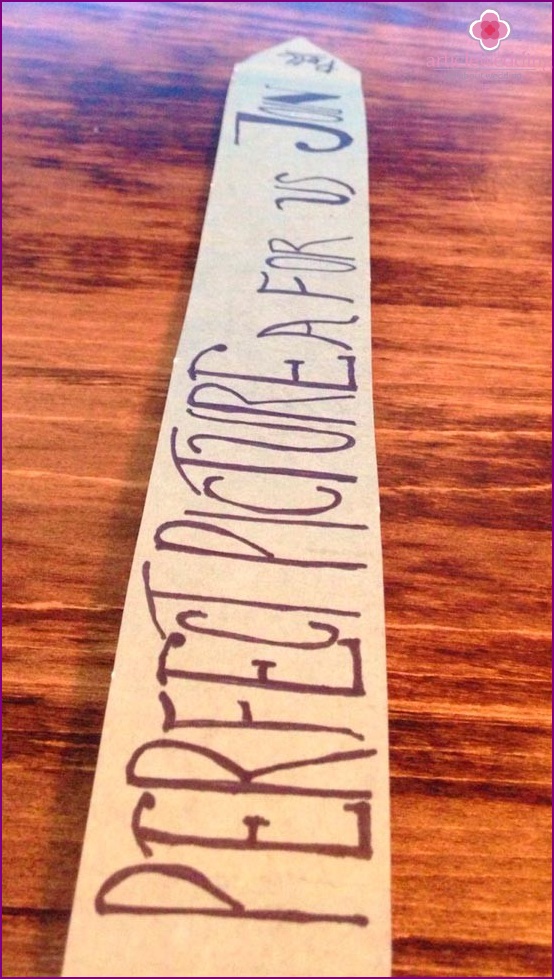 Glue the edge of the tape to the roller using atransparent adhesive tape. Now twist the strip of paper, like a film. Now it's time the most difficult part of the master class. You need to place the roller in the cassette again. Most likely, you'll get it at once. However, try to complete a master class to the end. Now your original invitation to the wedding are ready!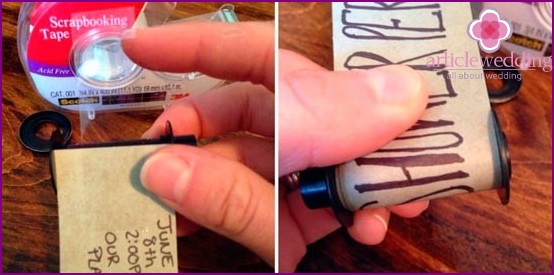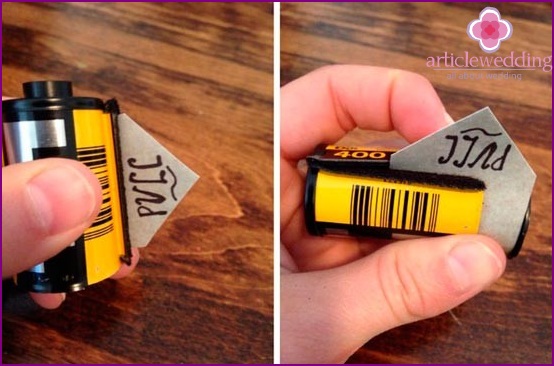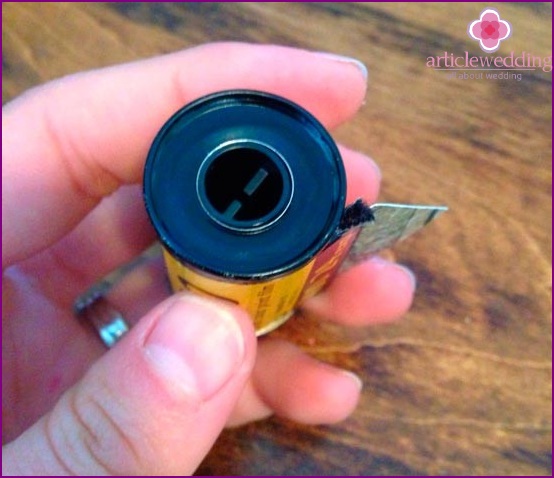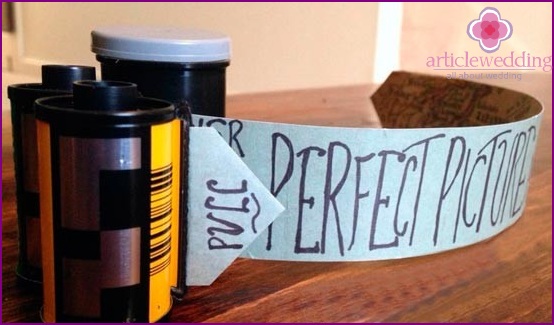 applications
Do people surprises - it is always original andfun. Just imagine how your guests will be surprised when they receive a letter in an envelope! It Never Spends time on things that can please someone. The main thing that your guests were delighted.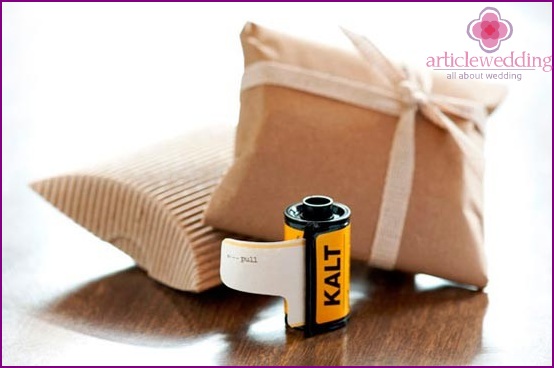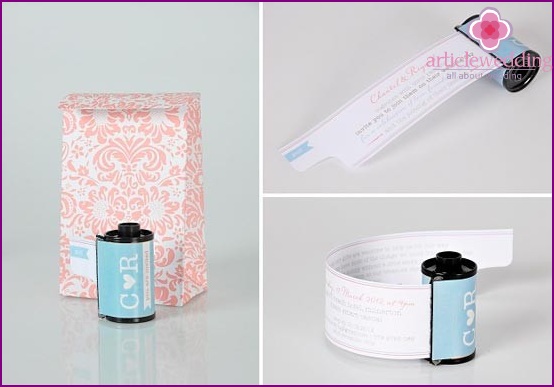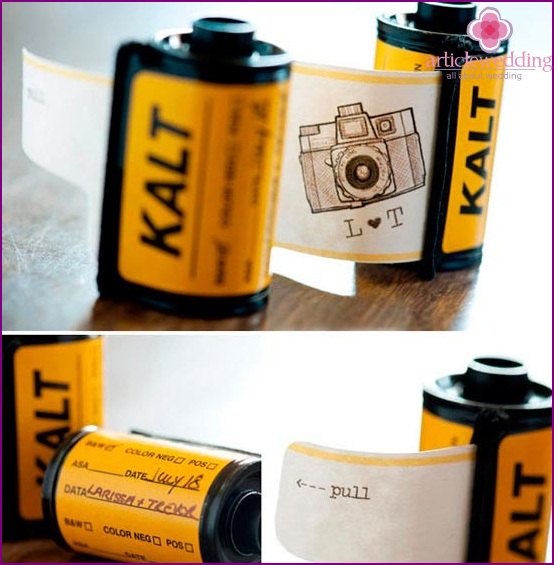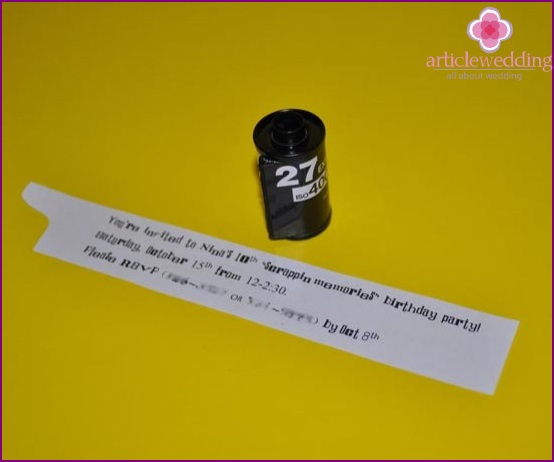 Wedding website www.articlewedding.com is happy to help dear brides in search of a suitable master class, which would help to realize all their dreams come true. Try new ideas, wonder and lift themselves and others spirits!