Wedding - a wonderful, amazing andexciting event not only for the bride but for her bridesmaids. After all, they do together, certain website www.articlewedding.com. Without their advice can not do!
Together with the bridesmaids choose for her the mostbeautiful wedding dress, pick up a suitable restaurant, decide what style will be at the celebration, held thousands of kilometers in search of suitable wedding accessories. So why not present your favorite girlfriends nice surprise - an invitation made by his own hands? !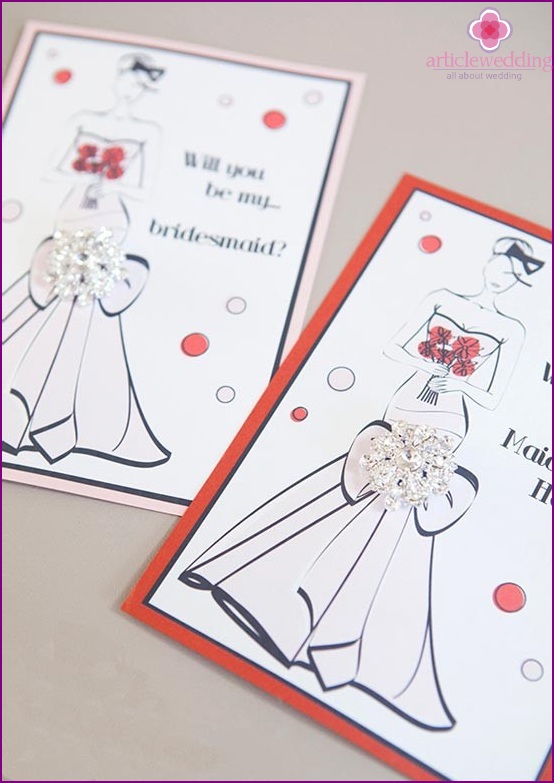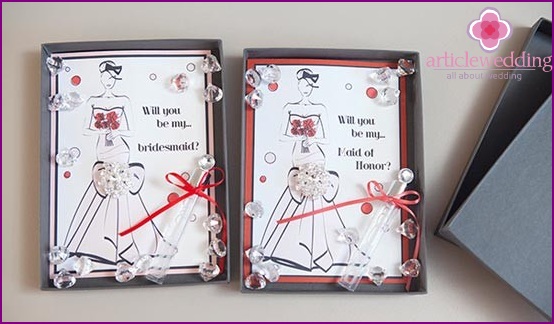 Materials and tools:
brooch with stones;
adhesive paper for print;
red and pink cardboard;
Probes with toilet water;
tape;
adhesive paper with rhinestones;
scissors;
towel;
glue;
awl;
transparent decorative stones;
Black boxes for packing invitations.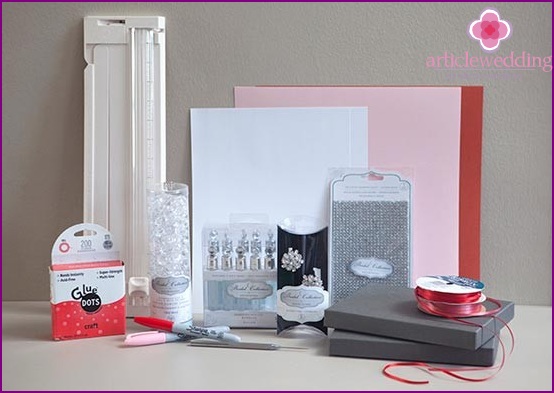 Detailed instructions:
Print layout of invitations to a previously prepared paper.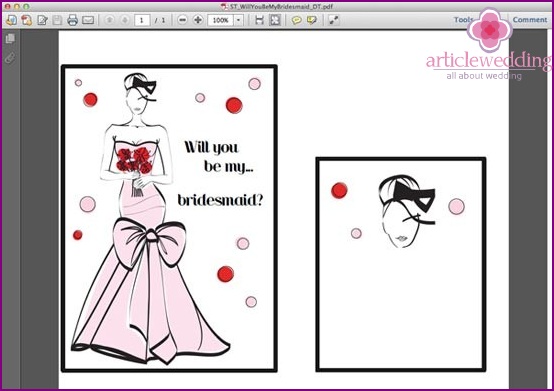 Write the names on the invitations of your girlfriends.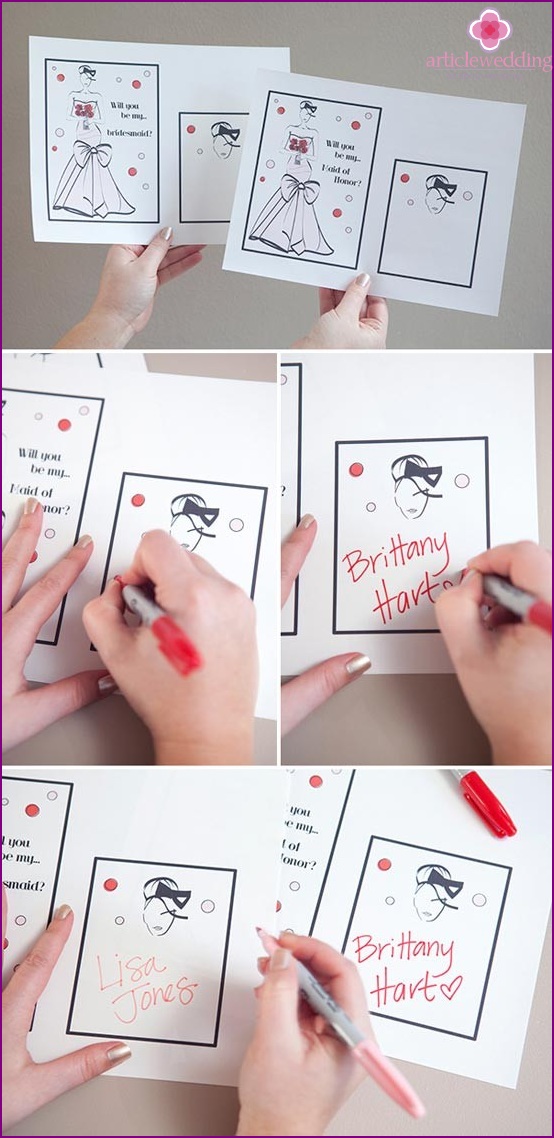 Carefully cut each invitation on the black line.
Glue on a red cardboard blanks for printed invitations. Cut the excess cardboard, leaving a 3-5 cm from the edge.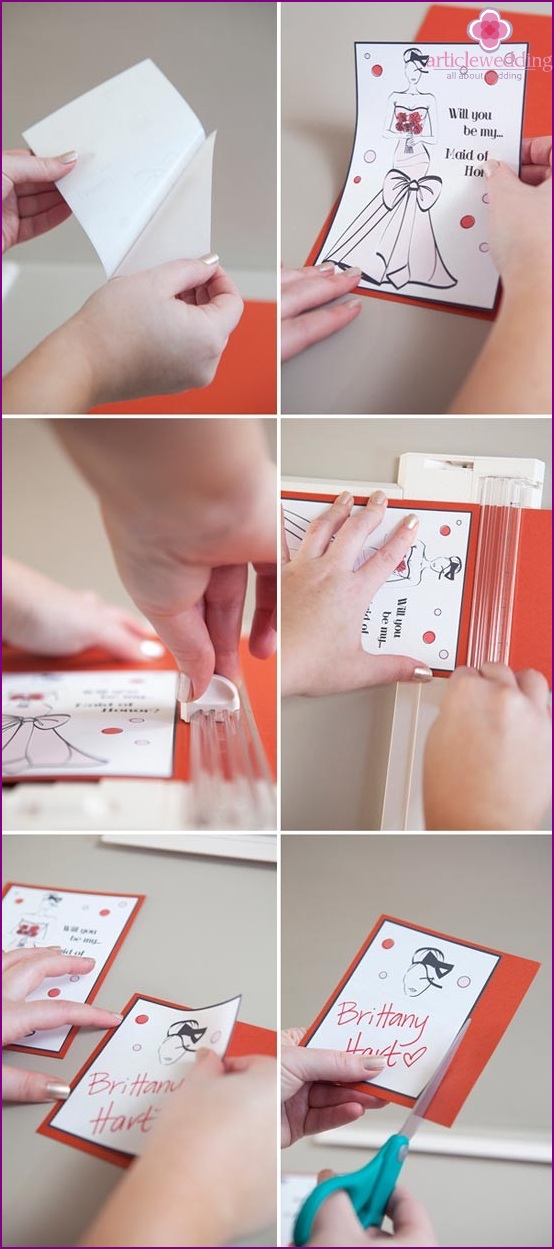 To witness a pink cardboard use to highlight it on the background of other bridesmaids.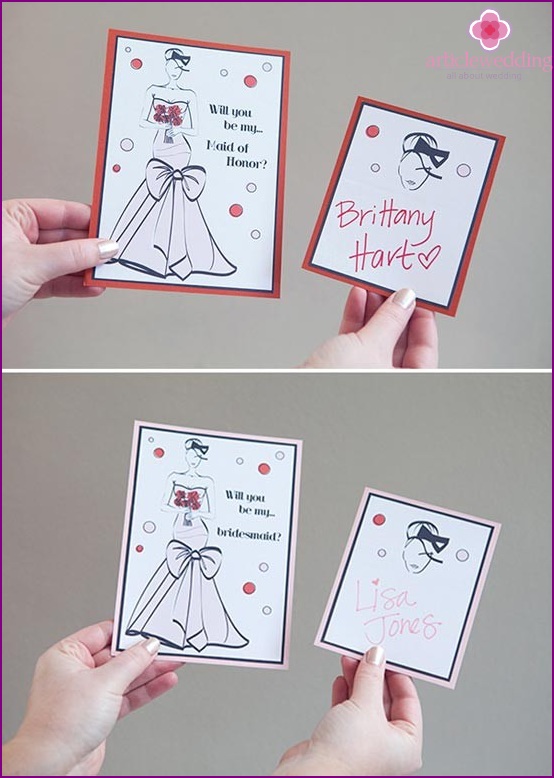 Make with an awl hole in the center of the bow on the dress that it was possible to fix the brooch.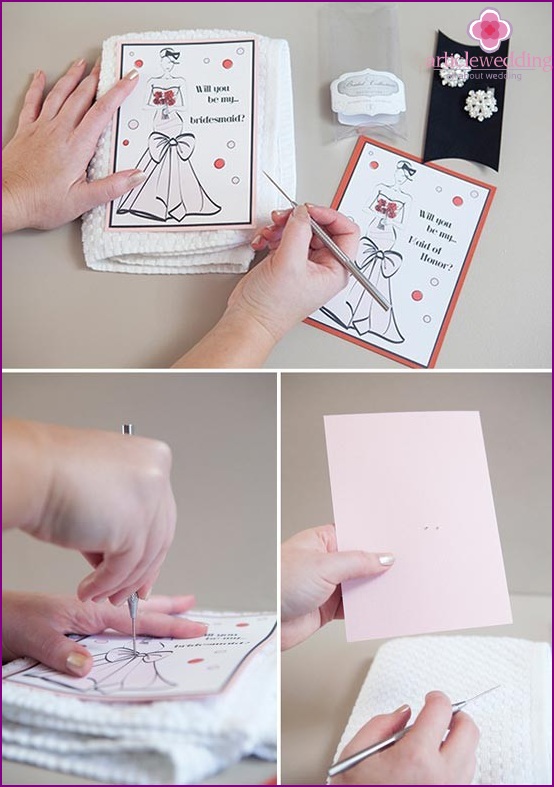 Attach a brooch.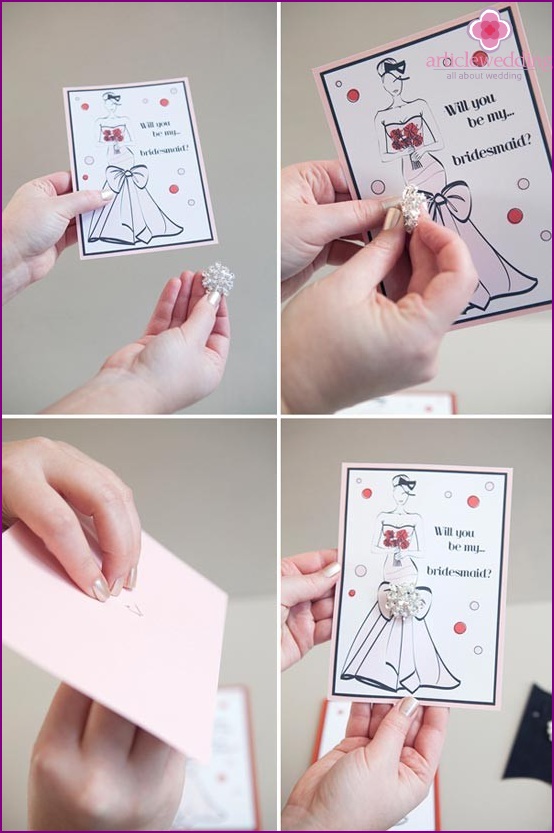 Put the invitation made in the black box.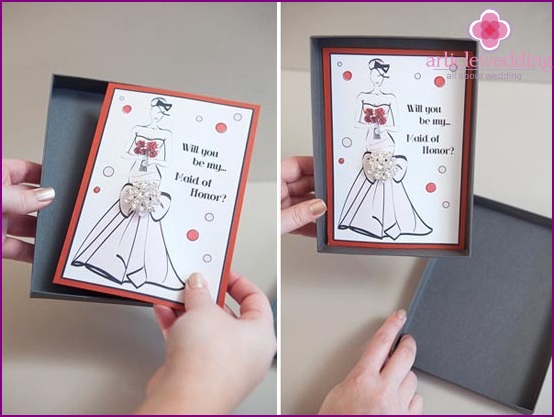 Let us probe with toilet water. Cut the red tape of this size, so you can tie a ribbon on the lid of toilet water. Put the probe decorated toilet water in a box with an invitation.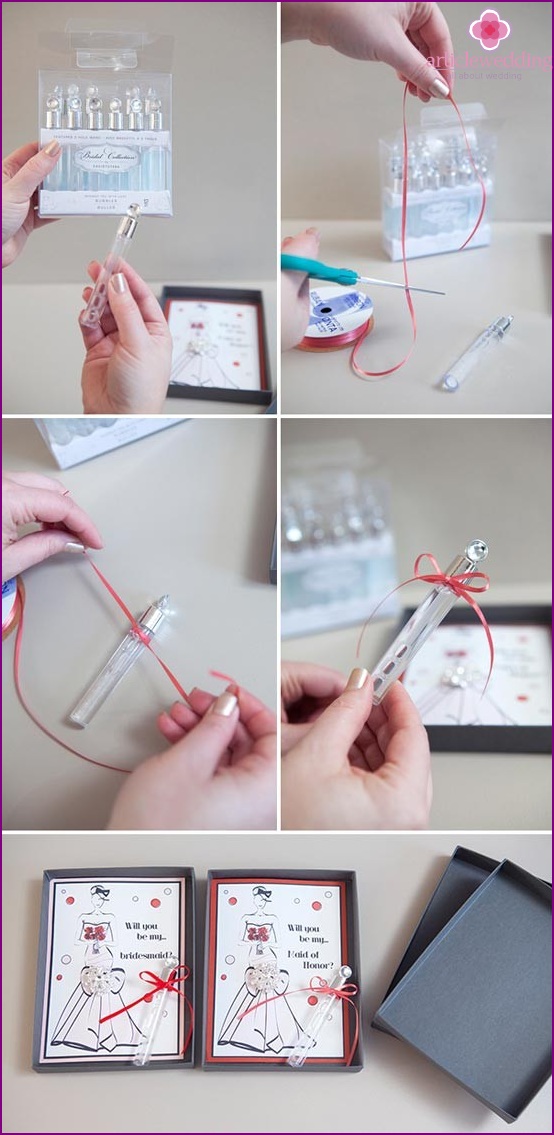 Place a few pebbles in a transparent box with an invitation.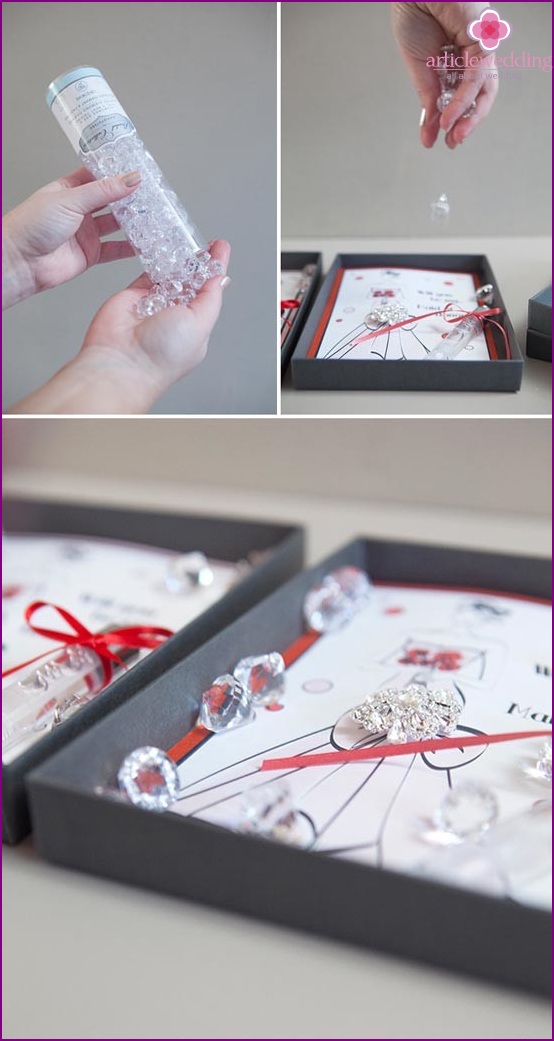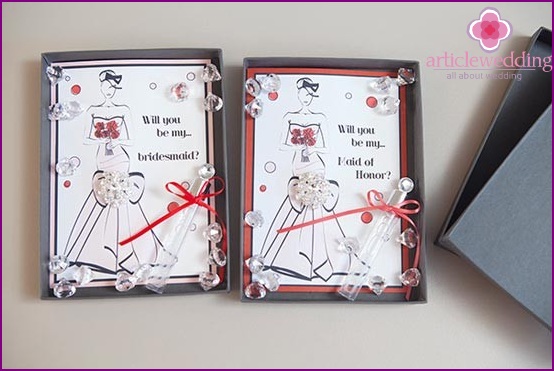 Glue on the lid of the box pre-printed blank with the name of a girlfriend.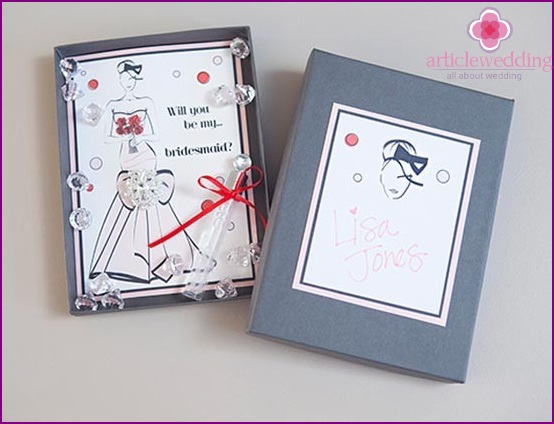 Seal the box with an invitation to the sides with adhesive paper with rhinestones.

Wedding Invitations for Bridesmaids ready!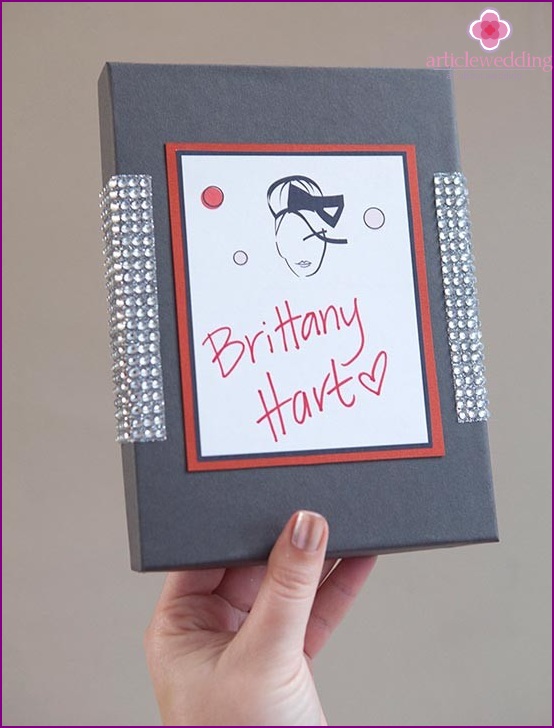 applications
Such an invitation will please your crazybridesmaids, wedding portal says www.articlewedding.com. In addition, their black-and-white-red colors may be defined clue for your guests that you have decided to organize a red and white or black and white wedding. And maybe even you place a wedding in a stylish tricolor "Black + White + Red." Then, such an invitation should be a mandatory accessory for your celebration.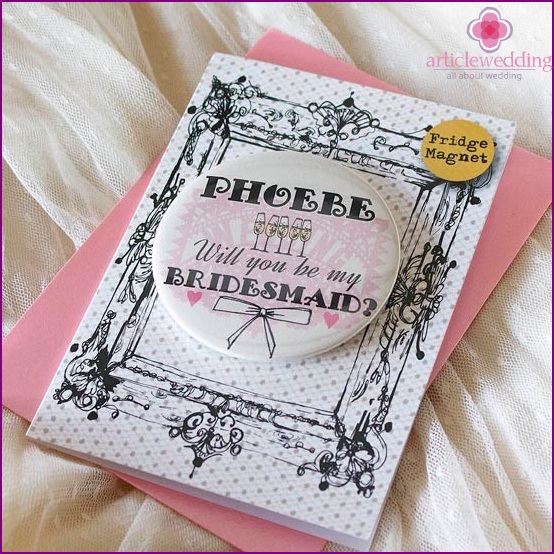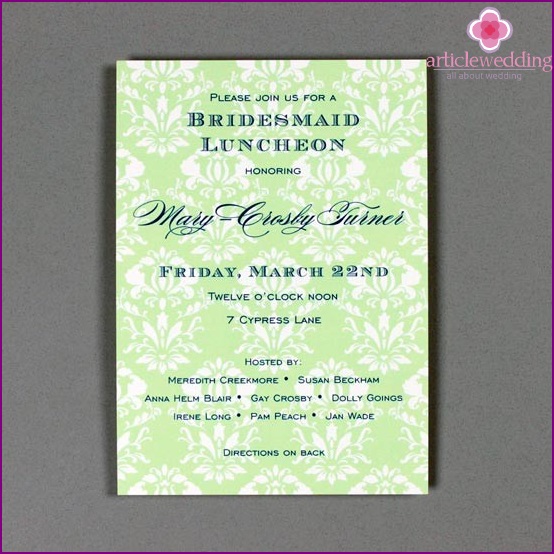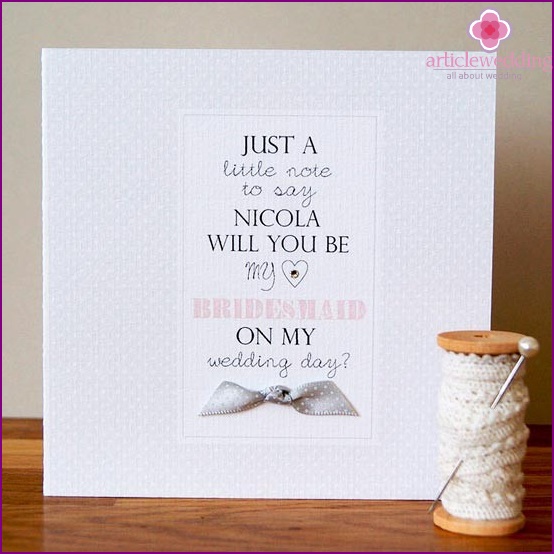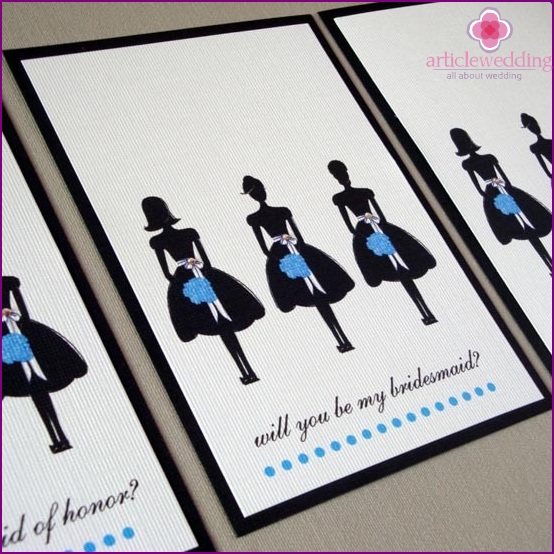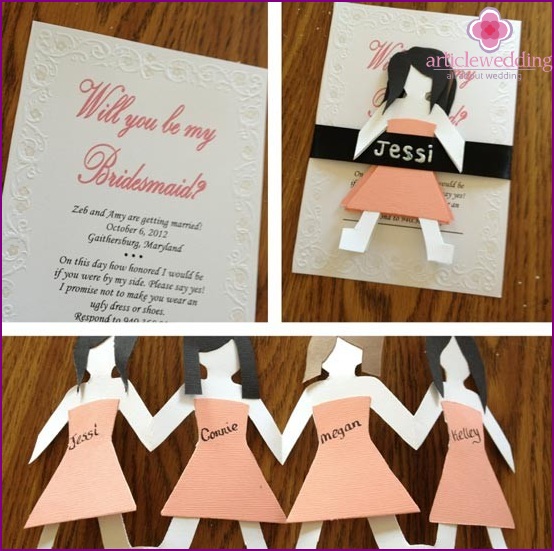 This fascinating idea for the production ofinvitation to the wedding with his own hands can be used for other reasons, such as stag parties. Or so the invite to the wedding is not only the bridesmaids, and other people close to you - parents, sisters, etc. prompt text should only change! Believe me, your guests will be delighted by the wild such wonderful attention to sign!