It is difficult to imagine a bride without a bouquet. Beautiful bouquet underlines the image of the bride and adds the selected color scheme, as a contrast element in its image.
It is important that the bouquet harmoniously combined withoverall style. It is also important to choose the right color, because we all know, for example, that a yellow rose - is to parting. In such situations, should talk to the bride and together determine the choice of colors that please you. But there is more original decision - to make a bridal bouquet with their hands!
Wedding website www.articlewedding.com will tell you how out of scrap materials and the simplest of flowers and plants to make a magnificent original bouquet, which is bound to cause delight of the guests.
Not all of the bouquets have to be similar. If you want to stand out from the other brides, just create something unique and unrepeatable. How about a bouquet that combines the fruit, vegetables and flowers? Just a fantastic solution. And if you want, you can always rip bouquet Malinka and eat in between a restaurant and a photoshoot. This bunch of really original, unusual and stylish. Try to make it a favorite with the groom!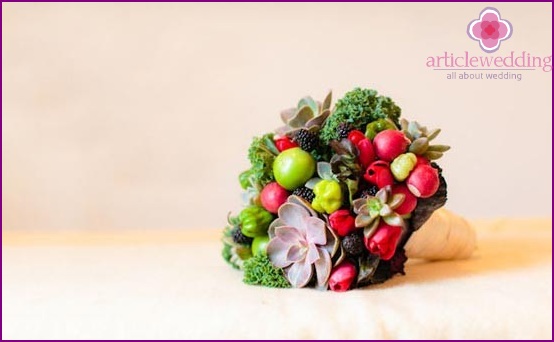 Materials and tools:
three pots with Echeveria;
radish;
blackberries and raspberries;
two Mexican tomato;
Three habanero peppers;
young mustard leaves;
red cabbage;
bouquet of red tulips;
krasnolistnyh lettuce.
Time
: 30 minutes.
Detailed instructions:
Sometimes, in order to make a bouquet, donot necessarily to go to the flower shop. A good alternative can be any supermarket. Do not believe me? Then let's try to make a cute and original bouquet of vegetables, berries and greens of all kinds!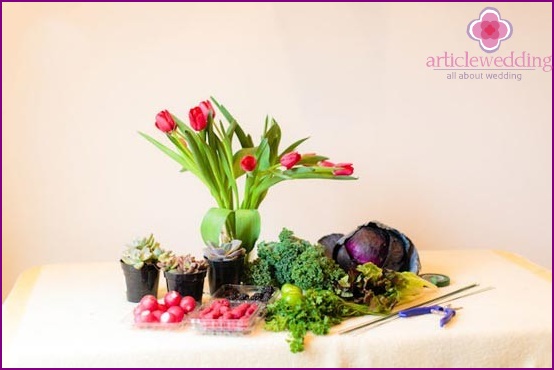 So, to start take Echeveria and removeroots, leaving a 2-3 cm stem. Wrap the stem of green tape and attach to the length of the wire, which will replace the stem. Use a sticky tape. Do the same with berries, radishes, tomatoes and peppers - put them on the wire.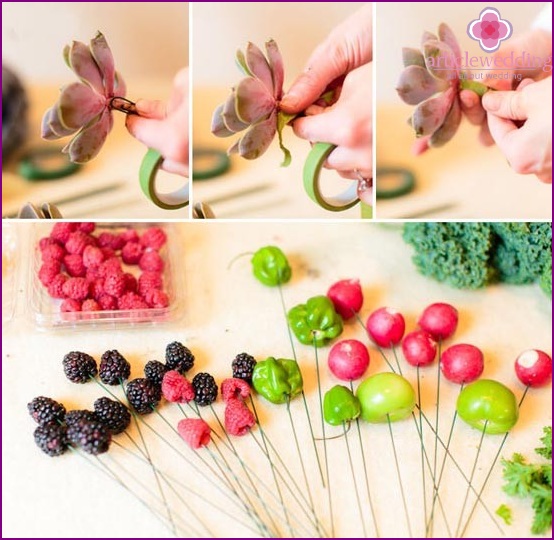 Now begin to shape himself bouquet. The basis take the mustard and lettuce leaves. In the center, place the Echeveria. First, connect the elements of a larger size. Also do not forget about the tulips, which, perhaps, are the only colors in this unusual bouquet. Then you can plug in different places a bouquet of edible fruits and berries on the wire. Cut off excess wire and stems to bouquet look more carefully!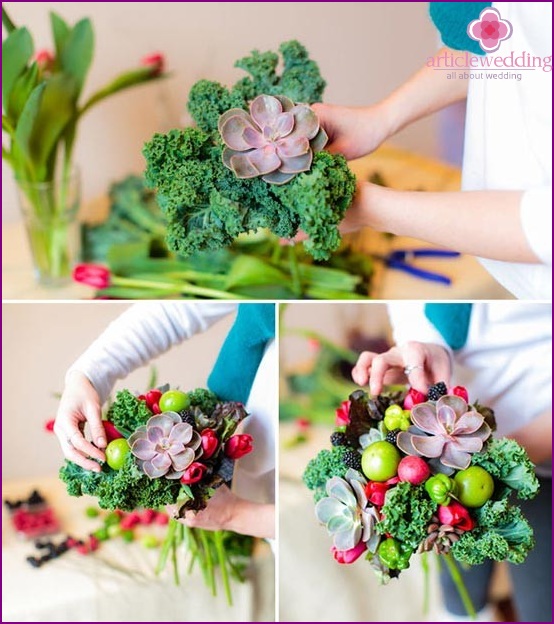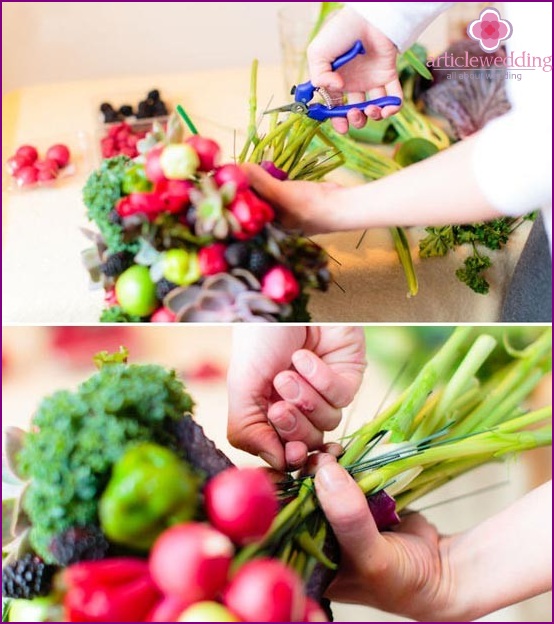 Wrap a large bouquet of red sheetsCabbage to complete design idea. Now, holding a bouquet in one hand, tie the stems with tape to make a convenient "handle". A lovely bouquet for the bride is ready!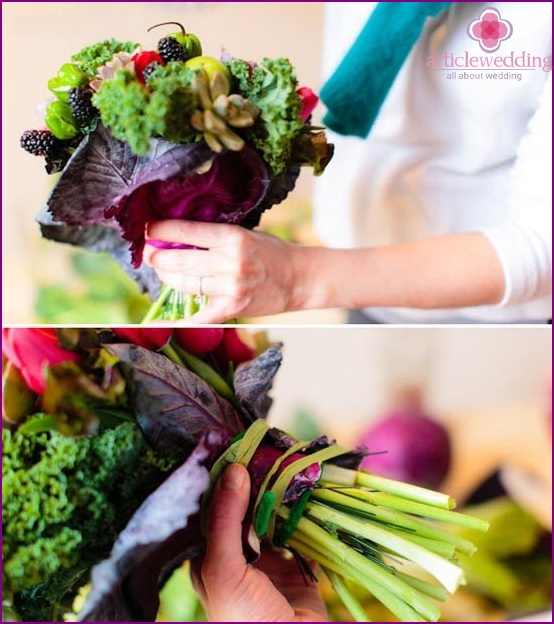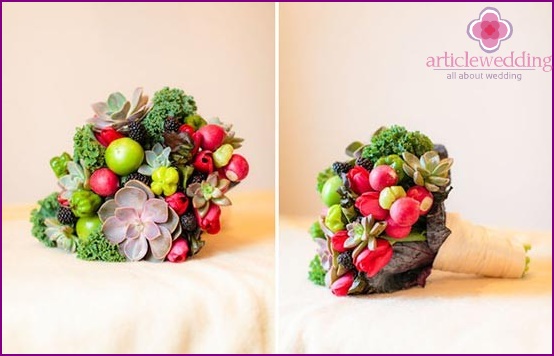 applications
This original bunch can not useOnly as a wedding, but just do it for the bright wedding photography. Do not be afraid that someone will appreciate and understand your ideas. The most important thing in creating a bouquet you have invested all their imagination and creative ideas. You can use other fruits and vegetables to make a bunch more stylish - apples, strawberries, tangerines. It is also often used in the creation of bouquets bright lettuce leaves.
Try new original ideas to make your unique image. Just remember that a bunch of very fragile, so you should be careful.
In addition, a vegetable bouquet will be a great decoration wedding table. Especially if you decide to organize a stylish wedding fruit.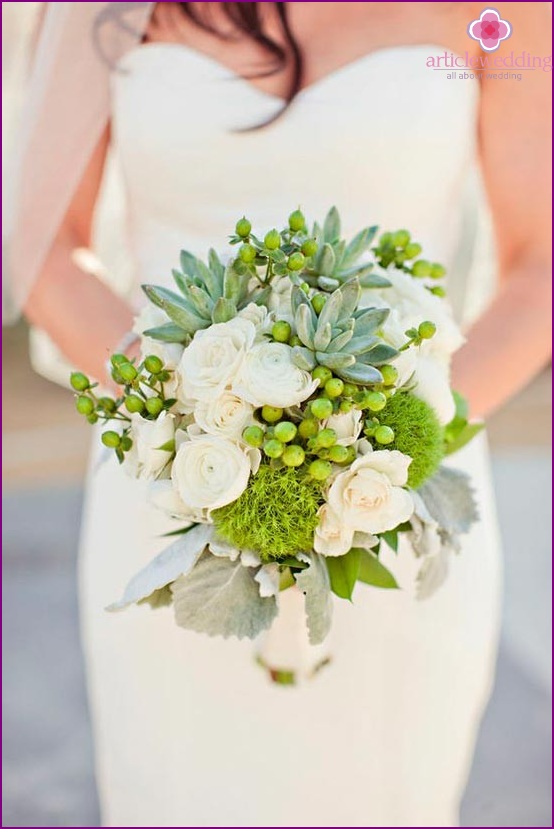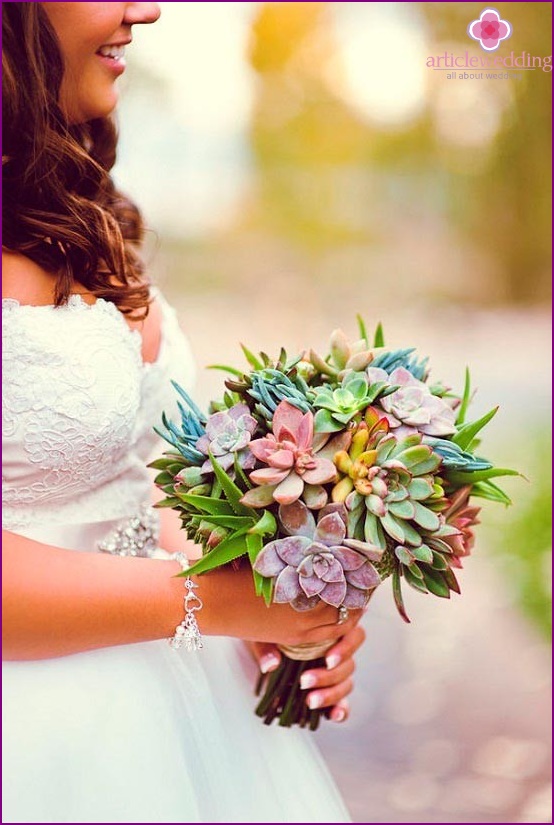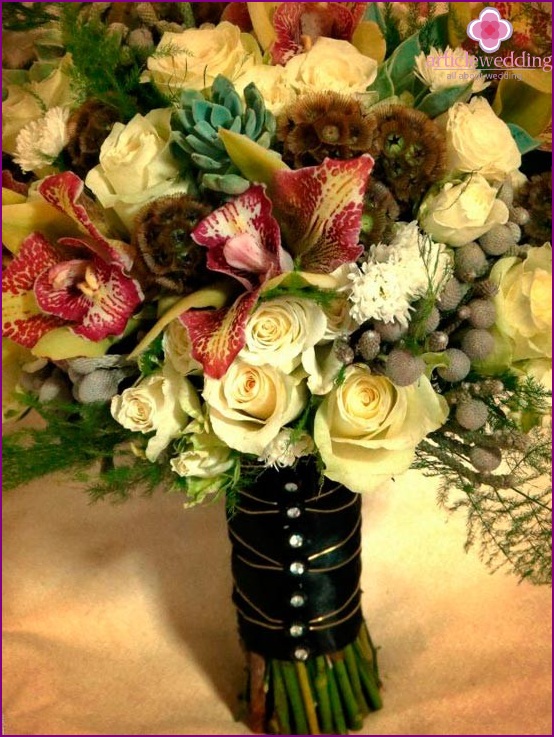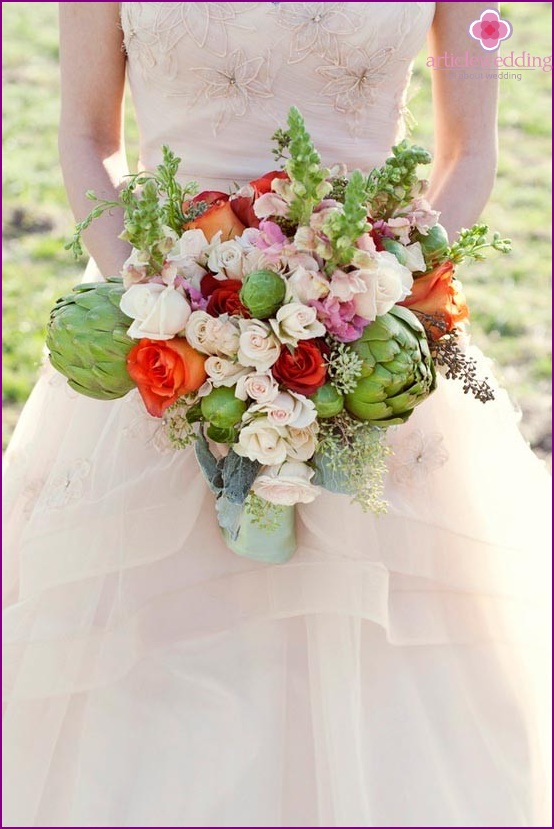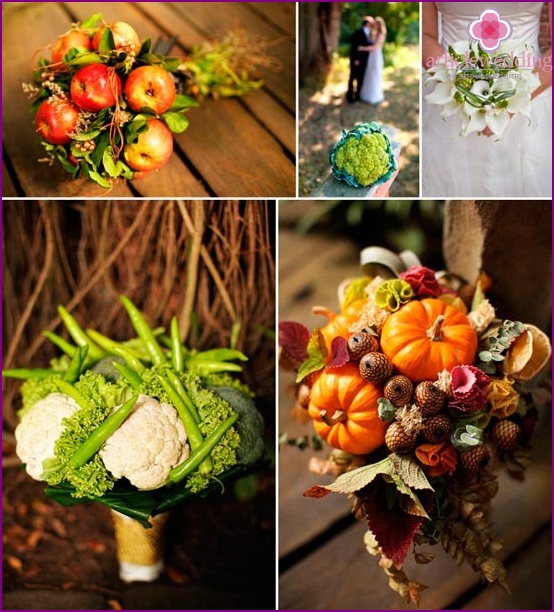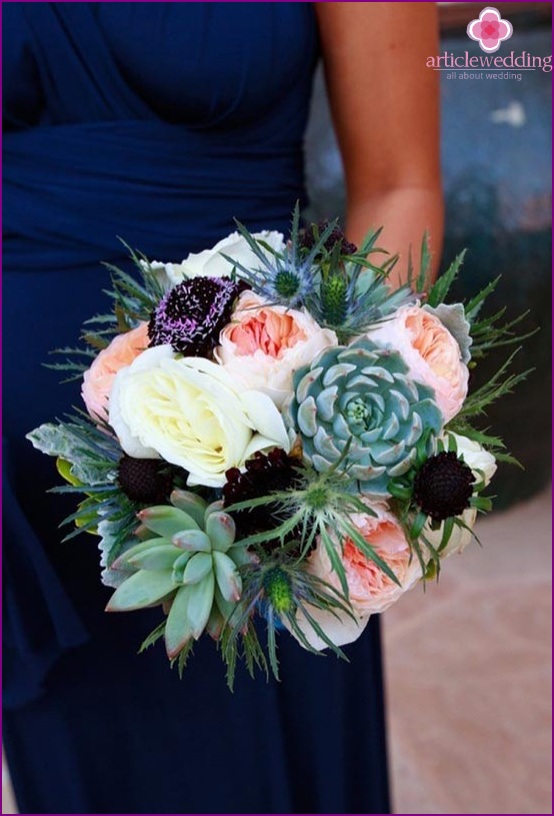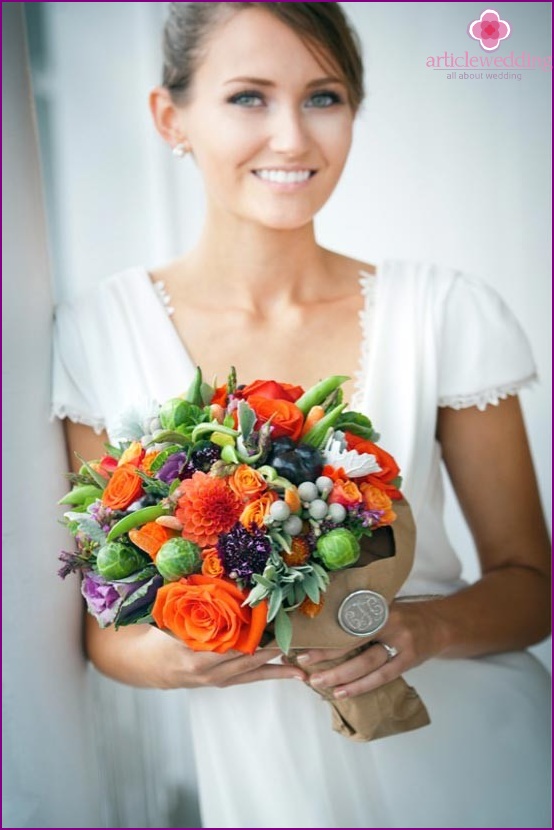 www.articlewedding.com Site wishes you a good mood, because your image will be supplemented by a very cheerful and original bouquet!