Bouquet - is not necessarily real flowers. Rich colors maple leaves can become a good alternative. Just imagine: in the hands of the bride roses incredible colors. This, which has not yet brought any florist. And all because these roses made of maple leaves. The secret to share wedding portal www.articlewedding.com.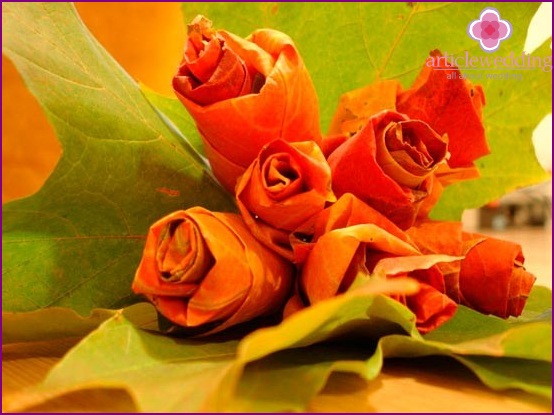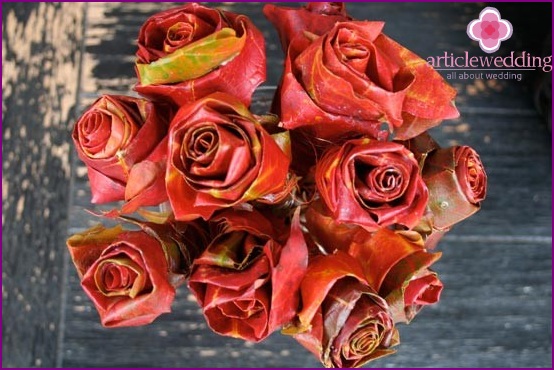 Materials and tools:
Maple leaves of different sizes;
branches;
wire;
wooden skewers;
fabric tape;
scissors.
Time:
40-60 minutes.
Detailed instructions:
Take the smallest leaf. Overturn the inner side of his own. Seredinke to bend the middle portion of the sheet, and on her lap, two projecting lateral portions. Curl up into a tube. We had the first part of the flower or bud serdtsevinka.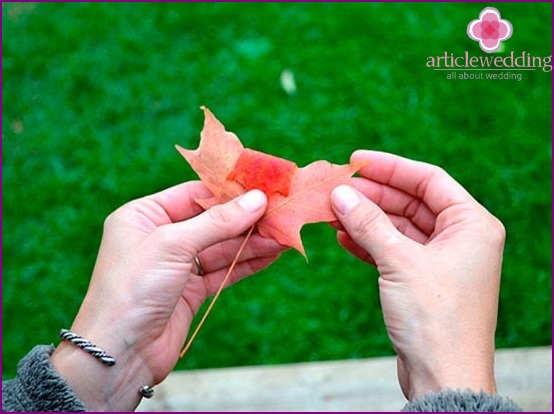 Take the next leaf, larger,Bends in the middle of the middle part. We impose on it our serdtsevinku. Bends, turns, two protruding portions of a large leaf and wrap them first part of the flower.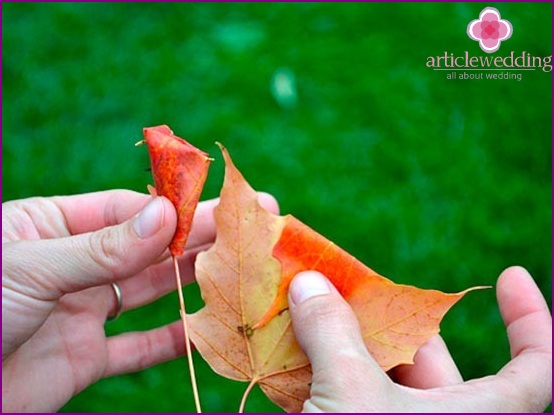 Now is the turn for the next leaf. Repeat manipulation wrapping and watch carefully to place the seam twisting or second petal fell to the middle of the third. It turns out a kind of fixation, which will prevent the unfolding flower.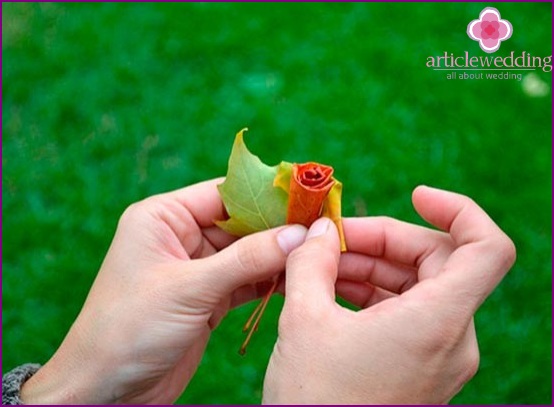 Continue adding leaves, petals to the desiredflower size. Number of maple leaves rose to an average - 10-11. But you can also add them to this figure, and 5, and 10, and even 15, if you are planning a huge and magnificent bouquet.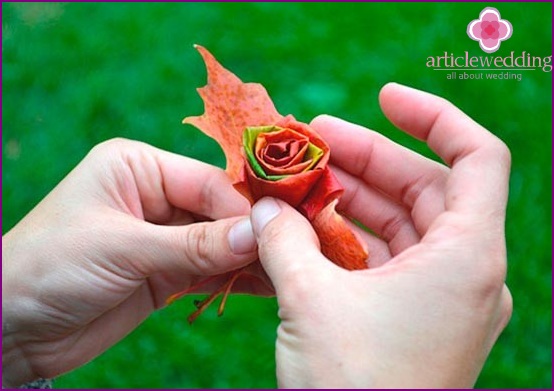 In the case enters the fabric tape. Tightly wrapped legs maple leaves, grasping the lower part of the flower. Gently substitute sprig desired length and continue winding overlap. Instead of threads can be used wire or wooden skewers. To be safe, you can flash the base of the flower thread to match the tape, capturing the leaves.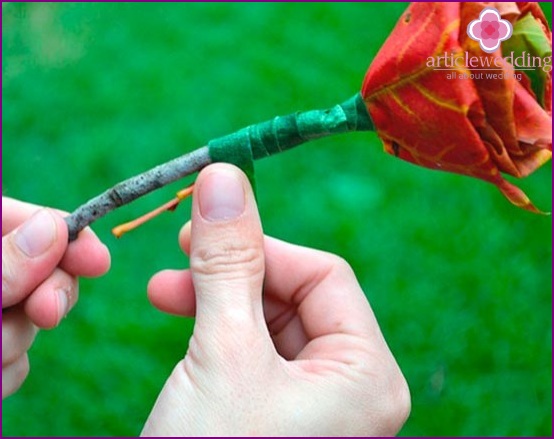 Our beauty-roses of autumn leaves are ready! In the image we create the required number of flowers and make bouquets. The substrate can also be done from maple leaves. Not bad will look so bright bouquet in a discreet, delicate carved, waxed paper.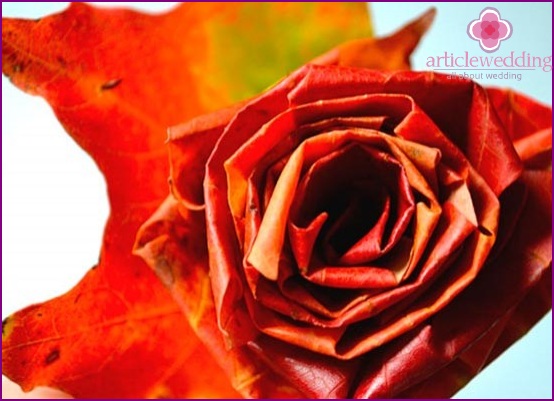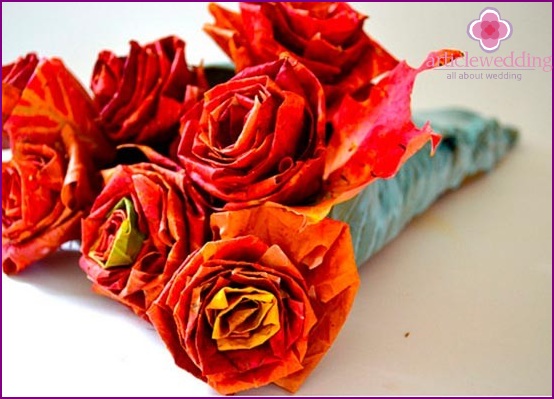 applications
The main use case - Decorationgentle bride handles. This bouquet will not only support an autumn wedding color, but also the image of the bride add raisins. Support maple note can and should buttonhole of the groom. Naturally, the leaves need to choose a smaller size.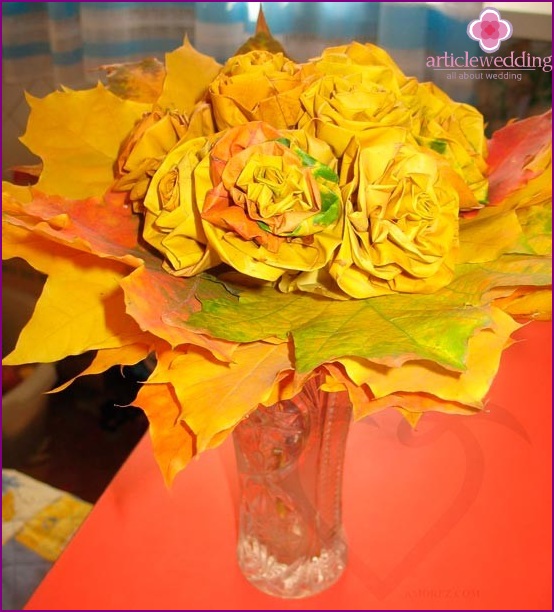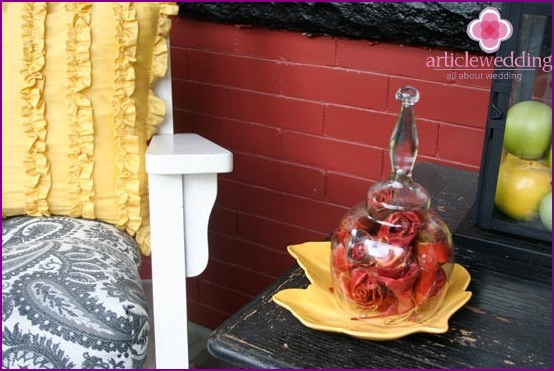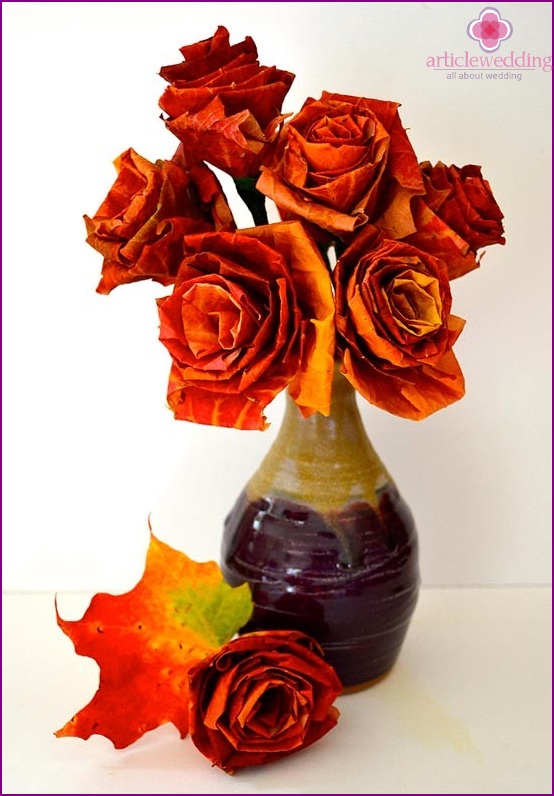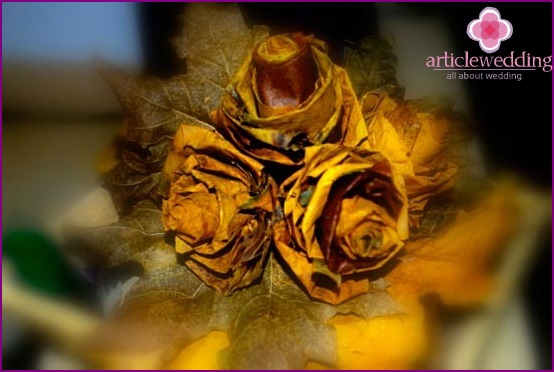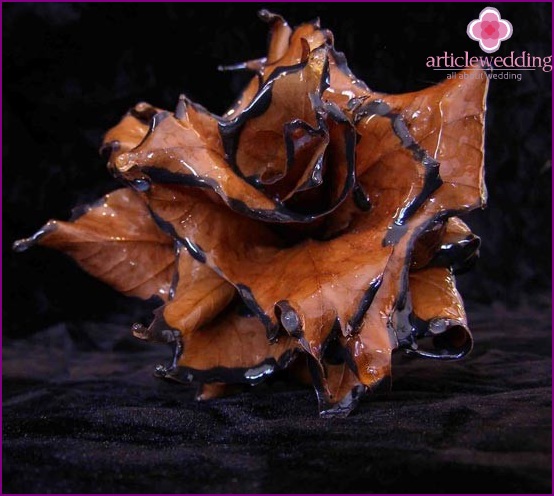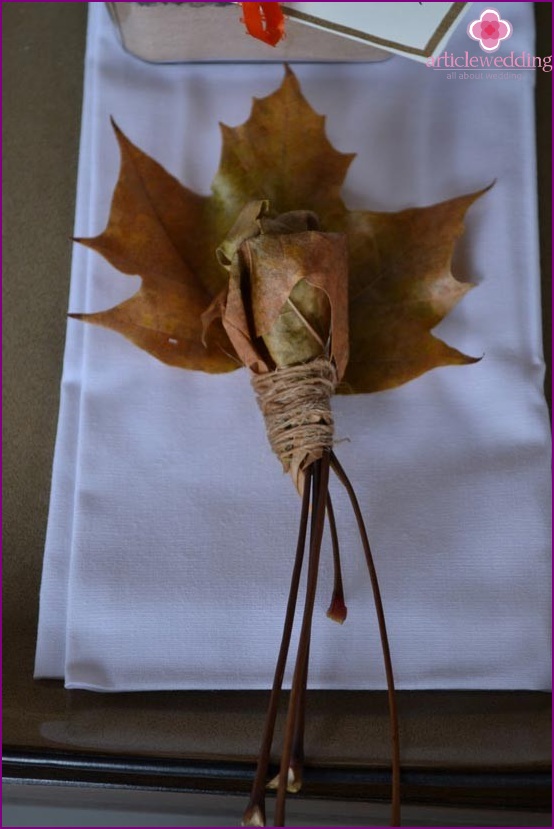 If you have time and desire, www.articlewedding.com site advises to make a lot of unusual flowers with his own hands and decorate them as a banquet hall.