It is difficult to imagine what would be a weddingwithout flowers. Darkness and gloom - this is what will prevail on this wedding. Flowers are an important accessory for a wedding. Special custom made luxury wedding bouquet, which is combined with the colors and the image of the bride. Bouquet is present in almost all photos and, of course, adorns each shot. However, the flowers can be the perfect accessories and jewelry for the bride, if the weave of them a wreath or crown of this, to make a necklace or pretty hair ornament.
Wedding portal www.articlewedding.com is pleased to offer an amazing master class with which you will learn handicrafts fashion flower decorations that will adorn your wedding picture and add his tenderness! This decoration will be the focal element of wedding hairstyles and she will add bright colors. Flowers in her hair - a fashion trend that is gaining popularity with each passing year. The most important thing - it is an opportunity to make such an accessory on their own, making it unique and original.
In order not to hide the beauty of jewelry, should take care that the bride's veil was attached at the bottom of hairstyles. It is best to collect hair in a bun, to creative barrette in her hair well-kept.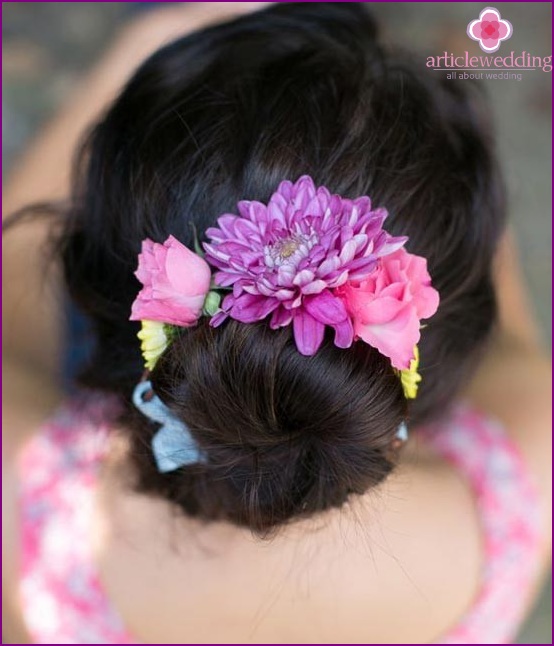 Materials and tools:
fresh cut flowers;
dense floral wire;
floral tape;
bright ribbon;
wire shears.
Time
: 30-45 minutes.
Detailed instructions:
Flowers in her hair always look fondly andaesthetically pleasing. However, sometimes there is the complexity of how to consolidate individual stalks in her hair. Production of the finished clip of colors will allow you to quickly and easily fix it in hair. Use only fresh flowers, because your hair decoration and so very short-lived. Barrette to please you even on your wedding day, order fresh flowers right before the day of your celebration.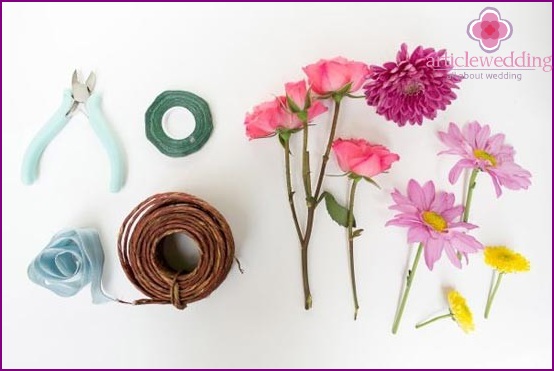 Use the scissors to cut the wireabout 25cm flower solid wire. Fold it in half. Now you need to adjust the length. Gather hair into a bun. On the circumference of the wire bundle should cover exactly half, because the rest of the clip will be made of tape. Cut off excess wire and shape it with both loops edges.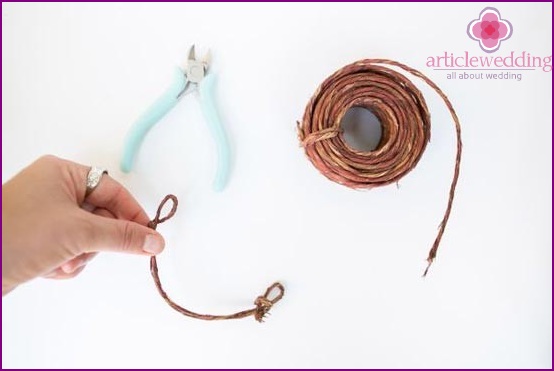 You can now be expanded flowers on a wire toamounted to approximately track for future clips. You can take a picture, not to forget, in what order are your flowers. To hairpin turned out accurate, leave the flowers are small stalks -. Not more than 3-5 cm Now take the wire and gently pull the edges to make it straight.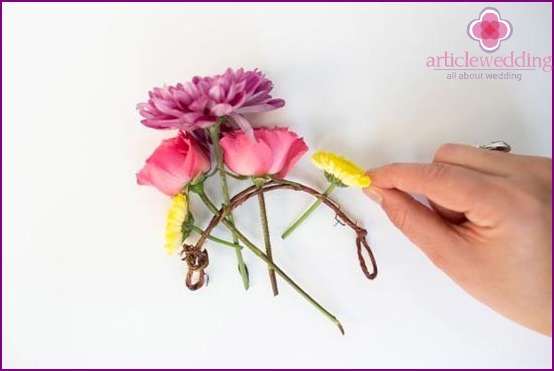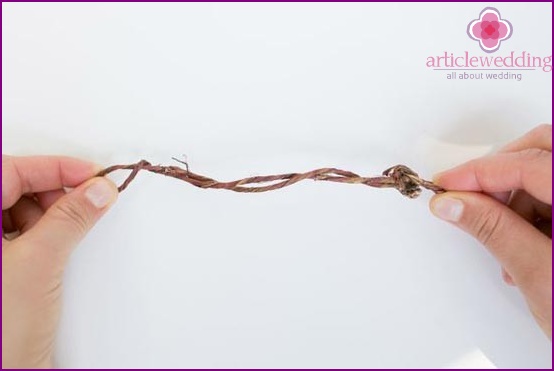 Insert your colors between the two edges of the wire. If you have forgotten their location, take a look at a photo. With the help of floral tape, which is usually done in shades of green, secure the stems and buds on a wire. Remember that stems should not be visible.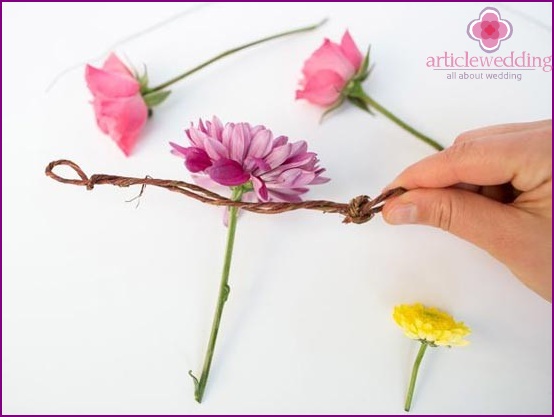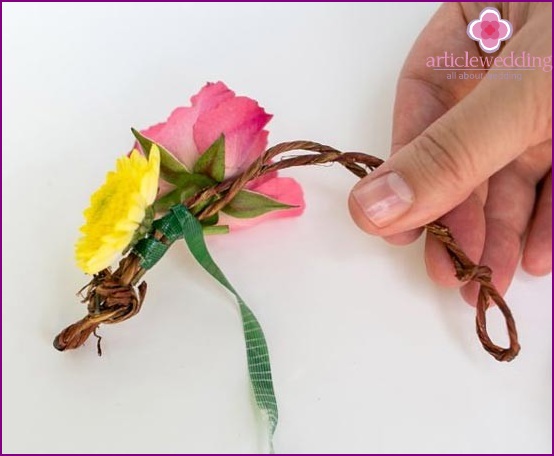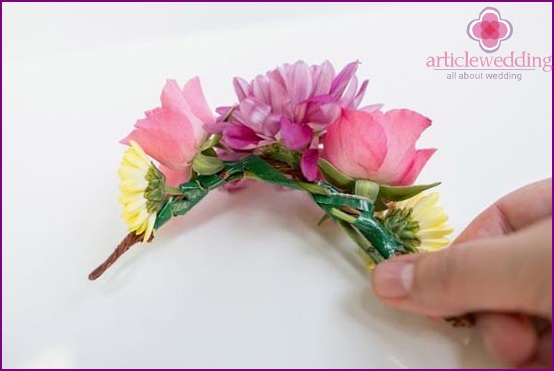 In the last step you need to push brightbelt loops on both your decorations to wedding accessories can be easily attached to the hair. Wonderful wedding barrette flower is ready! Also, this accessory can be worn on the hand and used as a flower bracelet.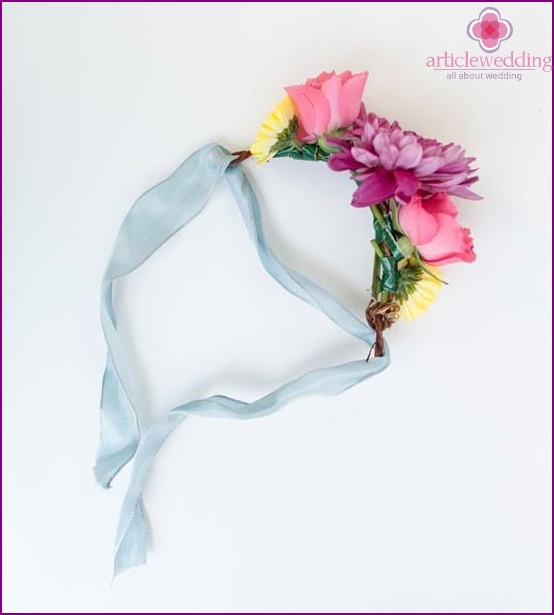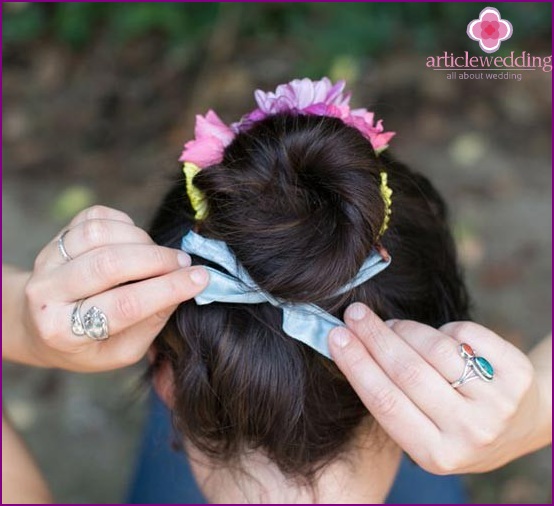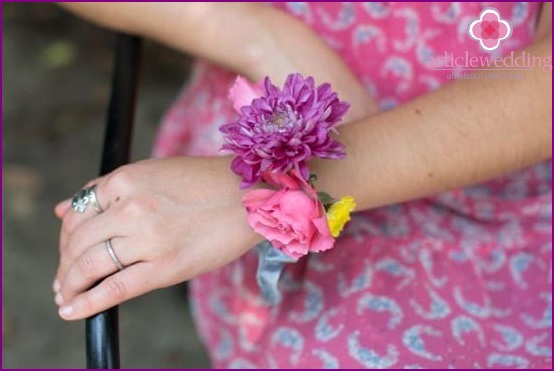 applications
With such a bright accessory your hair will become even more luxurious! You will feel the gentle aroma of your favorite colors, and the guests will appreciate your beautiful hair.
Flowers are a unique material. They can be used for the manufacture of all the pins and rims for the hair. However, it should also be cautious with some colors. If you choose to clip roses, make sure the stem is no thorns. Lilies and other flowers can be left on the hair pollen. Do not forget that flowers should be in harmony with the style and colors of wedding.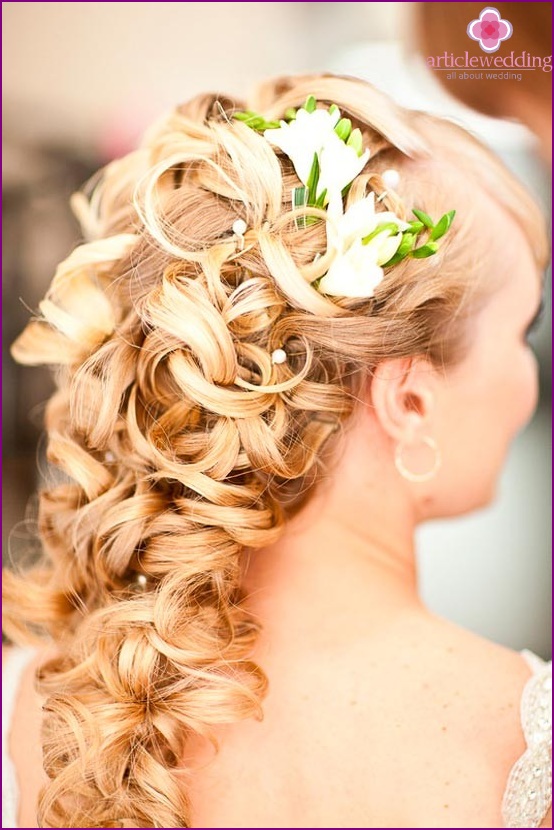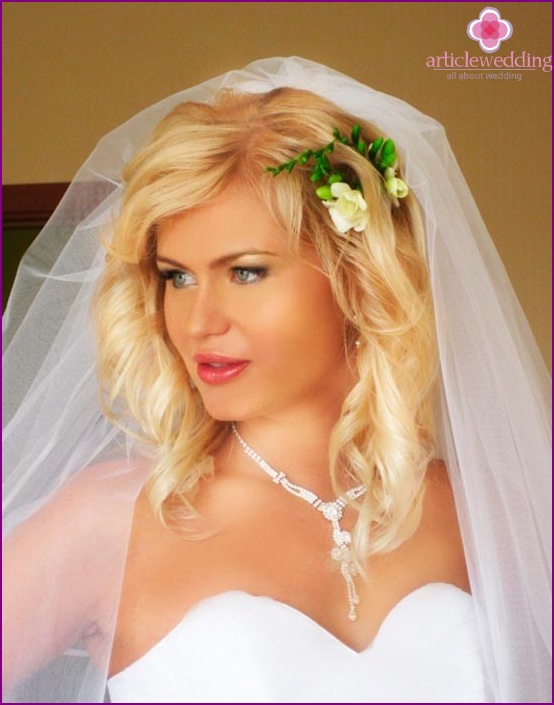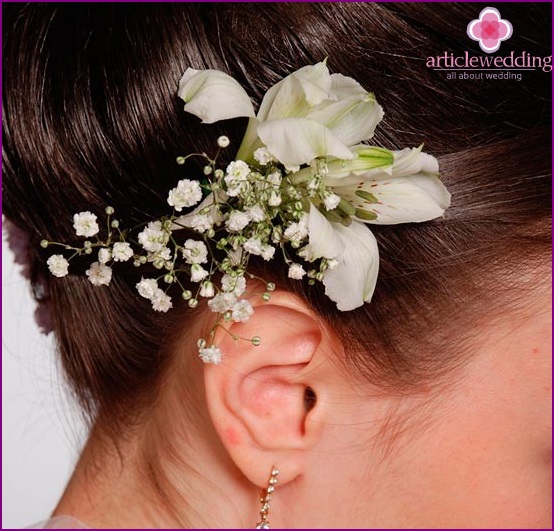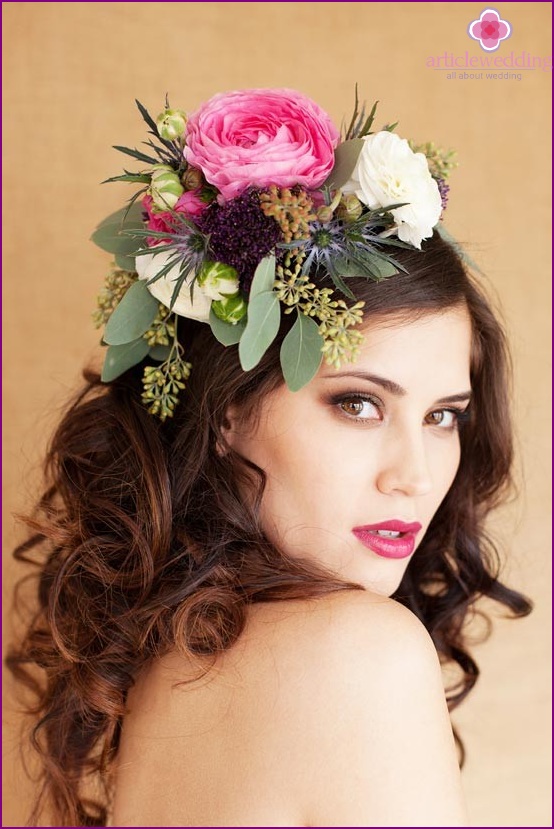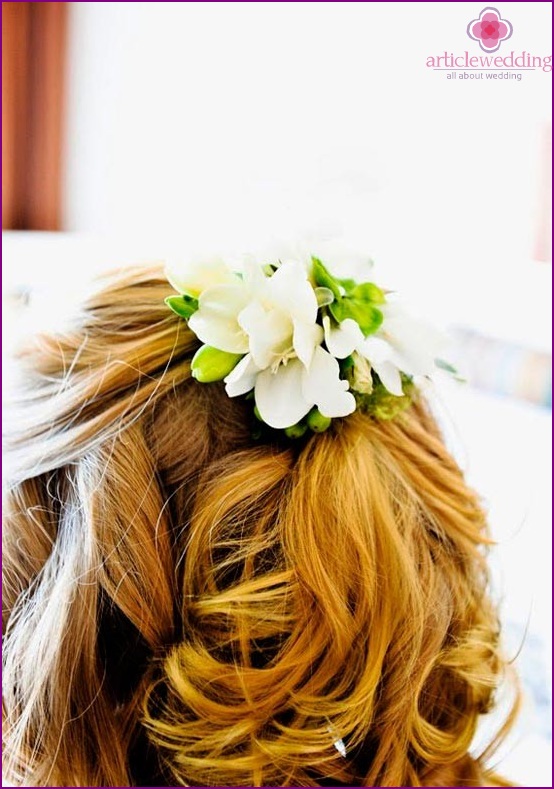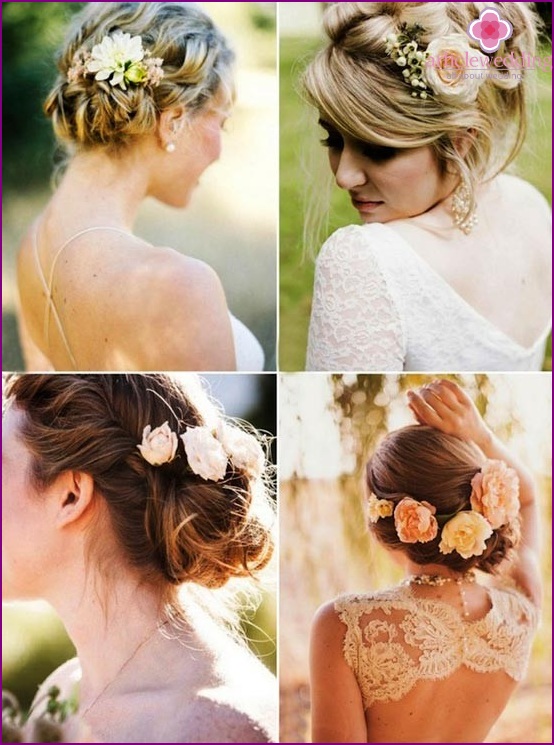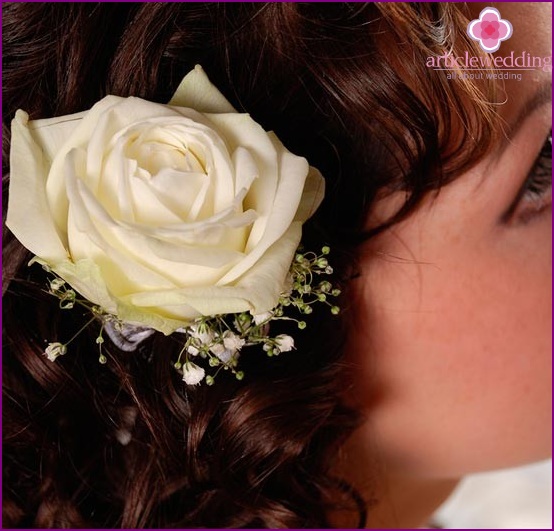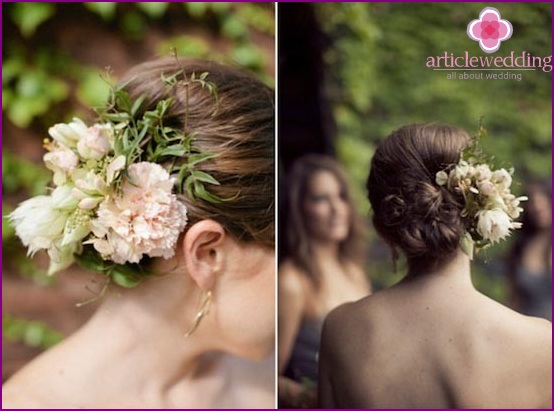 Website www.articlewedding.com sure that luxurious decoration of flowers will make you a real queen!