Unusual umbrellas for a photo shoot - it's trend. But the hand-painted umbrella - something new! Labels allow to express feelings, to make photography more personal, as well as an original accessory to decorate photos. In addition, the umbrella can be used to create the image of the bride, design space at a gala banquet during a bachelorette party.
Paint your own umbrella, thinkingincredible twists letters, if you have a good draw. If not - just print a label in a pleasing font and draw the letters! Website www.articlewedding.com teach you how to do it. Decorate the umbrella for wedding photography and make the wedding more festive.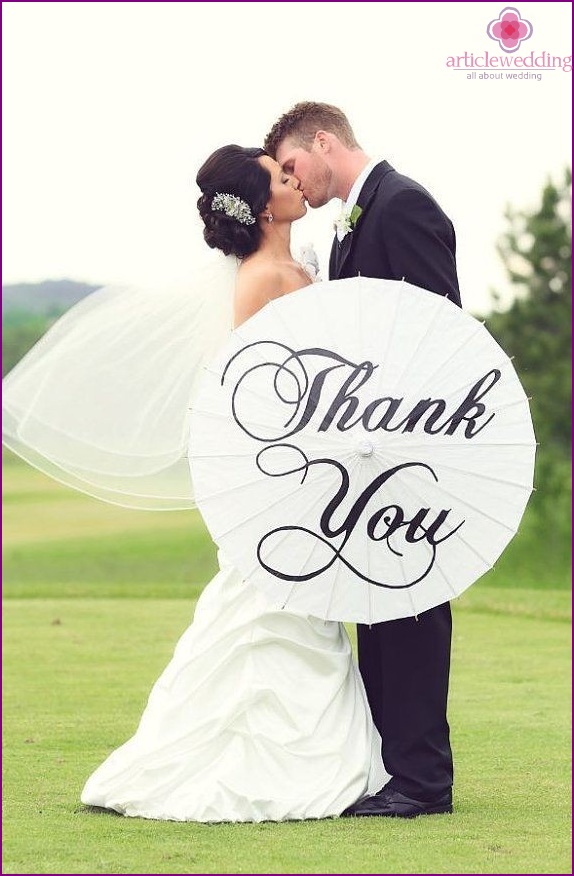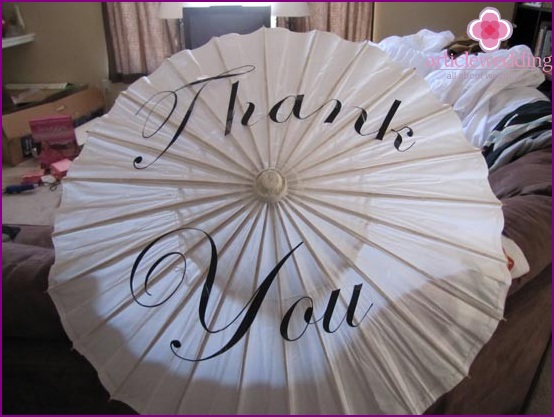 Materials and tools:
Chinese paper umbrella;
paper;
pencil;
double sided tape;
scissors;
paints;
brush;
Printer;
lamp (optional).
Detailed instructions:
Write on a separate sheet of paper the words thatyou want to put on an umbrella. If you can not draw intricate calligraphic letters, pick up a beautiful font on your computer. Then simply print out a major label. Cut out the label and attach it using double-sided tape to the umbrella. Second Embodiment - not cut letters, and in the same way to attach the entire label to the reverse side of the umbrella. Highlight the umbrella inside the lamp. Draw a pencil outline of the letters. If you are planning to do the inscription bright paint, try to do jumping competitions as inconspicuous as possible.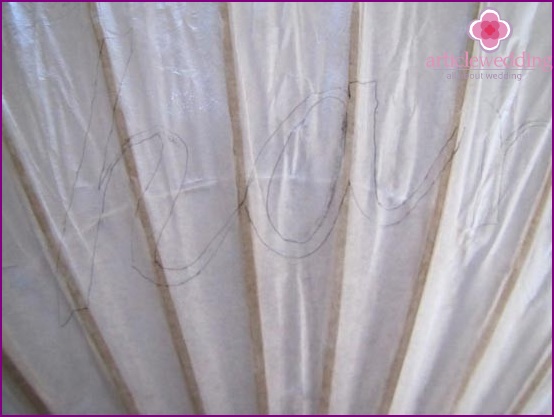 Draw the outline clearly the selected paint color.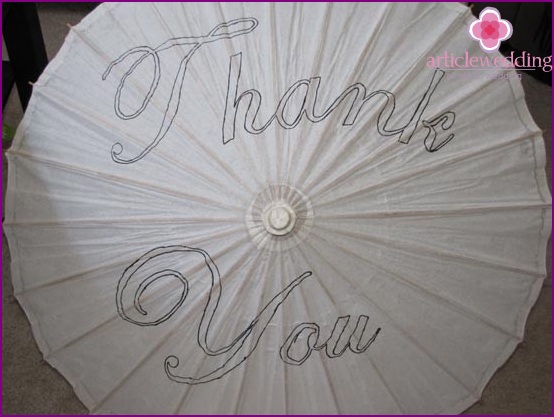 Paint label completely. Try typing on a brush less water to the letter is not "blurred". Leave to dry the umbrella.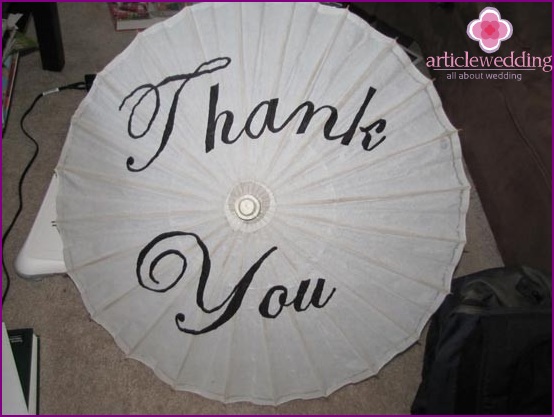 Accessory ready!
applications
This wedding accessory is quite easy tomanufacture, but it looks spectacular on photography. Moreover, it can be done in various forms and colors. Wedding website www.articlewedding.com sure that white umbrellas successfully looks golden paint. For a clearer picture should be preferred acrylic paint or gouache. Acrylic dries quickly, it gives a glossy effect. Fans can experiment and draw instead of writing, applied intricate patterns. In addition, the enhancement will provide decoration flowers or wedding date.
Umbrellas-shirts are not only used tophoto shoot, but also in the design of wedding celebrations. For example, write the numbers on the small umbrella and put them in a table of numbers. Arrange the inscriptions umbrellas and put them as "headers" zones at the wedding. In addition, the arrow umbrellas can be used as pointers. The original and carefully made accessory will complement the image of the bride in the wedding color.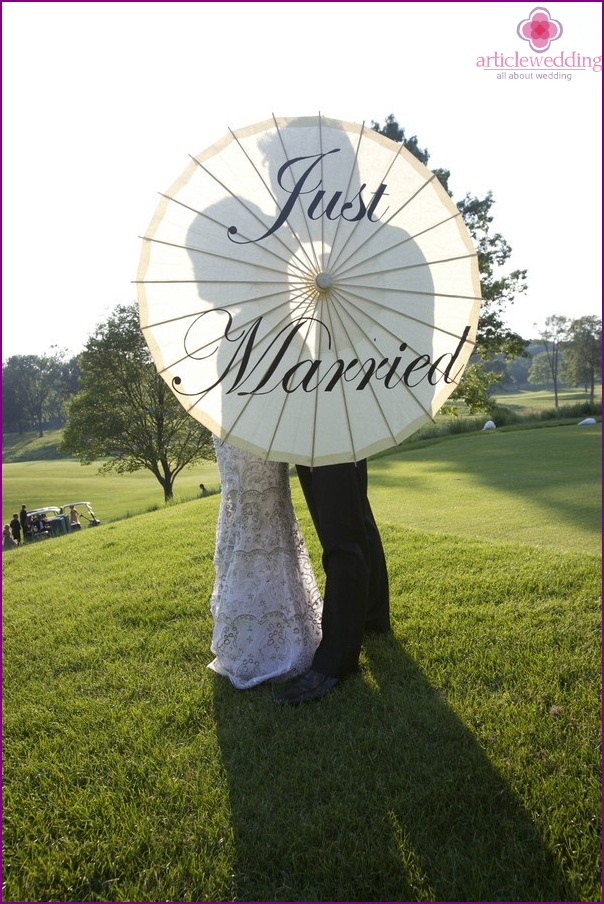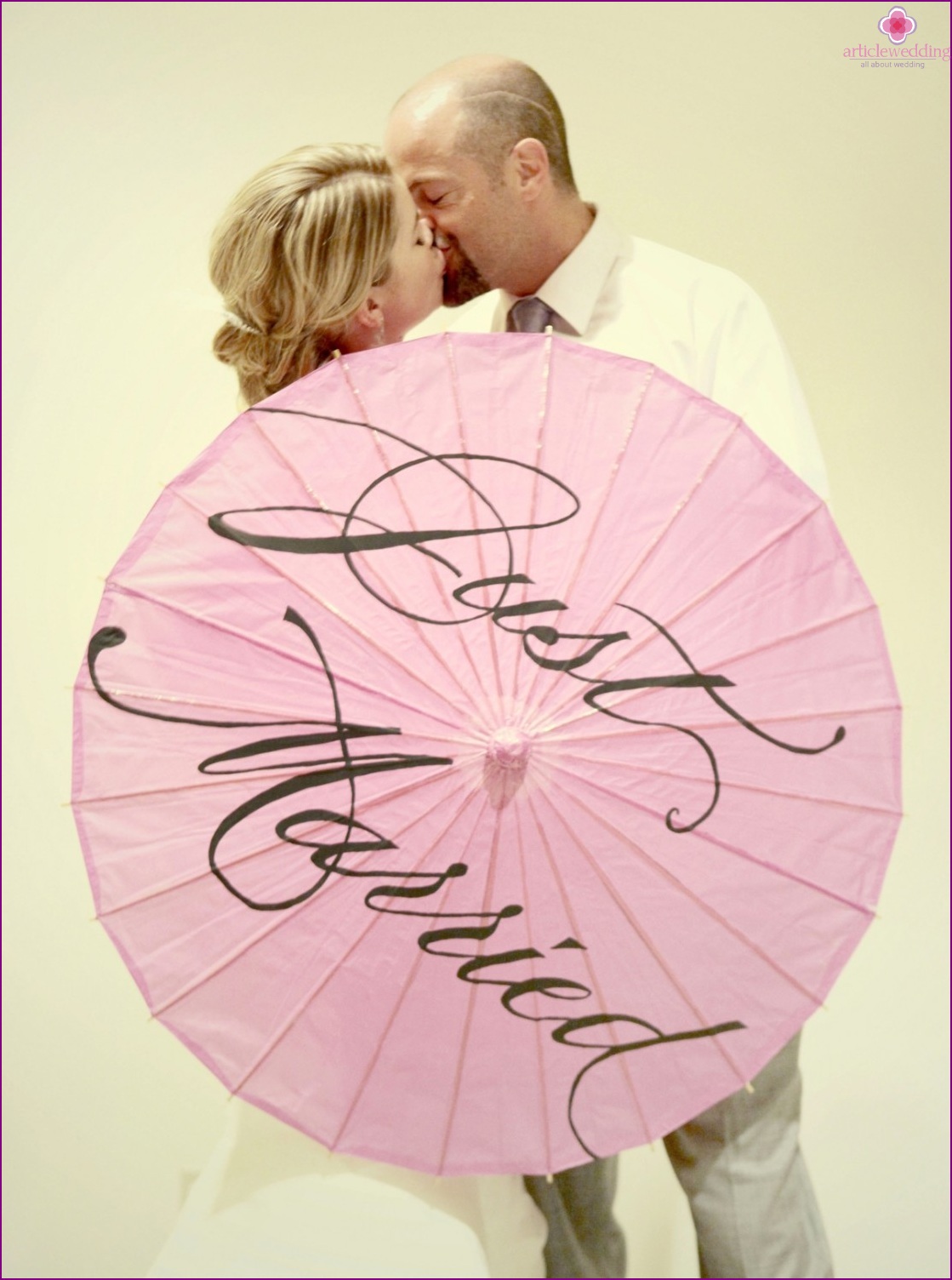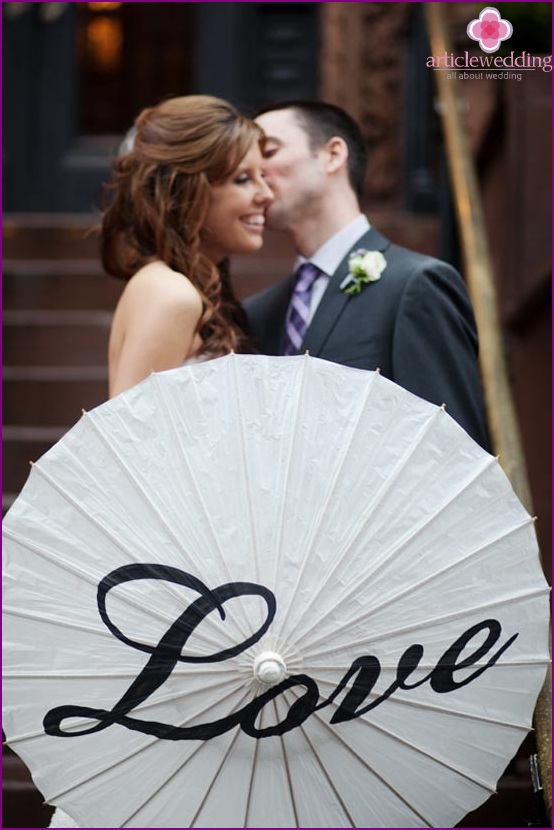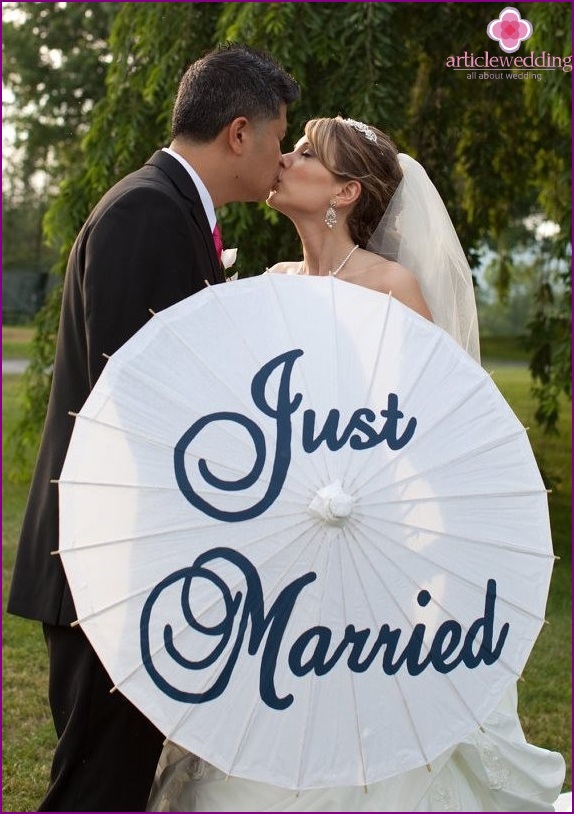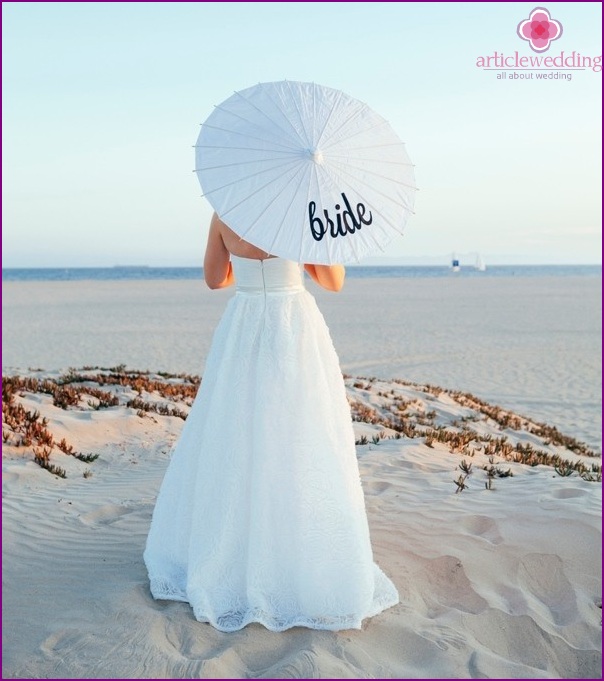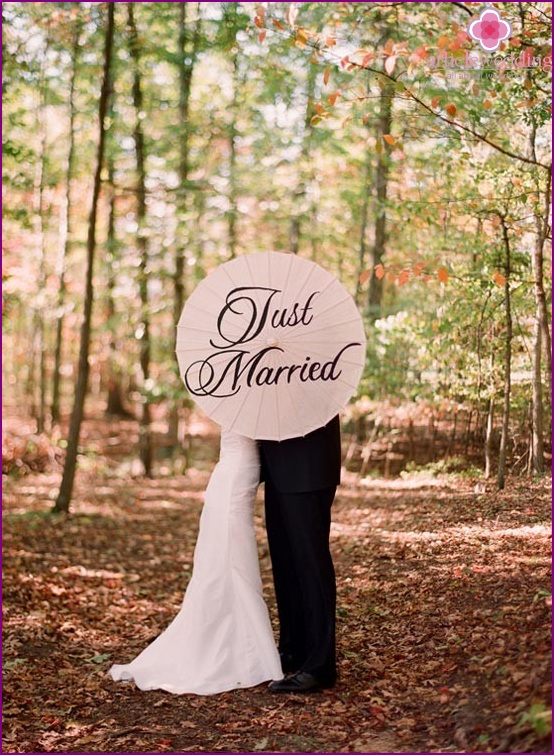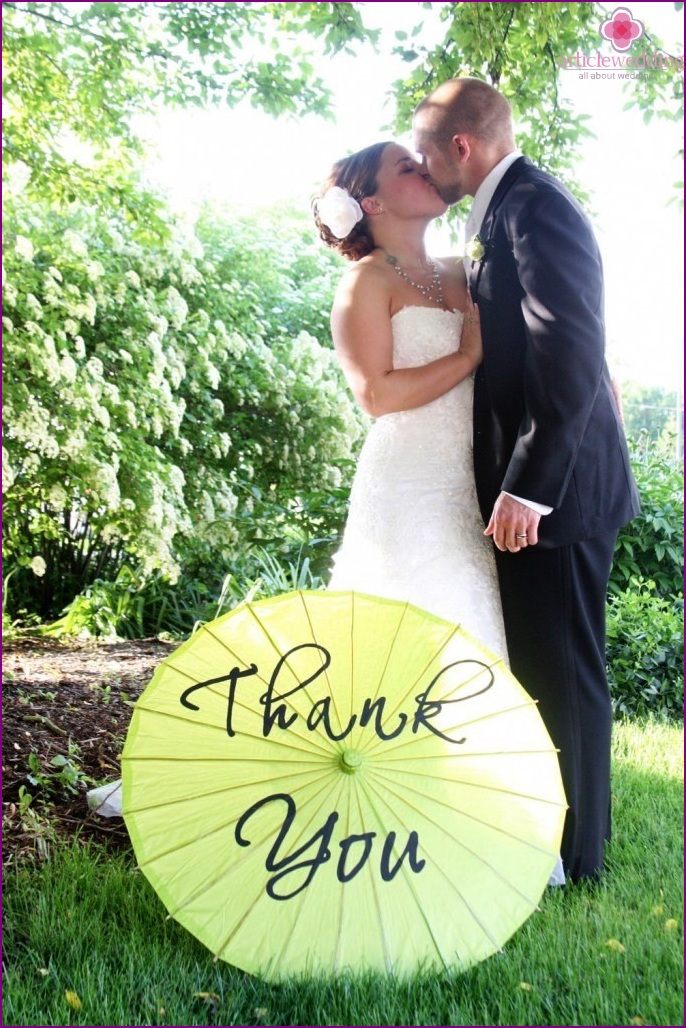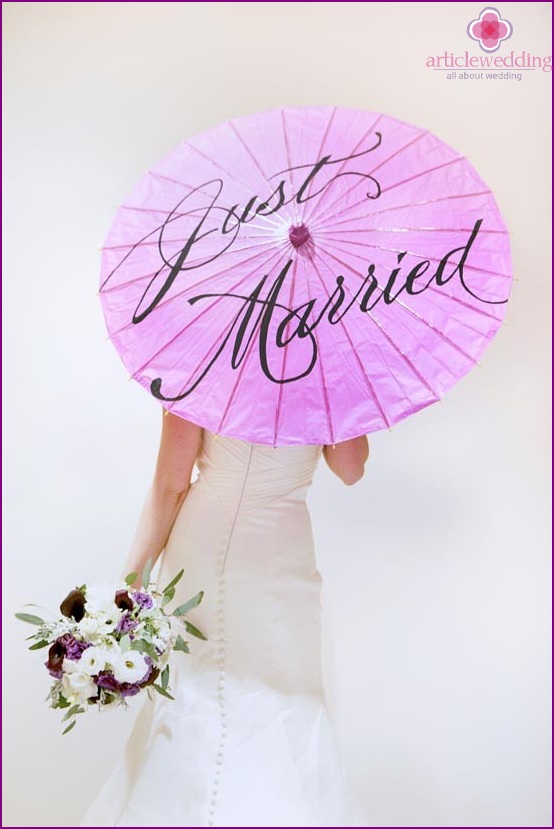 Umbrellas-shirts are easy to manufacture,They vary in decor and multifunctional. Embellish their photo shoot, banquet, table zones and registration. You will be able to effectively arrange the wedding without the expense and effort!