For several centuries, umbrellas are famous as an elementwedding decor. The correct or quality custom umbrella is able to create a wonderful atmosphere for wedding photography and surprise guests in the interior of the banquet hall. Umbrella - a simple and effective way to decorate the wedding.
Pattern the umbrella vibrant colors - and you getvivid photos that few can boast. In addition, different styles of umbrellas and a wide choice of colors allows for an incredible combination that will suit the style of any celebration, especially for themed weddings. Wedding portal www.articlewedding.com offers a master class on making umbrella with fresh flowers.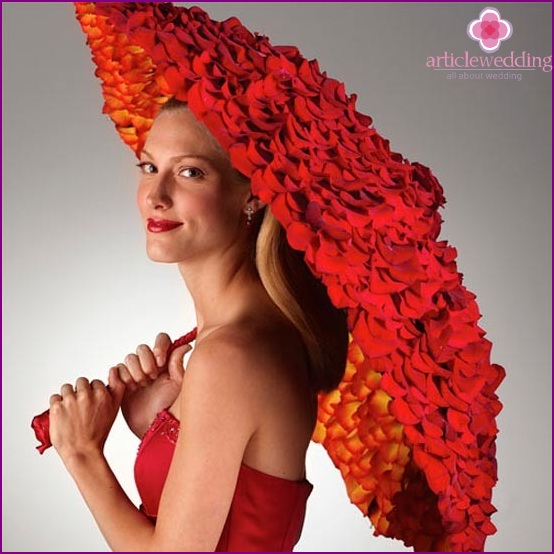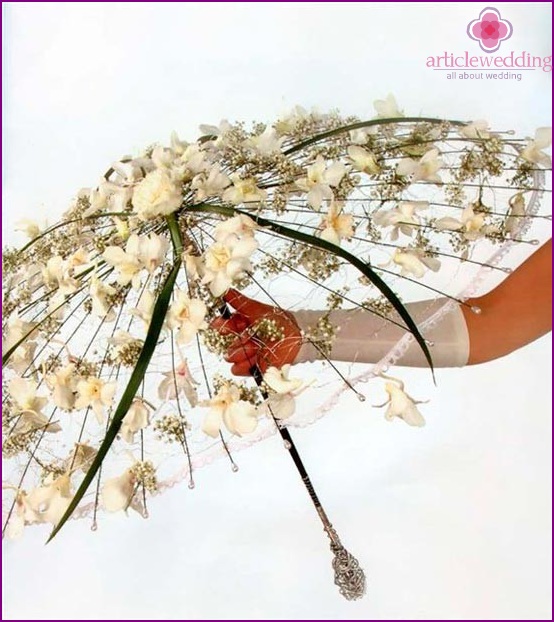 Materials and tools:
umbrella;
flowers, leaves, branches (special of the floral shop or collected in the garden);
glue in the gun;
other decorative items (such as bows, ribbons or lace);
wire.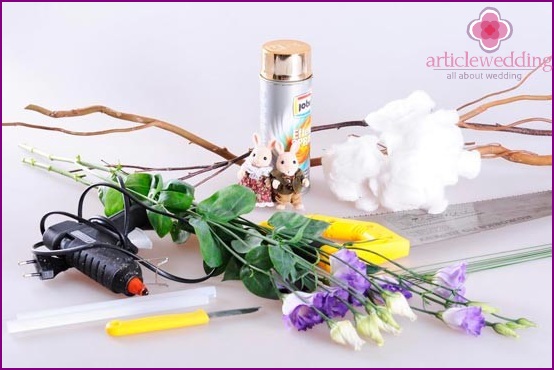 Detailed instructions:
Open the hood and place on the floor face to him. This is your work space. Turn on the glue gun into an electrical outlet close to the umbrella. Be careful - the hot tip.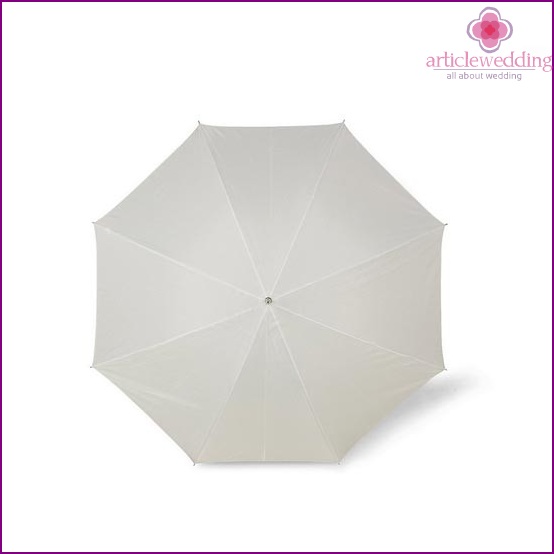 First of all, pick up the willow branches with unusualbends. This will create the shape and depth of the future picture. Attach one leg to the middle of the hood and determine what part of the branch should be cut. Leave 10-15 centimeters extend beyond the edge of the umbrella that was a possibility for correction.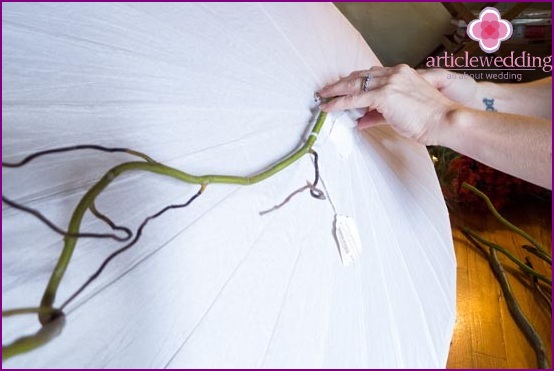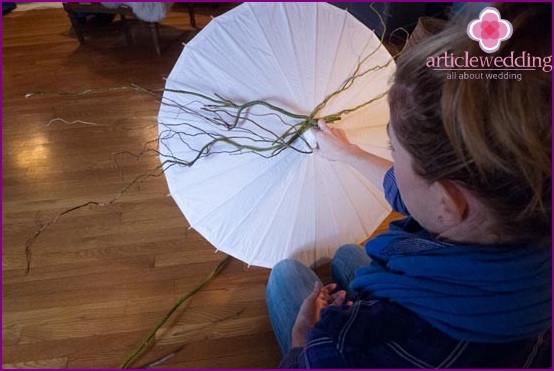 Take the gun with glue and squeeze enoughlarge drop of glue on the hood, on the middle. Immediately press and hold the branch minute. Do not worry if you notice excess glue. It can be closed with greenery and flowers.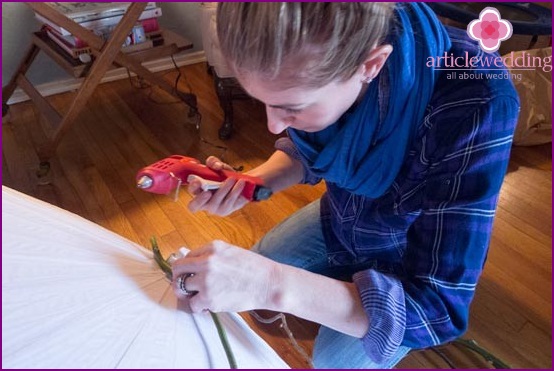 Continue to consolidate branch. Distribute them in different directions.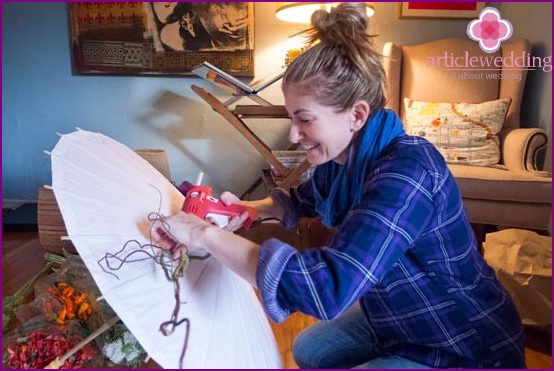 The creative part. Entwine the branches with flowers and leaves, giving the necessary accessory form and creating interesting panels. If worried that the greens may fall, fasten it to the branches of a thin wire.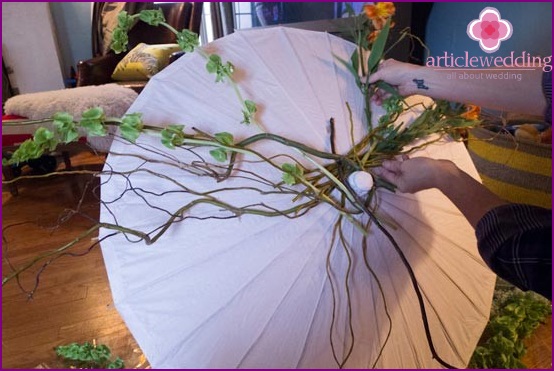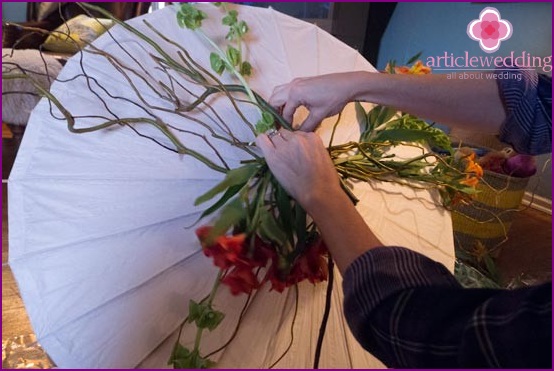 Accessory umbrella with fresh flowers and leaves ready!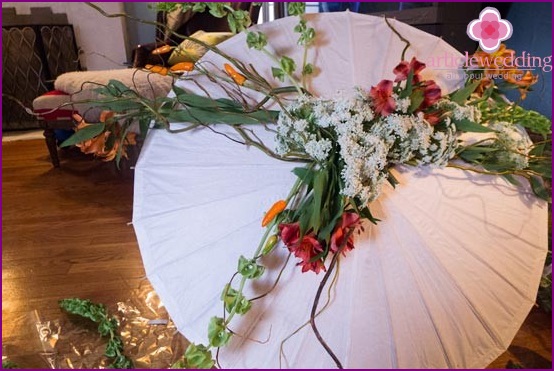 applications
Umbrellas, decorated with natural flowers and plants,It looks amazingly gentle and romantic wedding, certain site www.articlewedding.com. They will add glamor bride, enliven a photo shoot and make the holiday more sublime. Depending on the size and decor, such umbrellas can be used for the decoration of the banquet, on-site registration, or as an accessory for the tables.
Armed with patience, you can cover colorsthe entire surface umbrella (though, like an accessory to produce better in the morning before the wedding, the flowers are not wilted). As decorative elements fit peacock feathers, satin ribbons, lace, embroidery, fringe, etc. So, you will get the original umbrellas in different styles.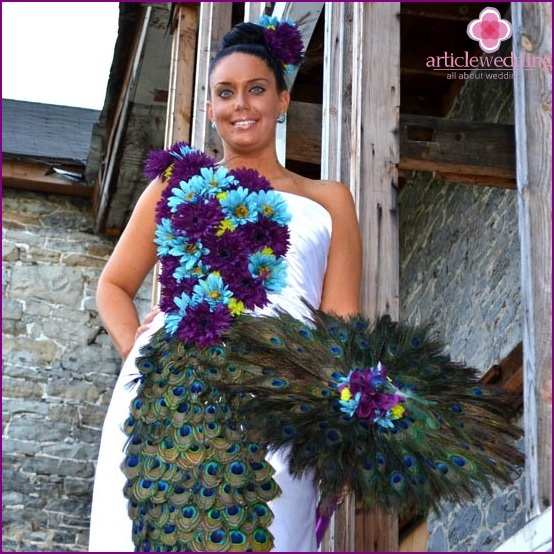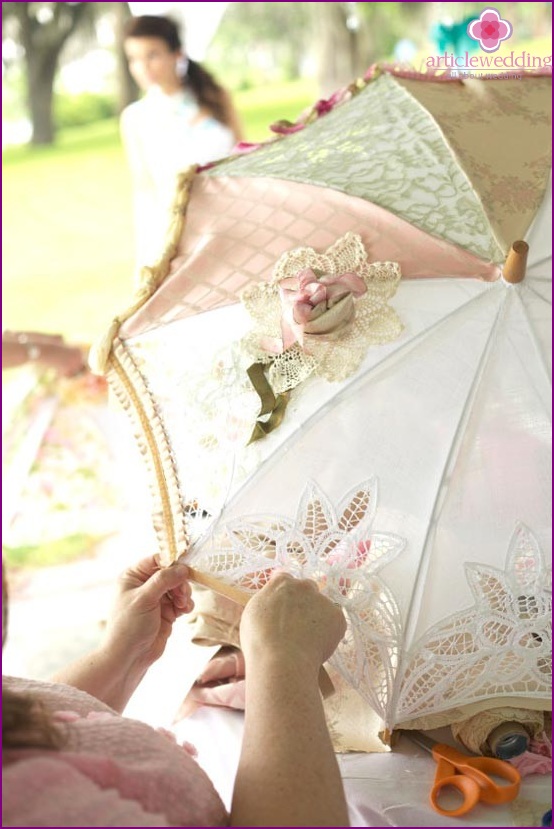 Umbrellas with fresh flowers and greenery decorate romantic wedding and give the bride charm. It's amazing feminine and stylish accessory. Feel like a fairy princess!