What could be better for the bride thanthinking through their own way, the choice of dresses and related accessories wedding? You can create your outfit in the style of good old classics, we can make it unusual or even eccentric and provocative, especially when it comes to the wedding photo shoot. And you can stay on the identity of brevity, including many shades of your character and mood.
Website www.articlewedding.com offers you an interesting master class, with which you will create a bridal wreath of flowers. This decoration will add a romantic image of the bride and tenderness, as well as will be a great accessory for the wedding photo shoot. It is also a stylish accessory can be used as a gift for bridesmaids.
Make such a crown of flowers, you geta lot of pleasure and positive emotions. Beautiful crown decorate the wedding hairstyle and make the focus of your image. To create an accessory, you can use different colors to create an original combination of color in your style.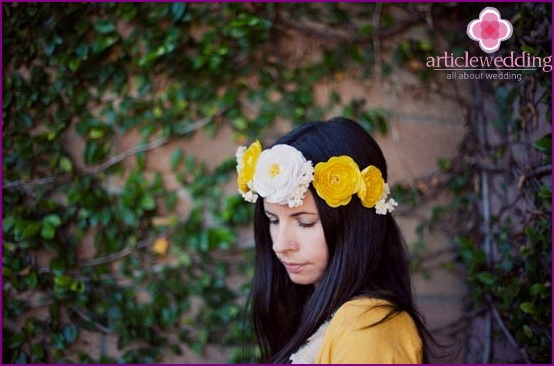 Materials and tools:
Silk flowers or flowers made of fabric;
thin green wire;
thick brown wire;
scissors for cutting wire;
pieces of cloth (felt);
glue.
Time
20-30 minutes.
Detailed instructions:
To create a cute and feminine accessory youYou can choose a variety of colors that will help you make a style brighter and more expressive. In this master class, we chose yellow and white flowers, which will be combined perfectly with the wedding dress and complement the image of wedding.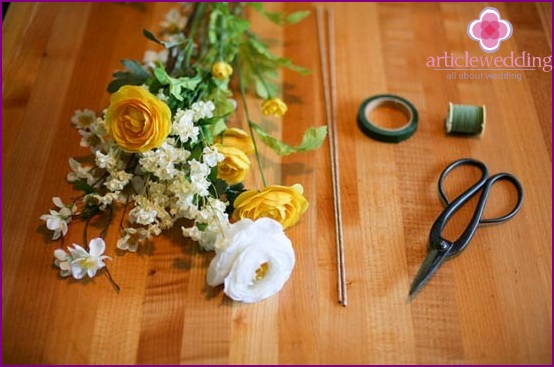 To get started, take a thick wire brownthe color and shape of her circle, which you can easily put on the head as the rim. It is necessary to clearly define the future size of the product, it is very important that the accessory was comfortable, and you feel comfortable. Connect and secure the ends of the wire.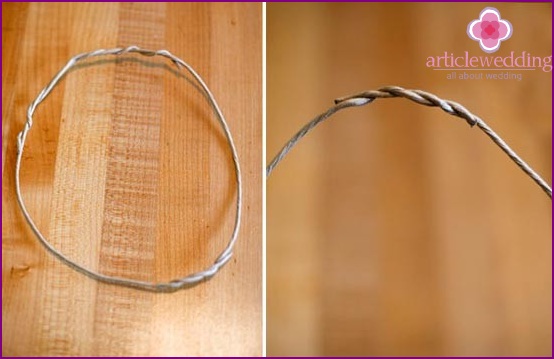 Before you begin decorating a wire,Look again at your chosen flowers and arrange them in the order in which they will be placed on future accessory. In the center you can put a flower bigger, the edges leaving space for small flowers. Also, be sure to cut the stems with your flowers.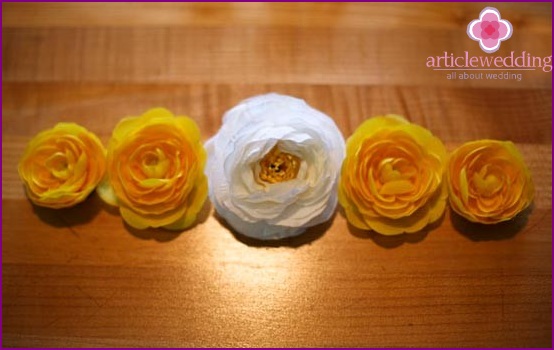 Now to the point where you just cutstem, you need to glue a piece of felt. This will facilitate further work, and you can easily connect the wire and flowers, cementing them together another piece of tissue. Thus, if you are going to use five colors, it is necessary to prepare 10 pieces of felt. graft size must be smaller than a diameter of the flower itself. After you have glued the fabric is dry, attach the flower to the wire and secure it with the second flap. You can do it with glue or thread and needle. The same needs to be done with the remaining four colors.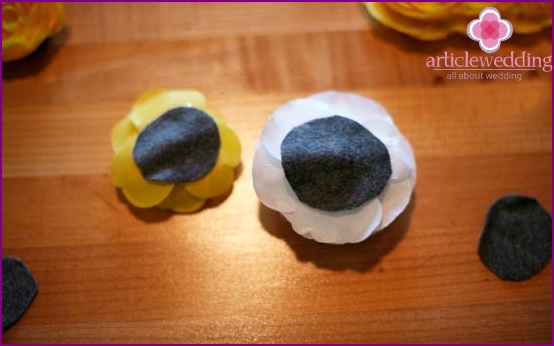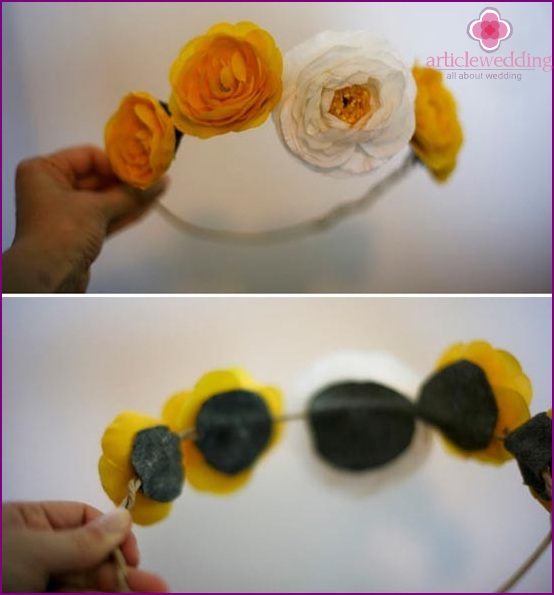 Once large flowers have been fixed, you canto start decorating accessory other elements. To do this, use a small florets. To attach these small flowers, wrap them around the base with a thin green wire. Wonderful crown for the present Queen is ready!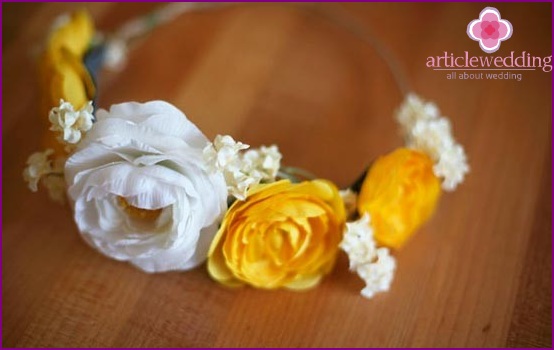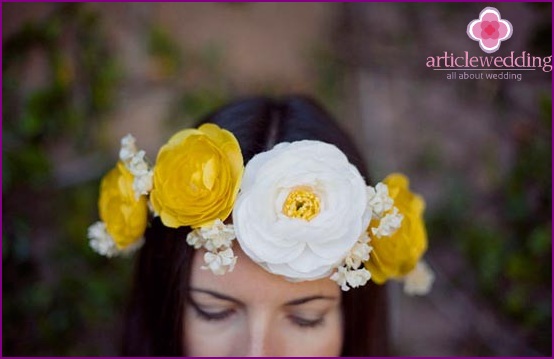 This can make the wreath of any other color.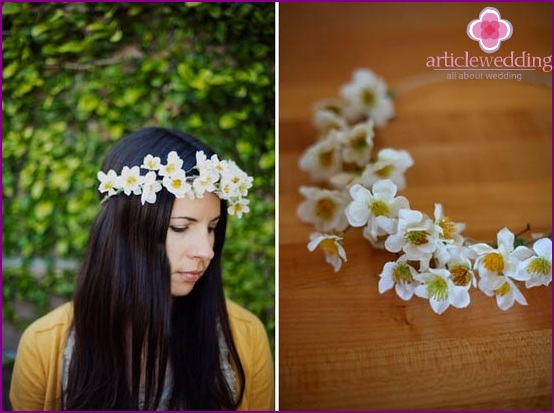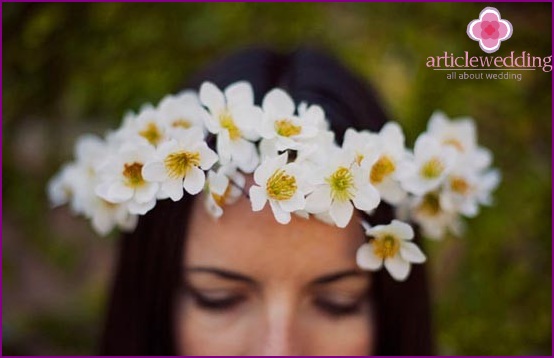 applications
Crown can also be made more bohemian. To do this, use a small magnolia flowers of silk. Weaves delicate flowers with the green wire in your elegant wreath. Beautiful accessory will be a great decoration for wedding photography and give you a great mood!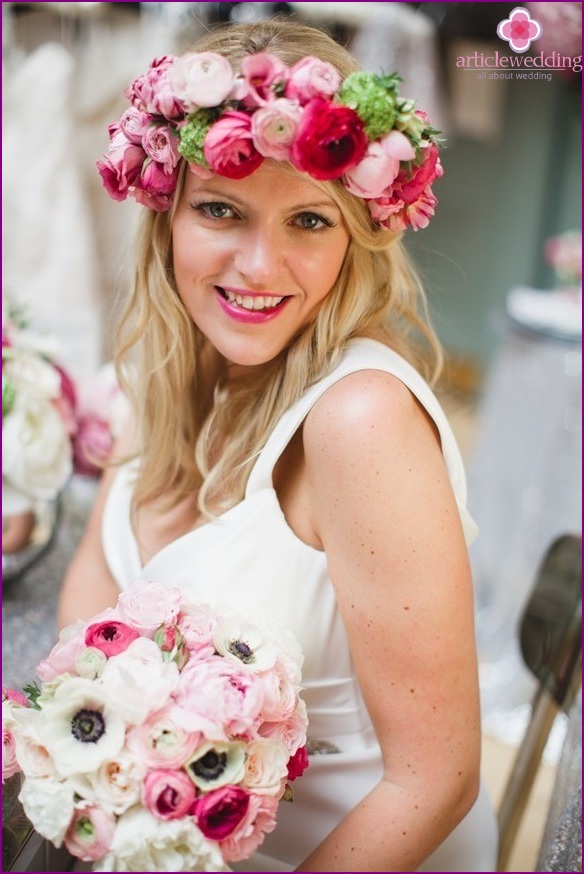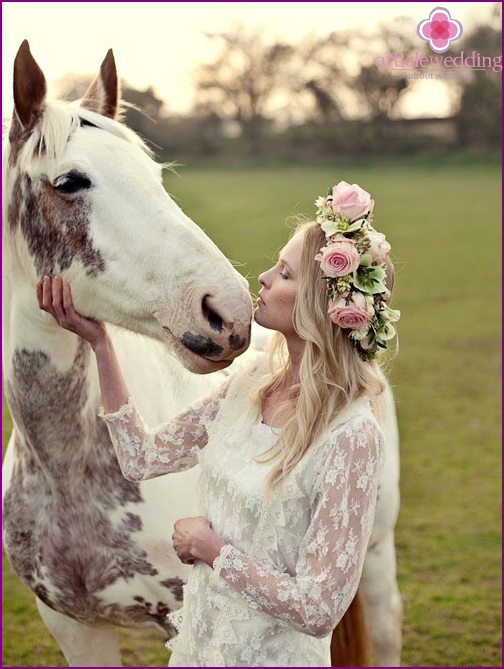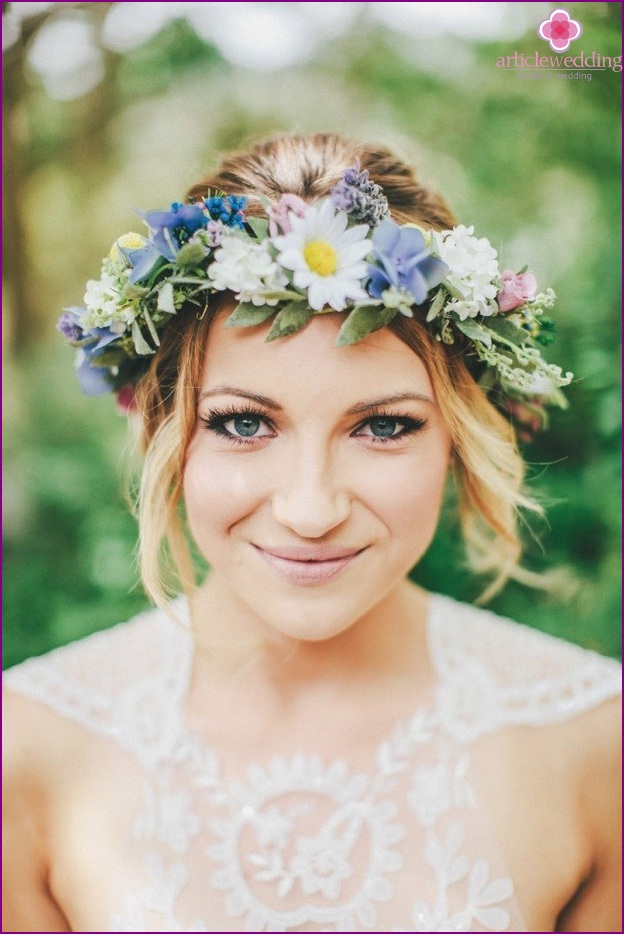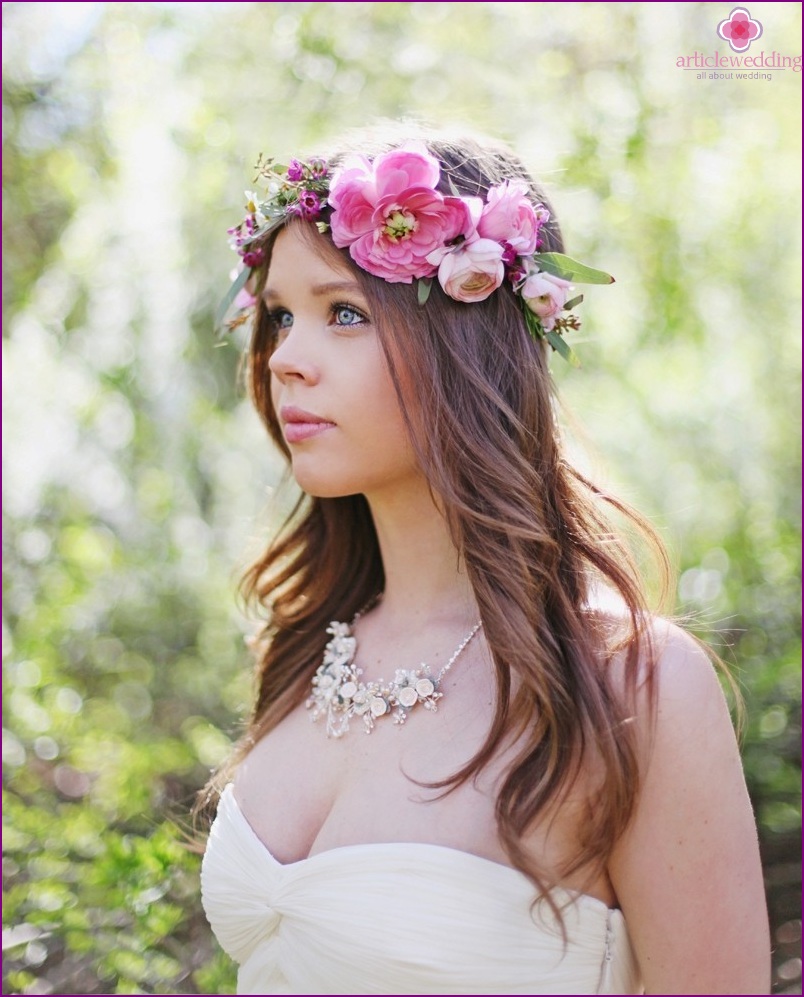 On the wedding portal www.articlewedding.com best beauty secrets are revealed, and the creation of luxury design and decoration of the wedding celebration!