The wedding ceremony is difficult to imagine withouttuple, which at the ceremony paid much attention. Bright cars, balloons and happy couple sitting in the first car! All this is an integral part of the holiday. How unusual to decorate a wedding procession, the bride and groom selected? Portal www.articlewedding.com prepared for you a special workshop for the production of original accessories for a wedding convoy! Garland «Just Married» not only beautify your car but also impress all creativity. And most importantly, that make it very easy and simple!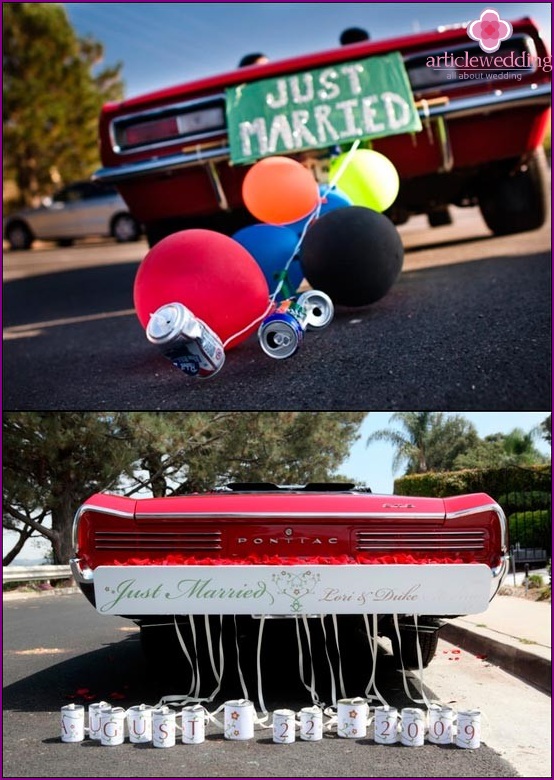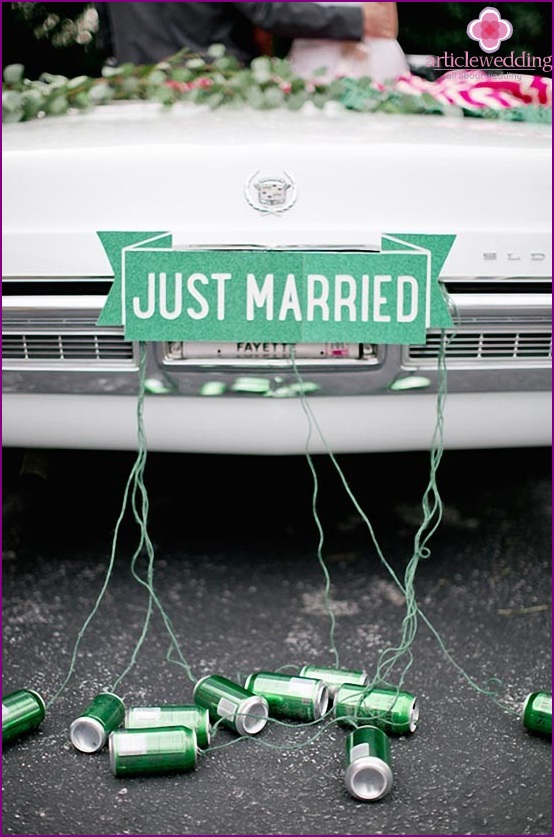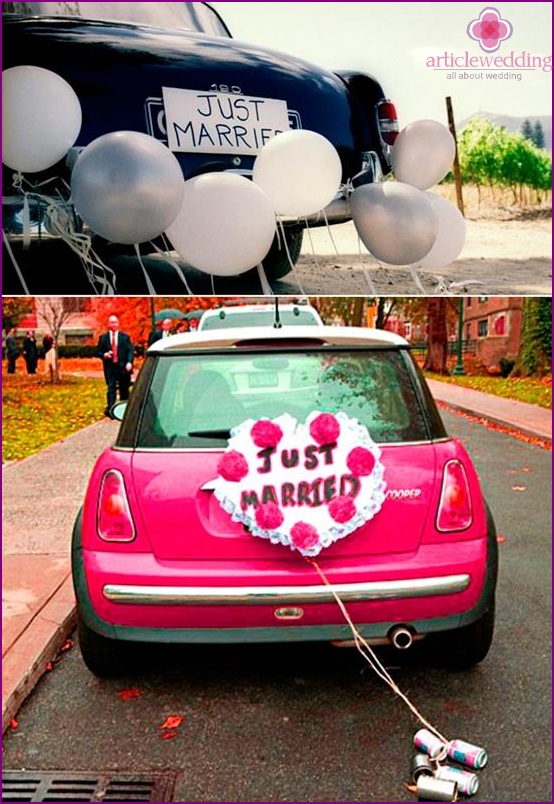 Materials and tools
8 and more tin cans (the number depends on the length of the planned garlands);
one tube of color paint and a tube of white;
brush;
a nail and a hammer;
tape;
tulle;
scissors;
colored cardboard;
double sided tape;
pre-printed paper with «Just Married» inscription.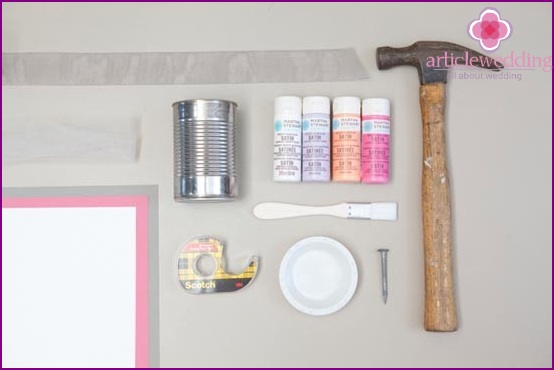 Time:
30 minutes.
Detailed instructions:
In a separate bowl, pour the paint, stir it.
Gently brush paint tin cans. It is desirable to make them available in one color, but with different shades, then a garland will look more interesting. In order to achieve different tones, just add a bit of white paint color and stir.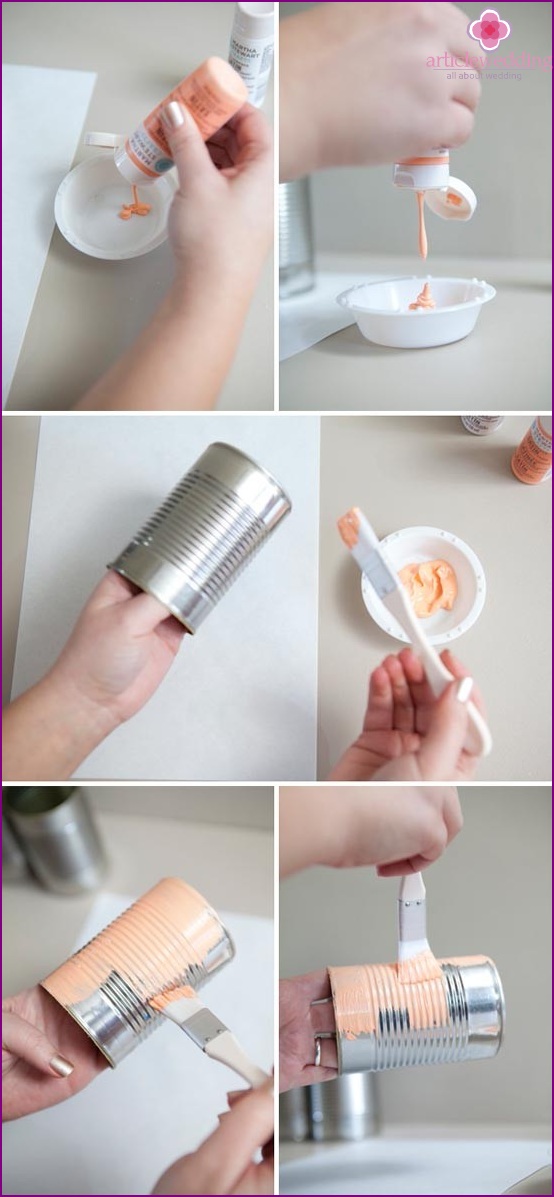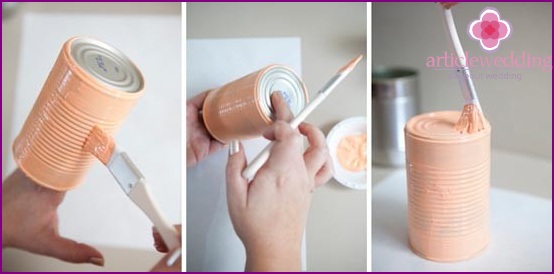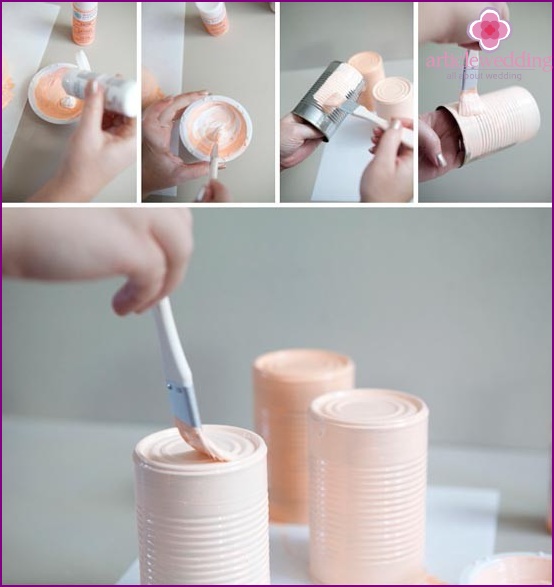 With the help of a nail and a hammer to make a hole center of each jar.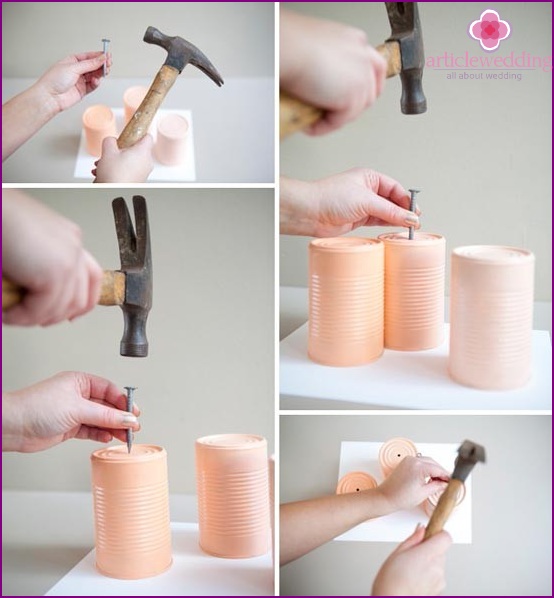 From fluffy tulle bows do: wrap on hand several layers of tulle, tie it in the middle so as to obtain a bow, then cut the tips.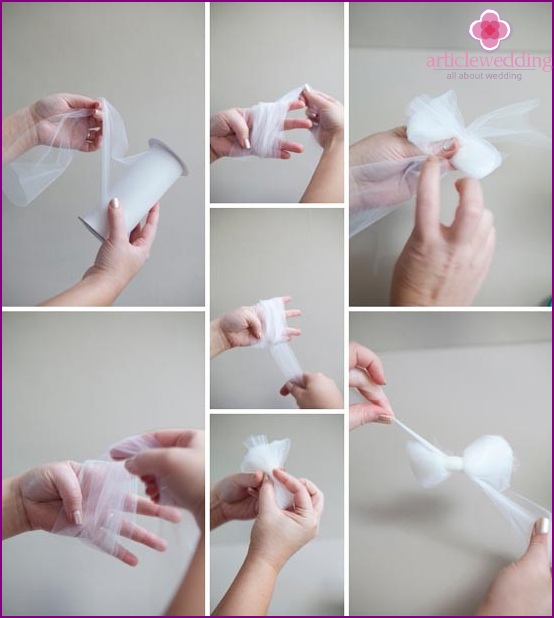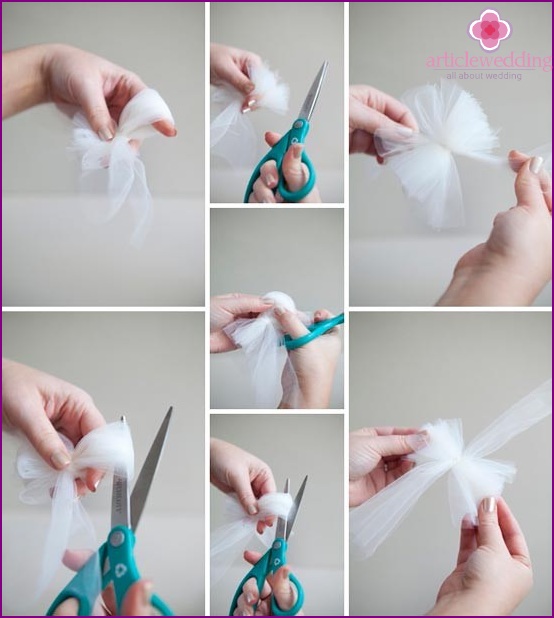 Cut a strip of desired length and tie a knot in it. On the inside of the tin can thread the ribbon through the hole.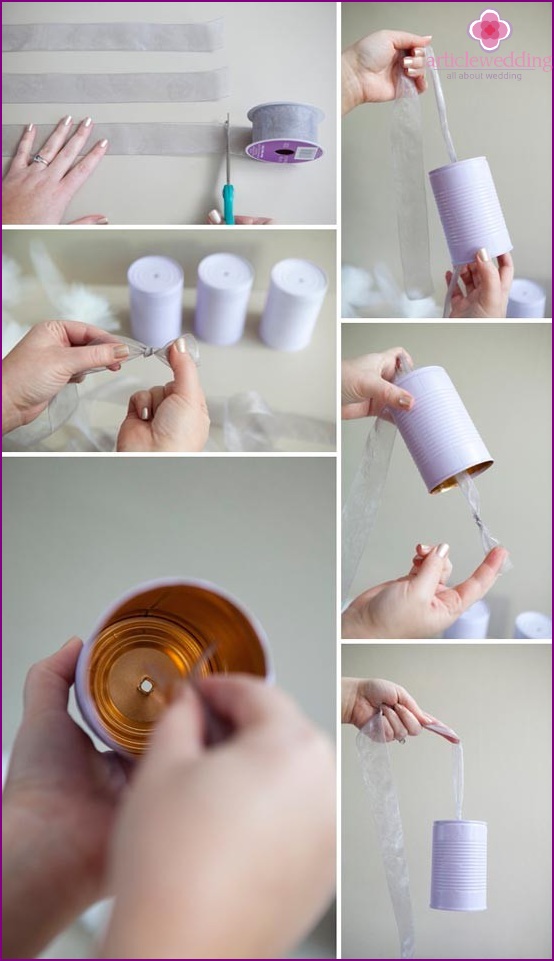 After 20-30 centimeters of tulle bow tie to the tape.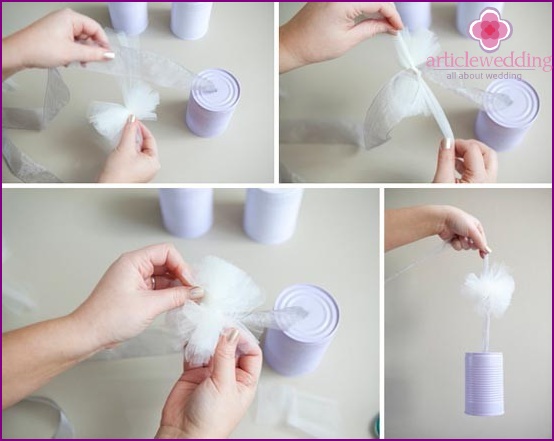 Again, departing 20-30 cm, tie a knot and tape nanizhite tin. Do so until then, until the end of the tape.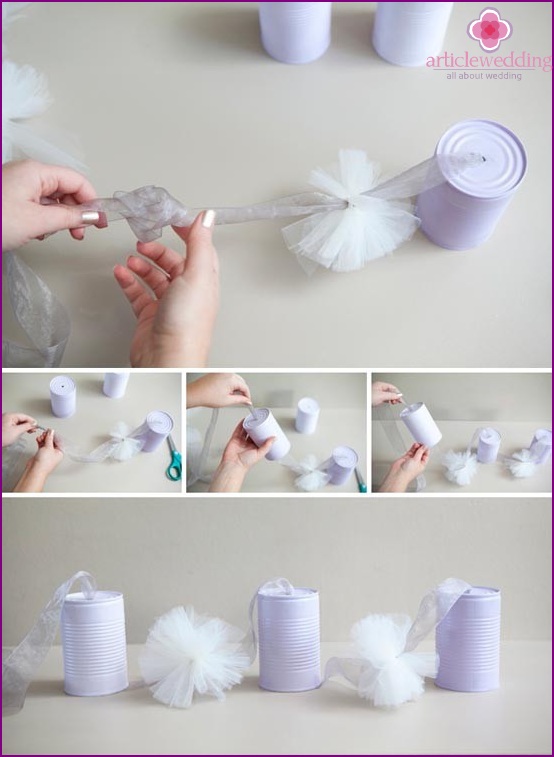 Make a sign for garlands: on colored cardboard glue double sided tape and attach to it an inscription «Just Married» so that the edges of the board remained one centimeter, cut plate.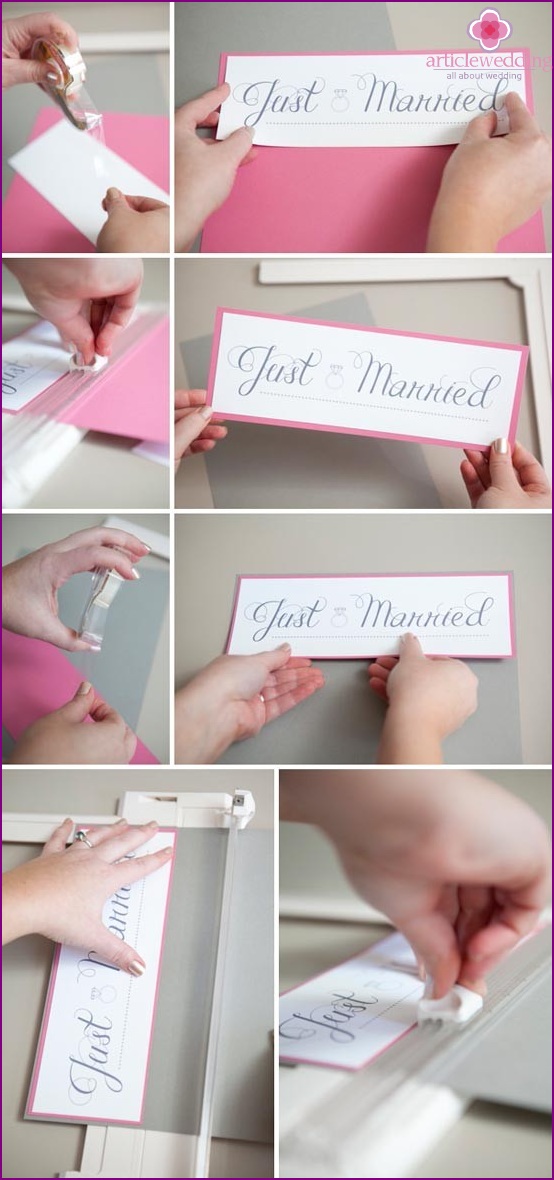 It remains only to tie the wedding cortege few garlands to accessory looked spectacular, and attach to it a bright plate. Your motorcade will not go unnoticed!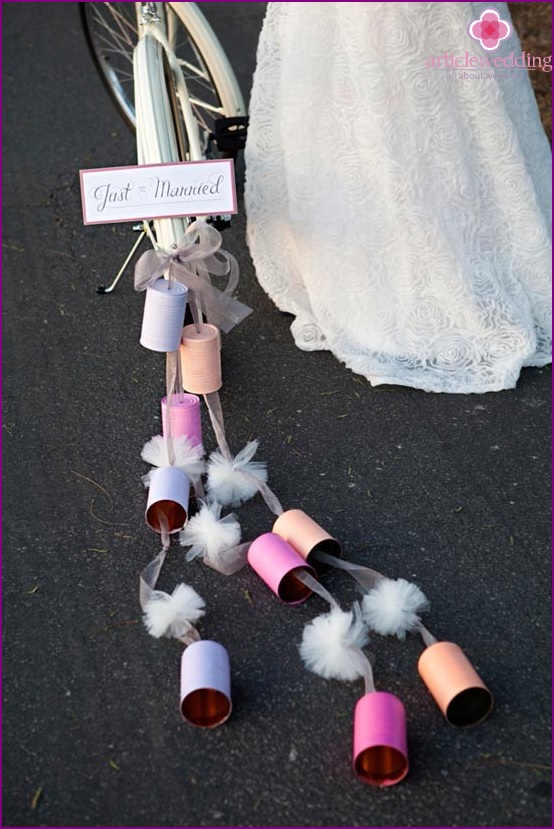 applications
In fact, such a garland you cannot only attach to the vehicle. If the couple have always been creativity and thrust for the bizarre, then as a tuple instead of cars they can choose velokortezh or mopeds, motorcycles, carriages with horses and stuff. And in all of these options to make your hands accessory is in place. A few years later Garland «Just married» useful to you even on your wedding anniversary. Why after a while not a fast ride, and do not remember their wedding ceremony staggering?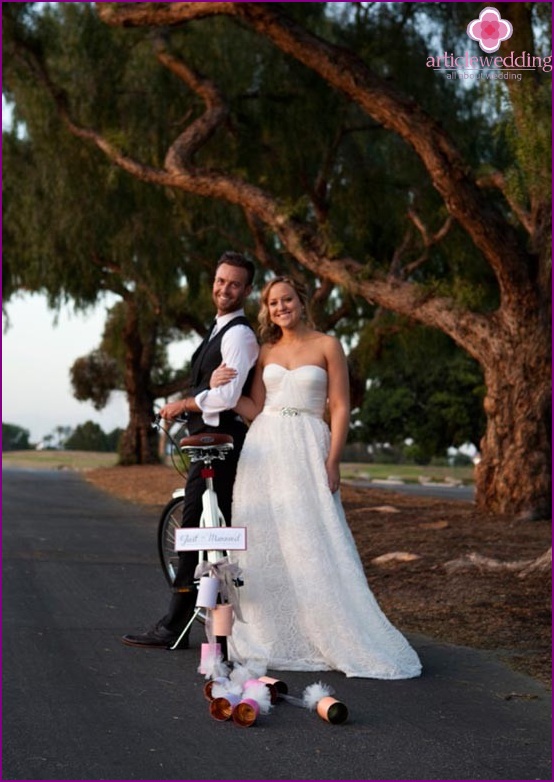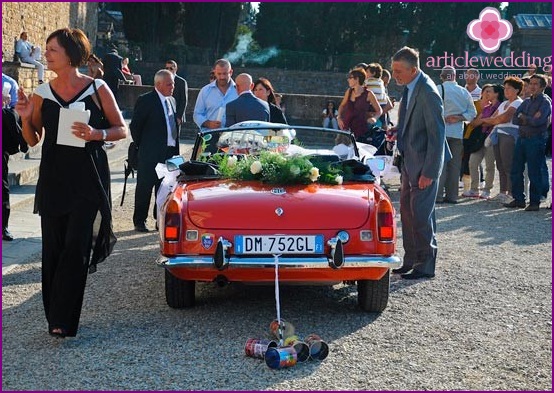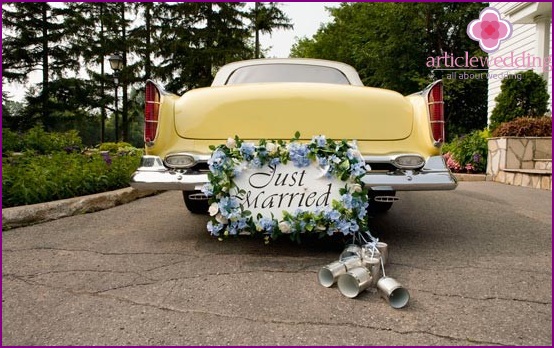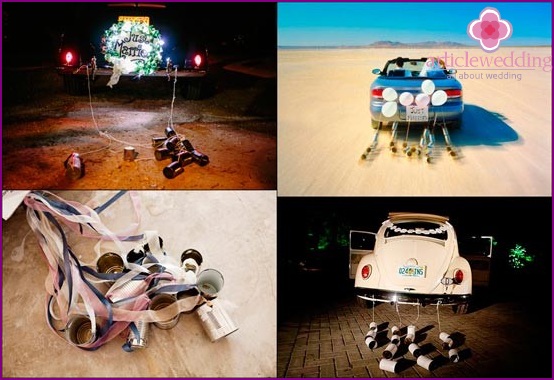 Website www.articlewedding.com I tell you how to half an hour to make an unusual and very original accessory to decorate a wedding convoy. With bright jars and plates newlyweds car will look memorable and unique. We wish you to enjoy the wedding ceremony, including a great ride in a wedding motorcade! Good luck!