There are hundreds of ways to makeunusual gifts that are not only once again express my gratitude, but also will be a long time to decorate the guest house. The main thing to remember is that the gift you make yourself one way or another would be an unusual and original, because you put in it its own unique energy and charge it positive.
If you have not yet decided what it will beyour candy boxes, you will be able to help the wedding master class from www.articlewedding.com site that will tell you how to spend your time and make wonderful gifts.
In order to make candy boxes, youneed glass jars with lids, as well as all sorts of tasty ingredients for a family recipe. In this master class, we used the sweet ingredients laid layers to decorate bonbonniere. This family recipe bank impress guests with its originality. It does not have to open a jar and try all the ingredients to taste. Such a gift will be a great decoration on your desktop or on a shelf. An unusual idea, is not it?
These candy boxes can be arranged near the plate of each guest that will help you continue your wedding style, especially if you choose rustic or traditional folk style.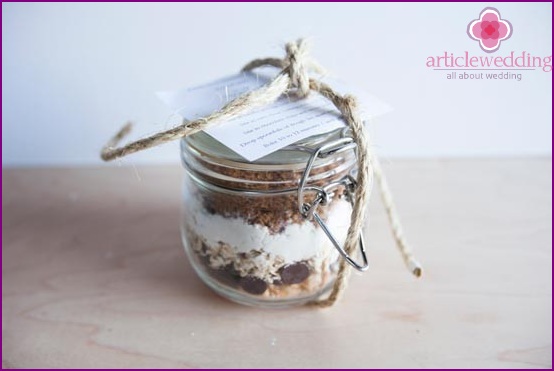 Materials and tools:
oatmeal cookies, crushed nuts, chocolate chips, etc .;
scissors;
rope;
prescription on a piece of paper.
Time
15-20 minutes.
Detailed instructions:
Perhaps the most difficult part of the master classIt is a selection of all necessary materials and ingredients for the family recipe. You have to decide which recipe you give to your guests. Try to use ingredients that do not require cooking. It is best to crush cookies, nuts potoloch, use powdered sugar and flouring.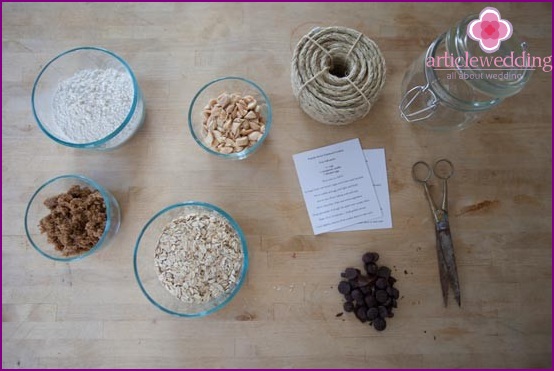 Further, the production of candy boxes is very simple. You need to fill your jars to the brim with sweet ingredients. You can do more layers, to look through the glass bonbonniere original. You can use a tablespoon to a little compacted layers to the bank instead of a large sweet layers.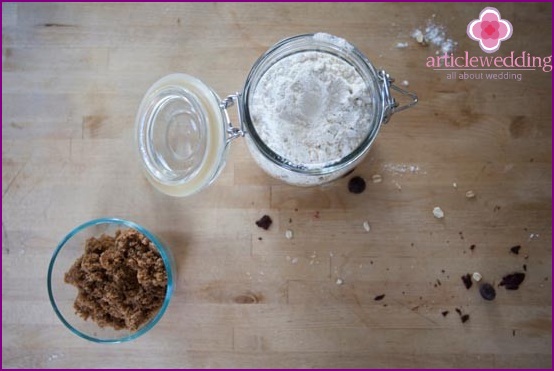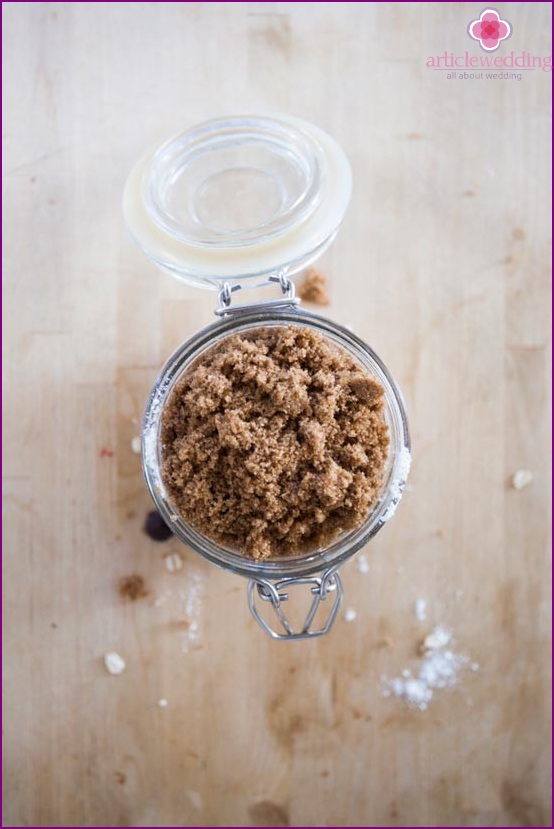 Use a rope to fasten the bankdirectly to the recipe. You can list the components layer by layer, leaving guests riddle, what would happen if these ingredients are mixed. Thus, you get a very original gift given from the heart. Sam recipe can be printed on a printer or write beautiful handwriting manually. You have turned a lovely and unusual gifts for the guests!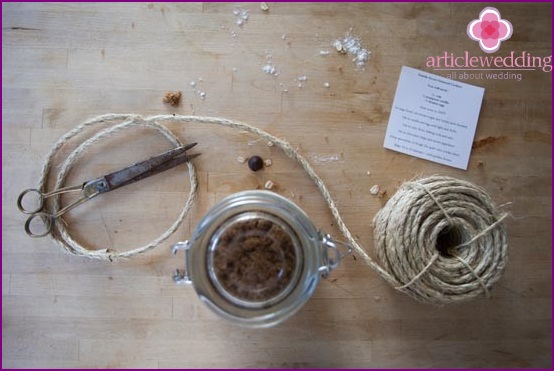 applications
Lately it has become very fashionablethe use of cans in the design of gifts. Often they are used as containers for bath salts, but sometimes they are planted fresh flowers or plants, or carved from them candy boxes with their own hands. With regard to edible gifts, you can also search among master classes, both directly in the banks make a cake.
Glass jars can be filled with differentsweets: candy, marshmallows, jelly. Either way, your gift will have its own uniqueness. Decorate the jar can be all kinds of belts or ropes. Beautifully looks ordinary rope twine. You can be creative and original, so that your gift was not like the others. But most importantly - an opportunity to have a good time and relax for creative work.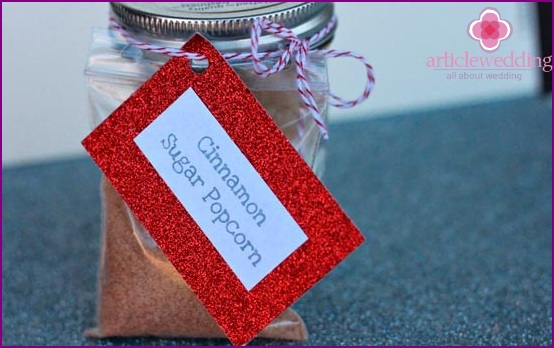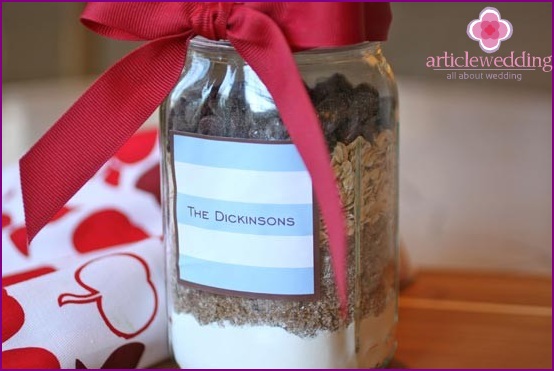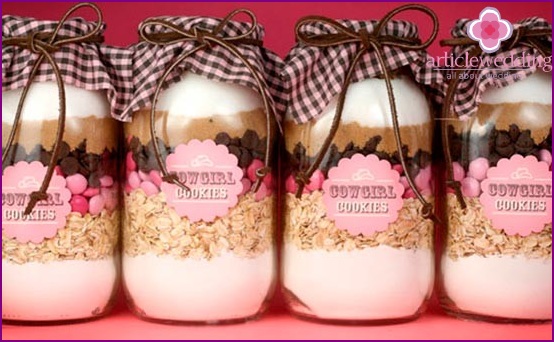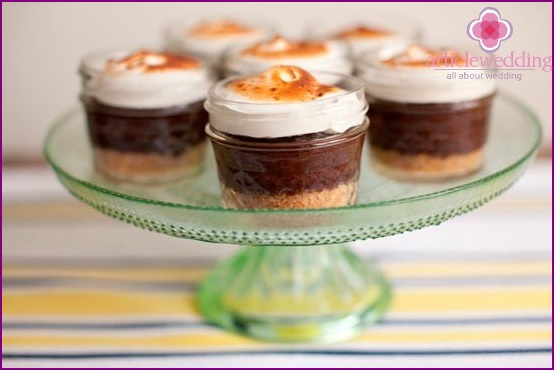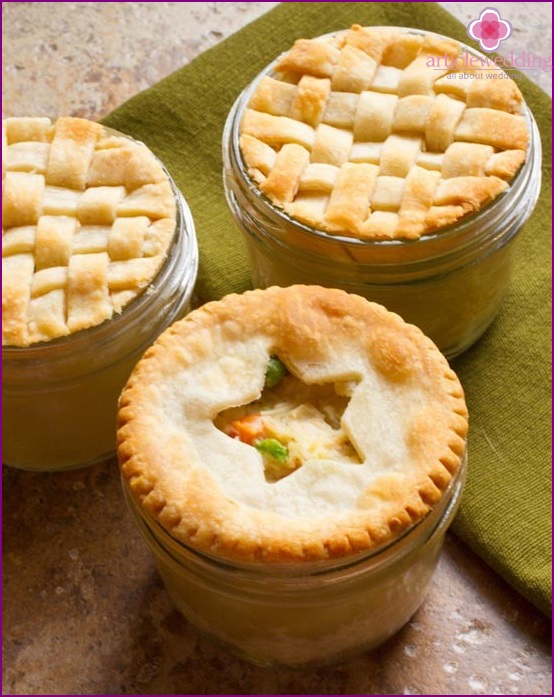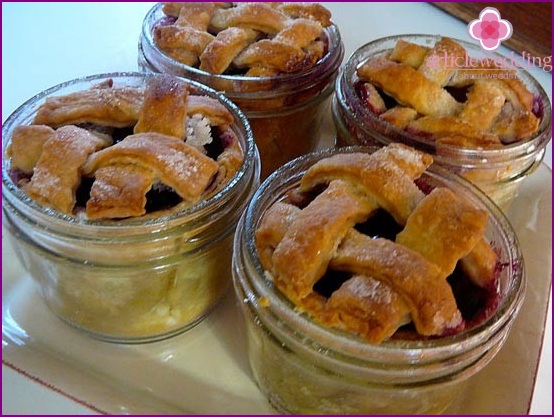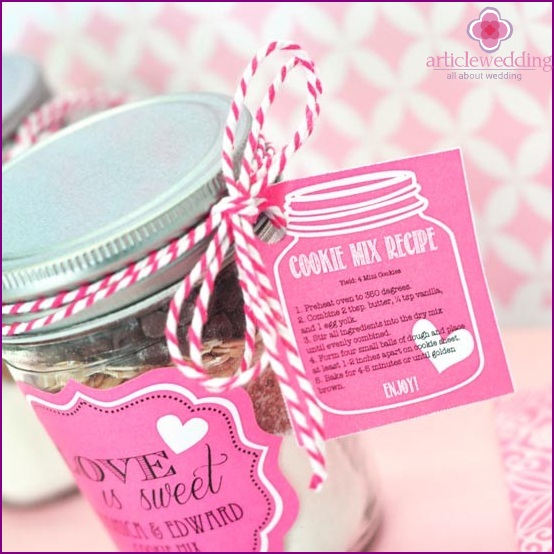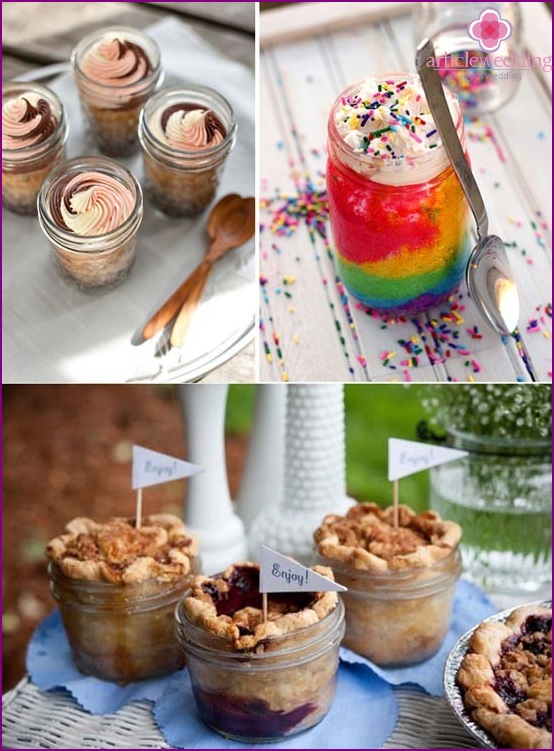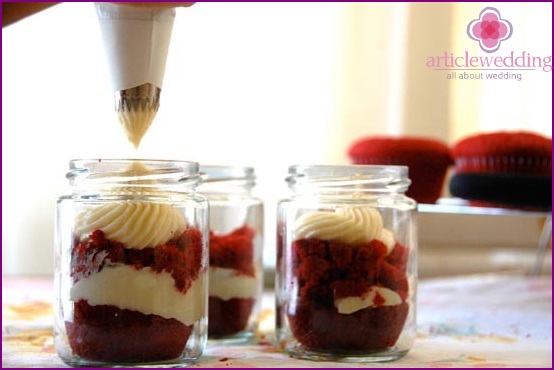 Www.articlewedding.com Website encourages you to exercise more creativity in creating a pleasant surprise for our dear guests!