Packing candy boxes can be any - fromnormal square box to the bag of jute fabric. The main thing - the name of "signature" that will make unique gifts of each. How to create this miracle signature, www.articlewedding.com site will tell in a master class.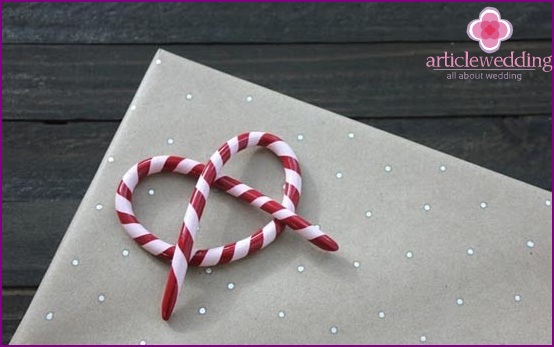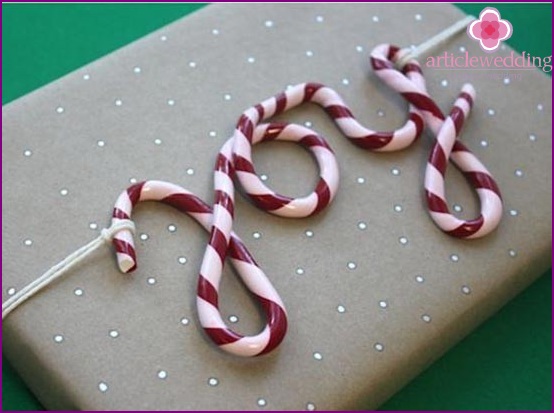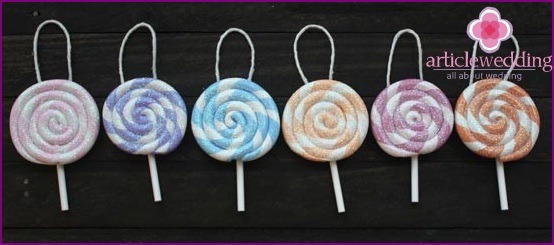 Materials and tools:
polymer clay;
glaze;
brush;
knife;
fixing for jewelry.
Time:
60-120 minutes.
Detailed instructions:
Master our very foundation - the wiring. To do this, take equal parts of red and white polymer clay. Colours, by the way, you can choose any. Knead each "color" and rolled into a rope.
Now we roll down the two ropes in a two-tone harness.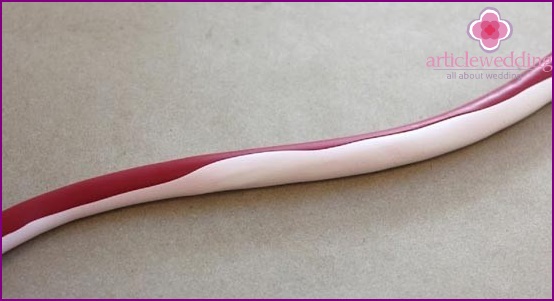 We curl our harness over the entire length, so that the red and white stripes alternated evenly. Wiring may be slightly Bouguereau.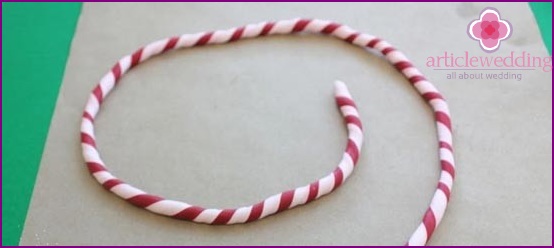 Gently roll out our rope in his hand, so that it becomes flat and smooth, like the famous candy-striped.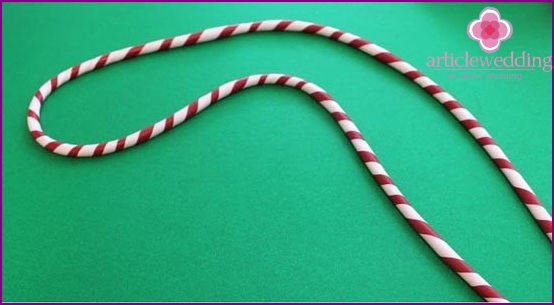 We are making patterns for our labels. Ideally, the labels will be the names of those who designed candy boxes. But for example, take the word «peace». Type a word, carry it in italics and printed in a text editor. We spread our polymer "candy" on the label. In other words, repeated words, only this time in bulk form.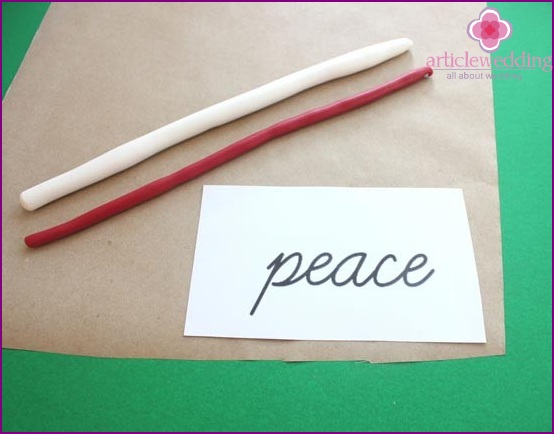 We transport the resulting words in the freezer and leave for 15-30 minutes.
We shift «podmerzshie" clay on the baking sheet and send in the oven to bake. Precisely follow the instructions of time and temperature on the package of polymer clay.
After this time, we take out our product and give it to cool. Try once again not to touch the inscription. Hot polymer clay is very fragile.
When the label has cooled, cover it with a layer of frosting. This will give it a beautiful glossy shine.
Decoration is ready. It remains only to attach to his mount for jewelry or ribbons. In general, anything, before you attach my name to the inscription bonbonnieres.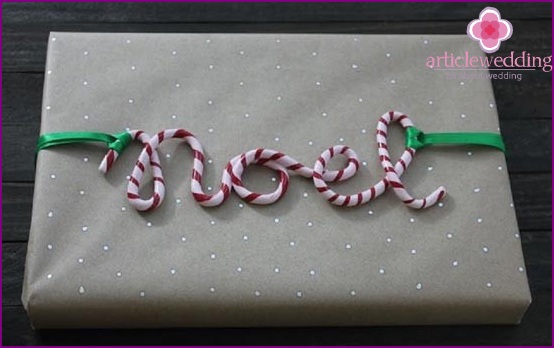 applications
Polymer clay can become the basis not onlyred and white candy. All sorts of circles, tags, figurines - tells a fantasy. These funny glossy hand-made gizmos look great as jewelry - pendants, brooches, badges. This idea can also be used as a basis of cards for guest seating.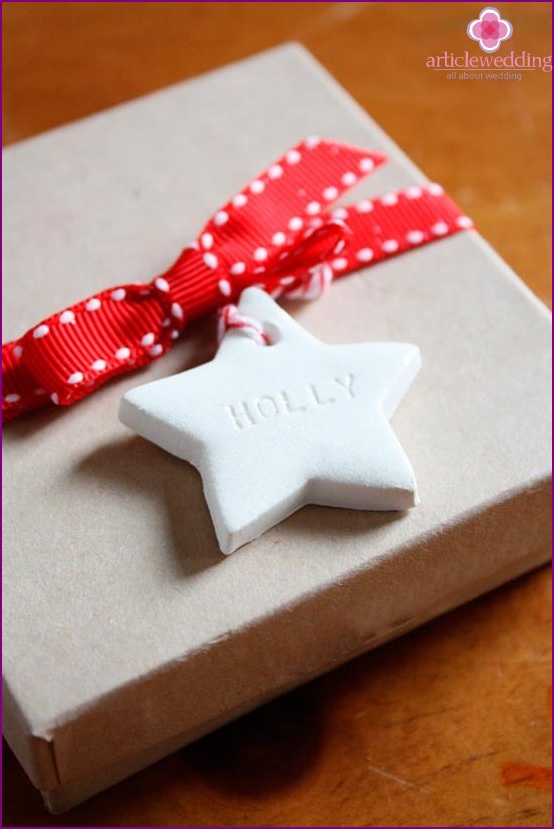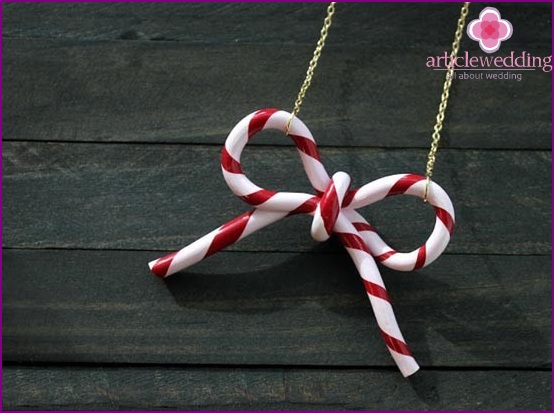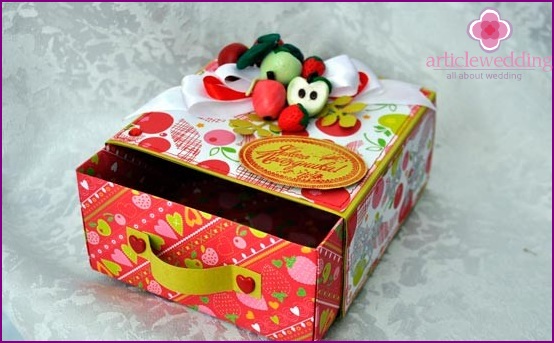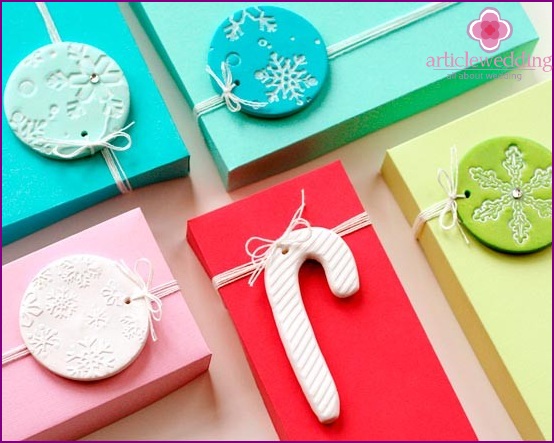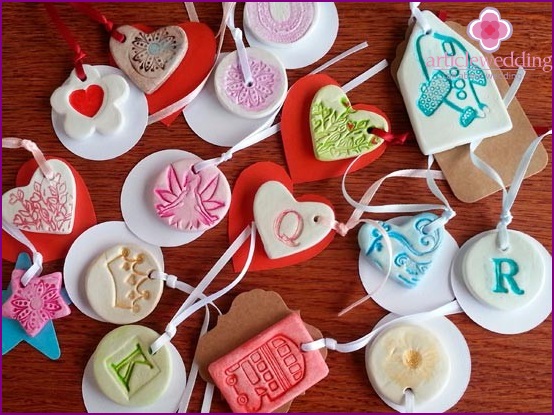 The idea of ​​a wedding www.articlewedding.com site: These decorations can be the basis of your wedding dress code. Especially if you decide to organize a red and white wedding!