If your wedding will be held in the spring, you reallylucky because the spring - a wonderful time of rebirth and renewal. First, the street is beautiful weather, nature comes to life after a long winter, some places the grass appears. What can we say about the sunny weather, which is perfectly suited for wedding photography in nature!
In spring wedding there are more advantages thanit seems at first glance. The first thing worth considering is the first flowers, which hatch in the beds - tulips and of course, daffodils. For information on how to use the daffodils to create a wonderful wedding decorations, as well as sweet dishes with your hands, you can read at our wedding www.articlewedding.com portal.
Narcissus - this is one of the first spring flowers. These wonderful plants emerge from the bulbs, which are not very whimsical and can grow even at home. To create a wedding candy boxes we will use the bulb to make guests a little surprise. They do not have to guess what kind of flowers and how they see the color scheme after a certain period of time. Such environmental bonbonnieres is fashion trend in the world of wedding fashion and exactly like your guests.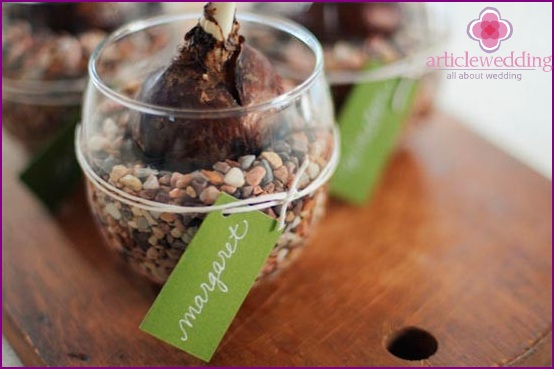 Materials and tools:
narcissus bulbs;
small pebbles;
glass beakers;
cardboard;
scissors;
a pen;
hole puncher;
rope.
Time
: 20 minutes.
Detailed instructions:
Today's workshop is very simple to perform. Everything you need you can get it at any store or garden center. Daffodils can select a different color, such as white and yellow, but white is more common and is just perfect for a wedding. Such eco-bonbonnieres will entertain guests for a long time, until the rose bud is not.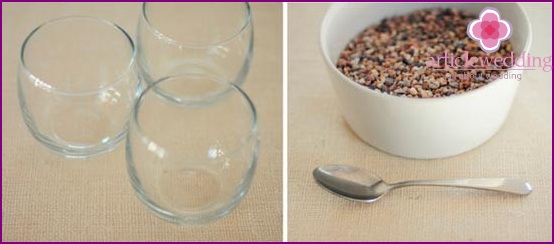 First we need to prepare the glasses. Just rinse them under water and wipe dry. Fill them 3/4 stones. These small stones can be purchased at the store, but if you live near the beach, you can dial the stones with sand there without difficulty. Moreover, with the sand stones will look more advantageous.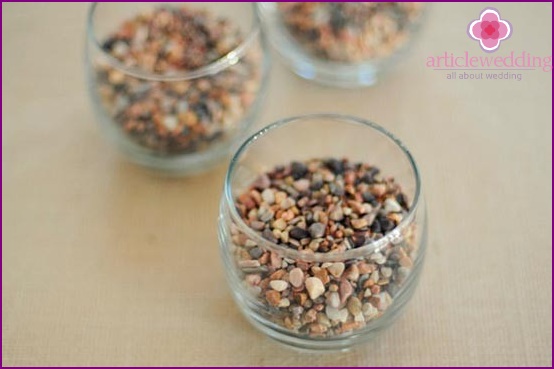 Now you need to prepare the bulbs. You will need one onion per bonbonniere. If you purchased a bulb in advance, for example, in the autumn, it is best to store them in a cool place, away from moisture. Planting bulbs is easy - just press down on the bulb to make it a little bit lost in the stones. Pour into a glass of water at your stones. Water is essential for the supply of roots, but it soon evaporates. Warn your guests that have a little bit of the onion make love.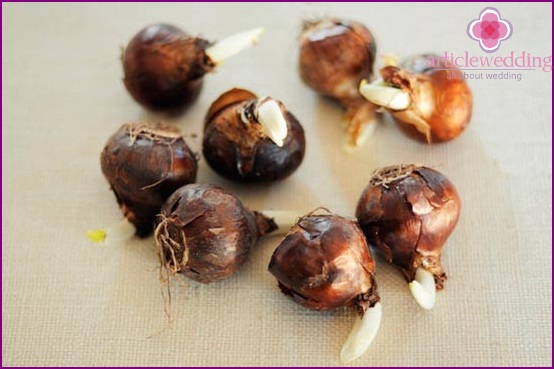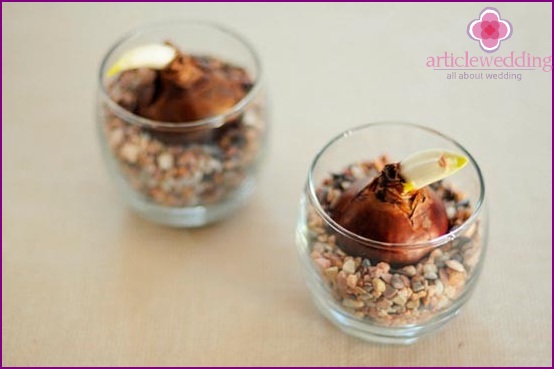 The main part of the master class behind, however,forget about decorating. For decorative candy boxes we chose green cardboard eco-style. Cut out of cardboard small labels and label each one. Use the hole punch to make a hole edge of the label, through which the pull rope. Secure the rope on the glass - and cute eco-bonbonnieres ready!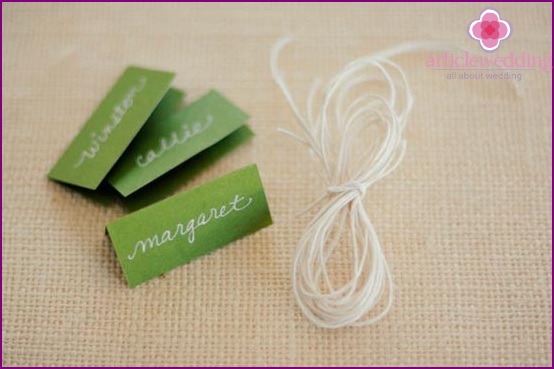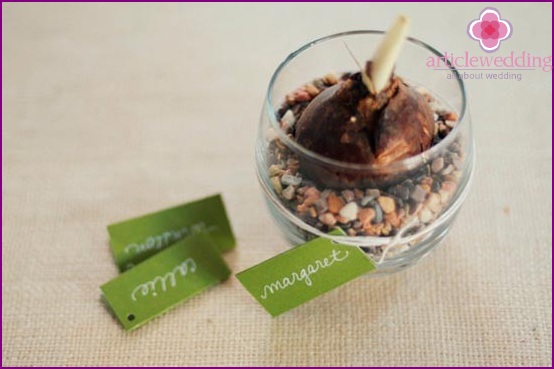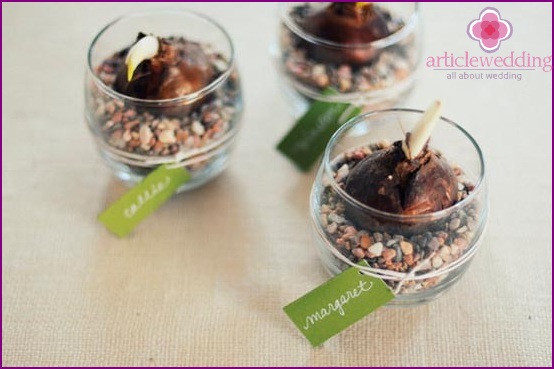 applications
A few weeks after your wedding bulb let the arrow, and the guests will remember again how well they had a great time on your celebration. These candy boxes will be very pleasant and a nice gift.
You can also use the already bloomingdaffodils in a decor wedding table. Look beautiful these flowers are planted in wooden tubs. You can cut daffodils and put them in a glass vase. However, it is best to leave the flowers in the bulbs, so that they bloom longer. Such decorations can be a great focal element on the wedding table.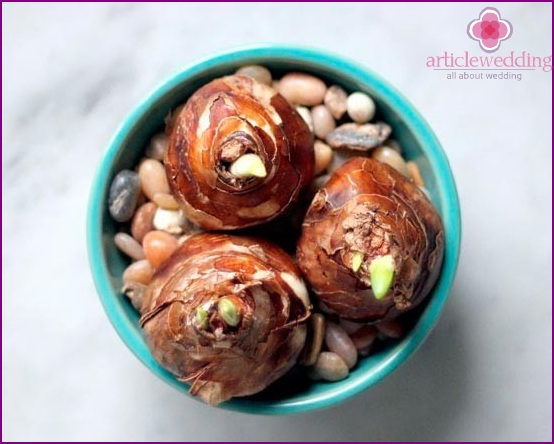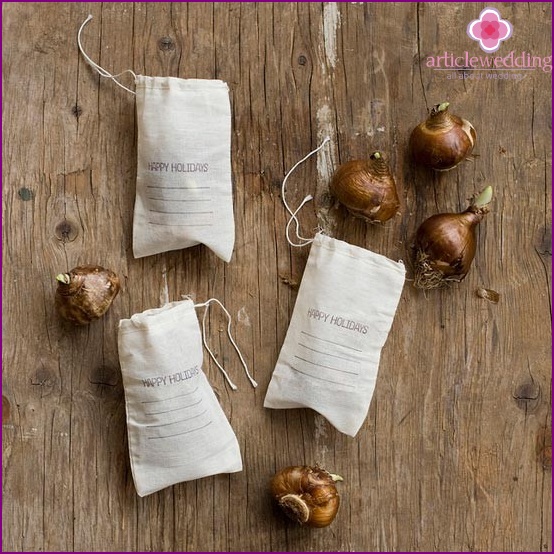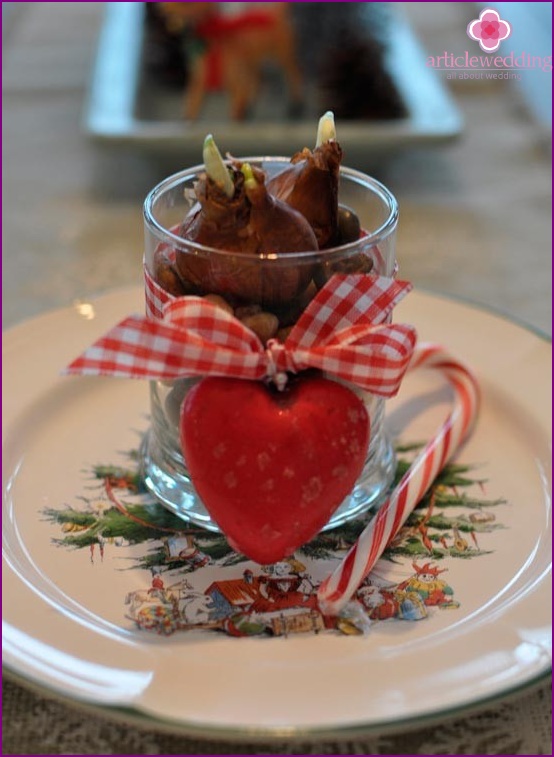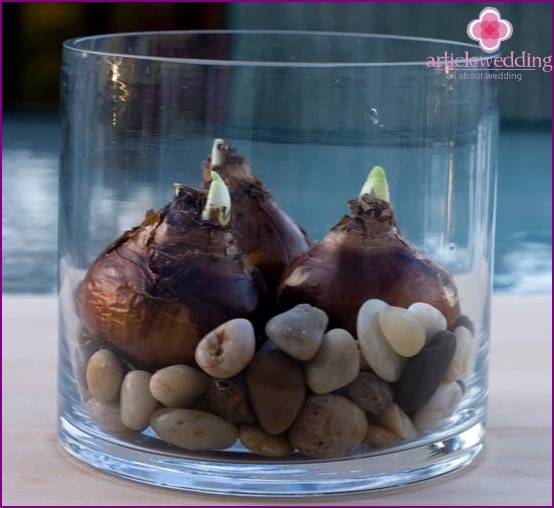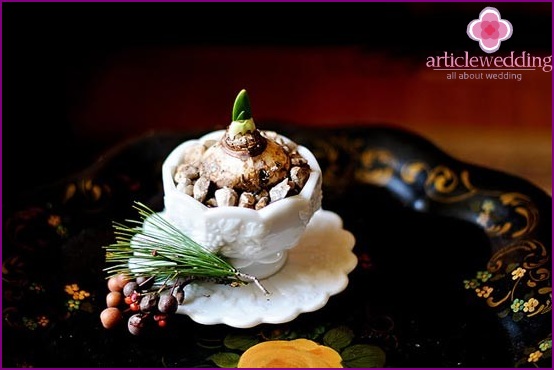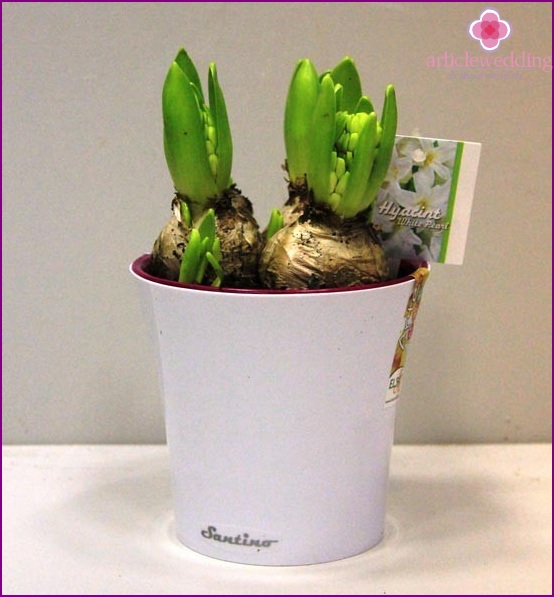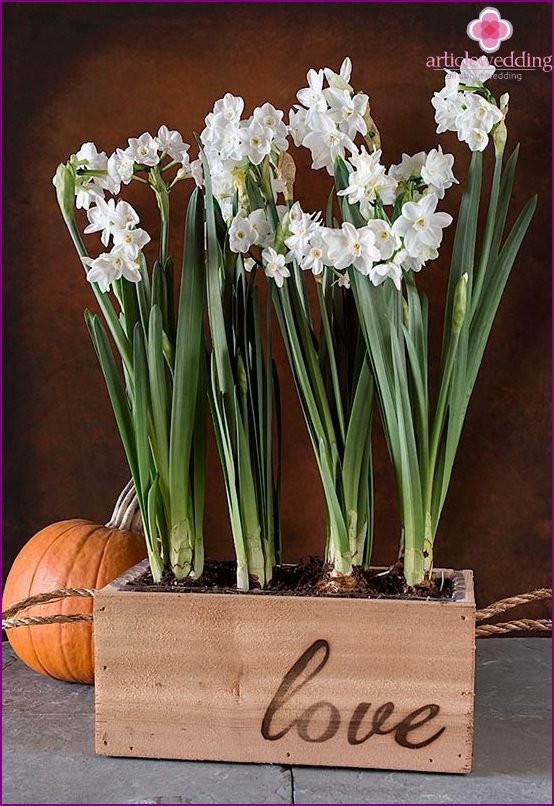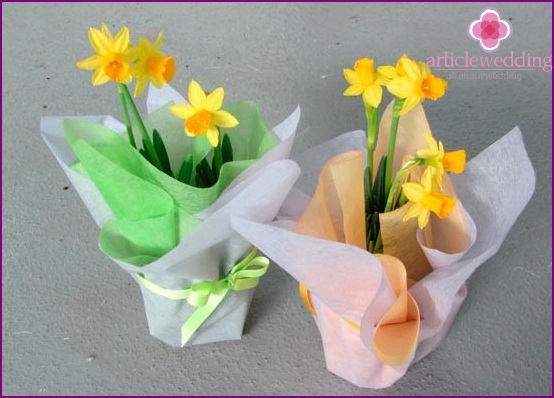 The site www.articlewedding.com you can find a lot of new and interesting, and feel like a skilled worker!