The upcoming holiday, no matter where it isplace: at home, in a restaurant or in nature, it is simply inconceivable without sweets! You can offer guests anything. The main thing is how to file a sweet dessert. The spectacular, brighter and more original will supply sweets, the more likely that Candy bar to suit not only the children and "snacks" prepared you will appreciate.
Today, a new master-class wedding portalwww.articlewedding.com show us how to combine things with edible inedible, and remain in their original creation. Unusual sweet dessert, which we offer to make, will make a real splash at the gala evening!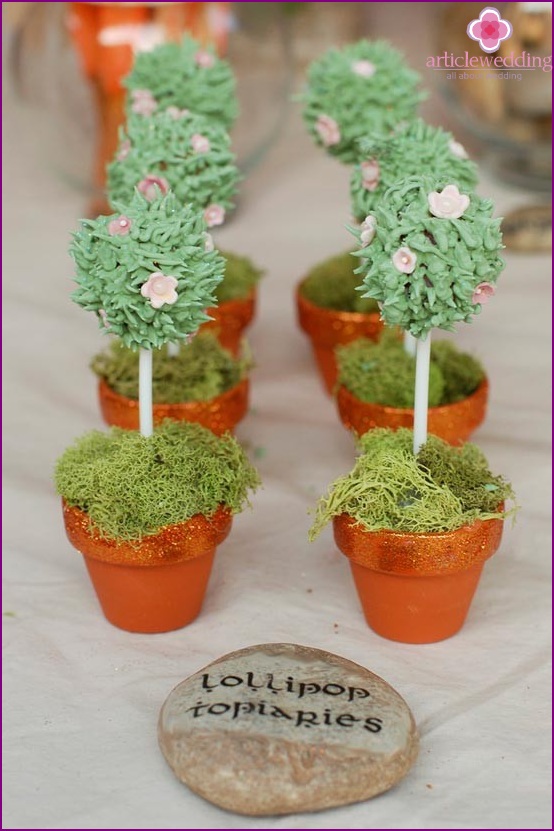 Materials and tools:
miniature terracotta pots (color optional);
glue, glue gun;
sequins;
polystyrene;
Decorative dry moss;
green glaze;
small flowers of mastic;
lollipops;
a pastry bag with a nozzle "star".
Time:
40-60 minutes.
Detailed instructions:
Take their little pots and promazhte upper rim with a thin layer of glue. Then apply glue glitter of any color, if you want to make sweets more festive look.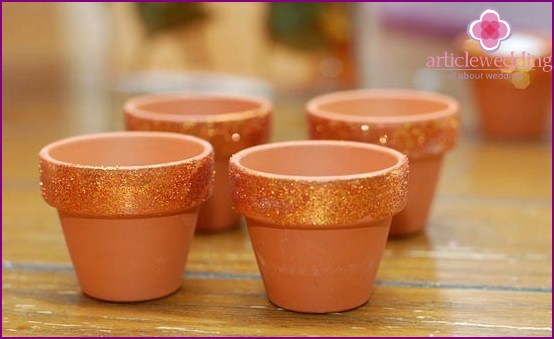 Now cut the Styrofoam into smallpieces and put into the bottom of the pots. Squeeze tighter so they can not jump. The center insert the unpacked lollipop (lollipop). See how to make a picture.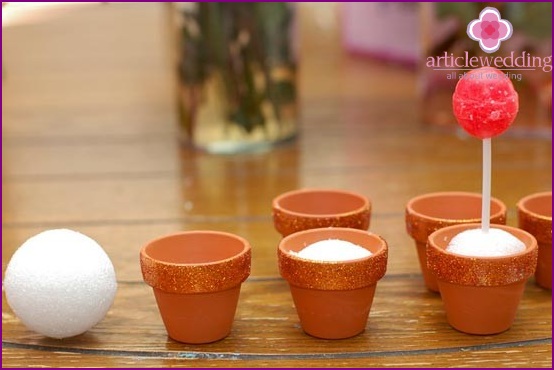 Temporarily remove the candy and is the place whereformed hole, squeeze out a drop of glue, insert the candy back to his seat. This will help to fix the candy, so it fell out when you apply the glaze.
Next, using the glue gun glue decorative moss on top of the Styrofoam. For these purposes it is better to use a hot melt adhesive.
Place the green frosting in a pastry bag andin a circle begin to apply on the surface of the candy glaze, creating a simulated foliage. Do not leave spaces between the "beams" glaze! Your Topiary will look better with a thick "crown."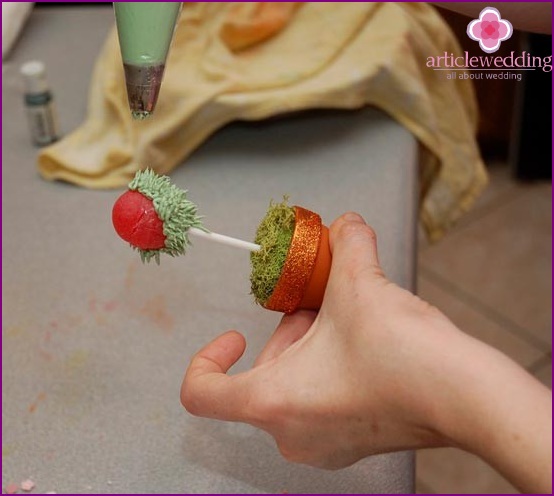 If you have the remnants of mastic, of them can bespecial molds to cut flowers and other figures. You can certainly use different decorative ready "shkuchkami" for sweets. Pick up the decorations to your taste.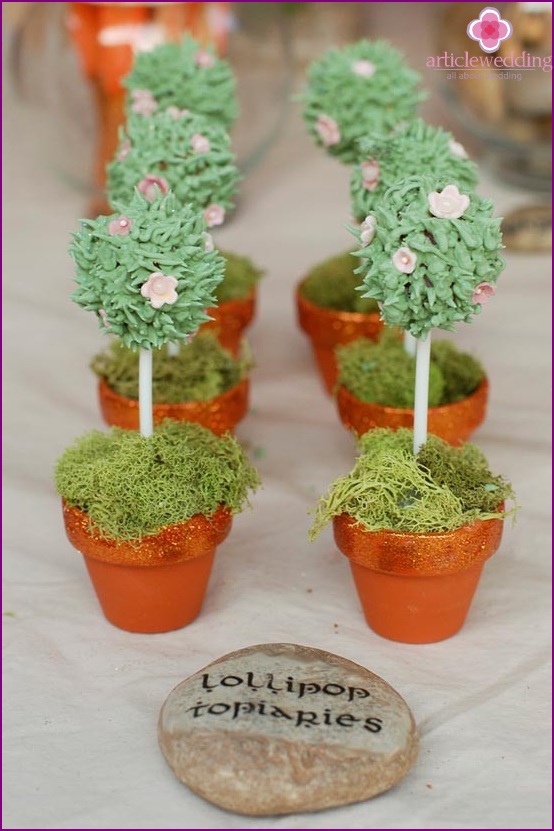 The result is a wonderful tree, which will be tasty and stylish decoration of the wedding hall!
applications
Based on this lesson, you can experiment with the "stuffing" of your topiary, with a base, decorative ornaments. You can change the size of the sweet topiary, its packaging, and other details.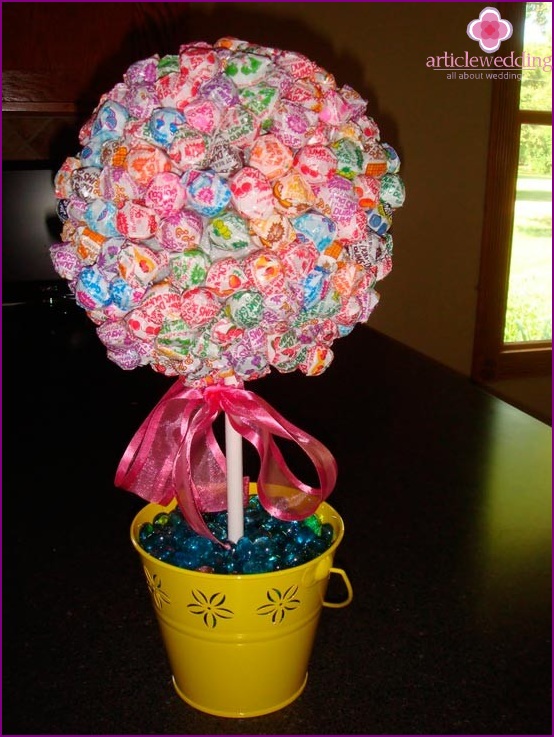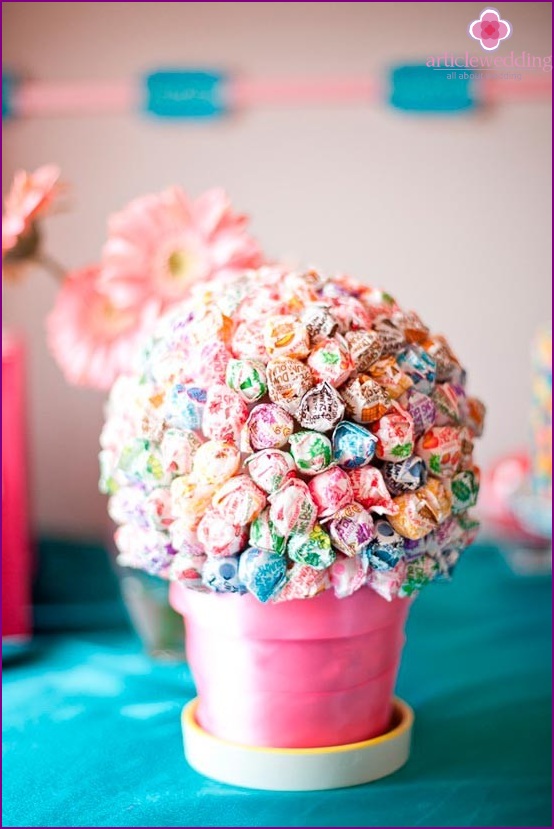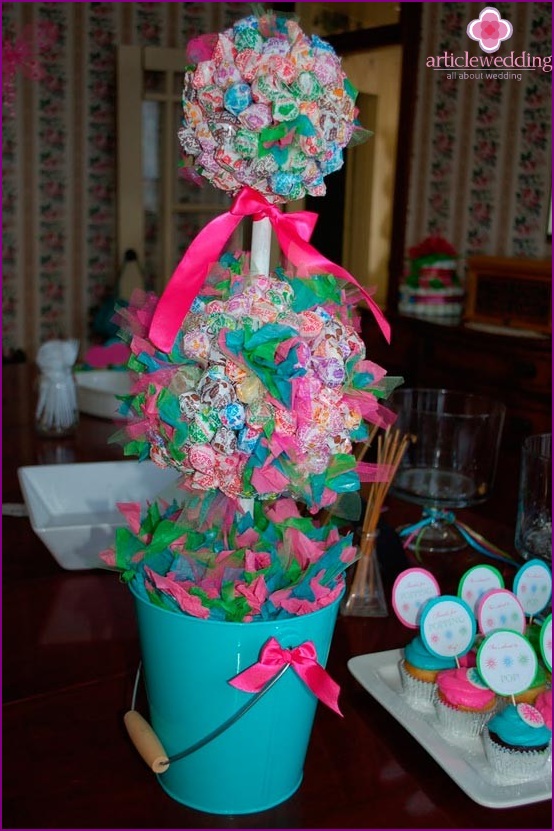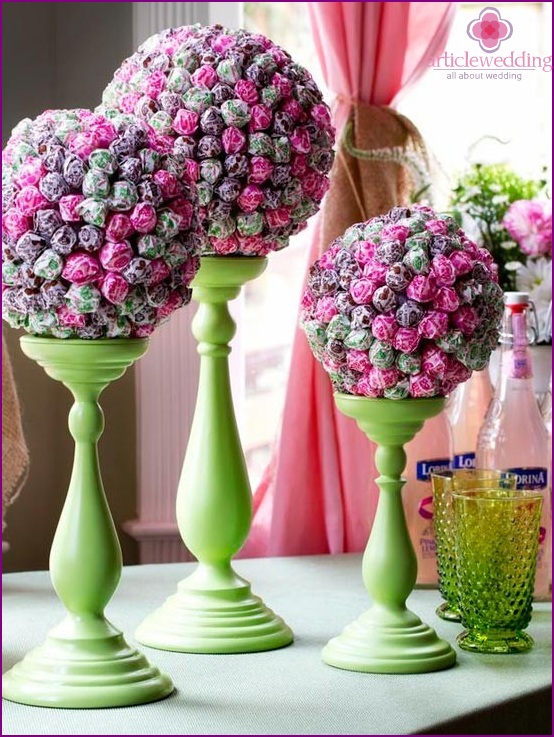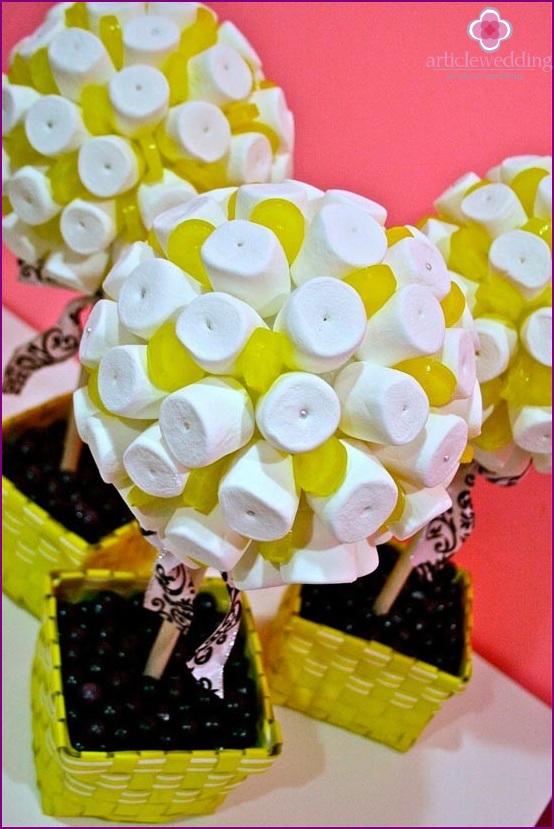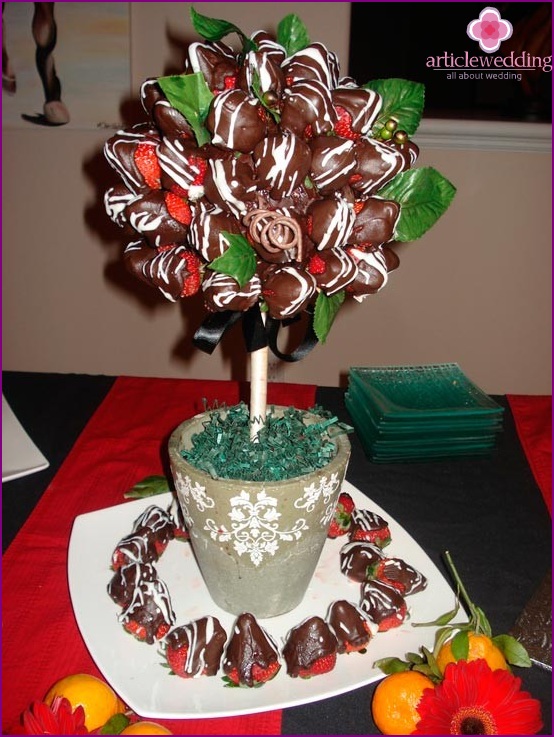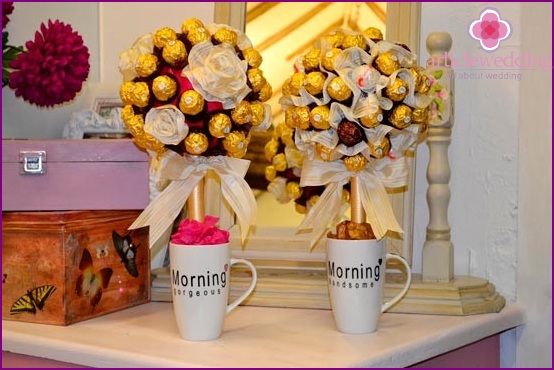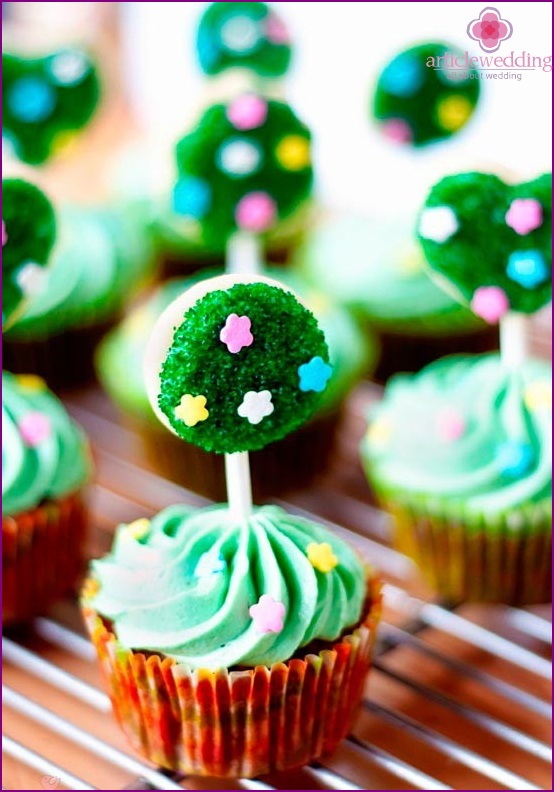 With such a simple way you cancreate entire bouquets (including the bride's bouquet) and a variety of compositions of caramel. If you find an unusual base-frame, it is possible to build any form of topiary, tells www.articlewedding.com.
Instead of candy on the basis of polystyrene can be attached chewy candy or marmalade. And you can make sweet Topiary of mini cupcakes that are so popular today.
Decorate their creations with ribbons, bows and colorful decorations, create a holiday on his desk and raduyte their guests a pleasant surprise!