wedding style and its color is largely determinedwhat the atmosphere will be created at the festival. So, for example, light blue and beige colors set up on the lungs positive thoughts. Red and burgundy shades on your wedding decoration of the hall is filled with passion and romance. However, not only the color but also the accessories create a special atmosphere.
Recently, the popular wedding decoruse fringe, which adds the triumph of positive emotions and a mischievous mood. Light air fringe helps to plunge into childhood and dream. To learn how to make paper from the amazing accessories with fringe you can find on the site of weddings www.articlewedding.com.
In our wedding master class we will try to make beautiful letters for the touching words «Love».
Paper Color to create a fringe selected on the basisof the total color gamut. In this master class, we used a nice trendy mint color, but you can choose any colors from golden to black and white. The fringe will add to the dynamics of the wedding decor and brightness. Especially look beautiful jewelry with fringe, if you have a wedding in the countryside. Every breath of wind - and your accessories as if alive.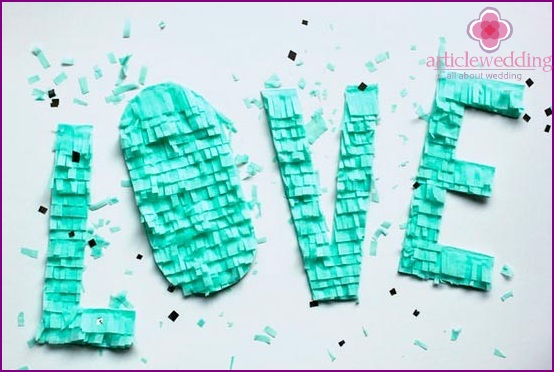 Materials and tools:
cigarette paper;
circular knife;
scissors (can special for creating the fringe scissors);
glue;
a piece of cardboard.
Time
: 40 minutes.
Detailed instructions:
Beauty products from the fringe ishow shallow it is. Therefore it is better to use special scissors to help achieve such an effect. Prepare all materials as well as make sure that the working surface was covered with newspapers or oilcloth.
So, first prepare the sheets of tissuepaper to be cut into strips. This can be done with a disk blade. Fold the sheets of paper in several layers and cut many strips 6 cm wide.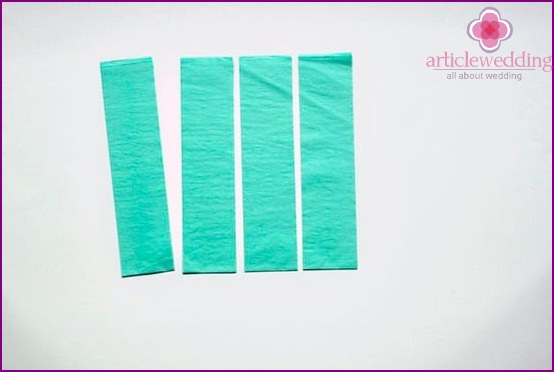 Now each strip must be folded in length to its width has become 3 cm. Using special scissors to create a fringe, cut paper from the edges to the center, not dorezaya center.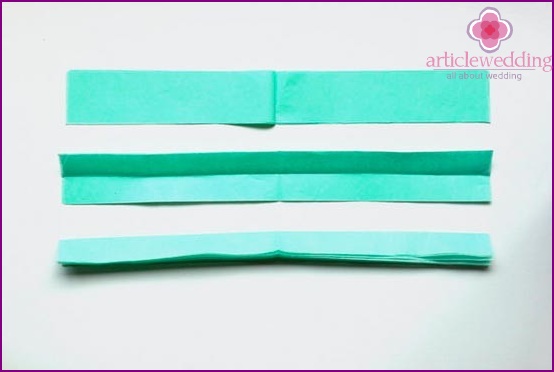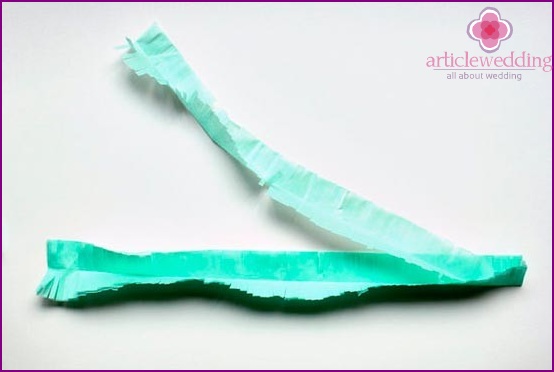 Take a piece of cardboard and start to strip for a strip of glue to the cardboard decorations. Each subsequent strip of glue than the previous day, as indicated in the figure. Allow the glue to dry.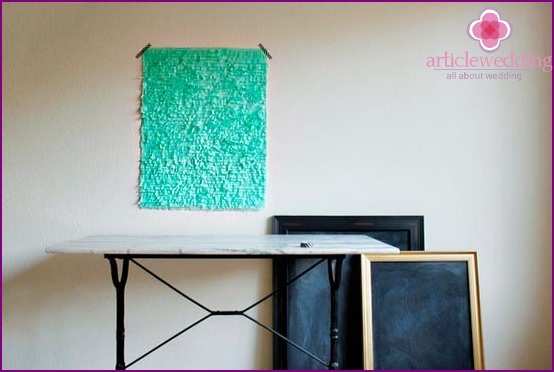 While our fringe drying, print onprinter letters become the basis for future decoration. Cut out letters from paper - now we have a ready-made templates. Attach the template to the cardboard and cut out the letter from the fringe. Cut all four letters.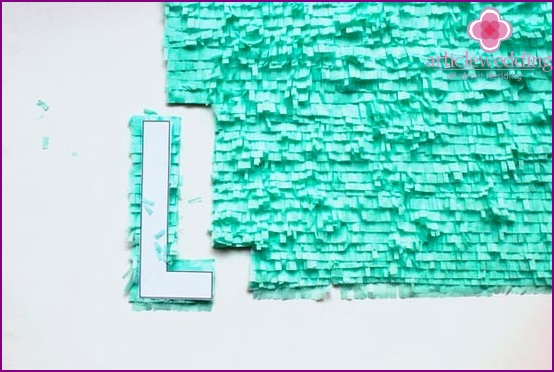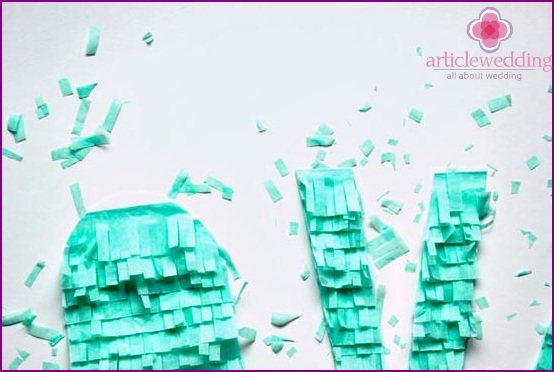 If you have a lot of excess cardboardfringe, do not discard this necessary material. You can make an amazing garland in an identical style of cardboard residues. Simply print the flag template and cut about ten decorations of cardboard. Secure them with a rope - and you have a wonderful garland with fringe. Wedding accessories fringed ready!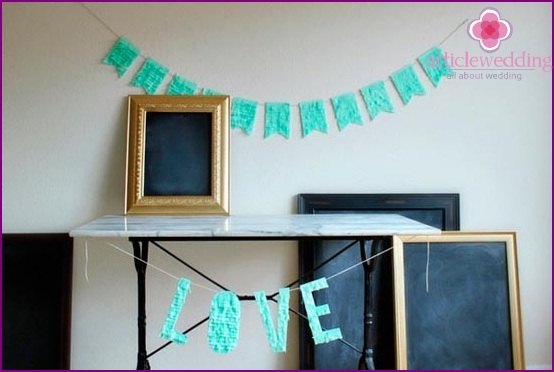 applications
Fringe can be used in many different variations. You can make a garland or create a stylish decoration for photo sessions.
Fringed is very easy to work with, because here the accuracy is not a major component of the work. You can make casually fringe, and even that will not let you spoil its beauty and originality.
Fringed can decorate a banquet hall and a place forphoto shoot (in particular at the wedding photo zone). Especially beautiful are decorating will look, if you ordered an exit registration. Decorate fringe chairs, as well as the focal elements of the table, everything to be done in the same style.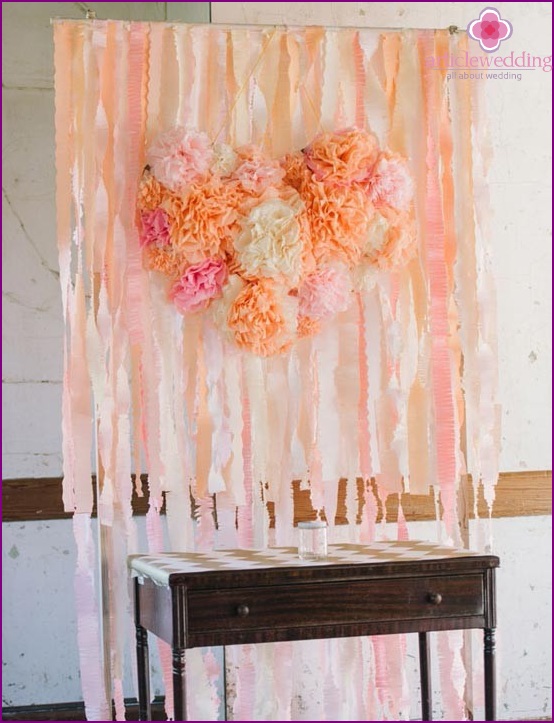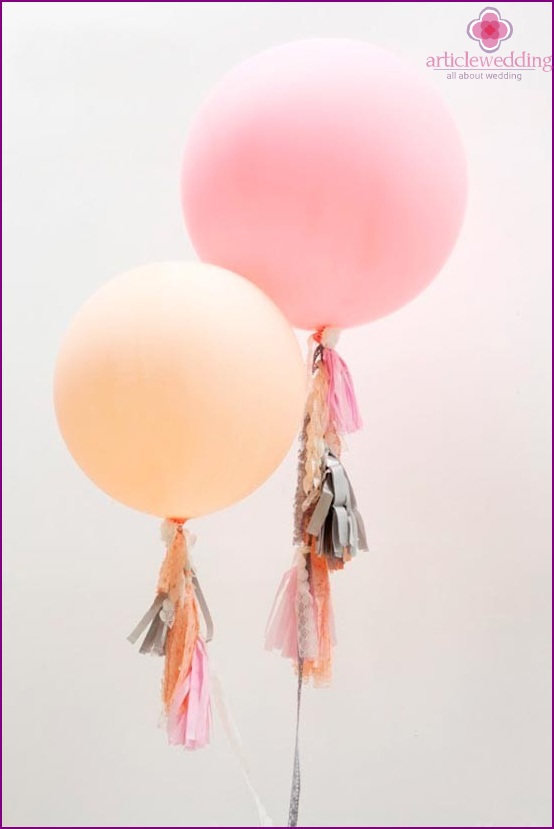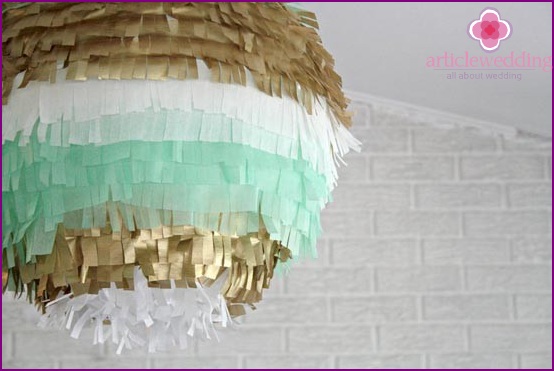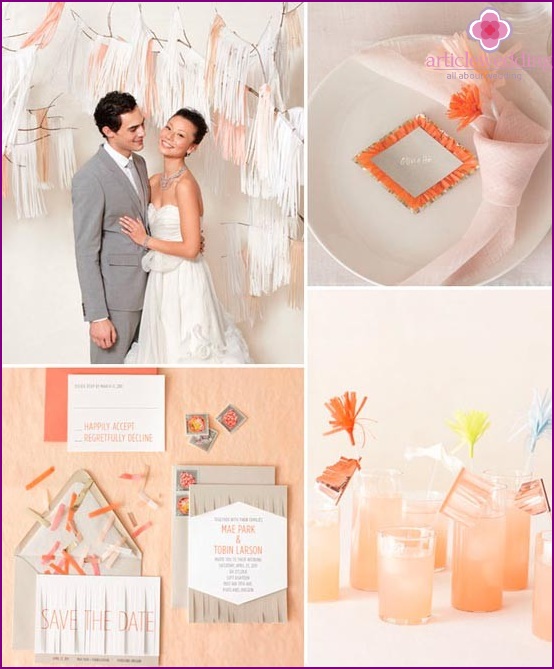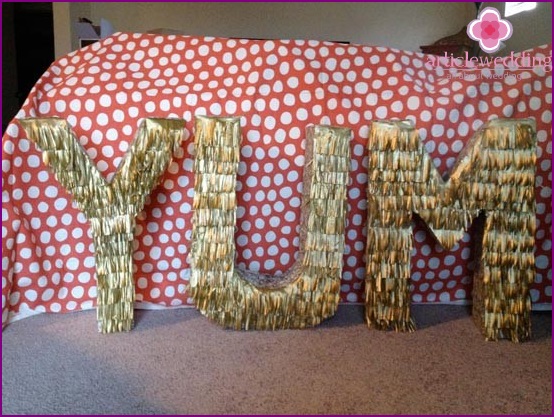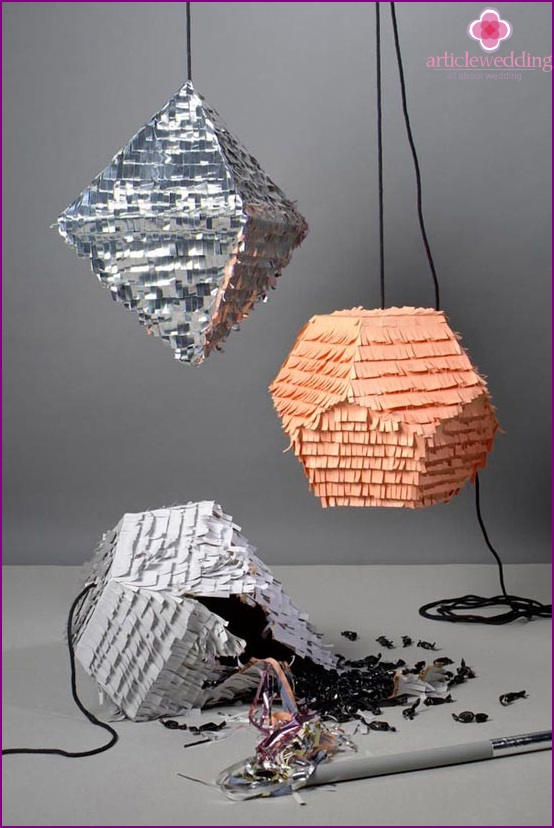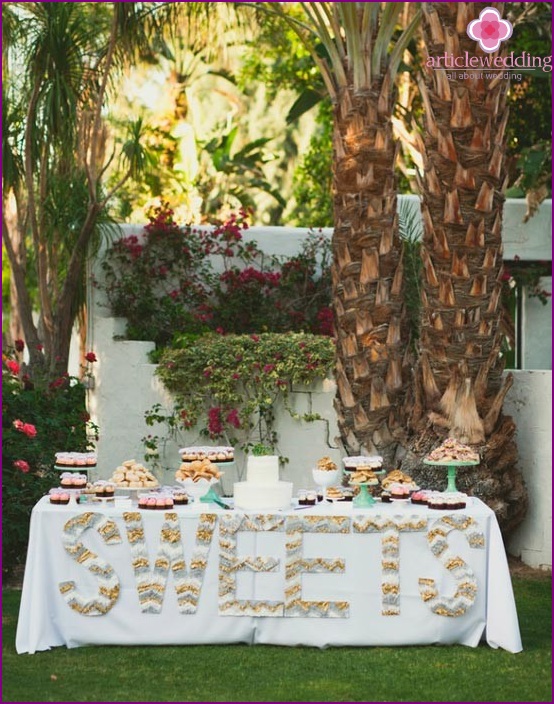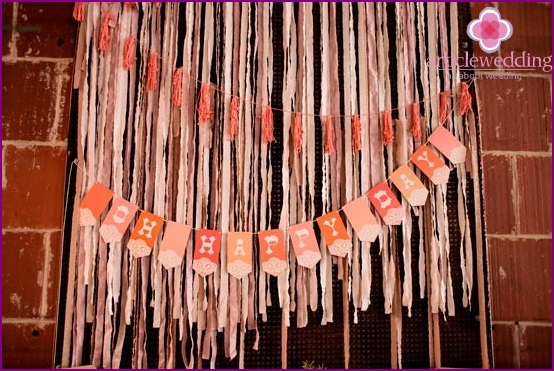 On www.articlewedding.com site everyone will find a master class to your liking and will be able to create exclusive accessories!